I first met Erik Ulin on the Project trade show floor at Mandalay Bay convention center in Las Vegas. At the time, I worked for a magazine connected to a rival show. In the interests of objective fashion reporting, I always covered Project too, but usually on the final of the three days. Why that's relevant will soon become clear. Bear with me.
If you're interested in fashion but you aren't familiar with fashion trade shows, let's get you educated. You're reading Fashion Unfiltered, so you're obviously deeply chic already and will of course be familiar with runway shows and the fashion weeks of the major fashion capitals, but there is the business side of things too. Not that runway shows aren't 'bout that business—they are. Brands who stage those shows invite press and buyers so they can get publicity and sales respectively. But buyers don't place orders at the runway shows. Oh, and I don't mean buyers like regular customers like you and me. I mean buyers from boutiques and department stores who place the big orders that often dictate which pieces from the runway shows will go into production. Try not to yawn if you know all this already, but not everyone does, okay? Jeez. So the buyers need to see the clothes up close. They need to experience the handle, i.e. how the clothes feel. They might want to try the clothes on and see how wearable various items are. Then, when the buyers decide which items they like, they write orders. These things happen at trade shows.
It isn't strictly business though. A lot of the people at the trade shows are like family. Many of the people I love most in the world are there. In Las Vegas. With hotel rooms. And minibars. And expense accounts. Some of the best restaurants in the world are in Las Vegas and some of the best clubs too. As luck would have it, my birthday always falls while I'm there too, and on one such occasion, I went out. Three nights in a row. And then I met Erik.
Brands and the trade shows throw huge parties every night at super clubs like XS, Marquee, Hakkasan, Tao, Omnia, Drais...the list goes on. Brands eager to be the "party of the season" roll out performances from artists like The Weeknd, Katy Perry, Rick Ross, and Nas. You can party hop too. It's all on the strip and it's all VIP guest lists and tables with bottles so it isn't uncommon to touch two or three in one night, and as if that weren't enough "work" for an evening, you'll often find, around 4 a.m., the heterosexual contingency piling into stretch party buses headed for strip club White Rhino, and the homosexuals headed in taxis to seedy off-strip gay bar Piranha. I'm talking all the biggest menswear designers, buyers, and editors in town for the shows will all be in there, potentially sticking dollar bills in the thongs of muscled go-go boys. But! What happens in Vegas stays in Vegas, so I will mention no names, but suffice to say, we're all there, we all have fun, and we all get up early the next morning, either a little hungover, or still steaming drunk, and hit the trade show floor.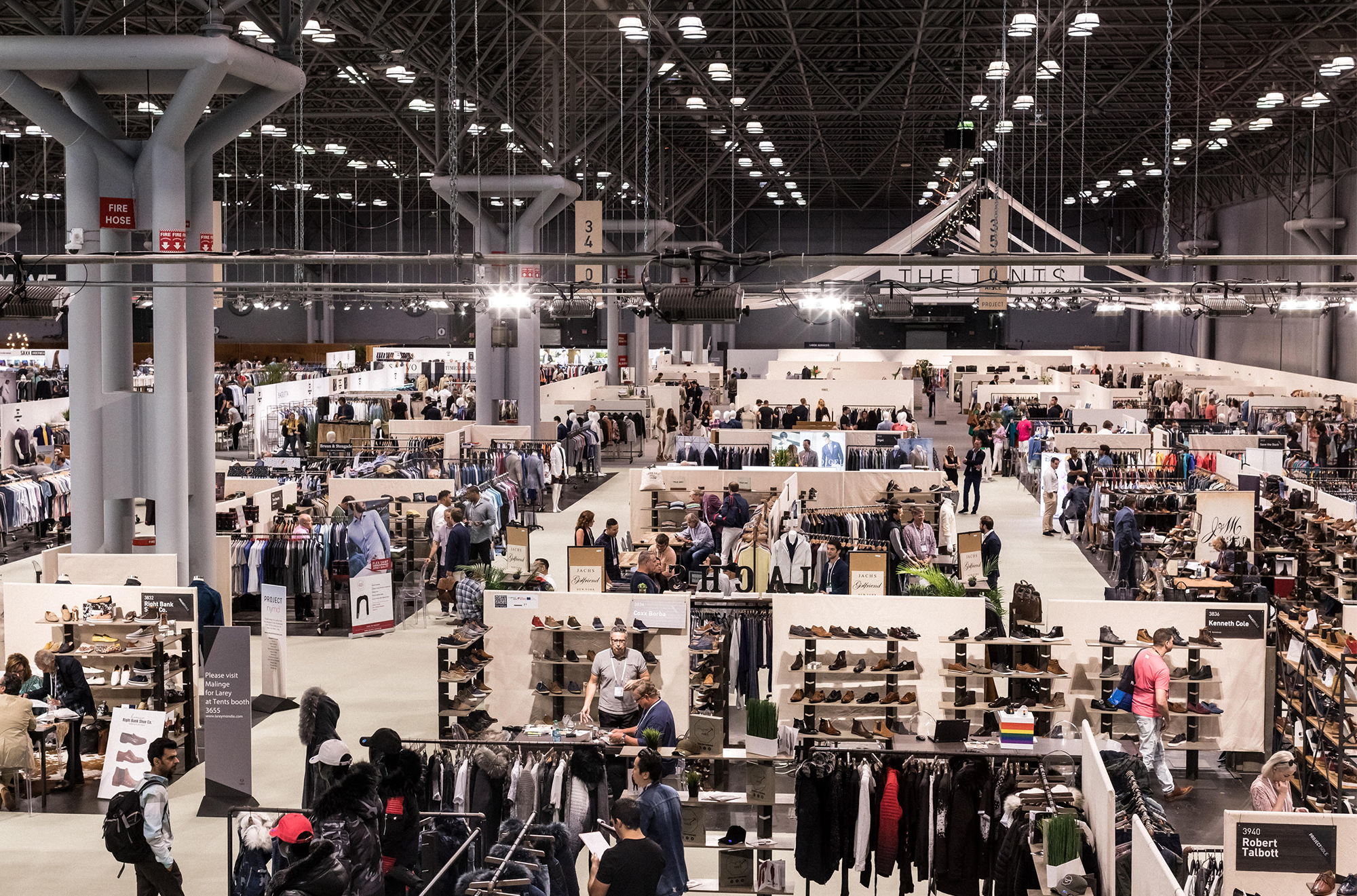 Photo: Courtesy of UBM
It was this third birthday morning after the night before that I met Erik. He was new, coming to UBM (the parent company who operates Project, The Tents, Magic, and Coterie, among many other tradeshows) from J. Lindeberg. Erik, UBM's president of men's fashion, is a tall, handsome Swedish man, and I was still, let's say, giddy from the previous evening, so upon the introduction, I hugged him, held him close, and kissed him deeply on the cheek. Appropriate behavior, most definitely not, but he didn't mind at all, and we've been friends ever since. He consistently impresses me, and surprises me with not only his intelligence, and his avid enthusiasm and support of the menswear industry, but also his charm and his wit. Speaking of wit, in his spare time, Erik does stand-up comedy. It's a newish thing, following a series of classes at New York's Comedy Cellar, and he will be performing this Saturday at Dangerfield's. I will be there with bells on. Erik, break a leg.
New York Fashion Week Men's has just wrapped, and the trade shows started on Sunday. Someone asked me yesterday, Why Sunday? I said, I know!! but accompanied by a widening of the eyes and a shake of the head because I really don't know! I'm sure there's a reason, but I've long forgotten it, and I'm used to it, so whatevs. I actually missed last NYFWM, so I missed the first season that Project sponsored Erin Hawker's New York Men's Day initiative. If the first was even half as good as the one just gone, it was fantastic. This, the second season of the partnership, was exceptional. You can read my NYMD report here. As I walked past the line of male models in Parke & Ronen swimwear (hard life) I spotted Erik leaving the Project Lounge (free coffee and kombucha if you can get in), and we sat down outside for a proper chinwag. The view across the East River to the Brooklyn Bridge and beyond was lovely—the wind was not, and Erik's tidy blond Swedish hair was a little windswept, pic above (also nb. not one, but two wrist bands from his club crawl the night before).
Traditionally, trade shows and fashion weeks have been two very separate things, but there seems to be more crossover these days. I asked Erik why. "Ultimately, the goal is to sell clothes, right?" he asked me rhetorically. I replied I thought the goal was to become famous, and he conceded that fame was the main, main goal, but selling clothes was a close second. "Historically, there hasn't been much synergy between the fashion shows and the trade shows, which are both important, and ultimately have the same goal."
"Fame?"
"Yes, and selling clothes. We've worked closely with the CFDA to align NYFWM with the trade shows so they come directly after. Then the buyers and the editors have a chance to show what the vision is for their collection before they meet their buyers and the media at the trade show where they can see it up close, deconstructed, which is how the composition will actually look on a rack, making sure that they as retailers can understand it. Whenever you invest in a fashion show, it needs to have results of some sort. I think the days of just having impressions on social media are obsolete. That's very 2012."
It's true, and while impressions still have some value, the landscape is changing so quickly. For many stores and many brands, business is tough. With social media and e-commerce, brands are able to do much more by themselves without the help of the big department stores. Direct-to-consumer is a thing now more than ever. I point out Erik's Greats sneakers, which are testament to that. "You have to embrace all these things," he explained with a wry smile. "People are doing some incredible things, and if we just put our blinkers on, we can't give our customers and the industry the tools they need to succeed. We can't go to war with Amazon, and why would we want to?"
"I know right? Prime!" I said.
"Exactly. And that's my role: To figure out what's coming next. UBM is the biggest events company in the world. We're really in a position to help drive this industry, and New York fashion is a vital part of it. I think what Erin [Hawker]'s doing at NYMD is exciting. As a trade show, we're evolving, just like fashion weeks, and retail, and the industry as a whole is evolving. Bottom line is we're here to grow this industry and help brands and retailers reach their customers. We take our role in this industry seriously, and if we see an opportunity to drive change, to drive what's happening in the industry, we take it."
That's hot.
0 Comment