Halima Aden knows a thing or two about making waves—and at just 19 years old she knows how to ride each and every one with confidence. Her meteoric rise to fame in the fashion industry, however, started merely as a ripple in St. Cloud, Minnesota. "I became my town's first Muslim homecoming queen," she told me backstage at Max Mara (her third show this season after walking Yeezy and Alberta Ferretti). "Even though it's such a small thing—it's homecoming, it's not a big deal—I saw how much it brought the community together." What makes this Cinderella story so special is not that Aden took home the crown, but she did it while staying true to herself and abolishing any and all Disney princess stereotypes and standards along the way. And after breaking down barriers at the local level, she took things a step further at the Miss USA pageant, garnering international attention for strutting the stage in a hijab and burkini (the first woman ever to do so at the time-honored event infamous for its scantily clad contestants).

Despite remaining firmly in it, the spotlight is not what Aden craves—it's the "conversation" surrounding her history-making feats that's her "favorite part." The Somali-American born in a Kenyan refugee camp (she immigrated to the States at the age of six) makes people think and reconsider their deep-rooted stereotypes and prejudices. She sparks discussion and brings people of all races and religions together better than the United Nations—and she does it all with a beaming smile proudly baring braces at a time when the world (especially America) feels increasingly fractured. And yes, winning homecoming crowns, walking beauty pageants, and sashaying down runways in New York and Milan alongside supermodels isn't exactly saving lives, but it is changing plenty of minds. For those who see fashion as a frivolous, surface-level industry, Aden is proving that it's a strong platform from which to send an important political and personal message to the entire globe.
Ultimately, however, Aden wants what she's doing to be "normalized." She's happy to put a sizable crack in the glass ceiling and pave the way for other Muslim girls to follow in her footsteps, but said that seeing a woman in a hijab on a high fashion runway "shouldn't be shocking." As Ian Griffiths, creative director of Max Mara, told the Financial Times: "I have many international customers and many live in the Middle East, where there is no contradiction between wearing a hijab and the concept of luxury." Not to mention, the numbers are there to support Aden's hopes and dreams for the future: Reuters reported that Muslims spent $266 billion on clothing and footwear in 2013 (more than the total spending of Japan and Italy combined), and that figure is expected to grow to $484 billion by 2019.
Here, Aden talks braces, bulldozing beauty standards, and why she'd rather create her own category than "blend in."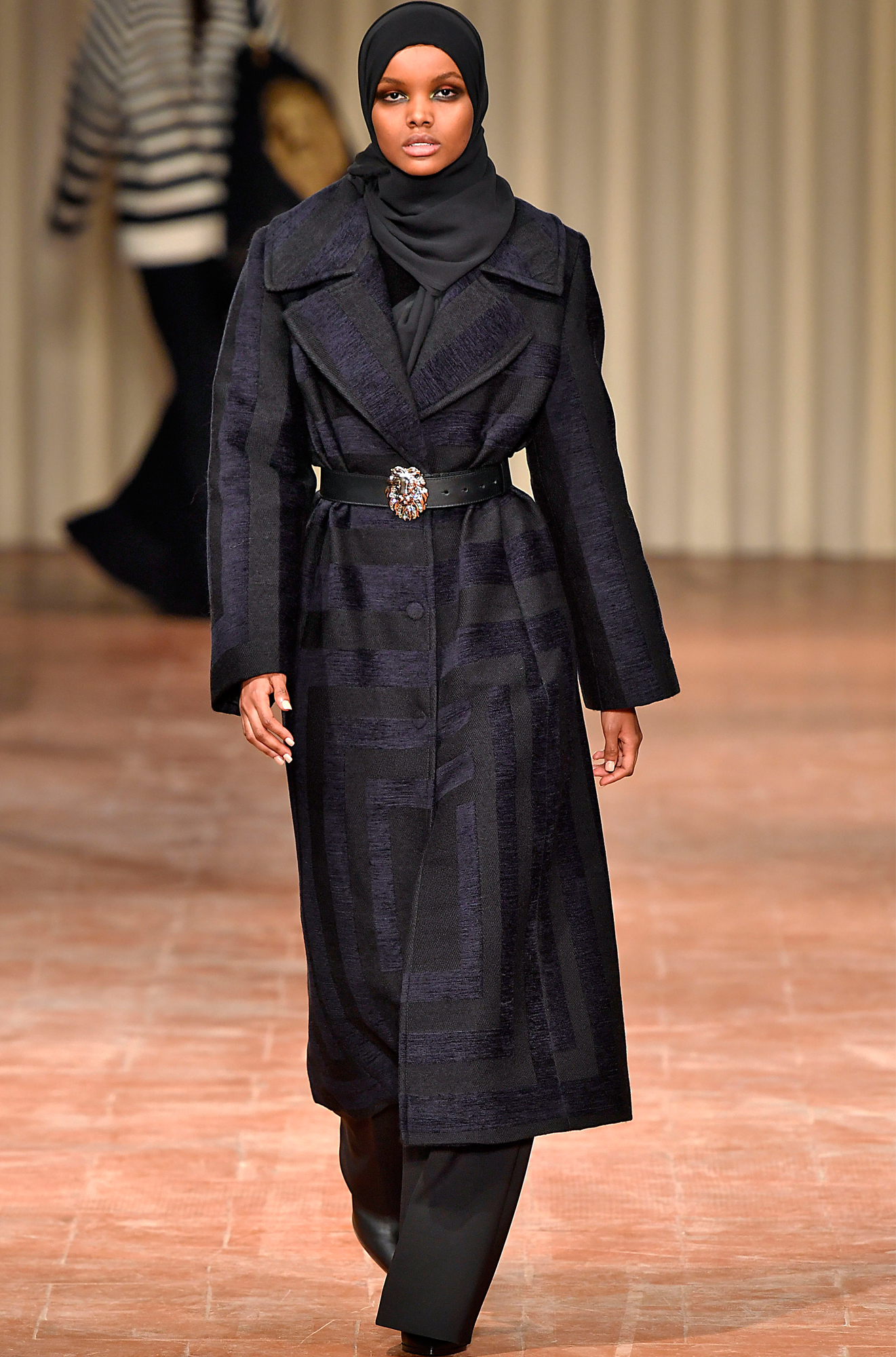 Aden on the runway at Alberta Ferretti
Photo: firstVIEW
Amber Kallor: What was it like to make your Milan Fashion Week debut at Alberta Ferretti yesterday?

Halima Aden: That was unbelievable! It was a once-in-a-lifetime opportunity. I never thought though I'd be in Italy—it was always something I wanted to do on my bucket list. But to be walking in one of the biggest shows in Fashion Week... Oh my god, unbelievable.
AK: What was it like to walk alongside supermodels like Gigi Hadid and Isabeli Fontana?
HA: That's Grace [points to Victoria's Secret rookie Grace Elizabeth]. She's a Victoria's Secret model and a spokesperson for PINK, so, automatically I recognized her [backstage]. I was like "Oh my god, am I walking with the girl from the poster at my mall?" It was unbelievable. I can't even [capture the excitement] in pictures. But it's not just her, I feel like all the girls are very established top models, so I'm so grateful. I can't even put into words.
AK: Did you have any pre-runway jitters?
HA: I was so nervous. It's so funny because when we were doing rehearsal my walk was so bad because I had a million things on my mind—I kept messing up, taking the wrong turns. I was nervous because I didn't want to mess it up. [Alberta Ferretti] is such an established and iconic fashion designer and she deserves the absolute best, so I needed to give it my all. But during the actual show, I was very smooth.
AK: What do your friends back home in St. Cloud think about you jetting off to Italy to walk in fashion shows?
HA: Well, a lot of my guy friends are like, "Please, take pictures with the models." And I'm like "Weird!" I'm not about to walk up to this girl and be like, "My guy friend wants a picture of you." So that! And my girlfriends are so excited for me. Everybody has just been so supportive. I'm so overwhelmed by that.
AK: What about your family? What do they think about seeing you on magazine covers and walking alongside supermodels?
HA: My family doesn't really keep up with fashion, but they keep up with Italy. I'm walking and my Mom is like "Okay, so?" I get that she doesn't know about fashion, but they are very supportive.
AK: Now that you've got three major shows under your belt, I'm sure there will be more.
HA: Do you think so?
AK: Yes, for sure. Now that you've conquered homecoming, Miss USA, and Milan Fashion Week, what's next on your bucket list?
HA: I don't know. I really would just like this to be normalized. Right now, I'm getting a lot of press because I'm, you know, wearing a hijab. And that's not something you see—a Muslim hijab-wearing female in the fashion industry. That's something new, but I'd actually like to see that normalized. I mean, not that I don't appreciate [the press], but I feel like the more it is normalized, the more Muslims are humanized. It shouldn't be shocking. I'm proud to be the first, and I'm hoping that other girls will be inspired because I know it's very scary. There are a lot of you can'ts, you know? When you are a Muslim female, you hear that a lot. It's like, "You can't do this! You can't do that!" And it's actually from the both sides—it's from the non-Muslims and the Muslims as well. I would like to feel very empowered, try new things, and tap into different cultures. This is a nice culture, but nevertheless, I brought myself here. I'm bringing my own culture.
AK: Where do you find the courage and strength to break new ground and be the first?

HA: I think I made a lot of mistakes growing up trying to fit in. I always thought, Oh my god, I'm trying so hard to fit in and blend in, but that's not working. And I felt like I didn't fit into either category—Somali and Muslim or American. I realized that I needed to create my own category and go with that. I was so lost in the middle trying to please everybody and it was just not working for me. I decided to forget everyone else. I'm going to do me.
AK: Before high fashion came calling, you decided to enter the Miss USA competition. Did you just say to yourself one day, "I'm going to try this"?
HA: No, no. Something small happened my senior year, which was actually not that long ago, like a semester ago! It's crazy to think two months ago I was in high school. I became my town's first Muslim homecoming queen. Even though it's such a small thing—it's homecoming, it's not a big deal—but I saw how much that brought the community together. For a long time, people were just like, "Oh, homecoming is not for me because I'm Muslim. It's not something I embrace. I don't even understand it." And then a lot of the non-Muslim students just assumed Muslims were not into that. No one thought about why we haven't had anybody [Muslim] nominated—not even win, just nominated. When they did nominate me, I saw how excited the Muslims got. We created our own history. Even though it's such a small act, I saw how much it could mean. Who would have thought homecoming would have been such a huge thing to some people? But yeah, when I saw girls coming up to me and how it brought people together, I figured, you know, what else? Pageantry was never really on my mind to be honest, but I thought, Why hasn't there been anybody dressed [in a hijab]? Why isn't that normal? So again, it became something new, and this time it wasn't just covered in St. Cloud, it was [talked about] internationally. I thought it was good that we are having discussions. I think the conversation is my favorite part!
AK: It's interesting because what you are doing in the fashion sphere is similar to what you did at homecoming and the Miss USA pageant, but on another level.
HA: Oh my god, a whole other level! But it's kind of the same reaction, which was very shocking to me. It's been so overwhelming to be honest. I'm so grateful that the media is pushing this very positive story because for a really long time I've seen so much negativity, especially about Muslims. I don't want those people representing me because I'm not that and I know the majority [of Muslims] are not that.
AK: Fashion gets a bad rap for being an exclusionary industry, but do you feel like you've genuinely been embraced and accepted?
HA: Yes! I can't thank Carine [Roitfeld] enough. She took a huge chance on me. You know, I've never done modeling. Then, she invited me to do CR Fashion Book way before IMG even signed me. She asked right after Miss USA, like, literally the next day—I wasn't expecting that from the pageant. I was so shocked when she put me on the cover. It opened so many doors for me, and [Carine] got me Yeezy as well, which was like, Ahhhhh!
AK: And now you're the buzz of Milan Fashion Week!
HA: And now I'm in Italy. [Carine] is also the stylist [at Max Mara]. Even though IMG set this one up, it's still very cool because I feel like we have a very close relationship and I'm very close to everyone at CR Fashion Book. It surprised me how accommodating everybody was. Even today, they set up a place for me to change. That's very sweet.
AK: I was actually wondering how that worked!
HA: They created a little box for me to change in. They went above and beyond. It's such a huge opportunity to just be here, but the fact that I get to be myself and nobody is pressuring me to be anything but myself—I was not expecting that. Not to mention all the models were like yay-high [gestures far above her head] and I'm over here. That's also something that shocked me. I didn't think I could even do runway and now I'm in Milan and I'm only 5'5". A lot of girls think that if you are petite you have zero chance, and that's not true—I'm only 5'5" and a half.
AK: The half counts!
HA: It counts!
"It's such a huge opportunity to just be here, but the fact that I get to be myself and nobody is pressuring me to be anything but myself—I was not expecting that." —Halima Aden
TWEET
AK: In terms of beauty, what does your normal routine look like? Do you normally wear makeup?

HA: I try, but nothing as good as this! This is, like, next level. Usually I do my eyebrows, but I focus a lot on skincare because my mom always tells me that makeup is for the present, but skincare is what's going to help you when you are 50 or 60, you know?
AK: Your mom is a smart woman.
HA: When I was eight or nine, even though we didn't have much, she made sure that she gave us home remedies, like honey for your skin. Recently, I got into aloe vera. I sleep with it on every single night—it gets rid of the puffiness in your face. I feel like it heals your skin and it's a good protectant. And it's only two dollars! My Mom always had this one rule, and so did my Grandma: If it's not healthy enough for you to digest or consume, then it's not good to put on your skin. You can never go wrong. I never had any bad reactions to any of the natural remedies. Plus, they are so cheap.
AK: I read the other day on your Instagram that you picked up a few tips from Paris Jackson, Gigi Hadid, and Candice Huffine on the CR Fashion Book set. What sage words of advice did they give you?
HA: I think Gigi gave me the most important tip, which was to be yourself, and if you mess up, just be confident because [nobody] knows! That eased my mind a lot. Candice and Paris gave me some amazing tips as well. Paris was born in the spotlight, so her tips were about dealing with the bullies and the comments [on social media]. She told me that she had to block people because the comments got so bad. It goes to show that you don't have to let people get to you—you can always find a way to block hatred out. That was very inspiring for me. Candice was just like be yourself, be different—it's okay. I really appreciated that. And she was absolutely breathtakingly beautiful in person.
AK: I'm disappointed that I didn't have you around when I was growing up and had to wear braces. Nobody was making them cool! Now, you are on a magazine cover with yours.
HA: I was so self-conscious about my braces because there was a time when people thought I was shy, and I'm like, No, I just really have bad teeth. I never spoke because I was so insecure about them. When you are younger, people make fun of you for weird stuff like braces. It took me a long time, and I've had them for, like, six years.
AK: Girl, I had them for seven—I feel you.
HA: Okay, so you understand the struggle. It was a lot of getting used to, and I thought, You know what? Whatever. I have braces now and I'm not going to have them forever so I might as well enjoy them and make the most of it. I did take off my braces for the Miss Minnesota pageant, but I felt so bad about it and my mom was like "Why would you do that? You are all about being yourself and it's kind of weird that you felt that insecure to take them off for a pageant." That was the day I realized that if I'm going to model, I'm going to model with them on.
0 Comment