The Fall 2017 shows have come (and come, and come) and gone, and if you're anything like the Fashion Unfiltered team, you've probably clicked through hundreds—if not thousands—of runway images. We covered over 240 shows, and when you consider that each of those has between 18 and, in the case of Gucci, 119 looks, well, that's a hell of a lot of photos. Where do all those snaps come from, you might wonder? Enter Don Ashby, the original runway photographer who founded Firstview.com along with Marcio Madeira back in 1995. Having fallen into the profession in the early 1980s, Ashby was one of the first to capitalize on the Internet audience's voracious fashion appetite, and after shooting for top-notch print publications like The New York Times and Harper's Bazaar, Ashby took his talents into the digital realm, providing pretty much everyone and their mother with the international runway shots they craved. (Full disclosure, FU uses firstVIEW's sharpshooters for all our fashion show photo needs.)
"We thought, oh this Internet thing, this looks like it could be a cool way to put up as many pictures as we want. Nobody was really doing that." Ashby recalled of launching firstVIEW, which dispatches its photographers all over the world, and boasts a vast archive of collections. "We became notorious very quickly," he continued, referring to a now infamous early aughts legal kerfuffle. Long story short, the French government and Fashion Federation accused the Website of illegally using its Paris fashion show photos for profit. "The French got upset and tried to stop us, and we got a lot of press and publicity through that. For a while, we were one of the top 100 busiest trafficked websites on the Internet." Obviously, firstVIEW—not the French—prevailed, and Ashby and co. still happily snap away in the City of Lights.
Seeing as he's capturing the runway for over 30 years, it's safe to assume that Ashby knows fashion shows. Heck, he's had a front row seat at pretty much every significant romp in recent memory, including those of Alexander McQueen, John Galliano, and Claude Montana. Here, the photographer talks to FU about how the industry has changed, getting booted from backstage by Grace Coddington, and that time Iman walked Mugler with a monkey.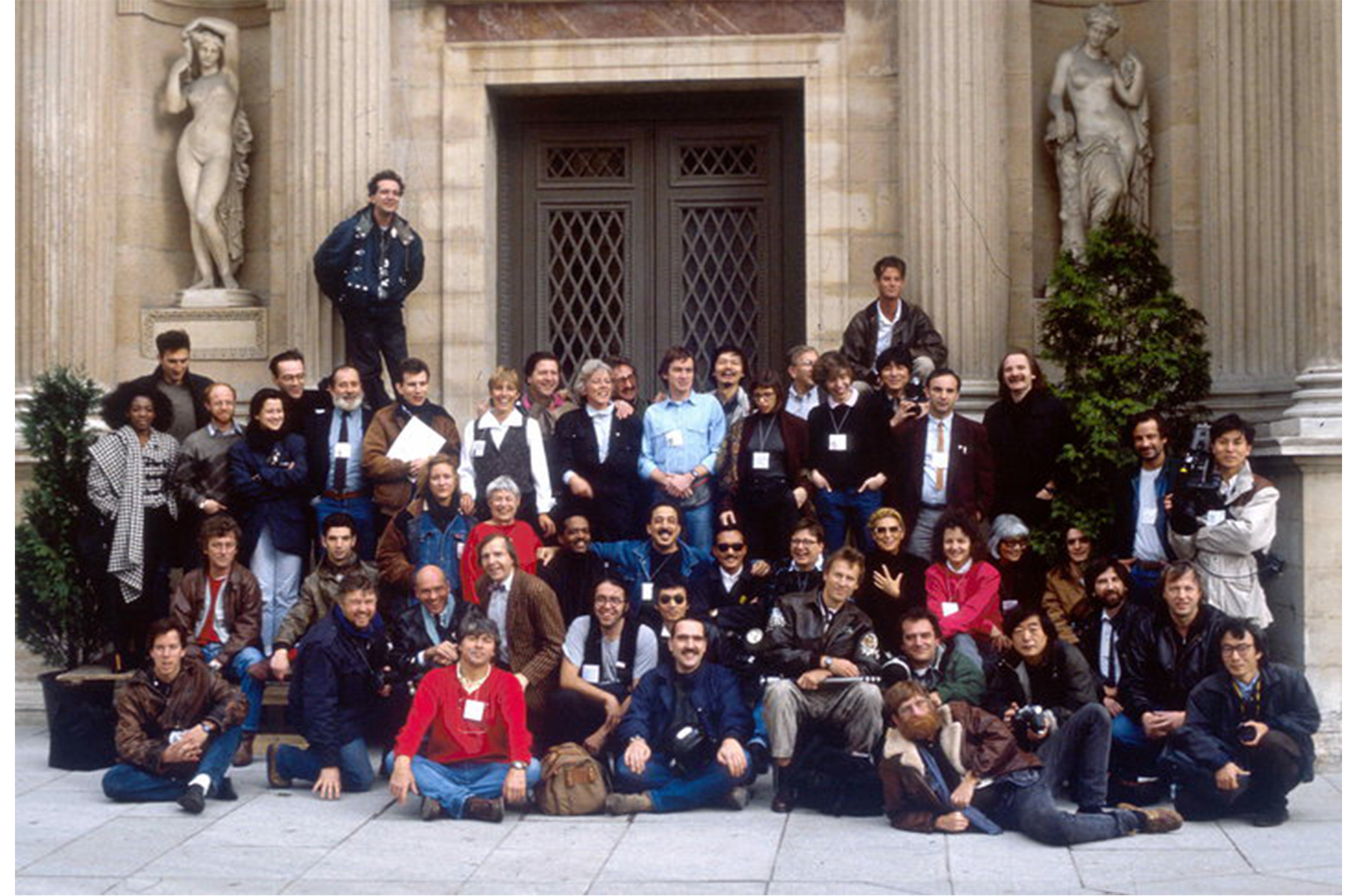 "This was a photo of a lot of the runway photographers in Paris, taken somewhere in the courtyard of the Louvre where all the shows were held. Probably taken in the mid- to late-1980s. Only one or two of the photographers besides me are still doing fashion shows."
Photo: Niall McInerney
Katharine K. Zarrella: So…you're kind of a legend. How did you start doing this crazy job in the first place?
Don Ashby: It kind of just happened. I went to art school for photography and I was doing regular fashion shoots. I was in Europe and I was trying to do magazine work, but once fashion week started, you couldn't go see the editors, you couldn't do anything because of the fashion shows—that's what everyone was doing. I started going just to hang out and see people and chase girls. And then I started getting work doing it. People would say, "Hey, can you take some pictures for us?" So it grew from that. I was lucky to get some good clients—big magazines from the beginning.
KKZ: Do you remember your first fashion show?
DA: The very first fashion show I went to was in April '81. A model I was friends with said, "Oh, I'm doing this show. Come along." The show was Cacharel, and it was in a tent in a construction site. I went to a few more shows with her and that was it. I went around to all the shows in Milan and Paris the next ready-to-wear season, and it went from there. I've been doing it pretty solidly since.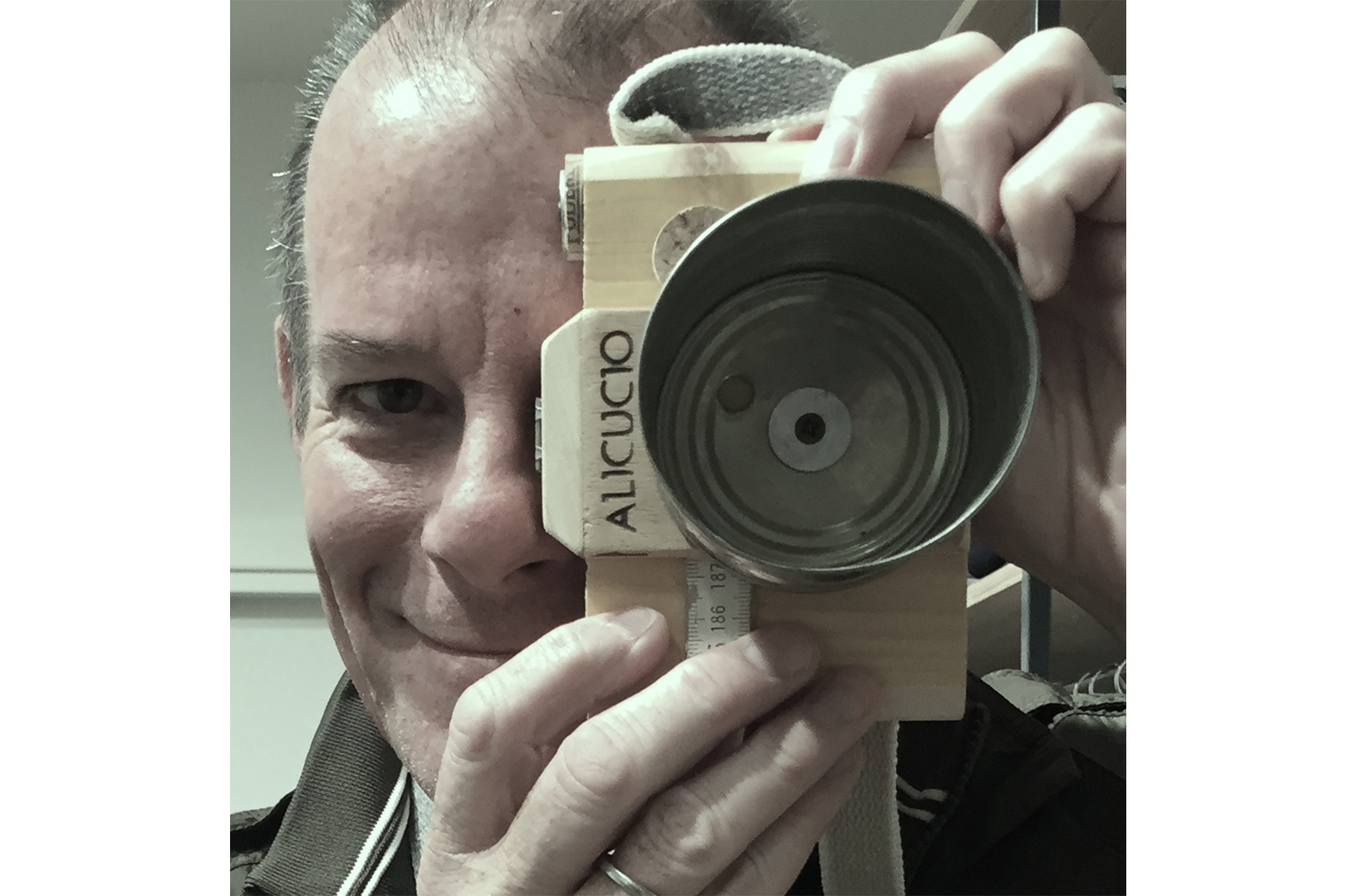 "A self-portrait with a funny wooden camera I found in a shop in Paris last year."
Photo: Don Ashby
KKZ: What has been the most memorable show you've shot?
DA: I have to say, I always loved McQueen's shows—they were always my favorite. They were always really fantastic spectacles. But thinking even further back, there's one that really sticks in my mind. It was a Thierry Mugler show and it was in this museum in Paris—the museum of oceanic arts or something on the outskirts of the city. It was this huge production with a big, high stage and all of us photographers were sitting there with our heads on the runway because it was so tall. At the time, me and two other guys would always be in the same spot together. We were all friends. And Iman came out with a monkey and did her thing—she walked out and stopped and looked over at us and we all took a picture. A few passes later, Iman comes out again. She stops and smiles at us and the photographer next to me looks at her and goes, "No way, baby. No monkey, no photo."
It was an amazing show. There were a lot of amazing shows, though. Like, Claude Montana ones were always terrible, but still…
KKZ: Why were they terrible?
DA: He always had really awful security people and he'd make us wait for hours and hours and hours in these tiny places. And then there'd be fights between the security and the photographers because the security was just unreasonable. Then finally, the photographers said, "That's it. We're going on strike." Everyone walked out. There were like two photographers left—the house photographers were the only ones in there. He got a little bit better after that, but he was kind of on the downhill by then. But photographers going on strike is remarkably effective.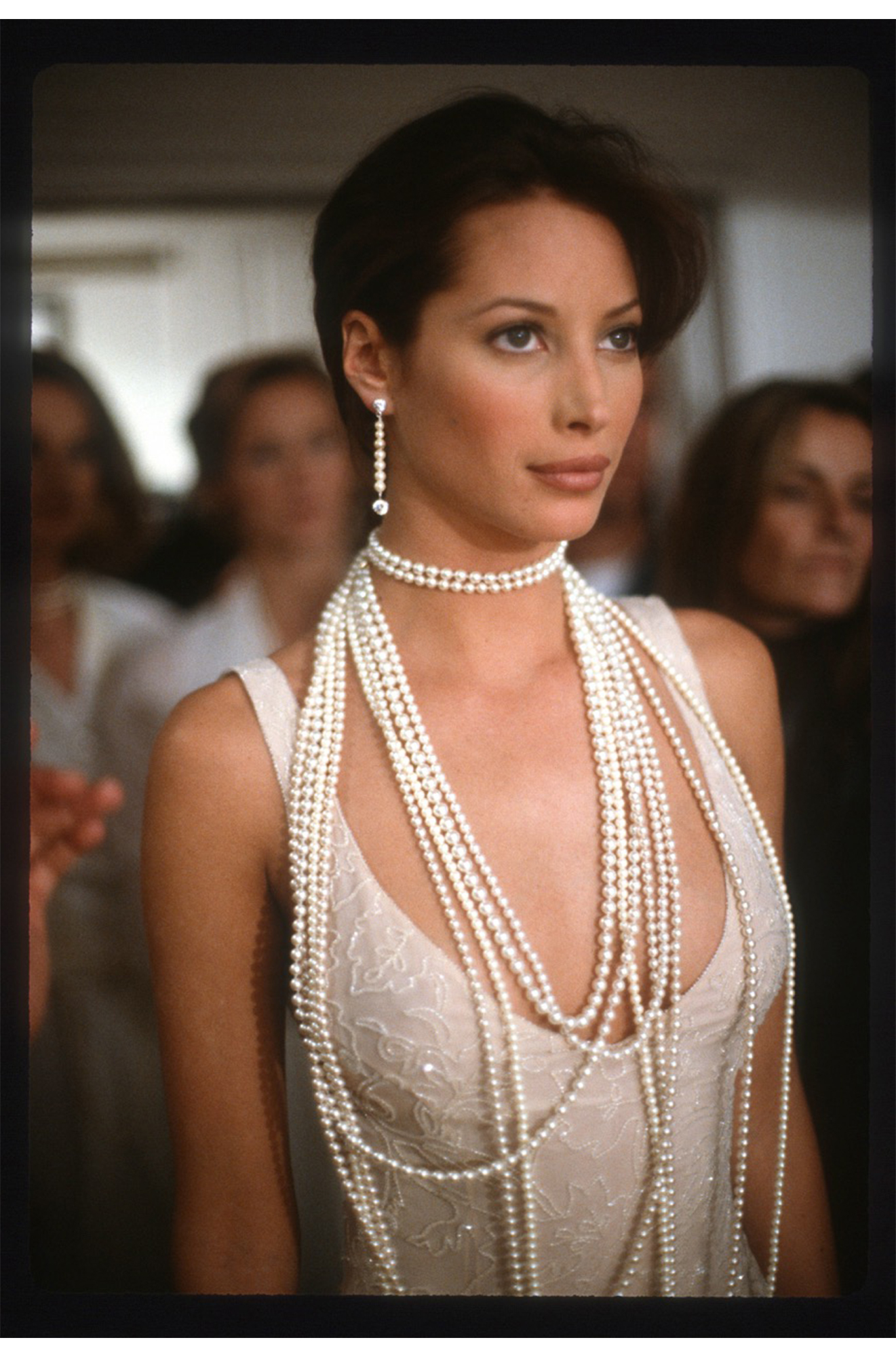 Christy Turlington backstage at a Ralph Lauren show in New York in the late 1980s
Photo: Don Ashby
KKZ: What it was like shooting shows back in the '80s and '90s versus shooting them now? The industry has changed so much…
DA: In some ways it was stiffer. The couture was really different—it was more of a production. Also, having lived in Europe, I went to all the shows in Europe for a long time before I came to New York. And the first season I came to New York I thought it was just awful.
KKZ: Why?
DA: It was in little showrooms and lofts with haphazard lighting. And the models, you'd see these girls and you'd think, Who are these girls? Is it the owner's girlfriend or something? And then the next model out would be Paulina [Porizkova]. It was a huge difference in the quality of the model. I was used to shows that had been really, really produced. Just physically, [in Europe], the runways were always built-up, they were like three feet off the ground, and the way the models would walk was different. Two or three girls would come out at the same time, and a third of the way down the runway they'd stop and turn around or pose. Then they'd walk the rest of the way down the runway and pose again. And then they'd all walk back and they'd stop in that same spot a third of the way down and turn around again. And then they'd all walk back and sometimes stop before going backstage. There was a lot more choreography, whereas nowadays, the models just walk straight out and straight back.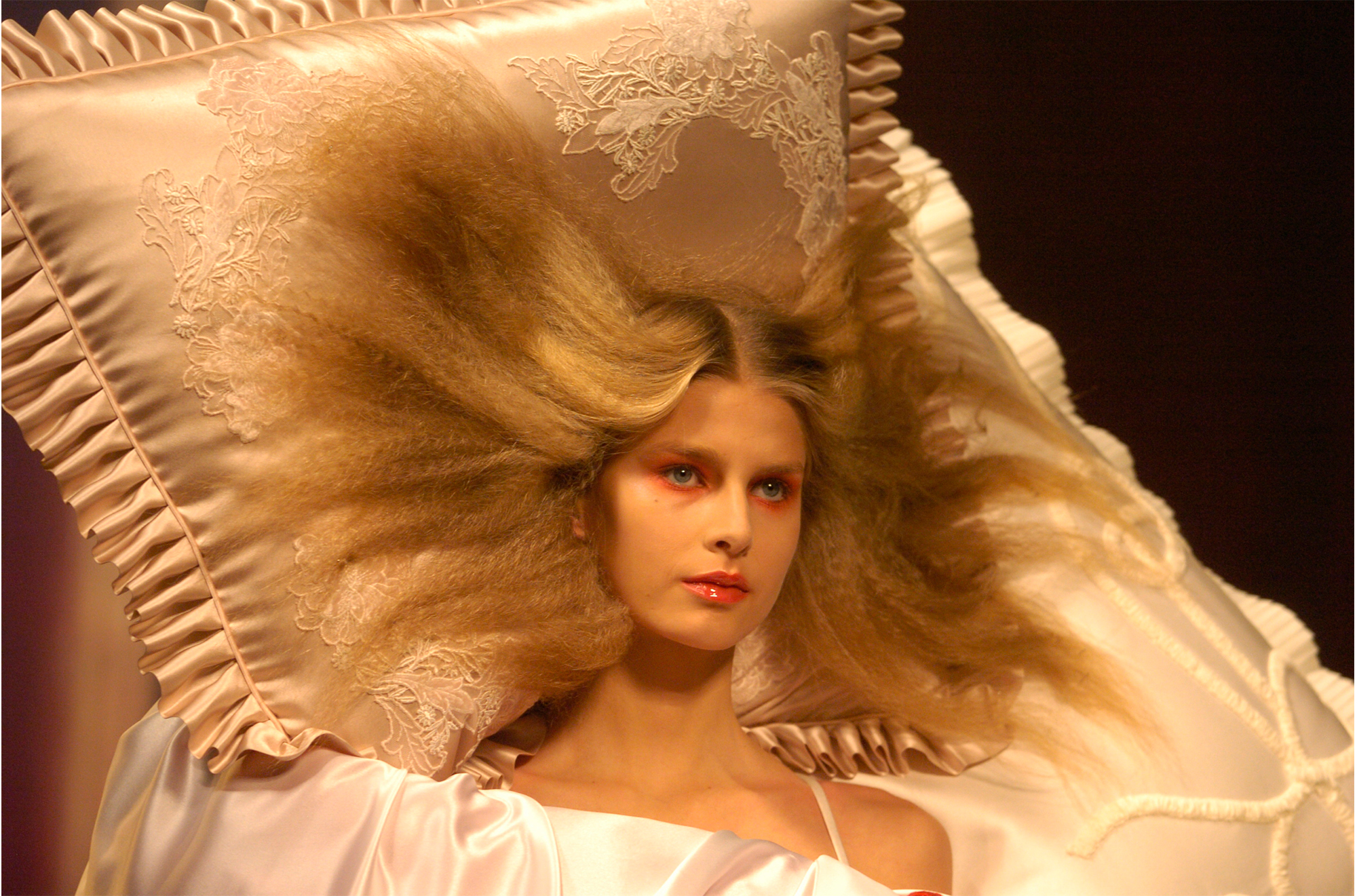 Hana Soukupová at the Fall 2005 Viktor & Rolf show in Paris
Photo: Don Ashby
KKZ: Was it easier to get the shot back then, with that format?
DA: It was easier in the sense that if you got yourself near where the models would stop, you'd get a good two or three cracks at the picture you wanted. And there was more of a chance to get the bag or the shoes or a beauty shot. Also, you were right next to the models. Everyone was crouched down or standing along the side of the runway, so you'd have this low angle looking up. It made for more dynamic pictures, but they were kind of distorted, and you'd see the other photographers across the runway and some of the people in the front row.
That's how I think the term "the pit" started. In Milan, all the shows were done in this big conference center called the Fiera. They'd have raised runways and on the sides was a trench with a railing, and the photographers would be standing in that trench. Everyone would bring boxes and cases so they'd be a bit higher because otherwise, it was a worm's-eye view. The poor people in the front row, you'd usually be standing right in front of their faces. And it would be really hard on your legs because you'd basically pop up like a jack-in-the-box when the girl came by and then squat back down.
KKZ: So how did we get from that to all the photographers crowded at the end of the runway?
DA: Eventually, Helmut Lang started having his show without a raised runway—it was just walking on the floor. And then the designers didn't like if you were sitting on the floor because you'd end up in all of the pictures, [so they moved the photographers to the end of the runway]. Most of the people didn't really want to be on the side anyway—it was kind of like Bill Cunningham and I were the only ones trying to squeeze on the side. I was doing a lot of pictures of the details of shoes and bags at that point. I was one of the first ones to really concentrate on that.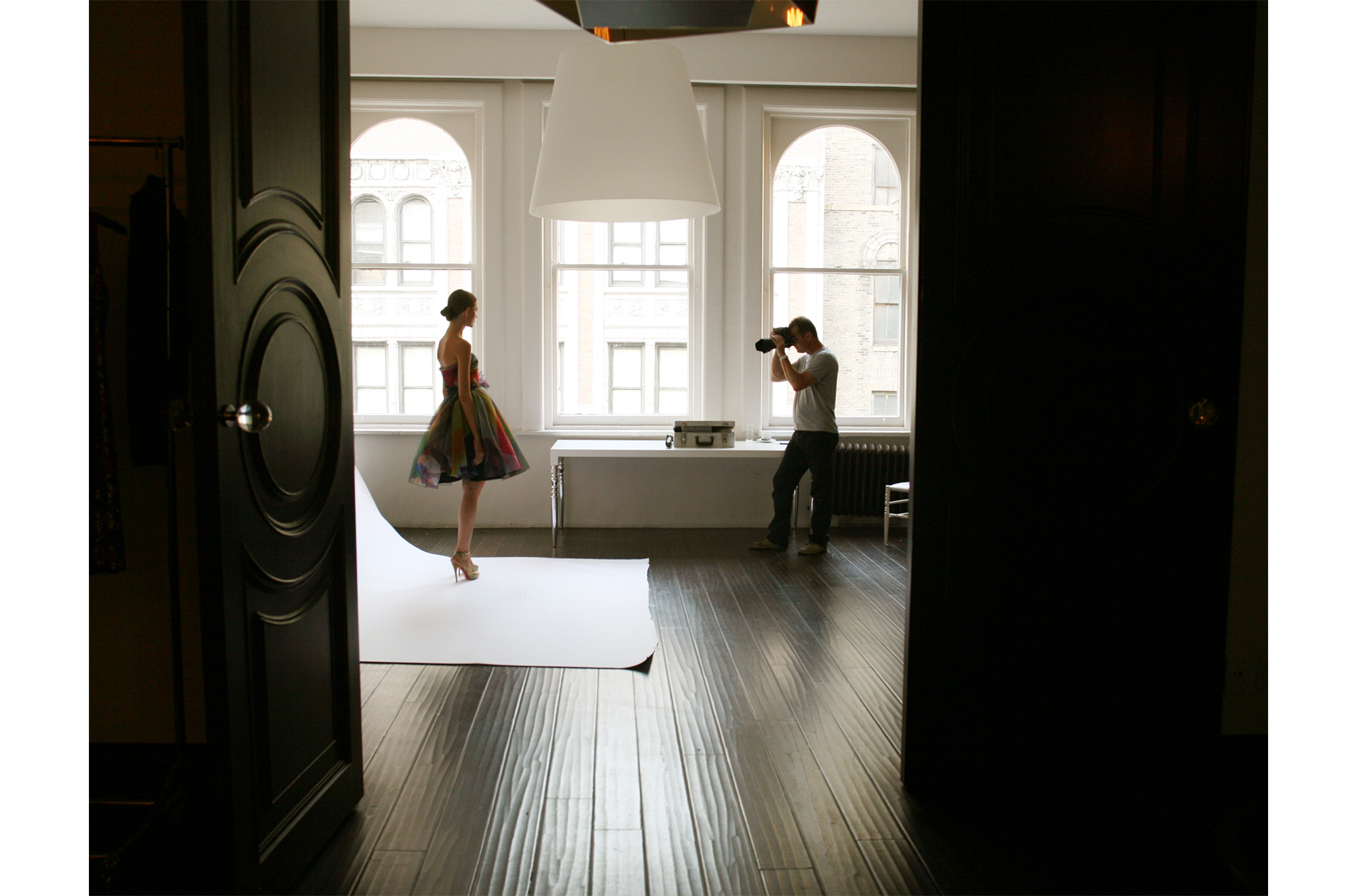 Shooting in Naeem Khan's showroom in June 2008 for the former Style.com
Photo: Jennifer Polixenni Brankin
KKZ: Was the pit, or the photographers' section, always so packed? It looks like a free-for-all these days, with everyone standing on top of each other.
DA: It was smaller back [in the '80s and '90s]. It got really big and really, really crowded a few years ago. But now it seems like it's gotten a little bit better. I think the hard times have cut back on a lot of photographers. A lot of the blog people are sitting in the front row now, so that's eliminated a lot of it. In each city, there's this circle of guys—mostly guys, there are very few girls doing it…
KKZ: Why are there so few women shooting?
DA: It's kind of an intimidating lump of people back there, and not that many girls are dying to go fight it out with all these hooligan guys. So there haven't really been very many of them. But in each city, there's the core group that goes to all the cities and then there's the local press, and by far, the worst of that is New York. You can get a photographer's badge by paying whatever it is—$50—here in New York, so you have to contend with a lot more of the tourist photographers, especially if you're low or on the floor. That's where a lot of the locals go, whereas the core group of runway guys are usually standing up. The local photographers don't necessarily respect any hierarchy—it's first come, first serve. So unless you get there early, you could be in for a good bit of arguing and fighting and jostling.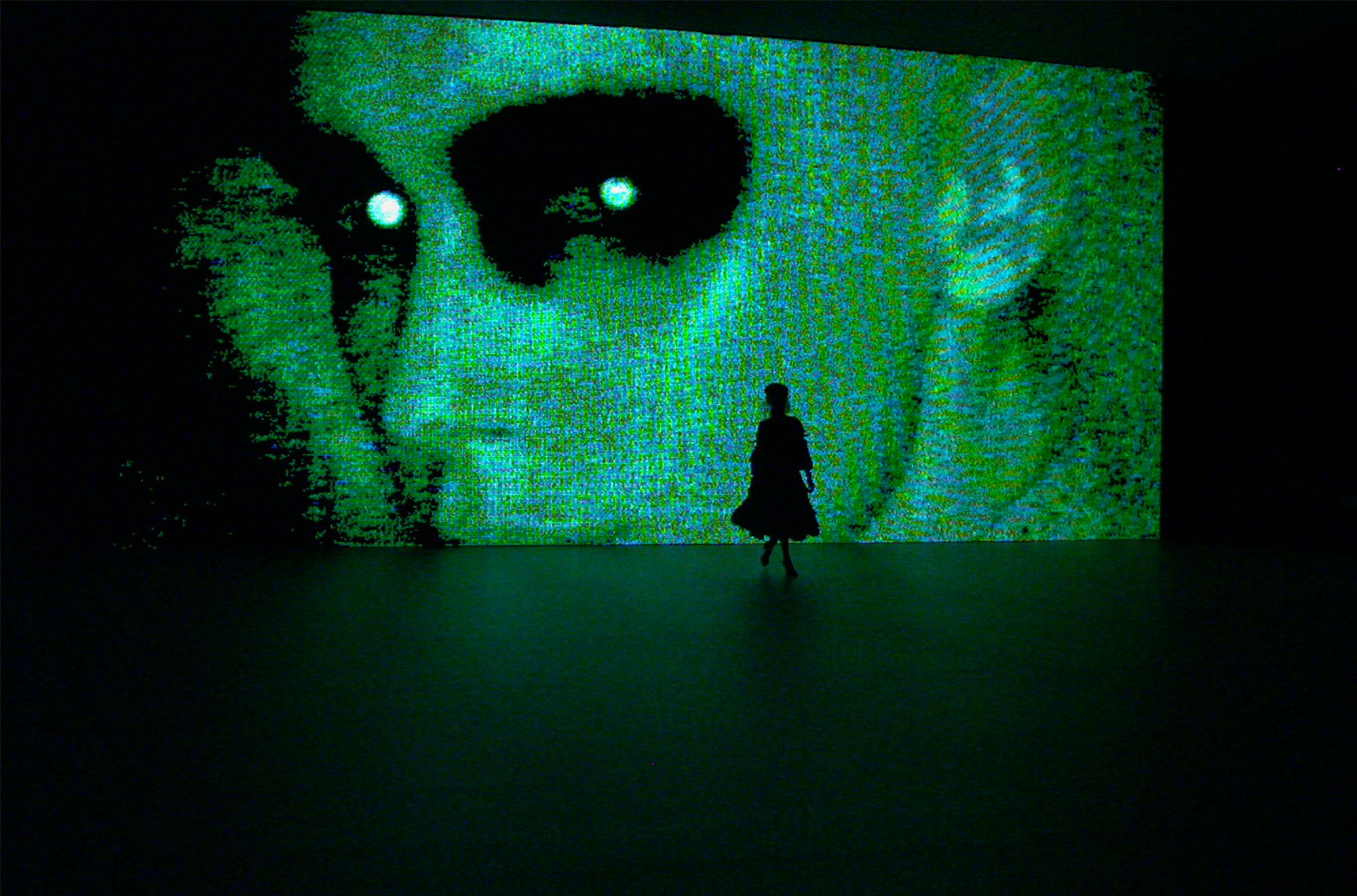 From the Alexander McQueen Spring 2003 show
Photo: Don Ashby
KKZ: Have you ever had any major altercations in the pit?
DA: Me, personally, only one or two. A long time ago at Gucci, during the Tom Ford era, it was terrible because it was a really small space and you'd go and you'd stand there and you'd stand in these tiny little spots for ages. I had a little space in the front row, standing up, and I said to the people around me, "Hold my space here, I've got to climb out and go to the restroom." And I come back and some guy's in my spot and I say, "Hey that's my spot." And he says, "I'm not moving." It was some Italian guy. And I'm like, "You've got to move." And he's like, "No, I'm not moving." And the people around are like, "That's his spot. That's his spot." And the guy is like, "I don't care. I'm staying here." So I grabbed him and started pulling him out of the space and the security came and helped get him out. Then, the PR thoughtfully put him directly behind me, so he was banging me on the head during the show. But there've been photographers hitting other photographers. There's been a lot of stuff over the years.
KKZ: When did the fascination with shooting backstage start?
DA: When I started out there was a photographer named Roxanne Lowit who used to be the only one back there. It was much more private. Gradually, a few other publications started asking for backstage pictures. In the beginning it was like, okay, I'll rush backstage and take a few pictures and run back out and try to keep my spot and do both, which was difficult, to say the least.
Funnily, I was just talking with Grace Coddington about her book and the first season she came to New York and was working for Calvin Klein. There was a photographer backstage and she threw him out and said, "I don't want to have photographers back here. I don't think it's right to have photographers back here. We're working and getting the show ready and don't need the distraction." And then Calvin Klein came running up to her and said, "You just threw out the photographer for The New York Times! You can't do that!" And she said, "I don't care." I had completely forgotten about it, but it was me. So when I saw her, she laughed and said, "Well, I won't throw you out anymore."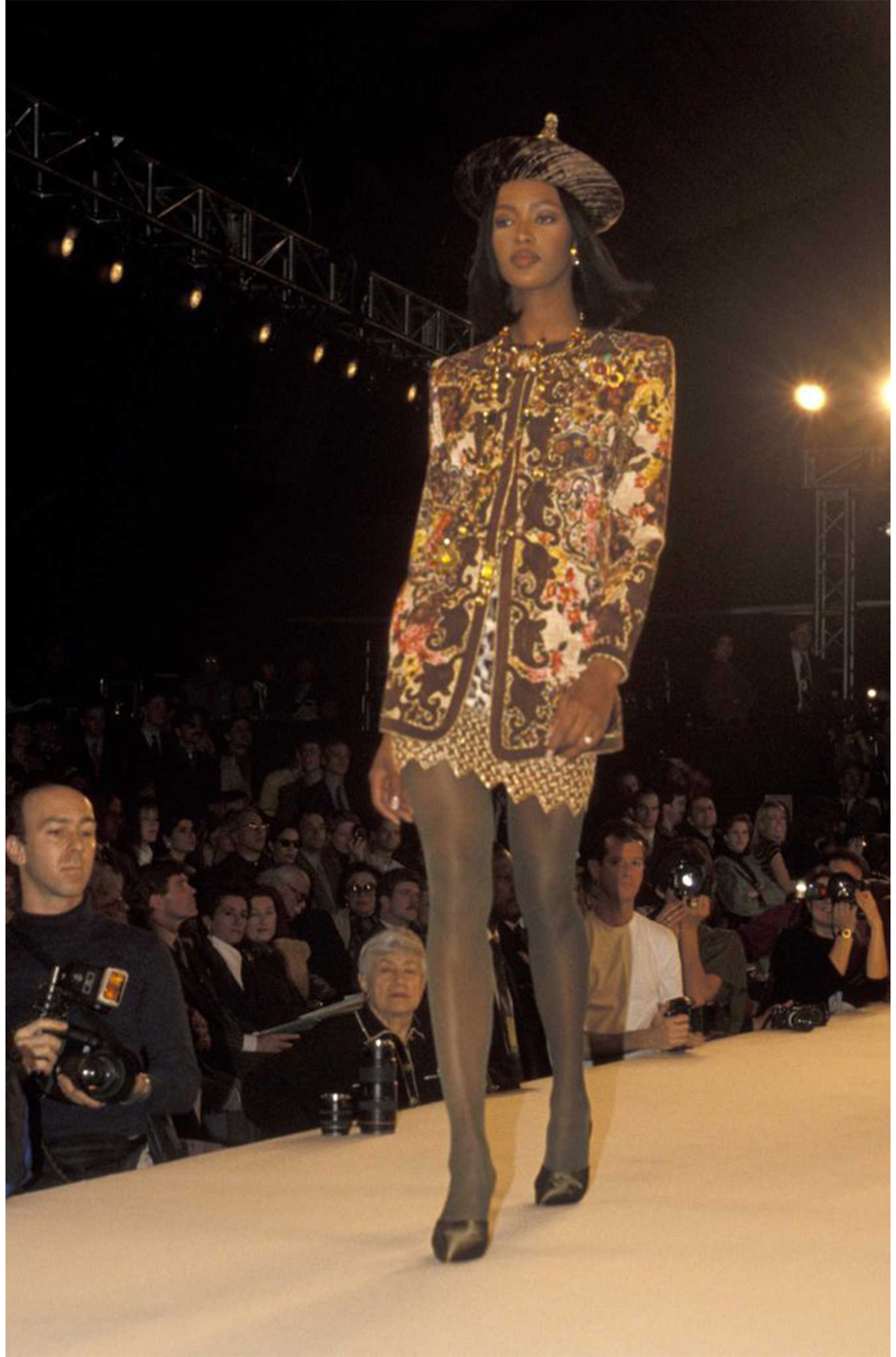 "An old photo from the early 1980s of when photographers were still on the sides of the runway. This was probably in the Fiera in Milan where they had the trenches on the sides of the runways so the photographers would not block the view of the editors in the front row. But the photographers just stood on their camera cases anyway. This is probably where the name "photographers' pit" came from. Naomi Campbell is the model."
Photo: Courtesy of Don Ashby
KKZ: Initially, your focus was working for various print publications like The New York Times. Now, it's all about digital, and there's such a huge push to get the images up immediately online. How has that changed the nature of your business?
DA: Before, we'd shoot film and you'd shoot maybe 30 rolls of film during one show. You'd carry around all that film and then get it developed that night and then you would edit it and send it to your publication that night or the next morning. Now, it's all about digital photography, which is way easier because it's all on a little memory card and you can carry four or five around in your pocket. But now everyone knows that the pictures are right there, so the photographers themselves don't edit very much anymore—you have to have someone else dealing with that. It's become an arms race between the magazines and the blogs to have the pictures up faster and faster and faster. In a way, speed trumps quality these days. It's kind of sad, but that's the reality of it.
KKZ: Do you have a favorite city to shoot?
DA: Paris still has the most interesting shows. I mean, I lived in Paris for a long time so the actual city of Paris is less of an attraction, but definitely the shows are best in Paris.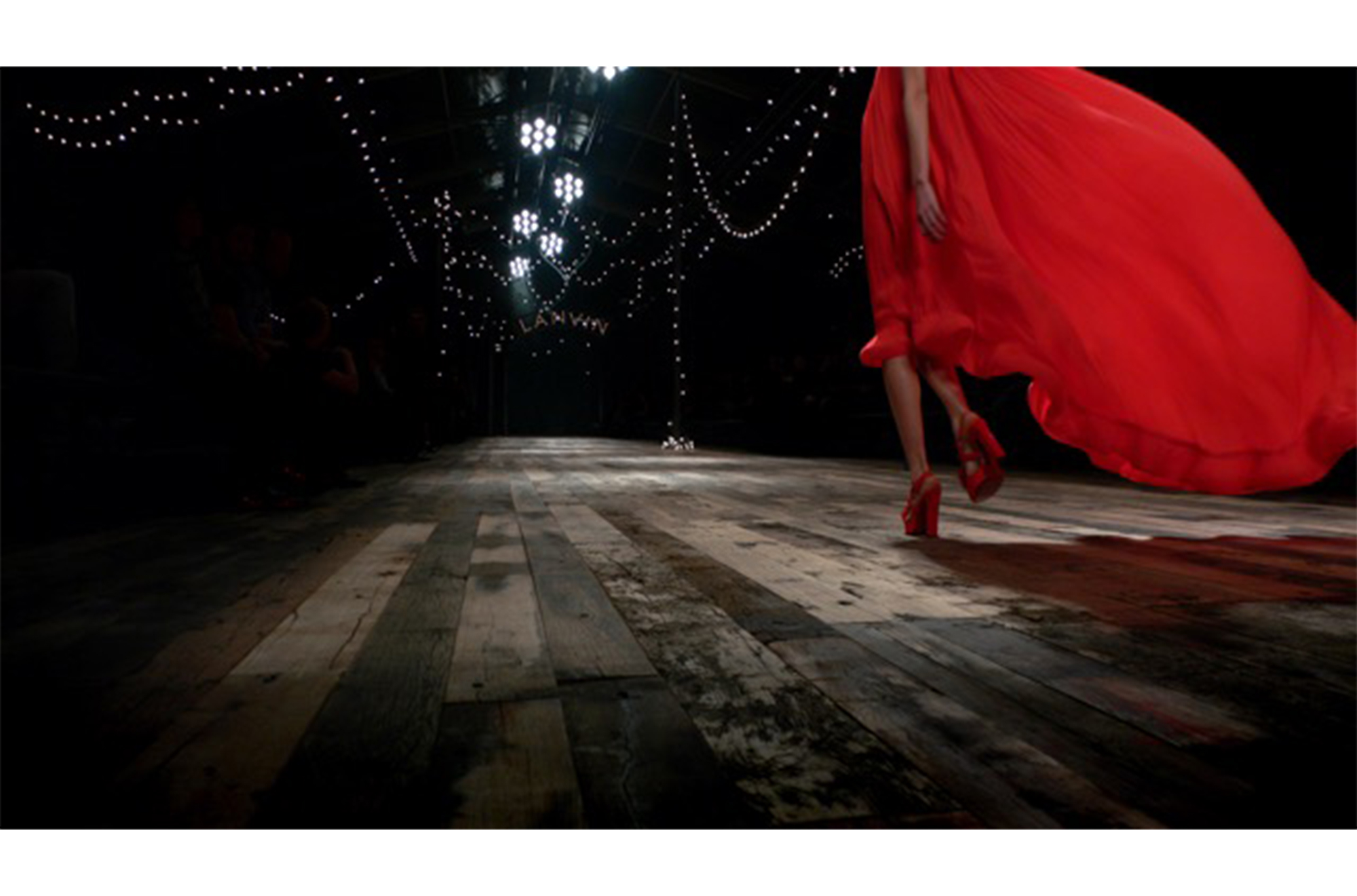 Karlie Kloss in a rehearsal for Lanvin in Paris. Shot with a Lumix snap camera
Photo: Don Ashby
KKZ: Last but not least, you've mentioned to me before that you really love taking runway photos. Do you enjoy it as much now as you did when you first started?
DA: Yeah, I still do. I really like the camaraderie amongst the photographers and the friendly competition, running from one show to the next and trying to beat the other guys to get the best spots. I love the shows that are a little bit different, the ones where you might be in a slightly different position to get a better angle. That was the cool thing about McQueen and Galliano in the beginning—models would be walking around all over the place so you'd try to guess where the best spot was going to be. There'd be these tableaux vivants, like little sets, and you wouldn't know which would be the best place. So there's that excitement, that suspense. And when the house lights go down and the show lights come on and the models start coming out, it's exciting. I'm really happy when I get good pictures.
0 Comment