We have a new Marie Antoinette.

That would be one Louise Linton, the Scottish actress and wife of Treasury Secretary Steven Mnuchin, who was thrust into a media maelstrom earlier this week after a distasteful Instagram was posted on her account. She's pictured descending from a private government jet, her nearly-20-years-older husband trailing. "Great #daytrip to #Kentucky!" she captioned. A tragic drawl of hashtags followed: "#nicest #people #beautiful #countryside #rolandmouretpants #tomford sunnies, #hermesscarf #valentinorockstudheels #valentino #usa."
Sigh.

Vanity Fair later estimated the outfit totaled at $13,775 (it should be noted they approximated, somewhat conservatively, that her Hermès bag ticketed for $10K).
A slew of comments followed, noting how tone-deaf her post was. Then one seemingly innocuous comment from a working-class mother of three from Oregon set Linton off. See the exchange below: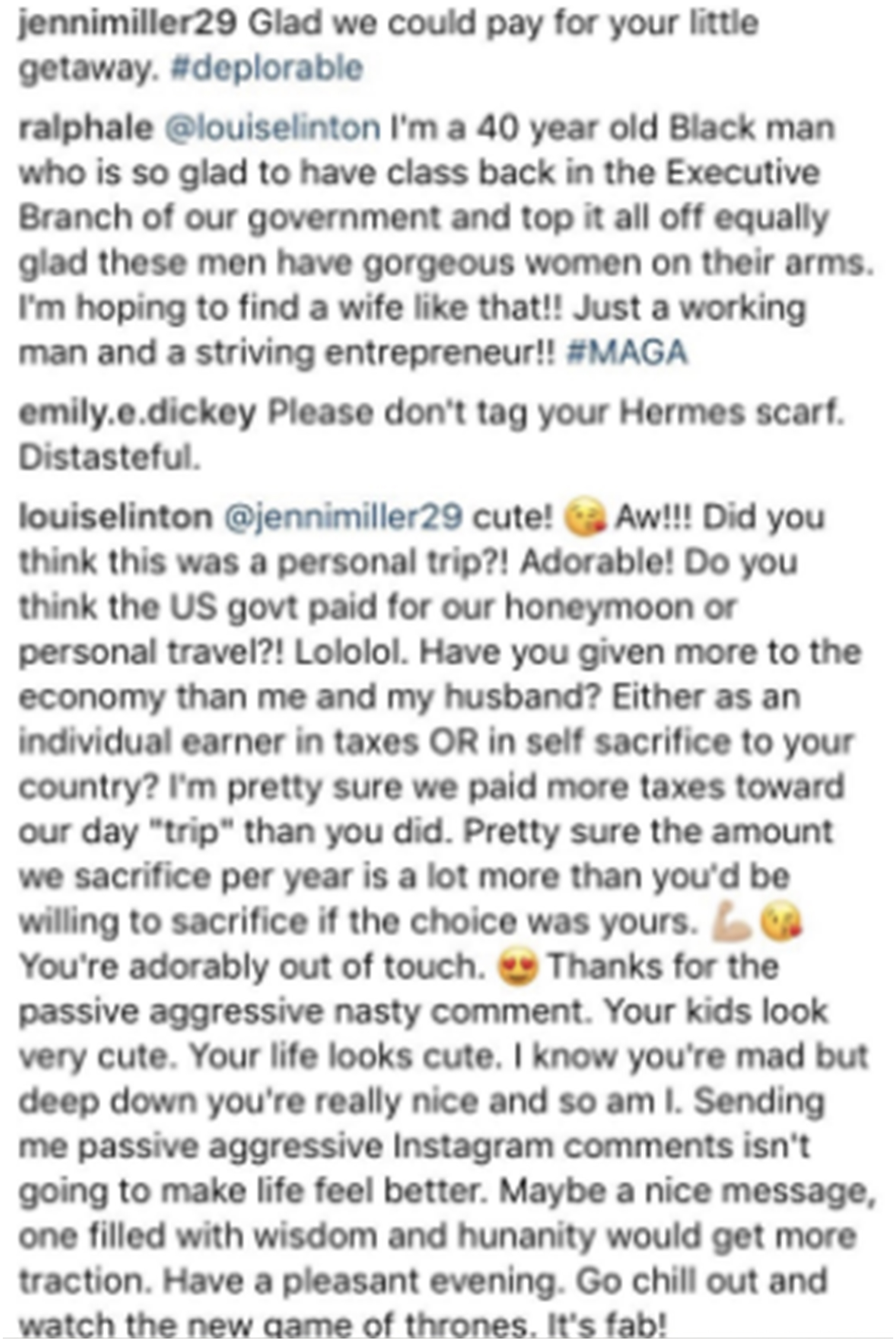 Photo: @margarita / Twitter
Linton later apologized. Though, as the New York Times noted, this latest post is hardly aberrant in tone for Ms. Linton. "The protest and rallies and arguments roiling the country for months have not seemed to bother Ms. Linton...who spent the summer after her wedding to Steve Mnuchin posting evidence of her lavish lifestyle on Instagram," the paper writes. "She zipped around on a speedboat in an Italian lake. She sipped wine at a restaurant overlooking the Louvre. She lounged in a very nice-looking pool with a very nice-looking giant inflatable swan, a tiny Chihuahua nestled in her arms."
After the backlash, Linton made her account private, though the screenshot echo resounded. Marie Antoinette parallels were drawn, etc.
It's strange to me that outrage has become the most effective traffic-driver today—something People.com seems to have caught onto, often touting an item about a mother harming her own children with some woman's mugshot next to a Hadid photo gallery. It's bizarre. Perhaps it stems from our need to share shock with others. Like most people, after finishing a book or movie with a shocking twist-laden ending, I make a friend do the same so we can talk about it. Shock spouts dialogue, as if the feeling of shock is so uncomfortable we need to ameliorate it by making it a shared experience. Anyway, long story short, the media picked it up, people posted coverage on their Facebook walls, etc.
To deconstruct, let's first discuss the original post, then her comments-section rant, shall we?
I know this isn't going to land with a lot of people, but I find tagging brands on social media tacky—nevermind hashtagging them. Whatever happened to quiet elegance? Must you shout from the rooftops that you own Valentino studded heels? Subtlety is intrinsically tied to chicness, in my eyes. @emily.e.dickey and I are apparently on the same page (give the screenshot another looksie).
Also, it's somewhat predicated on this self-indulgent perception that you are something of a style icon. You're presuming that you look so phenomenally chic that others will want to emulate you, and will thus check the tags to see where they can purchase the look. I thought Generation "I'm fabulous" was a millennial-specific problem?
That said, if you're a verifiable style influencer—and you've got the W-2 to prove it—it's a different story. You're simply doing your job for which you get paid. People actually follow you because they want to dress like you.
I think in all honesty, though, she was tagging as a way to grossly flaunt her net worth. Her porny, bleach-blonde locks and Vegas spray tan also did not provide the best optics—should one Google Image search Linton, they might find this, this, or maybe this. Also this. Not to put too fine of a point on it, but she's cheesy.
Anyway, it furthers the spoiled-rich-girl entitlement narrative—she looks like an escapee from the Playboy Mansion. Clearly, this woman is not one for sartorial subtlety. She's cheesy in the way a shiny red sports car is cheesy. It's nouveau riche. Money talks and wealth whispers, which just makes this particularly gross.
Now, let's talk about the worser of the offenses—the rant. Firstly, let's just look at the character count of her rant versus the comment that spawned it. @JenniMiller29 wrote a short, not particularly insidious critique. Linton went off the rails.
Linton's tone is so brazenly obnoxious. "Aw!!!" "Cute!" Kissy-face emoji are peppered throughout the diatribe. It's a specific strain of patronizing, the kind sorority girls think is clever during rush, or how reality stars address their "haters" these days. Linton writes: "Sending me passive aggressive Instagram comments isn't going to make life feel better." Meaning, I'm presuming your life is not as fabulous as mine and you're simply jealous. Sorority Sparring 101. She also accuses the commenter of being "adorably out of touch." No—I would characterize that time Paris Hilton thought Walmart sold "wall stuff" on The Simple Life as adorably out of touch. You're just being a condescending asshole.
Linton points out that she pays a lot of taxes—this is where she becomes most glaringly (and not adorably) out of touch. She seems to miss the obvious point that she herself benefits from taxes more than the average American—perhaps one who is pissed Planned Parenthood was defunded and is sickened by the thought that one penny of their earnings could finance this purported "wall" on our southern border.
Then, she says: "Lololol." Sigh. "Have you given more to the economy than me and my husband? Either as an individual earner in taxes OR in self sacrifice to your country?" Well, I hate to say this but, ma'am, you are an unsuccessful actress. You want to brag about yourself as a monetary contributor in the context of being "an individual earner"? I mean, really?
Then, she cites self-sacrifice. Sacrifice? Weren't you living the glam, jet-set lifestyle five seconds ago? Well, which is it? Is it this horrible onus, a life of service and sacrifice that you nobly took on? Or is it the picture you painted, descending from a jet, a Birkin swinging from your forearm? You can't have it both ways. To assert that your struggles are tantamount to those of an average American, who doesn't have the luxury of living within your tax bracket, is totally insane.
On Wednesday evening, CNN posted a incredibly kind-worded op-ed by Jennifer Miller, the Oregon mom on the other end of the Instagram exchange. Miller emphasized why a woman in Linton's position cannot be out of touch, that she has an obligation to keep her reality in check. "If you're going to work in our government, or choose to be the very visible spouse of a high-ranking government official, you have a duty to care about the citizens of the country you serve. You also have a duty to listen," Miller writes. "Linton responded to my Instagram post challenging me to compose a 'nice message' filled with wisdom and humanity. Well, I'm doing it now, Ms. Linton, and I hope you're listening," she writes. "My message: You're a prominent person now, Linton, so please use your influence for good."
So, yes, this privileged woman is awful and profoundly out of touch. But the fact that she simply privatized her account (rather than more shrewdly deactivated it) shows how tightly she holds on to projecting this gross narrative. She can't give it up. And that's just plain sad. So let's let her wear her gross Hervé Leger dresses and take selfies on Lake Como. I feel bad for her. And her little dog, too.
0 Comment