It wouldn't be a hyperbole to say that Manish Arora is unappreciated in his birth country. We are game for glitz. We love shine. After all, we are Indians. But Arora's method of making sense of the menacing paradise called Indian kitsch was unpalatable, scandalous even, in his own country when he first introduced his eponymous label in 1997. Case in point? The designer's ready-to-wear line hasn't been sold in India since the designer moved to Paris in 2007. That, however, is about to change.
Long before he earned the sought-after acclaim in the West, his magpie collections at Indian fashion weeks routinely dabbled with the coup de théâtre. At a show in 2003, he presented a line of sporty Lycra wear, juxtaposing the color symbolic of same sex love, pink, with black and white. He plastered grainy screen-printed images of two "boys from Banaras," their torsos bare, hands entwined around each other, on sports bras, body-hugging jackets, and sling bags. The Indian media was quick to ponder whether Manish Arora had lost the plot.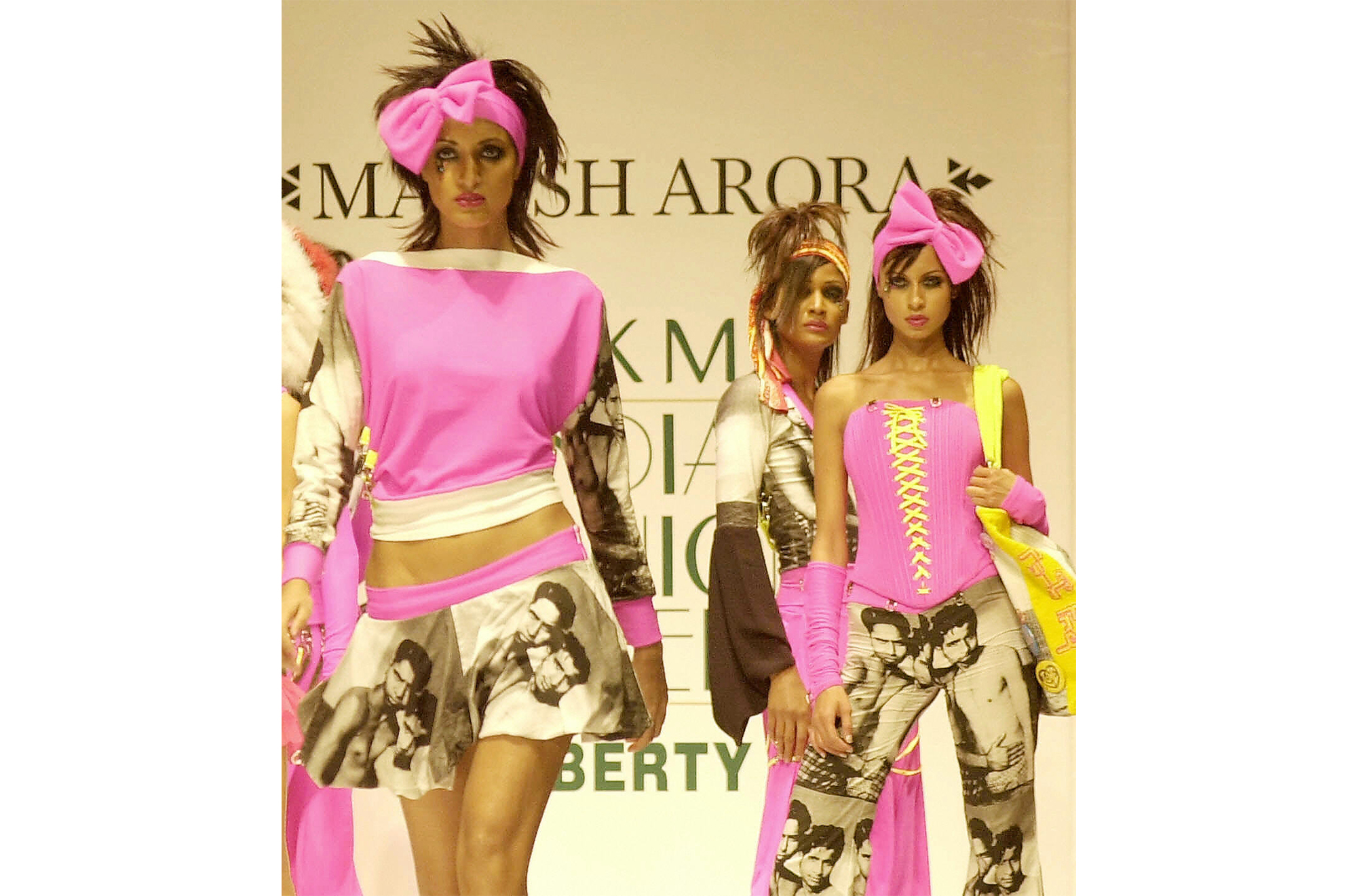 Manish Arora's 2003 collection at Lakmé fashion week
Photo: Getty Images
Born and brought up in Malad, a suburb in North Mumbai, Arora relocated to New Delhi to study design at the National Institute of Fashion Design (NIFT) in 1994. He continues to call New Delhi his home along with Paris, while his mother resides in Mumbai. "My father is no more but my mother lives here, my whole family is coming tonight. Full family bonanza is happening at the show," said the designer in his unmistakable baritone voice.

The man-of-the-moment was invited to present his much-admired Cosmic Love Fall 2017 collection, which debuted at Paris fashion week in March, as part of the Winter/Festive 2017 edition of Lakmé fashion week, held between August 16 and 20. Almost alluding to the egalitarian values of fashion, the nonconformist designer chose the atrium of a city mall as his show venue, with an army of 40 models floating up and down the escalators wearing wardrobes inspired by Arora's visual journey from India to outer space.
And it was a special kind of voyage. The Fall 2017 collection celebrates 10 years since he debuted in Paris, and was showcased in Mumbai, a city he reluctantly calls home. Is the country finally ready for Manish Arora? "I don't know if people are ready for me, but I am ready for them, whether they like it or not," he laughed. Ahead of his show at Mumbai fashion week, Arora opened up to Fashion Unfiltered about carving his own path, designing for "people," and why it's time to resume selling his ready-to-wear label in India.
Shweta Shiware: From your first show in Paris to now, did you imagine that things would work out?
Manish Arora: It was actually London first before Paris, for two years. Things have been changing since then, but for the better mostly.
So many good things are happening to me thanks to Paris. I think India appreciates me because of Paris. It's that thing that we Indians have that once we are endorsed by the West, we find instant approval here.
SS: Do you ever think of yourself as a designer for strong and assertive women?
MA: It's not even a woman; it's a person. The time is over for me in fashion when it was about designing for men or women. My person, my customer, is obviously confident, not shy, [doesn't] play it safe with outfits, and loves to stand out in public. That's the kind of person I make clothes for.
SS: Did you ever feel misunderstood by the international media?
MA: Of course. Not misunderstood, but misjudged, probably. I believe when you've such a strong style like I do, or Rick Owens, or Commes des Garçons in the past, there's bound to be criticism. In fact, I'd be worried if everybody loved my designs. That would mean your designs have become common. Boring, even.
When Suzy Menkes criticized my Paco Rabanne collection in 2011, I took it as a lesson. And she gave me an amazing review for my Fall 2017 Cosmic Love collection.
SS: What did your short stint at Paco Rabanne teach you?
MA: It taught me a lot. Firstly, it taught me how to live in Paris, which was a huge personal shift. That's how I got addicted to Paris. Since then, I haven't left. Besides that, it taught me how fashion is a serious business. It can be an image you create for your show, but at the backend, it's serious business. Living in France, not just working at Paco Rabanne, taught me there is a thin line between ridiculous and refined, and you have to know where to stop. Every centimeter or millimeter matters, when it comes to the length of the dress.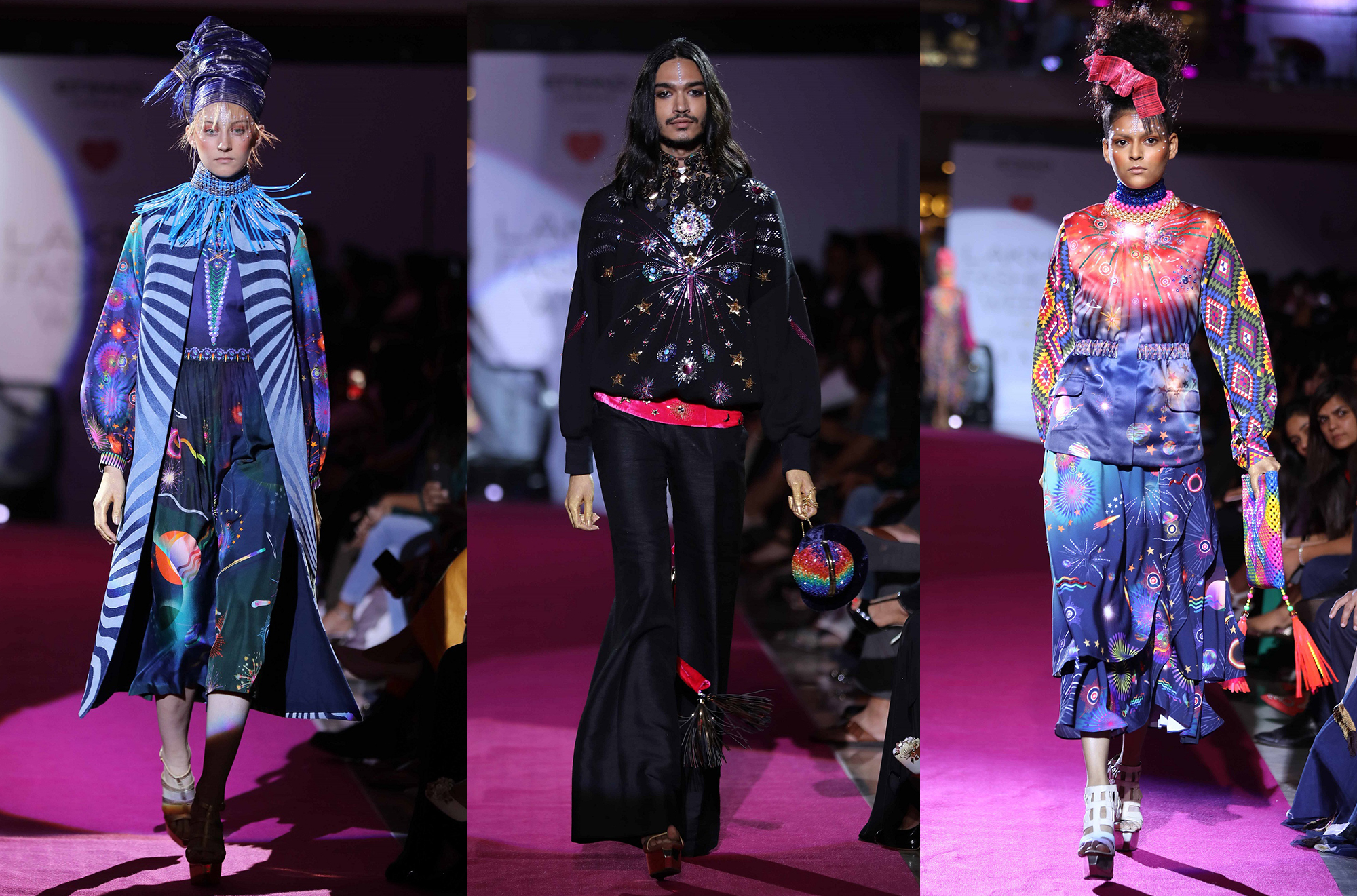 Manish Arora shows his Fall 2017 collection at Lakmé fashion week
Photos: Courtesy of Etihad Airways & Lakmé fashion week
SS: About straddling the Indian and Western markets—are there any differences between the collections you sell in India and the rest of the world, and how do you balance those demands?

MA: My biggest markets are China and the Middle East, and it doesn't get more divergent than those two, does it? But that's the challenge every designer faces, and if you look deeply in my collection, there's always something for each market, be it China, the Middle East, or Europe.
I also think it is time to bring my label, Manish Arora Paris, back to India. It wouldn't have worked in India, say, around nine years ago, because then people were not ready for my kind of fashion. But now, the next generation is ready for me.
SS: What do you think about the new generation of Indian designers?
MA: To be honest, I have no idea. I don't know about designers, but as a country, I have been noticing a new Indian underground culture—an undercurrent of trendiness, which is so cool. They are not bothered about brands, about the Diors or the Louis Vuittons. That's a huge change, a new cult on the rise, which is very interesting.
SS: Why is Manish Arora one of the most successful Indian designers internationally, and how he does it?
MA: I don't really care about being successful, but I am one of happiest designers, and satisfied. I can make it sound very easy, but it takes a lot to be the first [Indian designer] to make a name in the international market.
And it's not been without my share of many mistakes, learning, and of course, the first mover advantage to showcase India on an international fashion runway. Being the first allowed me the liberty to show India the way I wanted to, in terms of fashion. I also feel responsible for the younger generation, who are inspired by my aesthetic. See, I had nobody to follow when I started out, so I could create my own path. It came with its disadvantages and struggles, but I had the freedom to express myself, and that's important.
0 Comment