When Morgan Saint walks into our meeting at Epic Records, an arm of Sony Music Entertainment that signed the 23-year-old Long Island native this year before she'd even released a track, she looks like she's just stepped off a Vetements runway. Her black hair is one part Joan Jett, one part Bettie Page, and there's not a stitch of makeup on her porcelain face, save for some lip balm, with which she has a mild obsession. In fact, during our hour-long chat about everything from her bewitching video for her debut single, "You" (above), which dropped on Friday, to her studies in illustration and photography at Parsons the New School for Design, she pulled no fewer than three different tubes of the stuff from her black fanny pack, an accessory that perfectly complimented her black ribbed tube top, navy track pants with orange and yellow stripes (worn rolled at the waist), and black-and-white sneakers. "I'm addicted," she laughs while sitting on a couch. "If I were ever to do some weird merch, it would be a ChapStick." Her nervous infatuation was charming, and projected an endearing honesty that's rare in the oft over-manufactured musicians of today. But Saint, a brand-spanking-new inductee into the music biz, isn't manufactured in the least. Rather, she's staunchly herself, something that shines through in her heady visuals and every spellbinding track on her first EP, 17 Hero, which will come out this fall.
Saint, née Gildersleeve ("I'm not religious, I just felt like if I could have picked my name when I was born, [Morgan Saint] is what it would be," she says of her stage moniker) has been swept up in somewhat of a whirlwind since graduating from Parsons in 2016—so much so that she can hardly believe it's happening. Though she's been passionate about music her whole life (she studied piano as a kid and taught herself how to play guitar in high school), Saint felt a career as a songstress was unattainable, thanks in part to American Idol. "I would watch it religiously and be like, 'Oh my gosh, that's what I want to do!'" she recalls. "But I think it screwed with me because you'd see thousands and thousands of people trying out. And I'd just think, 'Shit, that can't be me.' It seemed so farfetched." A diehard aesthete, Saint, who is now based in Manhattan, settled on more practical creative pursuits, heading to Parsons where she honed her refined approach to visuals. "I wrote a lot of poetry for my thesis project, and I'd written a song that I felt really strongly about, so I thought I should try to get it produced, just to have something to hold onto," she says. Serendipitously, she knew singer-songwriter and producer Cass Dillon from back home, who happily helped her perfect the track (which remains a personal project and is not on her EP). The moment she stepped into the studio, something clicked. "I was just like, 'Wow, this is where I'm supposed to be,'" she says, playing with the many silver rings on her slim fingers. Not long after, the pair began to work on the EP, which, also serendipitously, ended up in an Epic exec's inbox. Soon enough, she was on a plane to L.A. to be signed by the music giant.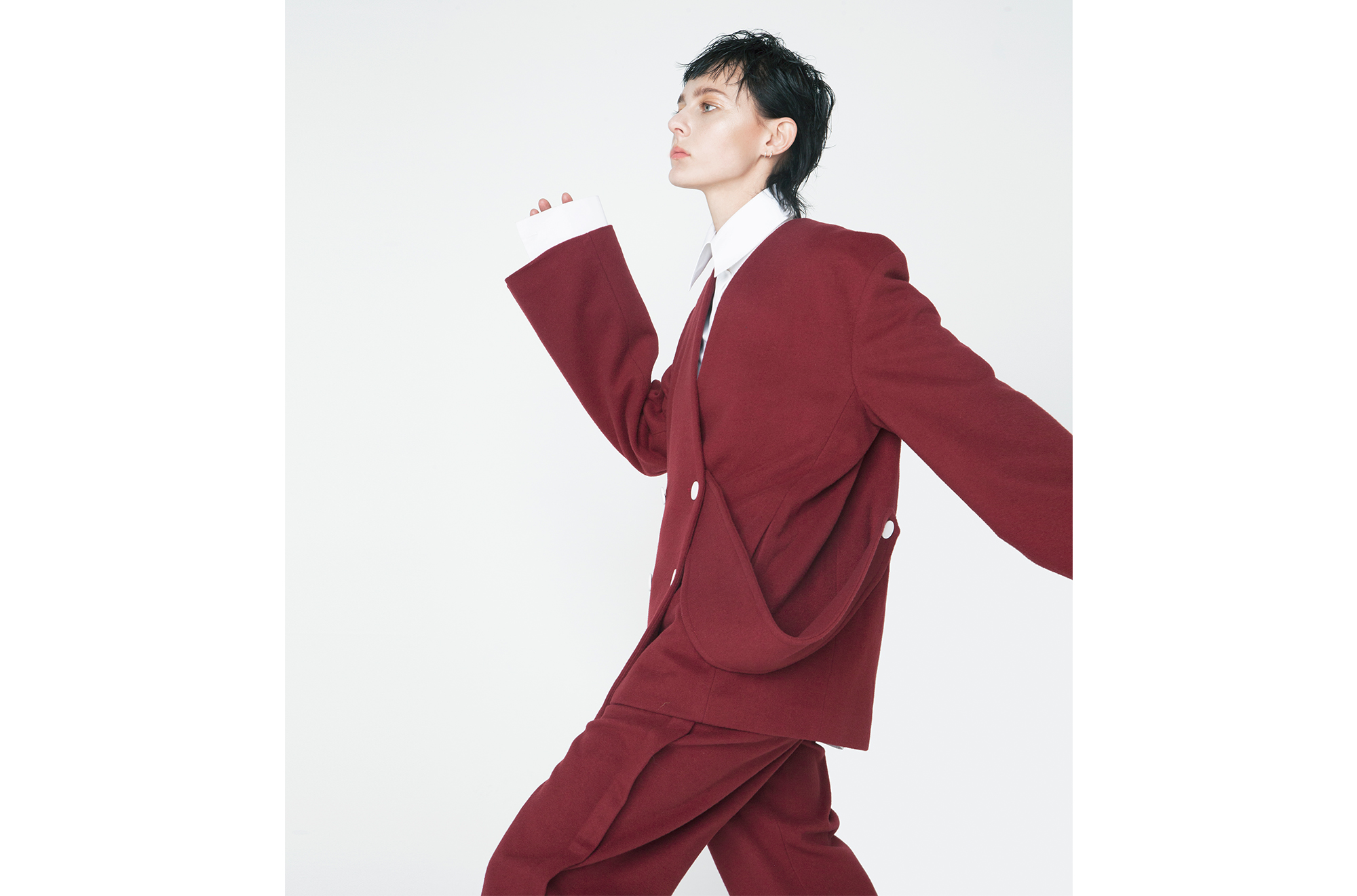 Photo: Courtesy of Epic Records
In addition to her moody pop melodies and lyrics that explore emotion with depth that stretches far beyond her 23 years, one of Saint's greatest strengths is the inextricable connection between her visual and musical expressions. She equates her songwriting and production process to painting, noting, "I do a lot of watercolors, and I feel like when I'm making a song, I can almost see the colors and the layers."
"I'm obviously a visual person, and I love fashion," she continues, citing photographers Harley Weir, Viviane Sassen, and Jonas Lindstroem as dream collaborators. "I see fashion as an extension of how I'm able to express myself. I get excited to put things together because getting dressed is like another art form." She's drawn to vintage, and scours various shops for garments she can cut up, sew back together, and make her own. "My style changes as I'm in different moods, different headspaces, and different places in my life—in college, I wore all black," Saint says. At the moment, she's all about the sportiness of the '70s and '90s, as evidenced by the very Demna Gvasalia-for-Balenciaga-esque boxy suit jacket and denim ensemble seen in "You," which she picked up at The Vintage Twin.
The above video, directed by Nathan Crooker, with art direction by Saint and Sofia Colvin, styling by Saint, and Jason Banker as director of photography, dreamily embodies the singer's nostalgic, cinematic aesthetic. "Morgan is a very strong and focused woman," says Crooker, who has worked with such artists as Miley Cyrus and Jennifer Lopez, as well as actress Gwyneth Paltrow. "She knows her aesthetic and how she wants to be seen. We talked almost every day about the look, feel, and vibe. I have a lot of respect for her."
"It was a really cool collaboration," adds Saint of the project. "Nathan challenged me to have an open mind. I see everything as a photograph, and he helped bring movement to the piece to make it feel like a music video, but in a very artistic way. I wanted it to be simple and unique compared to everything else that's out there."
On the horizon, Saint has two more video releases, a handful of upcoming shows, and, of course, the release of 17 Hero, the title of which—like each of her songs—has deep personal significance. "Seventeen is my ultimate lucky number. Two really important people in my life who passed away had birthdays on the 17th of different months; obviously [my music career began] in 2017; and even the tempo of 'You' is 117. It pops up in my life all the time," explains Saint, who has the numeral engraved on one of her rings and also tattooed on her right hand. "And Hero… I write about people who mean a lot to me or who have influenced me—most in a positive way, but some in negative ways. Either way, I look at these people as personal heroes."
When asked what kind of an impact she hopes to have on her newfound audience, Saint pauses and grabs one of her lip balms. "It probably sounds cliché, but music has helped me so much. I just want people to be able to relate to my lyrics. Some songs are feel-good and might make you want to dance. Others are a little more heart-wrenching, but music is such a powerful medium," she says. "And I feel ready to share it with the world."
0 Comment