In 1984, while browsing the Anchorage airport's duty-free shop, Stephen Jones gave Comme des Garcons' Rei Kawakubo the cold shoulder. "This Japanese lady came over to me and said, 'Stephen Jones, I really like your hats,'" the British milliner recalled in an interview with FU. "So I said, 'Thank you very much,' and walked away. And then she said again, 'Uh, Stephen…Mr. Jones, I like your hats.' And I noticed [my assistant] running towards me, and she said, 'You idiot, that was Rei Kawakubo!'"
Lucky for Jones, Kawakubo forgave the gaffe, and the pair have collaborated ever since. In addition to designing hats for Comme des Garçons' runway shows and secondary lines for the last 30 years, Jones has launched two fragrances under the CDG umbrella, and Kawakubo has hosted a number of his installations—including one to celebrate his brand's 25th anniversary—at Dover Street Market locations around the world.
From abstract white felt toppers, to velvet bunny ears, to intricate bricolage crowns, Jones' confections perfectly punctuate Kawakubo's cerebral designs, which is impressive, given the notoriously abstract Kawakubo's aversion to traditional briefs, or even discussing her collections. But more than just being her collaborator, after three decades working together, Jones has come to know the elusive icon better than most. Here, ahead of the Met's Rei Kawakubo / Comme des Garçons: Art of the In-Between (opening May 4), Jones speaks to Fashion Unfiltered about how Comme des Garçons revolutionized fashion, Kawakubo's collaborative process, and that time she made him a giant, hat-shaped birthday cake.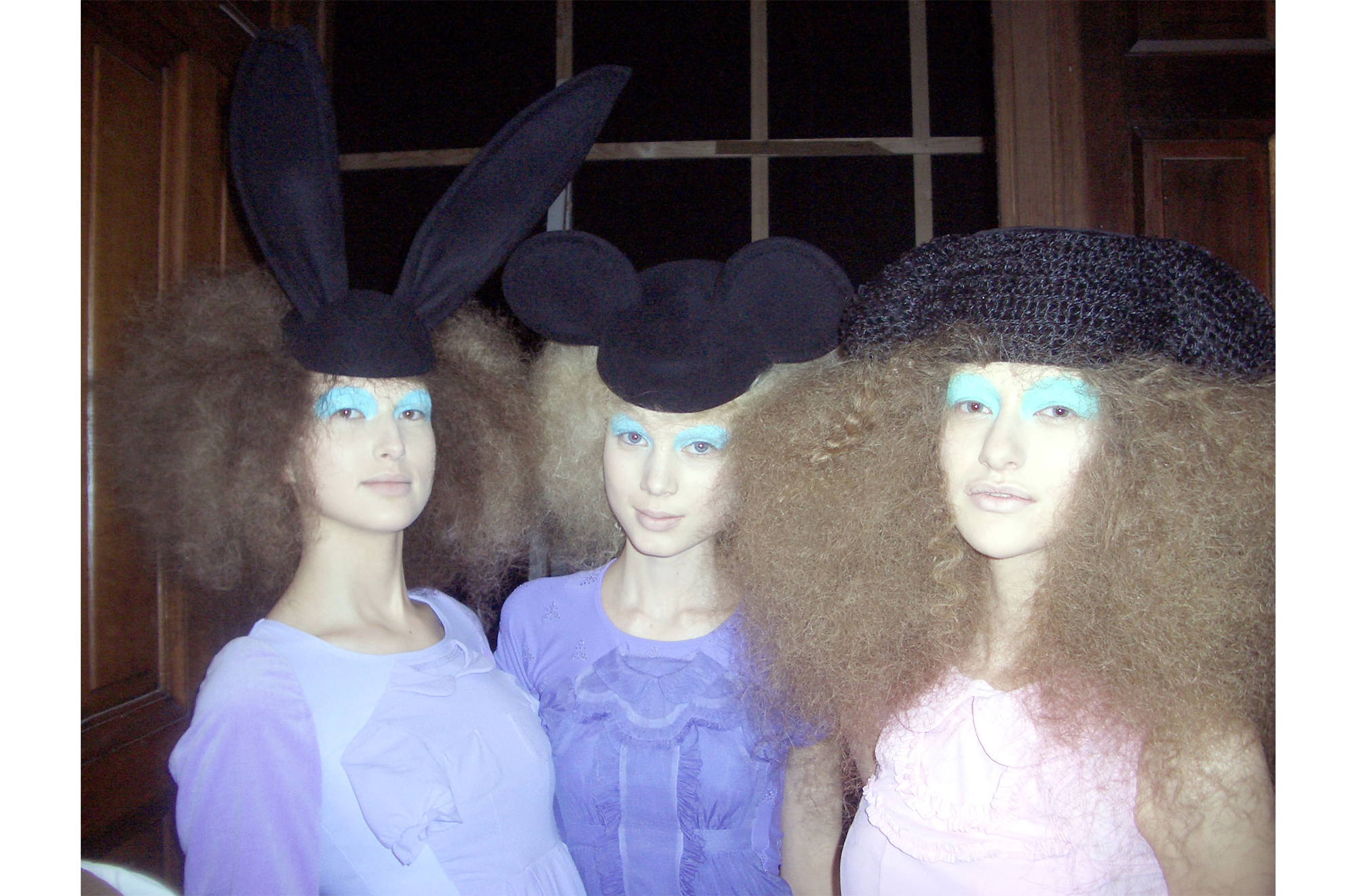 Stephen Jones for Comme des Garçons, Fall 2007
Photo: Courtesy of Lesley Robeson
Katharine K. Zarrella: You've been working with Comme des Garçons since the early 1980s, and at that time, the Paris fashion establishment was violently opposed to Rei Kawakubo's designs. Why was that?

Stephen Jones: The thing that makes French design so extraordinary is its tradition, and the fact that there was Marie Antoinette and all of that. Rei appreciates that. That's why her offices [are] in the Place Vendôme, because that's the center of French fashion. She did that out of respect. But she's a Japanese designer, not a French designer, and she wanted to do clothes with a different point of view. Because of that, I think French designers found her completely alien and were very, very concerned. They felt [her work] was an assault on French sensibility and French culture. The British didn't feel that, and the Americans didn't feel that, and the Italians didn't think that, but the French did. Americans loved it. People loved it as an alternative to that world of Dior and Chanel and that idea of chic French good taste. This is something that really fueled fashion in the same way that punk challenged the ideas of what was beautiful and what was ugly. I don't think [Kawakubo] ever did anything to shock people on purpose. I think she was just starting with a blank canvas.
KKZ: Is Rei Kawakubo a punk?
SJ: There's a certain punk sensibility to her, yeah. And I think she will go down in history as having a punk sensibility. She loves London. For example, I remember once Adrian Joffe [Comme des Garçons' CEO and Kawakubo's husband] told me that she asked me to collaborate because she wanted an English gentleman to make hats for her. She is [embracing] that tradition [of British millinery], even though often I'm doing something that is completely outside that tradition. She loves that high-low mix. She loves that this is a new way of doing things. And I think that she loves the spontaneity that a hat can bring.
KKZ: You have worked with numerous influential designers throughout your career—John Galliano, Raf Simons, Thierry Mugler, Marc Jacobs, the list goes on. With that in mind, how do you think that Comme des Garçons and Kawakubo have impacted fashion's evolution?

SJ: It's changed everything completely. Really completely. The Western world largely saw fashion as it was prescribed by that tradition of French fashion. And in the early '80s, who was the absolute king of fashion? It was Yves Saint Laurent. He had come from an haute couture background at Dior and his own house. And he was making tuxedos—a perfectly finished thing that was sexy and elegant. Then, [Kawakubo] suddenly brought a whole different set of adjectives to fashion, or what fashion could be. The idea of a frayed hem—you know, Margiela wouldn't have done it without Comme des Garçons. Clothing is about appearance and how we [present to] each other. Before Rei, the vocabulary of how we appear was quite small. She's expanded that alphabet hugely. She makes you try and imagine those letters that you don't yet know, which have been introduced every season.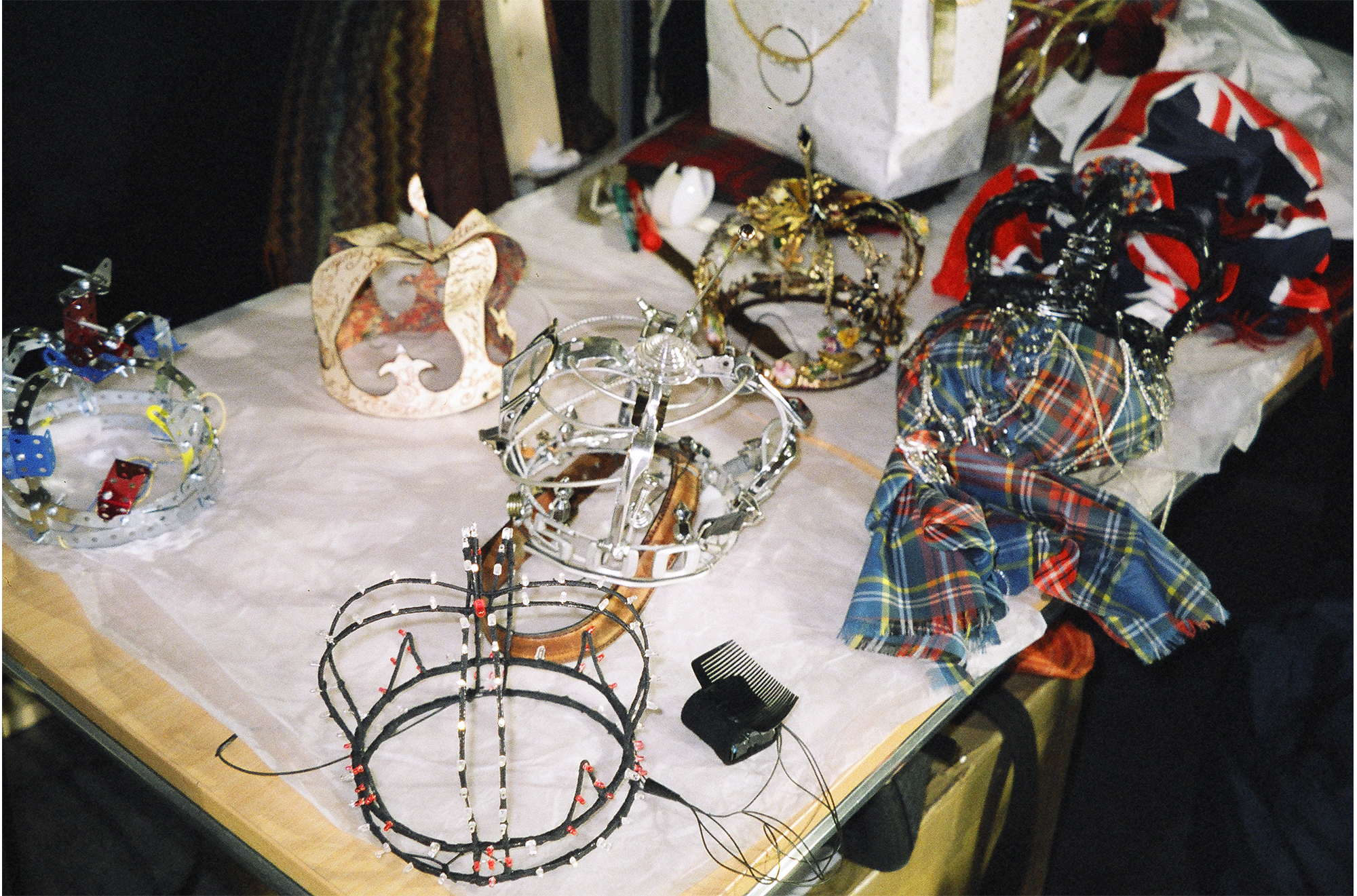 Stephen Jones for Comme des Garçons, Spring 2006
Photo: Courtesy of Lesley Robeson
KKZ: Is she working within a fashion lexicon that already exists, or has she invented a completely new language?

SJ: She works within the lexicon insofar as there is a body inside those clothes. But she has invented a completely new language. There are certain parameters. But especially in her recent collections, [the garments are] site-specific installations, and the site that it's being installed on is the human body. But at the same time, she makes a great t-shirt with the PLAY logo on it. I love the fact that she feels that her commercial company, and her commercial success, the happiness of her employees, and who they are, and all that is just as important as the next dress, or the next outfit that she's going to make.
KKZ: What makes Kawakubo such a "designer's designer"?
SJ: If you are to ask any designer now, "Who are the great designers?" Rei Kawakubo would certainly come at the top of everybody's list, all the way from some young designer in Moscow to Ralph Lauren. She's unafraid and she makes new things. It's very simple, in a funny way. And she sticks to her guns. She's still doing the same thing and still has the same energy from the first collections she put out. That longevity is extraordinary.
KKZ: How has Comme des Garcons evolved over the years, and what has that evolution meant for your work?

SJ: Well, it's certainly much broader than it was. When I was working with her at the beginning, there was just the women's mainline collection. And then there was Robe de Chambre, there was Black, there was Junya…there are now many, many different labels sold internationally. All of them are different facets of an empire. So, it's evolved enormously, because it's much bigger and much broader and it's for lots of different people. She wants Comme des Garçons to be able to apply to all clothes, all people, for all different sorts of events, whether it's getting up on a Monday morning and taking the dog for a walk, or whether it's going to the Met ball.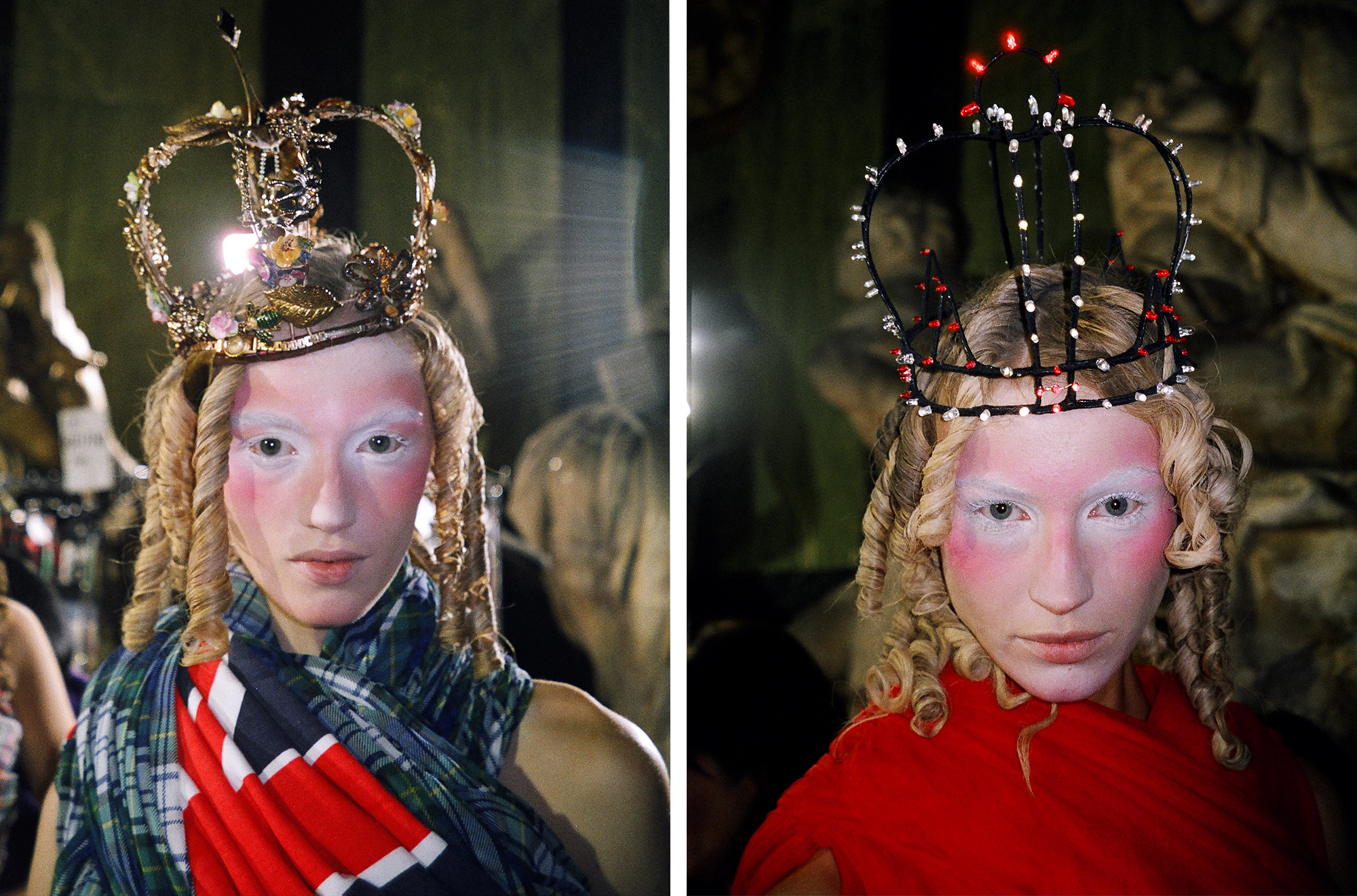 Stephen Jones for Comme des Garçons, Spring 2006
Photo: Courtesy of Lesley Robeson
KKZ: From a marketing standpoint, she really has created an entire world for her consumer. One can truly exist within the realm of Comme des Garçons and Dover Street Market.

SJ: Absolutely. And that was the thing that I felt when I did the exhibition at Dover Street Market. I was aware of her confidence in allowing other people to be part of her world. She hosted my quarter-century exhibition at Dover Street Market in London, and basically, I had carte blanche to display whatever I wanted, wherever I wanted. I remember she once said, "[Dover Street Market] is my London home. It's my house." So I think she feels as though she's inviting people into her house, under her umbrella, to do whatever they want. It's because she trusts them and she wants to be surprised by them. She's really up for the unexpected. When you go to a Comme des Garçons show, you never know what you're going to get. She doesn't want to know what she's going to get from these designers either.
KKZ: That's an important point, that Kawakubo truly shines a spotlight on brands she supports. It's very rare for a big company to do that.

SJ: Most fashion designers have a really tough job when it comes to carving out an area of design and building their brand. That's what it's all about—that's what advertising's about, that's what fashion shows are about. And when [Kawakubo] made Dover Street Market to show other people's clothes, that was saying, "I do my thing, but I'm interested in other people's things, too." I can't imagine any other of the big brands…I mean, yes, they do collaborations with other people, but even then, it's all about the [big] brand. For example, when Zandra Rhodes was doing prints for Valentino, it was Valentino first, Zandra Rhodes second. But when [Kawakubo] is working with a designer, or collaborating with somebody, or if she's getting someone to do an installation in Dover Street Market, it's almost like that person is pushed first, and Comme des Garçons is pushed second.
KKZ: Kawakubo's explanations of her collections to the press are always quite abstract, which makes me wonder about the collaboration process. Does she explain to you what she wants?

SJ: It's always an adventure. It's a different thing every time. There is no formula. When Rei is asked to explain collections, I understand why she sort of loathes to explain them, because she's a fashion designer, and therefore the clothes speak for themselves. Of course, the world doesn't work like that. If she said, "It's about a walk in a spring garden" or something, everyone would be gobsmacked. But it wouldn't be true, either. [Kawakubo's collections] come from study, and from patterns, and the body, and randomness, and all sorts of different things. She wants to express in an abstract way because essentially, she knows that when the person puts that thing on, their experience is not some artistic reference that she might have been looking at. But the references are there—the clothes [are] totally imbued with meaning.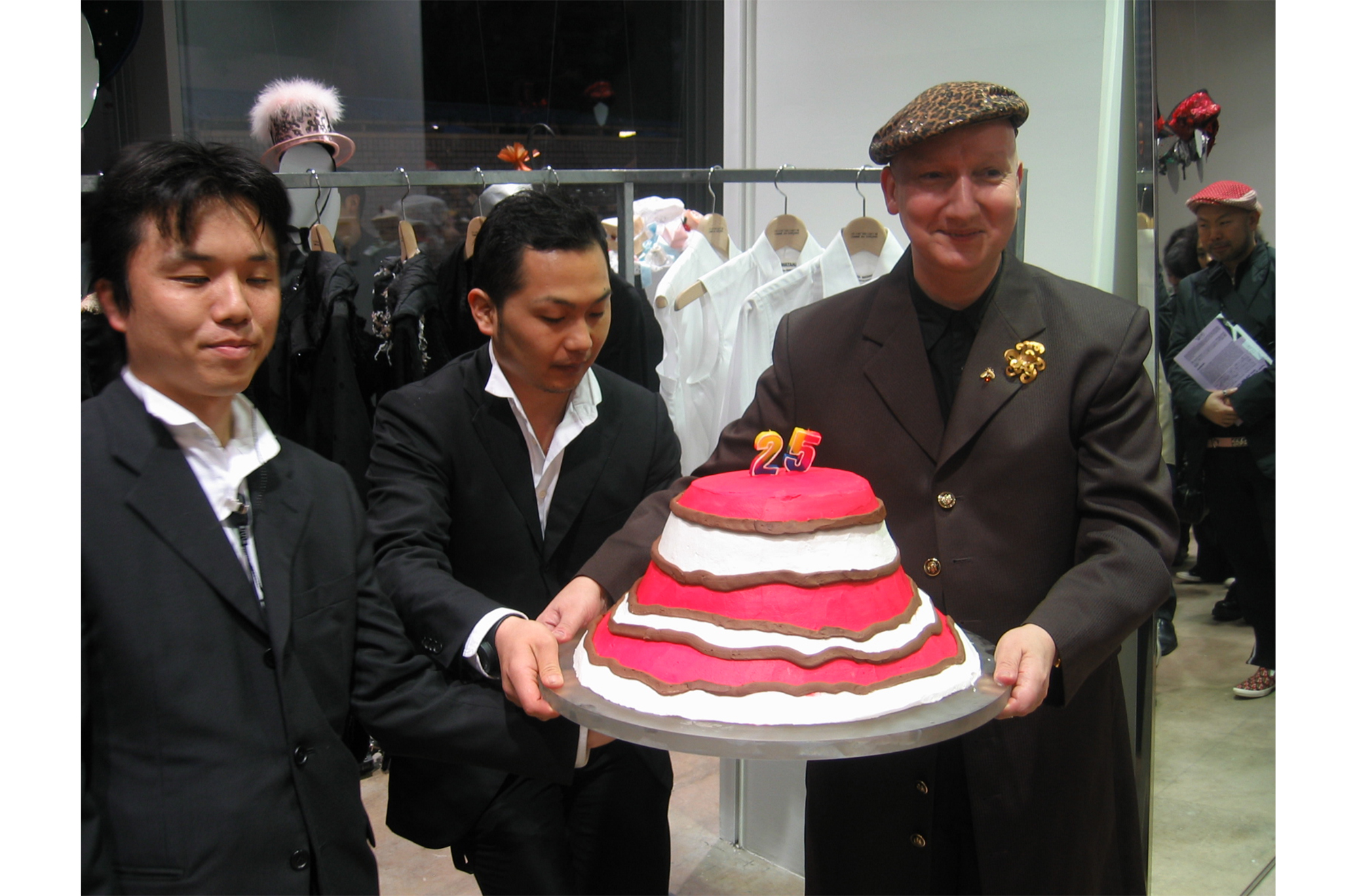 Stephen Jones being presented a cake to celebrate the "Stephen Jones Hats Fly From London to Tokyo" exhibition held at 10 Corso Como/Comme des Garçons in Aoyama, Tokyo, in conjunction with Rei Kawakubo, showcasing over 400 hats from the past 25 years
Photo: Courtesy of Stephen Jones
KKZ: But how does it all work? Are you given a brief?

SJ: It works differently every time, and over the years, it's been everything. Sometimes there's a little sketch, sometimes she will handwrite "there is no brief." Sometimes it might be, you know, "green." It can be anything. The one thing I am totally aware of now is if I make something I think she will like, or that looks sort of Comme des Garçons-ish, she won't like it.
KKZ: That's very funny. Why is that, do you think?
SJ: Because she's after the spice for her collection. She is after the unexpected from me. Whether it's a men's or women's show or whatever, it is…she loves that randomness. She loves that element of surprise.
KKZ: The bunny ear hats you made for CDG's Fall 2007 collection are perhaps my favorite chapeaux of all time. How did those little velvet toppers end up on the runway?
SJ: That was about sex, and the bunny girl, and something to do with ears as well. We talked about putting ears on things, and how that played into Japanese cuteness, and about doing something with a double [meaning]. If you think of all the ear-type references, you know, it's like little baby bonnets with ears on them, and Mickey Mouse… So, I did some little hats with pom-poms, but that had the silhouette of the Mouseketeer's hat. And then my pencil slipped, and I just thought, "bunny girl." And she loved it. Then of course, a season later, for men's, we did the bunny boy, too. They were a little bit more extreme, while the women's were velvet and satin and quite French-y, luxurious. [Kawakubo] loves when I go into that, too. But then there were some that were just cut out of felt, which were much more in line with that Comme des Garçons feeling of complete simplicity.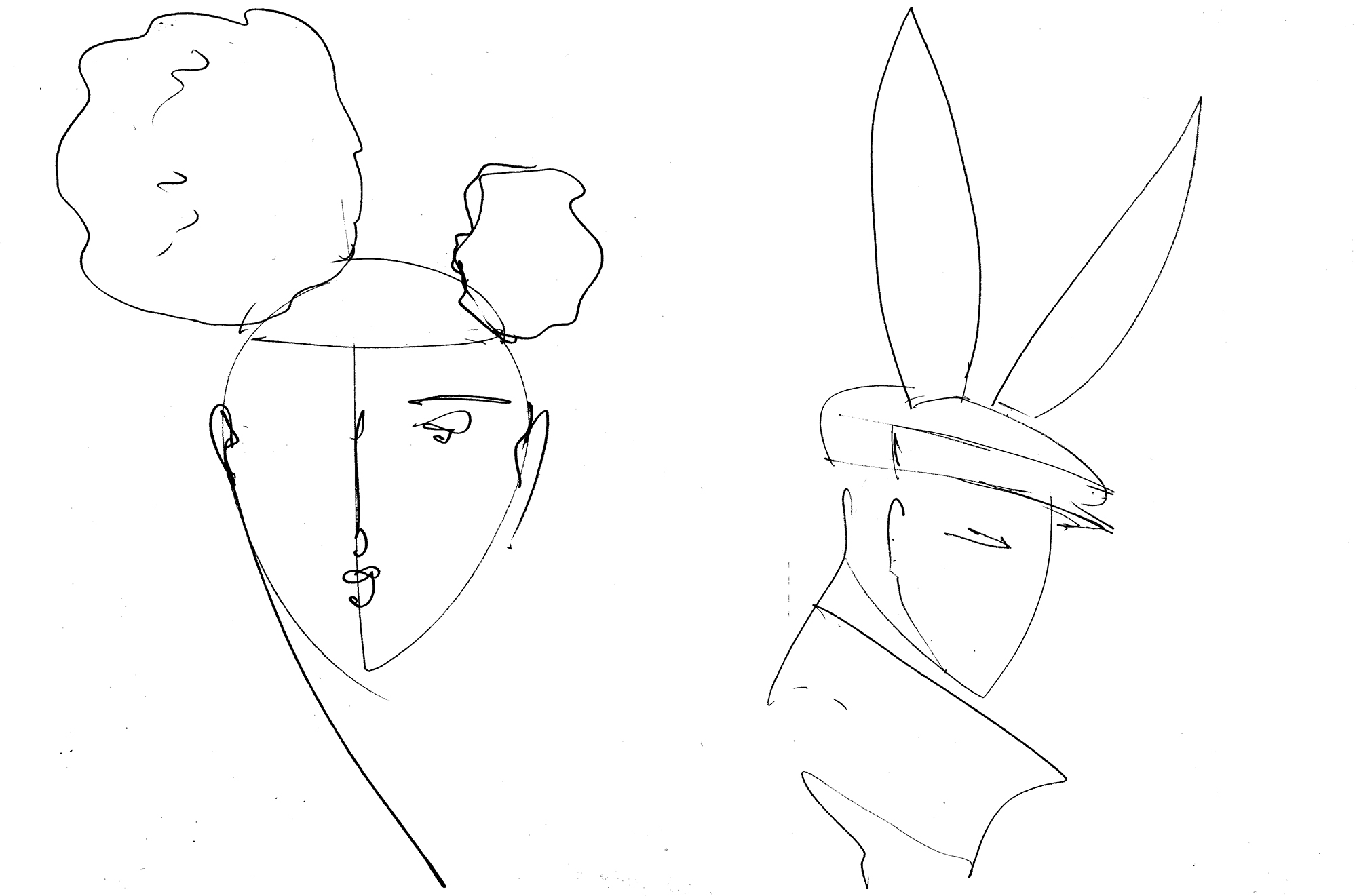 Left: Stephen Jones sketch for the Comme des Garçons Fall 2007 collection; Right: Stephen Jones sketch for the Comme des Garçons Mens Fall 2013 collection
Photos: Courtesy of Stephen Jones
KKZ: Do you have a favorite hat you've designed for CDG?

SJ: [For Spring 2006], I did a collection that was all about crowns. It referenced British royalty, and I made crowns out of recycled motorbike parts, out of paper, out of plastic bags. I love those. The girls happened to look very, very beautiful in them.
KKZ: I've heard that Kawakubo is hysterically funny. What is the funniest thing she's ever said to you?
SJ: I think the funniest thing is actually something that she did, not something that she said. I was working with her in Japan, and we had this little exhibition, and she'd made me a "25 Years of Making Hats" birthday cake. It was a giant hat with orange, black, and white stripes, and it was huge and weighed a ton! She tried to pick it up and it was too heavy for her. The icing was melting and everything, but we were just roaring with laughter. That was the sweetest and kindest thing.
KKZ: What is the biggest misconception about Kawakubo?

SJ: That she doesn't speak English. And that she doesn't understand what you're saying. She has a very good understanding of English. But she's a very private person, too, and her communication is through the clothes, not through speech.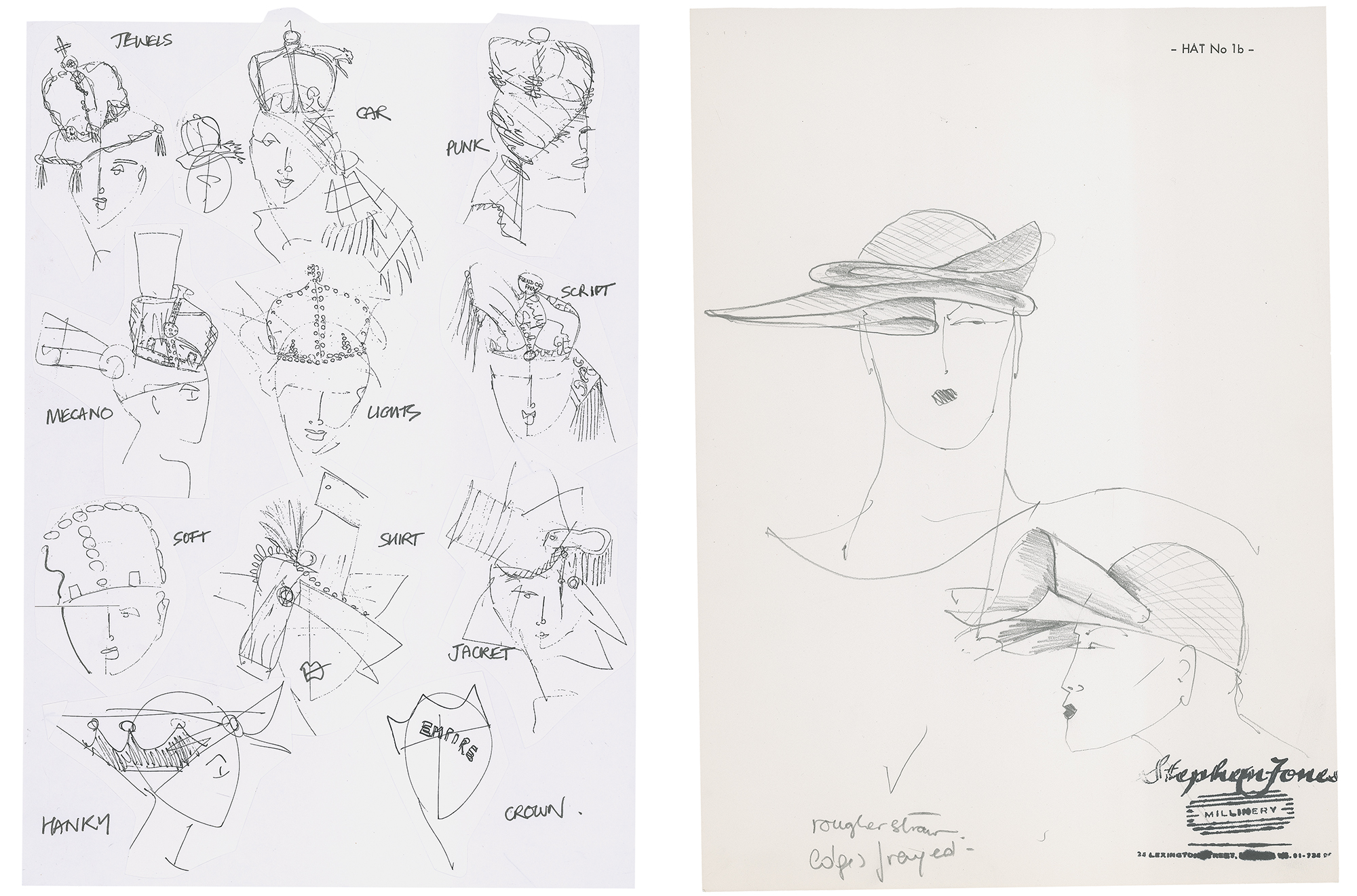 Left: Initial crown ideas by Stephen Jones for Comme des Garçons, Spring 2006; Right: Wheat straw cap sketch from Stephen Jones for the Comme des Garçons Spring 1985 collection
Photos: Courtesy of Stephen Jones
KKZ: You've worked on many Met exhibitions, and I think that Rei Kawakubo and Comme des Garçons is perhaps more of a niche topic than punk, or tech, or China, or even Alexander McQueen…

SJ: I'm sure when the McQueen exhibition first went up, less people had heard of Alexander McQueen than had heard of Comme des Garçons. McQueen was of course well-known within the fashion world, but he really wasn't known [to the public]. The exhibition was popular because it touched something in so many people's hearts. I think Rei Kawakubo is not very well-known, but part of an exhibition is reverence for that designer. And the Met is a public institution. It's their job to educate the world, not just to do something that everybody knows about.
KKZ: How has working with Comme des Garçons changed your approach to millinery?
SJ: It's completely influenced it. When you're collaborating with a designer, it's not so much about the clothes, it's not so much about the hats, it's what you create together. And I know I would not have made those hats without Rei Kawakubo. She has forced me to think about collaboration and the process of creation in a very different way. She gets me out of my comfort zone, which is a good thing. I think that she gets everybody out of their comfort zone. There's a whole area of comfort that you never imagined. I'm thinking of a quote from Auntie Mame, funnily enough. You know, that bit when Rosiland Russell's character says to her nephew, "I'm going to open doors for you, doors you never even dreamed existed." That's what Rei Kawakubo does.
0 Comment