Every time I've ever spoken to renowned milliner Stephen Jones (and, being a hat obsessive, there have been many times), the excitement in his voice is palpable. He almost sings as he talks about his work, whether it be the mirrored "Disco Hector" hat he created for longtime collaborator Thom Browne's Spring 2017 womenswear show, or the perfumes he's launched with Dover Street Market, which, obviously, are wrapped in veils and packaged in mini hat boxes. Even if you think you don't care about hats, five minutes with Jones will make you completely obsessed.

After studying at London's renowned Central Saint Martins in the 1970s, Jones, who hails from the U.K.'s Cheshire, emerged as a darling of the London club scene, and ran with the infamous—and always wildly garbed—Blitz Kids. After designing hats for his friends, which they'd wear during their raucous nights out, Jones went on to become one of the world's most prolific milliners, collaborating with everyone from Jean Paul Gaultier and the house of Christian Dior to Marc Jacobs and Comme des Garçons' Rei Kawakubo. He's found a way to pour a lifetime of stories and experiences into each of his painstakingly crafted accessories, and whether it's a mini top hat or a radiant crown (like the one Lily Cole wore in the Fall 2005 Dior Haute Couture show), his accoutrements not only transform the wearer—they transport her to a world of complete and utter fantasy.
All of this and more comes through in his new book, Souvenirs, out now from Rizzoli ($135). With an intro by Grace Coddington and words by Susannah Frankel, the book chronicles Jones' triumphs, tribulations, and everything in between. It details the time he was ignored by Madame Grès, celebrates his friendship with the late, great Anna Piaggi, recalls when he designed the crown Kate Moss wore in her first-ever photo shoot, and captures his work with Jeremy Scott on fantastical toppers for Moschino. The best part is that, through sketches, photographs, and Jones' words, it's clear that, nearly 40 years after bowing his first store in London, he's still as passionate about hats and fashion today as he was during his formative years at Saint Martins. Here, Jones talks to Fashion Unfiltered about turning down Karl Lagerfeld, working on Maria Grazia Chiuri's Dior haute couture debut, and so much more—including a top-secret upcoming collaboration.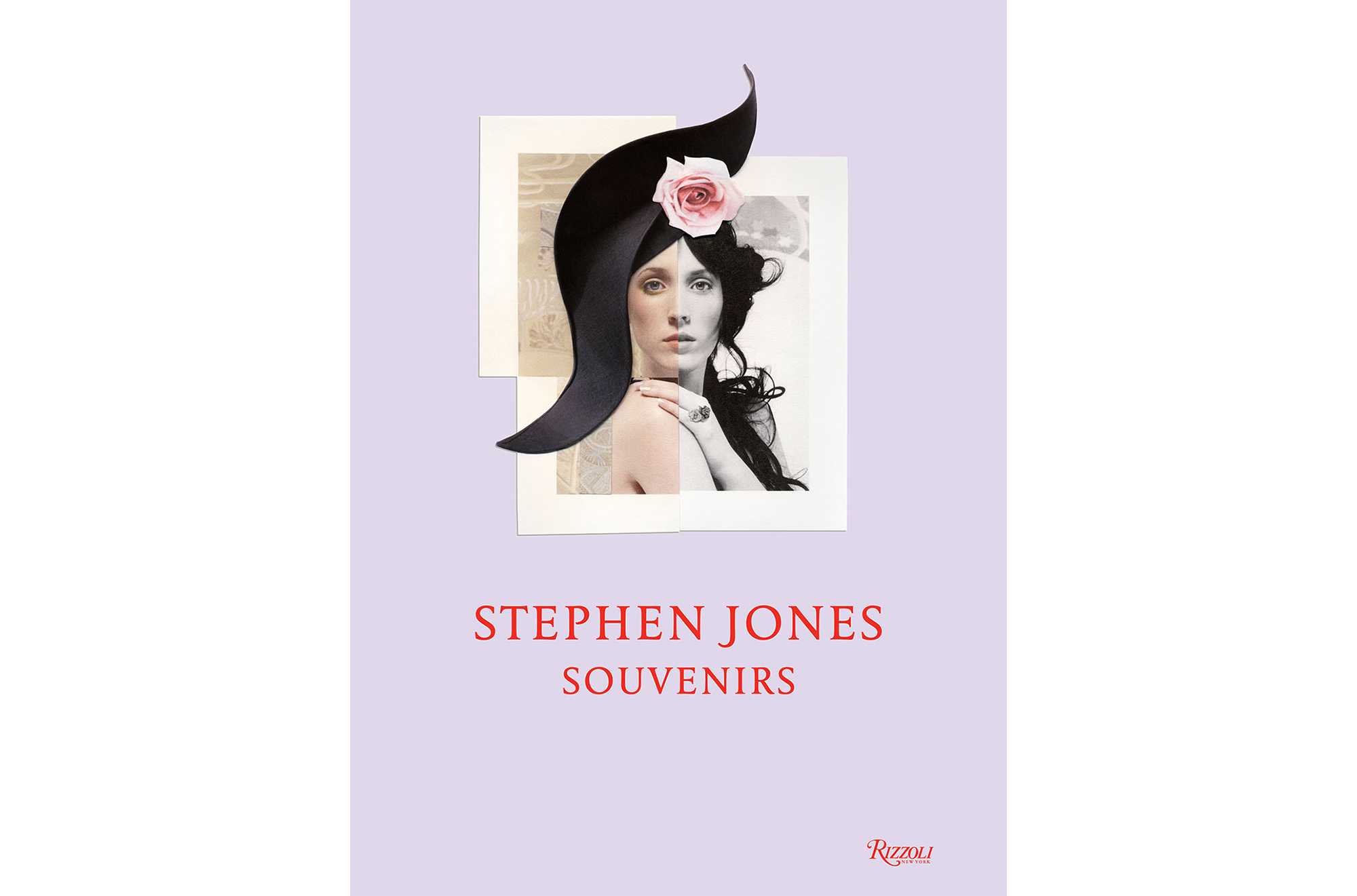 Photo: Courtesy of Rizzoli
Katharine K. Zarrella: You've titled the book Souvenirs. Why?

Stephen Jones: Well, it was funny because Rizzoli approached me, and they said, "Well, you can do whatever you want!" It's not as though I started yesterday. I actually have been [designing hats] for, as of next year, 40 years. So, there are so many memories and bits and pieces—so many fantastic hats that I didn't want to get lost to time. So that's what it was—they're happy souvenirs. And the book is laid out by city—Paris, New York, Tokyo, Liverpool…and they're my souvenirs from each place.
KKZ: Do you remember the first hat that you designed?
SJ: The first hat I ever did was actually when I was applying to become a milliner in the millinery workroom. And this hat…I was at college. I couldn't sew. I was sent as an intern to a couture house, and I was working for a tailor, but next to the tailoring workroom was a millinery workroom, and I asked for a transfer from one to the other. The lady of that workroom said, "Well, have you ever made a hat?" I said no, and she said, "Well, how can I take you on as my intern? I don't know if you can do it or not." So I went away, and over the weekend made a hat out of my sister's blouse, a cereal packet, and some plastic flowers.
KKZ: And was it a success?
SJ: I held it very carefully, because it was falling apart. But I showed it to them. And it was a success because I got into the millinery workroom and could make a life in hats. Was it an artistic success, or a craft success? No, not at all. But it served a purpose.
KKZ: Millinery isn't the most obvious pathway, even for someone who has studied fashion. Did you know immediately after that internship that you would devote your life to hats?
SJ: No, I had no idea. Because I was doing women's fashion at the time, you see. And, in fact, doing millinery wasn't even recognized by the college—there were no hats in fashion. So I had no real plan. I just wanted to go to the party. I wanted to be in the center of things, I wanted to be in London, I wanted to be a punk. And maybe I wanted to wear a hat, but I wasn't quite sure. It was funny, it was quite an organic procedure. Somehow, it just seemed to be the natural thing. But when I first left college, I went to Paris to try and get a job as a dress design assistant. I couldn't get one. So I came back…

KKZ: Are you referring to when you went to Paris to meet Madame Grès?
SJ: Yes. But I came back to England, preyed on sympathetic parents who finally said, "You're not getting any more money from us," and I started to make hats in the evening. It just sort of happened.
KKZ: Considering you've broken the book up by cities, is there a city that you feel most attached to, or inspired by?
SJ: I love London. It's still my home. I'm talking from London now. But I spend half my time in Paris. I always feel I live on the Eurostar, which is the train from London to Paris. That's the fantastic thing about being in London—you can go back and forth. I mean, until Brexit, it felt like the center of the world! It still does in a way, because politicians can try and change things, but physically, London's such a melting pot, with people from all over the world. There's always something new, there's always something different, there's always something exciting. Paris is completely different. Paris is about the haute bourgeoisie—the establishment. And that's why they have amazing couture houses, and perfumeries, and all of those things, 'cause those are all disciplined. London's much more random.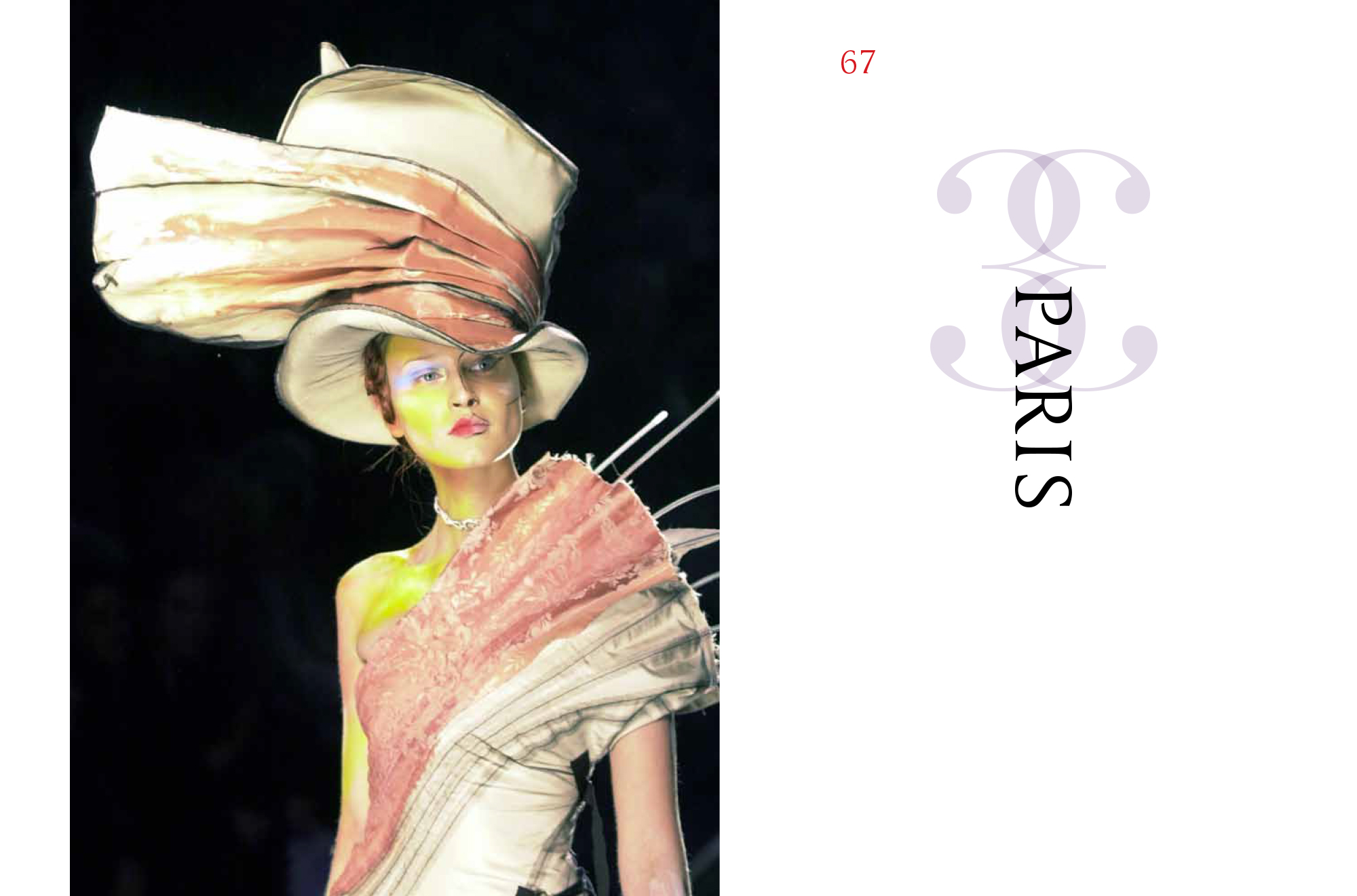 Photo: Courtesy of Rizzoli
KKZ: You are a master of toggling between worlds—for example, you were a mainstay in the DIY, Blitz Club scene in London, yet you also create the most masterful confections for couture houses in Paris. How do you move between—and find success in—both realms?
SJ: Well, what's great about London is that the aristocrats and the punks have a relationship. I always feel that London's a bit of a punk-ish city, and Paris is always very aristocratic. I love having the option of the two. I would never just want to have the one. And sure, I work with lots of different people, and it is a big jump from being in London, and doing what we do here, to then going to Dior, where it's a whole big world of international fashion and money and glamour and all of that. But it's the variety that is fascinating. And how do I deal with it? Well, I work with many people—with Comme des Garçons, with Thom Browne in New York. People say, "It must be very difficult to collaborate with different people like that." But say, for example, you were to go into a room and it was a cocktail party or something, you would have a slightly different conversation with every single person in that room. That's just human nature—you change yourself to be able to be able to get on with [different people]. Hat-making is just the same.

KKZ: You mentioned Brexit. How do you think that legislation is going to impact the next generation of the fashion industry?
SJ: I think it's really going to impact it. Even more [at schools like Saint Martins], it's going to become about those students with enough money—or rich enough parents—to be able to afford the courses. It's going to become more exclusive. But the great thing about fashion is that a new fashion will form, and there will be a new generation of people doing things in new different ways. If fashion has no social background, it doesn't really make sense.
KKZ: You've worked with Rei Kawakubo and Comme des Garçons for quite some time. How did you meet Rei?
SJ: I met her at the Anchorage, Alaska airport [during a layover]. I had been in Paris just beforehand, and I was in this nightclub called Les Bains Douches, and we were trying to leave. We were leaving from Paris to Japan in the morning, and my assistant, Sibylle [de Saint Phalle], said, "We need to go now, we need to finish packing up all the hats. We need to get to bed," because we were leaving at, I don't know, six in the morning or something. And there were a few people who came up to me and said, "Stephen, we really love your hats!" And then we started to chat. And Sibylle was hanging around for a quarter of an hour, 20 minutes. And on the way out she said, "You know, you're becoming more well-known. This is going to happen to you again, and again, and again. You just have to learn to say, 'Thank you very much,' and move on." So the next time this happened, I was in the duty-free at Anchorage airport, and this Japanese lady came over to me, and said, "Stephen Jones, I really like your hats." So I said, "Thank you very much," and walked away. And then she said again, "Uh, Stephen…Mr. Jones, I like your hats." And I noticed Sibylle running towards me, and she then said, "You idiot, that was Rei Kawakubo!"
KKZ: That's hilarious.
SJ: So we met up in Tokyo, she took me to a fabulous dinner, and then we started to work together. And we've worked together on and off since then. Not necessarily just hats for shows, either. There are many other things we do, besides that.
A pair of Comme des Garçons bunny-eared hats from Autumn/Winter 2007 (left) and Autumn/Winter 2013 (right)
Photo: Courtesy of Rizzoli
KKZ: Will you be working with Rei on the upcoming Met exhibition?

SJ: I couldn't possibly say.
KKZ: Was there a defining moment in your career when you knew that you'd made it?
SJ: The basic thing about fashion is that you have to reinvent yourself every six months. So, you can never, ever think, "I've made it!" I mean, I did think I'd made it when, in 1984, the Victoria & Albert Museum purchased a hat. I thought, "Oh, I think I've made it! Can I retire now?" That was quite a while ago! So you can never think you've made it, and you haven't, because fashion is all about renewing. There is never a time to relax and rest on your laurels.
KKZ: Speaking of renewing, fashion has changed so much over the last decade, particularly when it comes to its speed and the obsession with all things new and instant. But millinery is something that's quite precious—it's something that's intricate and takes time. How has the changing landscape affected what you do?
SJ: It has completely. I've always believed in the internationalism of fashion. But now, it's absolutely happened—I could be working anywhere in the world. Also, all those images of fashion shows get consumed so quickly now. There are so many of them, and in a way, they mean so little. There is so much more fashion now than there used to be, because fashion is just a way of communication, and if anybody's got to communicate any point of view, if they do it in a fashion way, suddenly people understand it, because the language of fashion is international.
KKZ: There's also somewhat of an anti-fashion movement taking place at the moment, what with designers like Demna Gvasalia and Gosha Rubchinskiy. Do you think hats have a place in this new wave of fashion?
SJ: Yes, in a way that I can't actually say. But if you wait a month or so, I can tell you. Hit that bull's eye, little did you know it!
KKZ: How is making a hat for a Comme des Garçons or Dior or Thom Browne runway different from designing for your own collection?
SJ: It's very, very different. When I'm doing a collection, the hat has to be worn in the fashion show, so it's got to be seen from 20 yards, or something. You tell a bigger picture with a hat for a show. A hat for my own collection can be super extravagant, but it's more about the real world. At the very beginning, my first customers were always my friends, because we were wearing hats to go out to nightclubs. That's why my hats tended to be smaller, because if you couldn't dance in the hat, there's no point.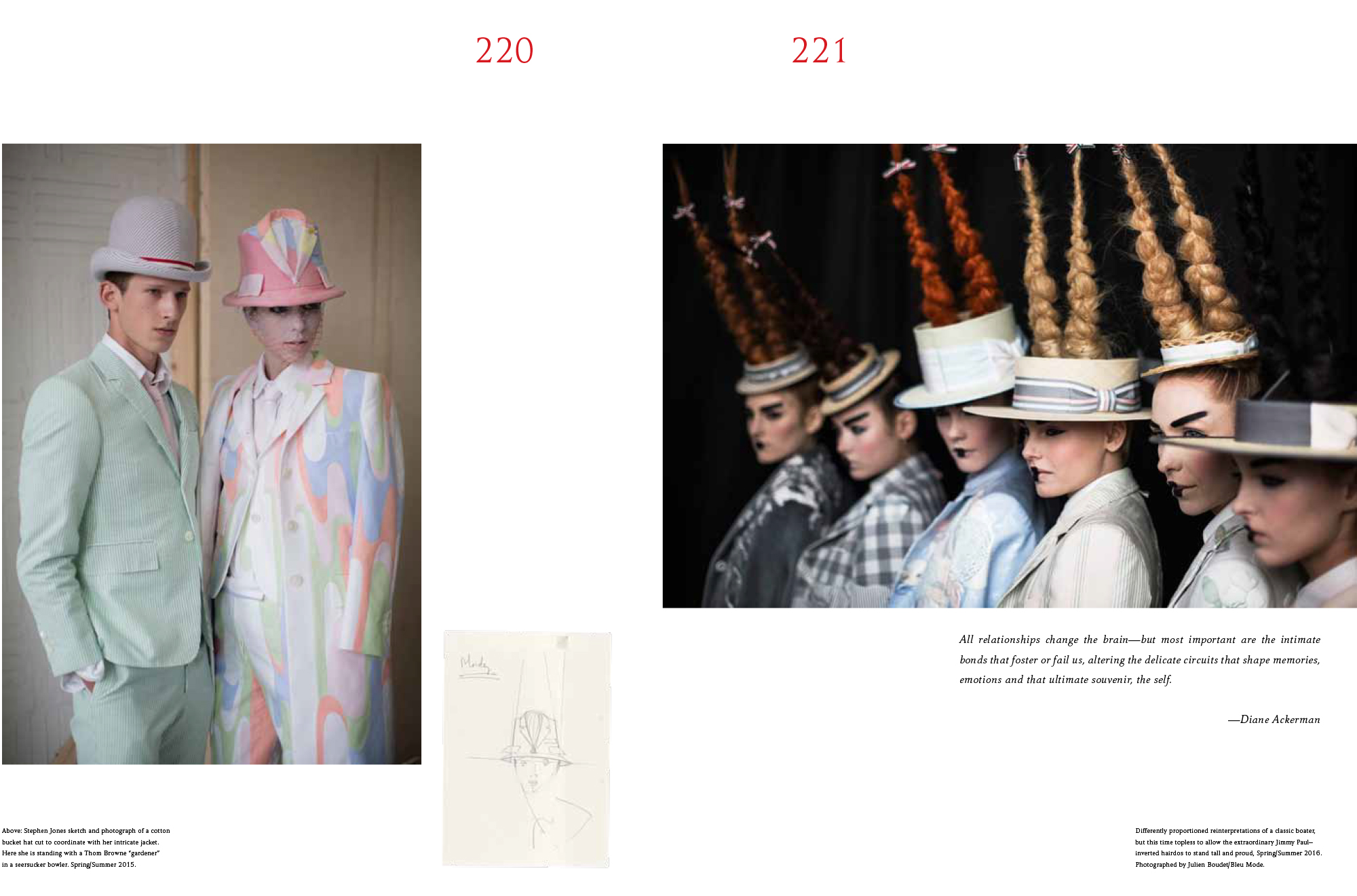 Thom Browne hats from Spring/Summer 2015 (left) and Spring/Summer 2016 (right)
Photo: Courtesy of Rizzoli
KKZ: Going back to your nightclubbing days, the 1980s seemed to be such a magical time for fashion, particularly in London. Do you ever get nostalgic?

SJ: I am so much happier as a 59-year-old than as a 21-year-old, I cannot tell you!
KKZ: Why is that?
SJ: I don't know. I still get freaked out by things, but I think that the "big unknown" is not so much of an unknown anymore.
KKZ: I imagine creating this book was a very introspective process. Looking back, is there anything you would have done differently?
SJ: I turned Karl Lagerfeld down.
KKZ: Why?
SJ: I knew that if I was going to work with him, I'd have to do it properly. But I was just starting with Comme des Garçons and Jean Paul Gaultier, and this was in the mid-'80s, so those were really the cherries on the cake. I just didn't think I could cope with Karl and do it properly. So I turned him down.
KKZ: What was his response when you said "no"? Nobody says no to Karl!
SJ: Well, he didn't ask me back ever.
KKZ: And looking forward, what do you have coming up?
SJ: The show's coming up just now with Maria Grazia [Chiuri] at Dior—her first haute couture show—so that's very exciting. She was actually the first designer at Dior not to start with an haute couture show—it's unusual that she did ready-to-wear. But this will be her first haute couture, so I'm very excited about that. Then of course it's the Met next year. I'm actually doing a small exhibition in Saint Louis as well, in America. I'm working on a new fragrance. But the challenge is always to make the next hat.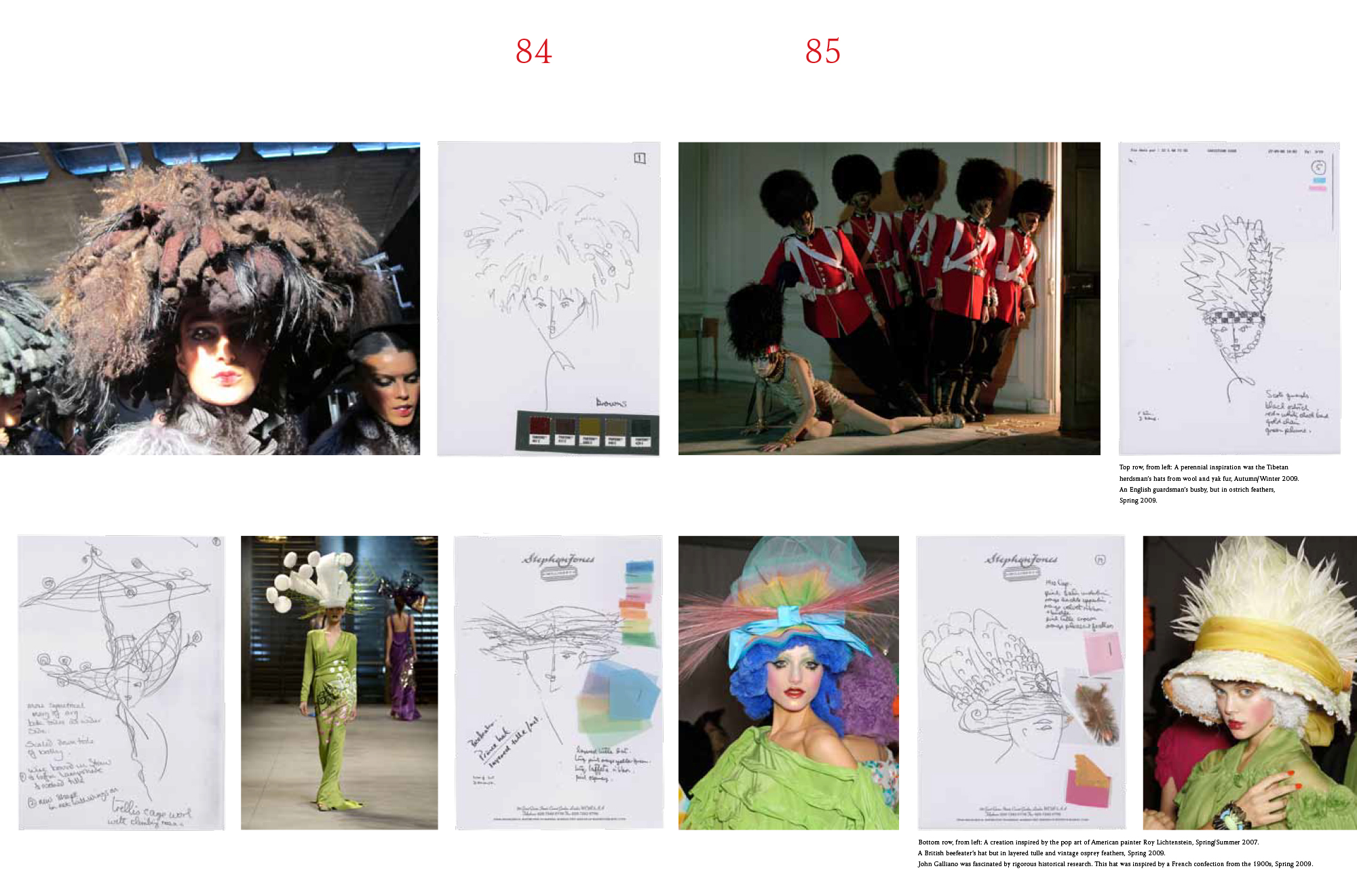 A collection of John Galliano hats and sketches
Photo: Courtesy of Rizzoli
KKZ: You've worked with Dior since John Galliano's tenure. Has it been hard for you to see the revolving door of designers there, because you collaborated with Raf Simons as well, and now Maria Grazia Chiuri.

SJ: It is really—it is strange, I have to tell you. You know, I've actually been there 20 years this year. It is strange, but working with John, I'd worked with him before. In fact when Raf went there, I'd worked with him at Jil Sander. Similarly, Maria Grazia, I knew a little bit socially, but we'd never worked together. But each person brings a new challenge. I really know the world of Dior, and it's always fascinating for me to see how [each designer is] going to interpret it. And they all do it in their own way, because they have to create their own world.
KKZ: When you were putting Souvenirs together, did you unearth anything that you'd forgotten about, or that really pulled at your heartstrings?
SJ: There's a photograph of me on the beach with my mother and my two sisters and our little dog. I found that to be such a poetic image. But whether it's the smaller, more intimate things, or the big, glamorous photographs from Vogue, both of them have got a place. Maybe it's the contrast between the two—I grew up in a small town, not in the middle of everything, and, I mean, it sounds really, really corny, but you have a dream and you beat your way to the big city and make something of it.
KKZ: Last but not least, what do you see for the future of millinery?
SJ: More hats! More hats for the world.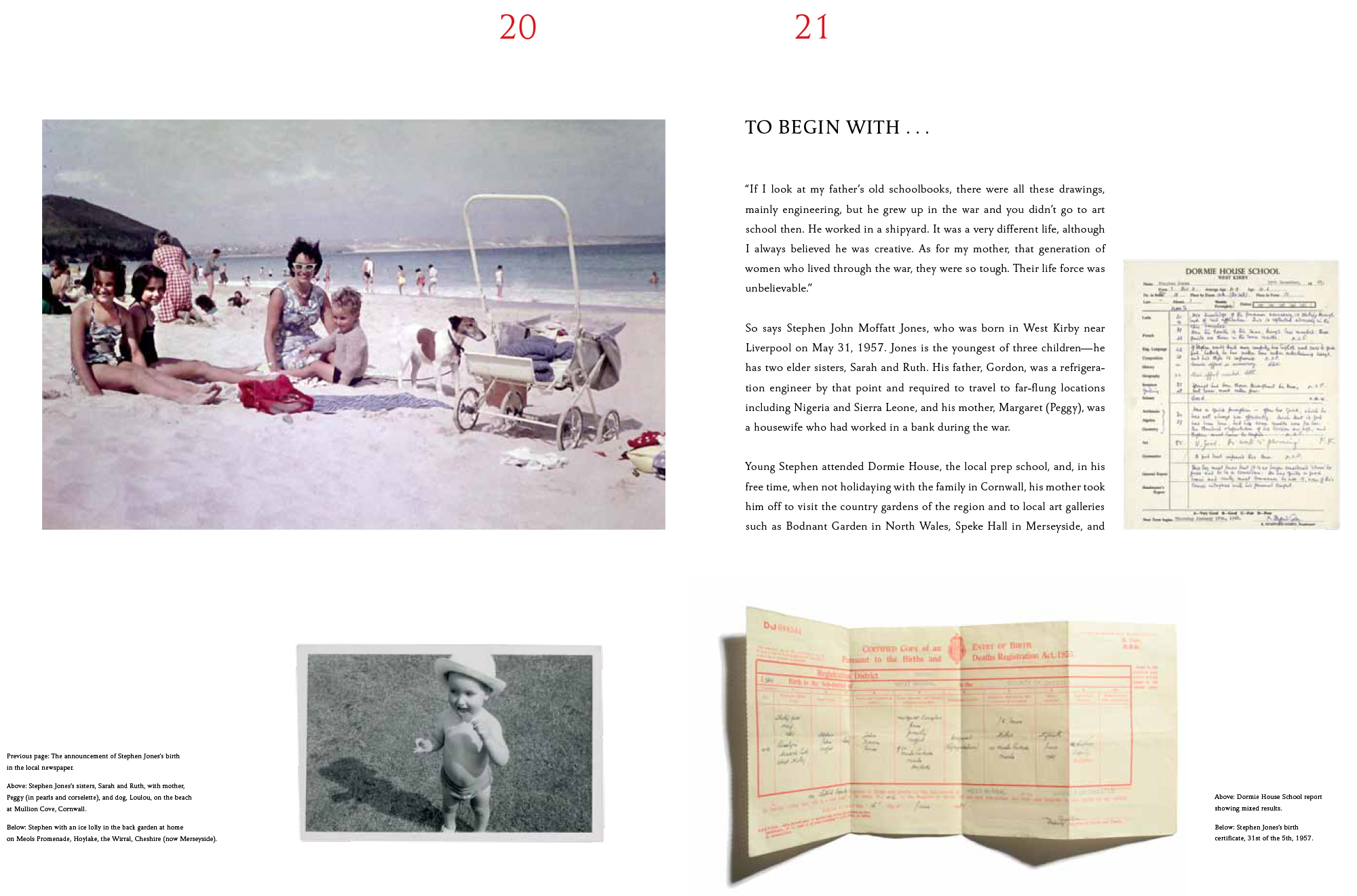 Stephen Jones with his sisters, Sarah and Ruth, mother, Peggy, and dog, Loulou, on the beach at Mullion Cove, Cornwall
Photo: Courtesy of Rizzoli
0 Comment