Jewelry design wasn't Paris-based talent Anissa Kermiche's first calling. While the French-Algerian's strict upbringing initially led her to complete a degree in engineering, it wasn't long before she moved across the channel to study her true passion at Central Saint Martins. Since launching her namesake fine jewelry label last February, she quickly caught the attention of cool girls across the world, including Camille Charrière and Leandra Medine. Always on the hunt for fresh inspiration, Kermiche sets out to transform shapes from her daily life into wearable art. On the eve of her latest collection showing in Paris, she sat down with Fashion Unfiltered to talk her female-centric designs, middle finger motifs, and the beauty of being a nerd.
Jessica Minkoff: Tell me a little bit about your childhood. Was anyone else in your family in the jewelry business?
Anissa Kermiche: I was born and raised in Paris in an exclusively female environment. My mom played the role of both parents—she was extremely strict and obsessed with education and academics. She left school to marry my father before she managed to graduate from engineering, so her aim was definitive: I was going to become either a doctor or an engineer. As far as I know, I have no ancestors involved in the jewelry business. My mom is a great painter, though.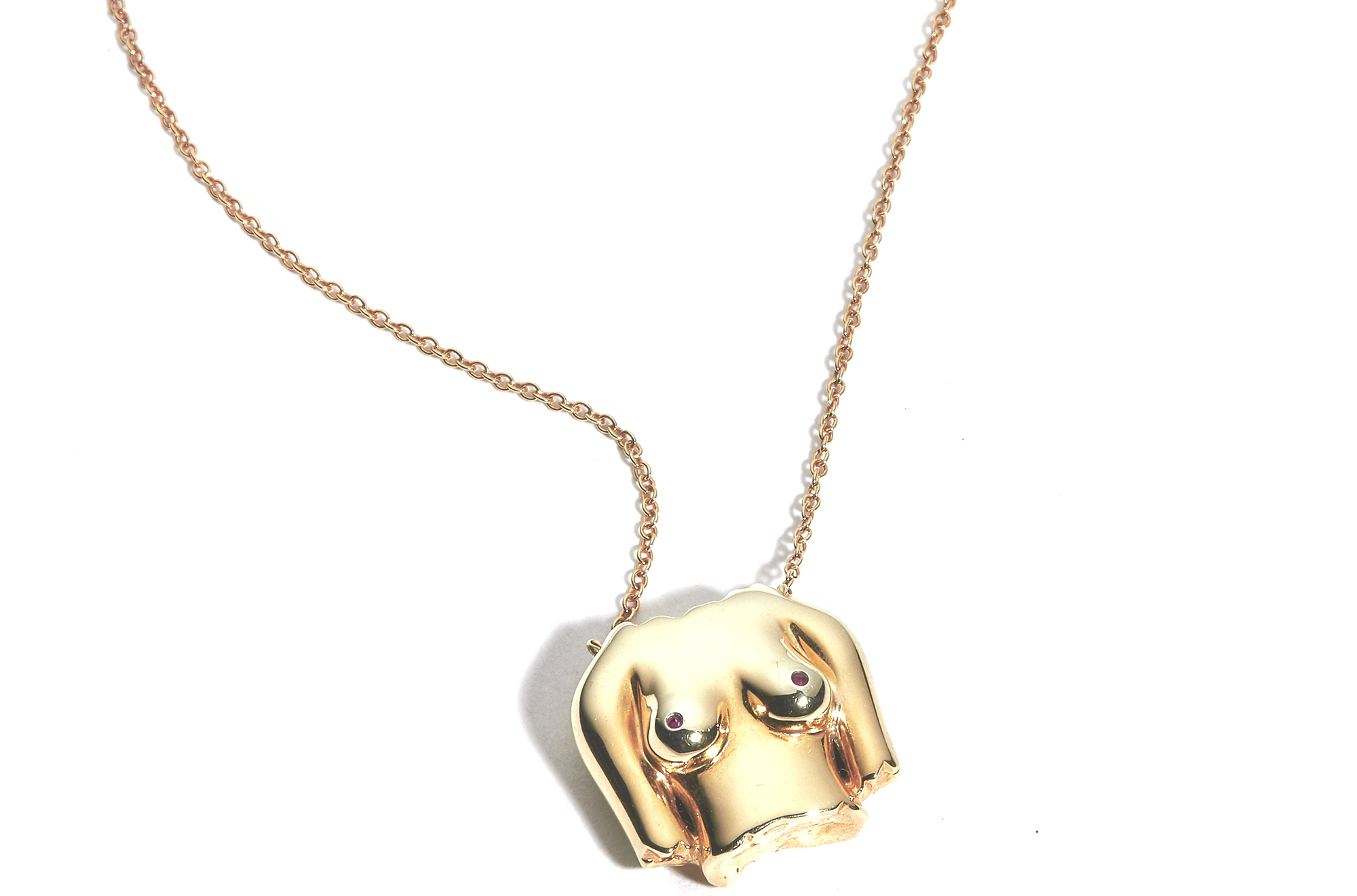 Photo: Courtesy of Anissa Kermiche
JM: Did you wear jewelry growing up?
AK: Hell, yeah. I wasn't allowed to have my ears pierced but I would still spend all of my pocket money on silver pendants. At a very young age, I used to lament the fact that I couldn't find any gold rings small enough for my mini 11-year-old fingers. I would borrow my mom's and wrap my fingers in plaster to make them fit me. I used to bead a lot, too, and sell my creations to my mom's friends for a couple of francs. I am from a Franco-Algerian background, and when I found out that it is customary for girls to receive a gold ring after their first fast during Ramadan, I fasted for half a day to get that ring. It was the first and last time.
JM: Do you remember the first piece of jewelry you bought?
AK: The very first item I recall is a pair of pink plastic mega-hoops, which I was planning to wear once I got my ears pierced (my mom promised me this on the condition that I finish my baccalaureate first). They were the ones Whitney Houston was wearing in one of her music videos. The first precious piece I bought was a very trendy bracelet in Paris ten years ago from RedLine. It's a miniature diamond floating on a red line thread. Some of my friends still have it now.
JM: How did you end up studying engineering? What was your career goal at the time?
AK: I studied in France at a university called [École] Centrale. The application process is very competitive and requires a lot of work and commitment. Honestly, I hated it, but at that age, it felt right because that seemed to be the trajectory my life was supposed to take. For five nerdy years, mathematics was no longer just numbers, but Greek letters and incomprehensible signs. It was a total nightmare. Nevertheless, in retrospect, I am thankful. It taught me the hard work, organization, and logic that now underpins my creative side.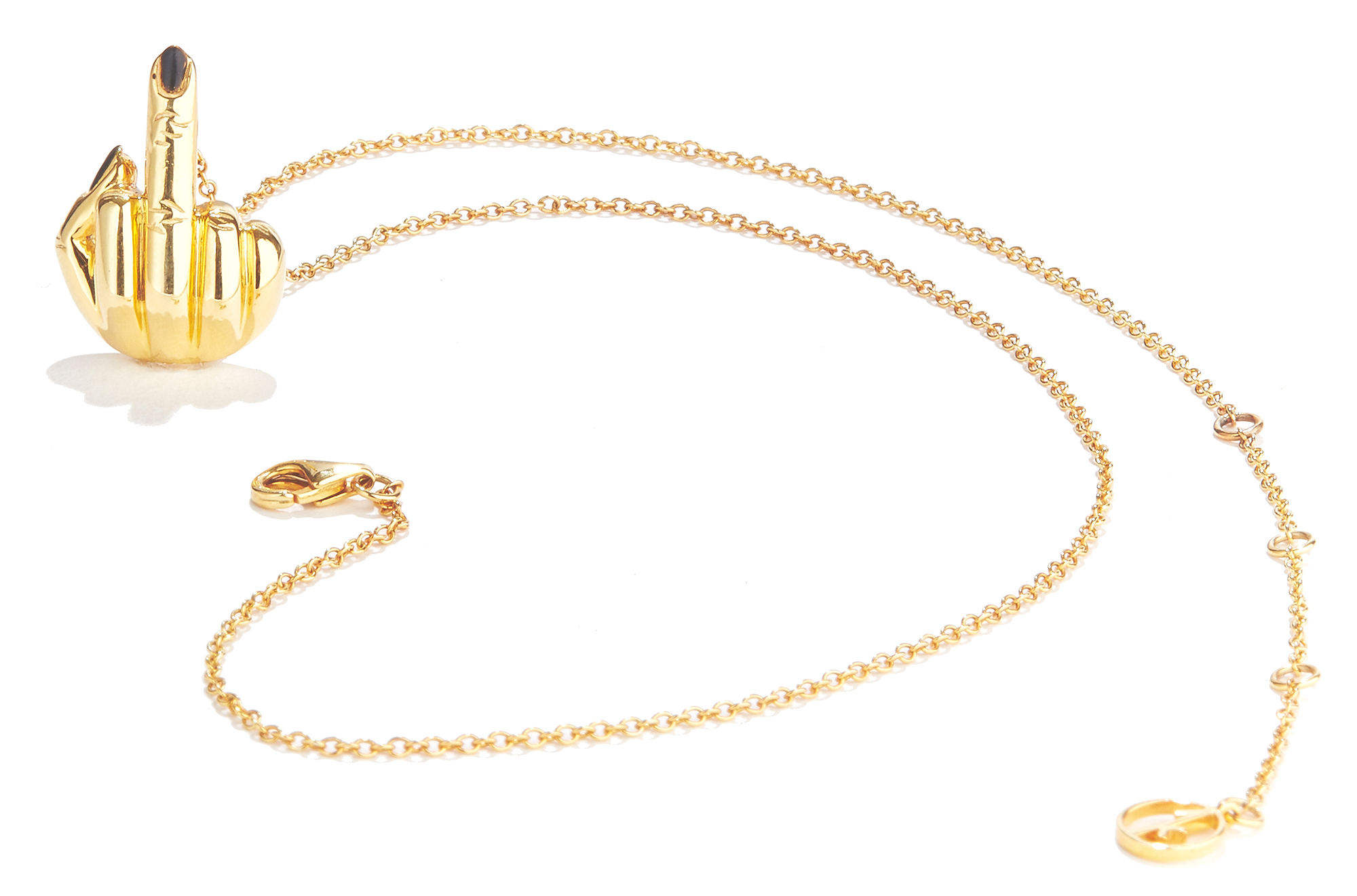 Photo: Courtesy of Anissa Kermiche
JM: When did you realize that you wanted to start designing fine jewelry?
AK: I started working for a big consulting firm after graduation. Everyday, I would pass the coolest jewelry shop on my way to work, and I'd always stop to admire every piece. I began sketching while at work and it felt so amazingly fulfilling. However, with absolutely no contacts in the industry, and having been surrounded by so many well-connected girls who I saw struggle as designers, I didn't believe for a second that I could achieve anything. Regardless, my career made me so unhappy that I dropped everything in Paris, including my flat, job, and boyfriend, and moved across the channel, full of hope. That was four years ago. CSM has been great. I remember dressing like a proper art student at age 26. My friends from home struggled to recognize me. I had transformed into an eccentric Londoner who was back at school, but this time, around like-minded people. I had found my tribe and, god, it felt good.
JM: There are seven different collections listed on your website. Can you talk a bit about each collection and where you got inspiration for them?
AK: I had waited for so long to do this, and had so many ideas, I reached a point of impatience and just decided to sketch and produce it all. I launched [my brand] this year on Valentine's Day as a gift to myself. I decided that after all the work I had put in to making it happen, I had to wait for a meaningful day. And as diverse as my designs are, they meet somewhere. They are a celebration of womanhood. Soft geometrics are a motif within my work. Since curves are so closely associated with femininity and the female body, this significantly influences the aesthetic of my jewelry. Boobs, pubis, "Love" earrings, "Freedom" pendants—they are all about breaking free from my previous life. The middle finger is a highlight for me; I don't think I need to explain what it means.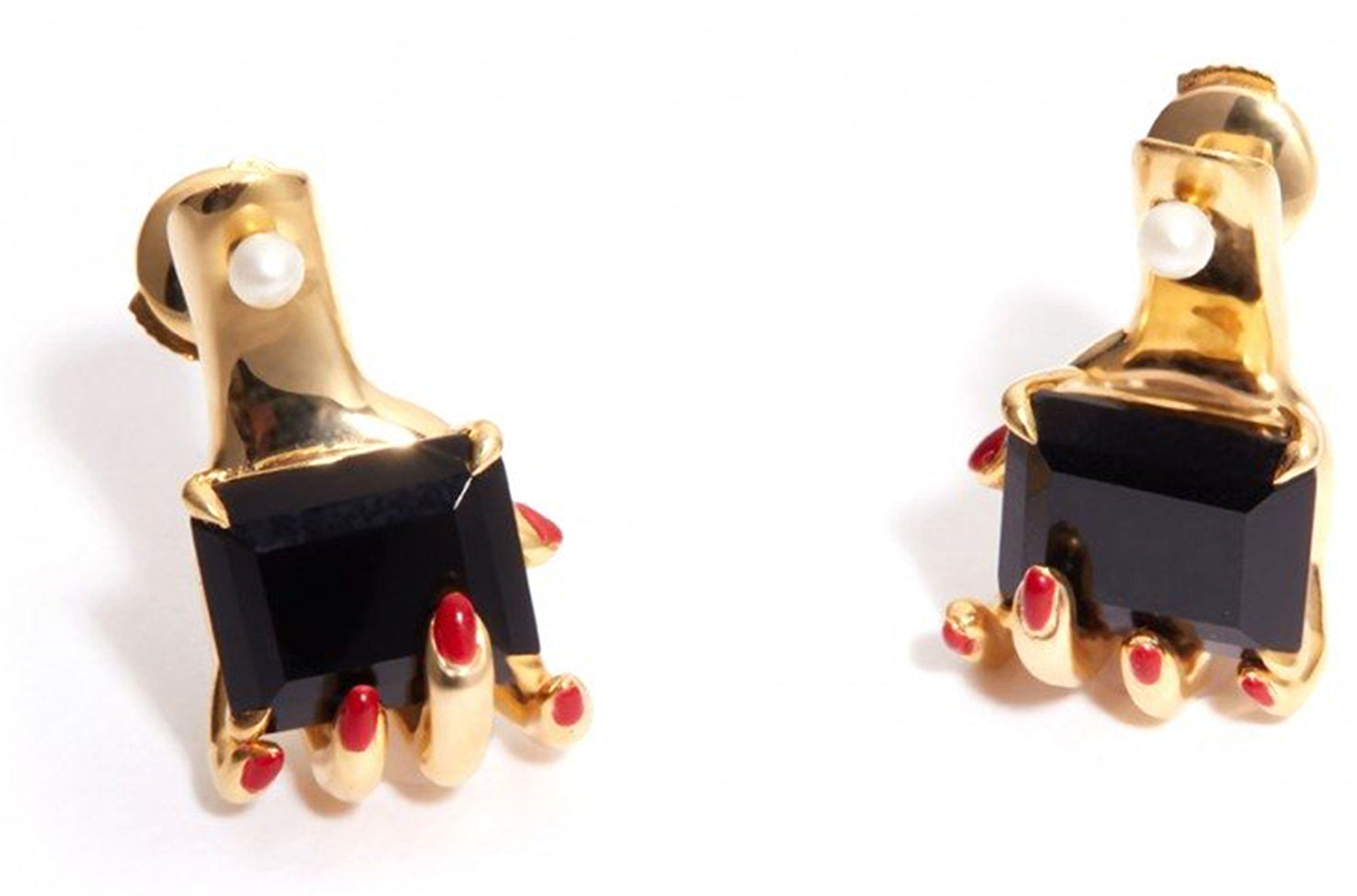 Photo: Courtesy of Anissa Kermiche
JM: What goes into the process of creating a collection? How long does it usually take from start to finish?
AK: I started designing my collection while I was still studying computer-aided design. It took me about a year to bring a collection together. During about eight months, I covered an entire room with sketches, fabrics, images of travels, magazine cutouts, and poems—basically a huge soup of ideas. Seeing all of this projected on walls helped me visualize the spirit I wanted to give to my brand. After sketching a piece with all the right measurements, I then design it on CAD (computer-aided design) using a 3D software.
JM: How would you describe your client?
AK: The woman I am designing for wants to be noticed. She is loud, eccentric, she pays attention to detail, she is curious, tolerant, feminine, but most importantly, she is fun and doesn't take herself too seriously. My pieces are a celebration of womanhood, a tribute to all these strong women I've seen around me. This is why circular shapes keep coming back (they're a symbol of femininity) and female body parts.
JM: Tell me about your most recent collection. Was there anything particularly memorable about creating it? Do you have a favorite piece from the collection?
AK: My most recent collection, Body Language, which features female body parts in the form of mini statues, wasn't easy to create. I can easily use 3D design for geometric shapes, but sculptural shapes like these required a wax carver, and when I had to explain to him how to make the "Rubies Boobies" (breasts with rubies set in the nipples), he came up with the weirdest boobs ever, which revealed his fantasies. It took six different attempts to get the perfect shape, and our meetings were always fun to listen to when I was trying to explain that they were too big, too pointy, unequal, too saggy, et cetera.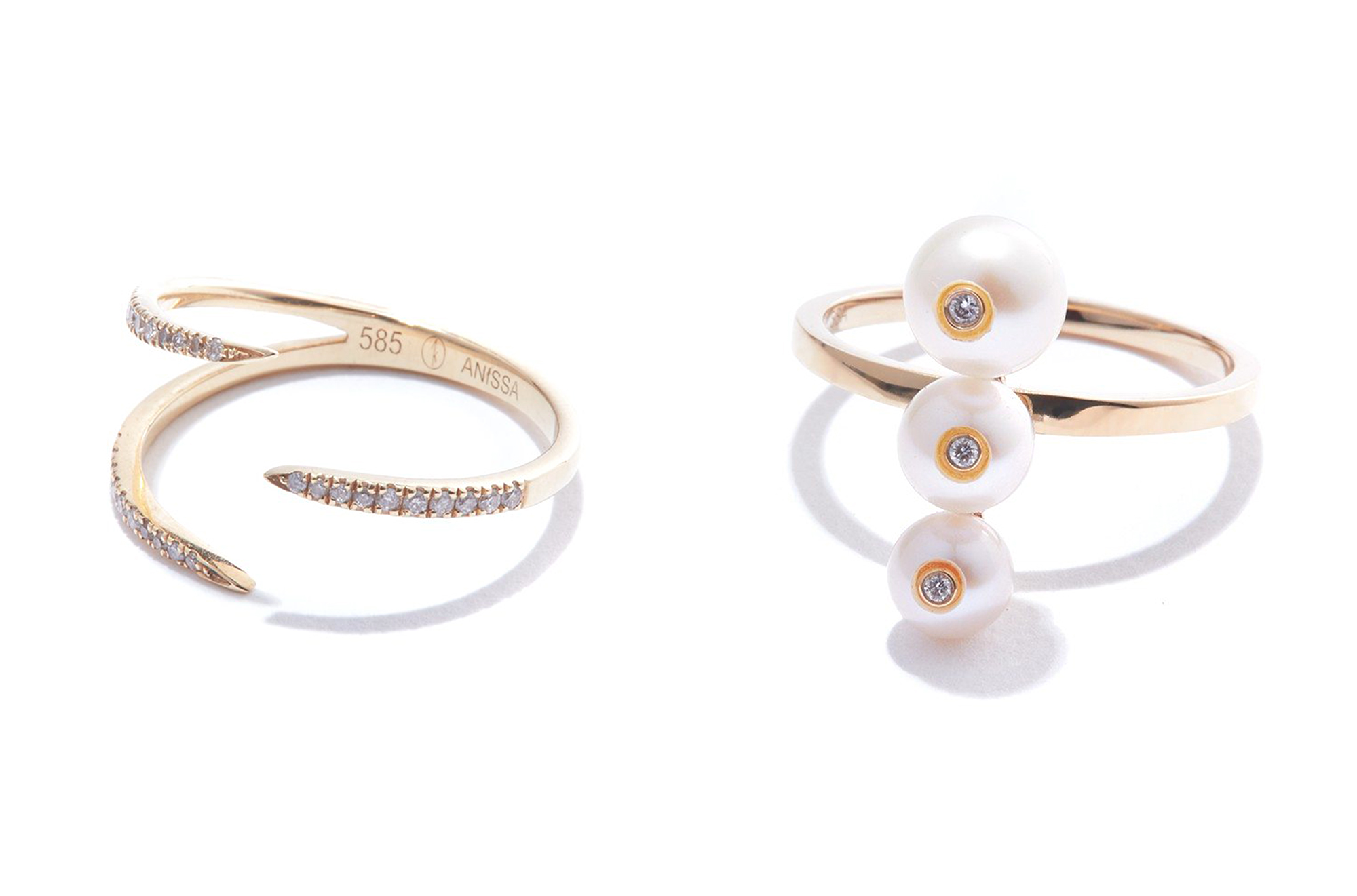 Photo: Courtesy of Anissa Kermiche
JM: What is next for you and the brand? Anything special coming up in the near future that you can share with FU?
AK: I am collaborating with Zoe Karssen in a few weeks, and I am editing a silver version of my iconic Paniers Dores. They will be called Paniers d'Argent. I am also designing the runway jewelry of a big English fashion label for next winter fashion week, which I am very excited about. Finally, I am also working on some furniture design research—my ultimate dream is to design lamps and chairs.
JM: What is something that most people may not know about you?
AK: That I am a nerd.
0 Comment