A column in which Ashley Davis takes us into the studios and minds of the world's most exciting independent fine jewelry designers.
Since launching her fine jewelry brand, Azlee, in the spring of 2015, L.A.-based designer Baylee Zwart has made a swift impact. In addition to retaining a bohemian ideal (Zwart sketches in the middle of the night, is an avid surfer, and learned metalsmithing in Central America) while still producing wares that possess a fashion capital-sophistication, Zwart has already been picked up by retailers including Dover Street Market New York, Maison de Mode, Fivestory, and Latest Revival. Fresh off of her latest collection, "Abyss," Zwart sat down with Fashion Unfiltered to talk her path to success, late-night visions, and what's next.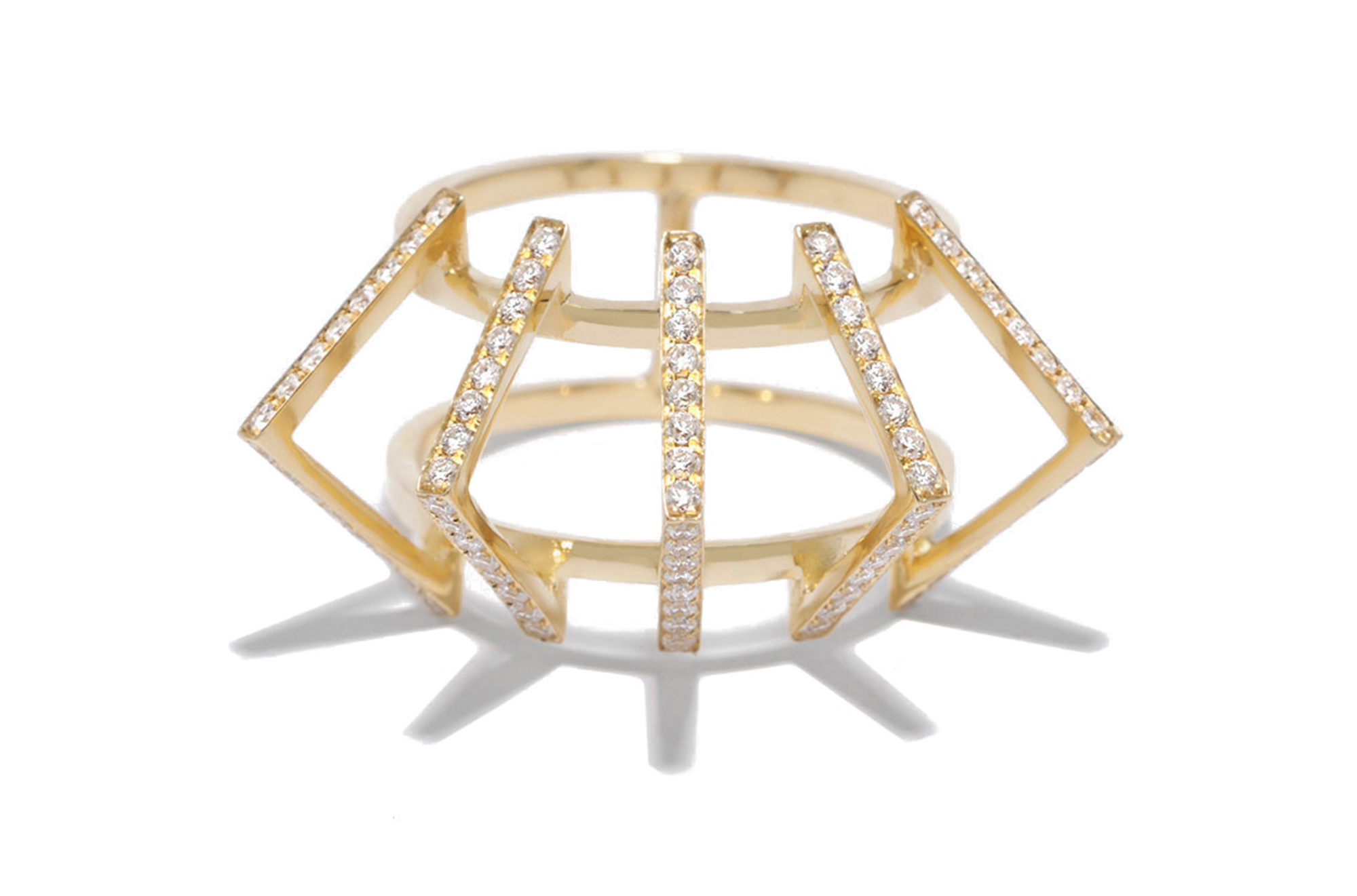 18-karat yellow gold and diamond Circuit ring / Photo: Courtesy of Azlee
Ashley Davis: Your collections are called Light, Electric, and Abyss. How have you translated these concepts into jewelry?
Baylee Zwart: The biggest thing that I'm inspired by is the feeling of movement and light. I started with those concepts and then I wanted to create something that felt, quite literally, wiry and light. The word "floating" kept coming to mind and "energy." The "Light" collection was born out of that, so we featured hand-pulled wire, which looks like light. I also wanted this bursting-energy feeling, which is where the shapes came from for that first collection. That's also where the ombré effect came from. I hoped that would create a feeling of movement and transition. That's why we did dark stones to light stones with the champagne [diamonds] to white, and then the blue sapphire to aquamarine to white [diamonds].
AD: I love how you offer refreshingly small collections. Why do you present such tightly edited groupings?
BZ: I like keeping the story very cohesive—it helps me mentally while designing so everything ends up very tight. I'll literally develop something and I'll feel so passionate that I'll actually drop it out of the collection and hold it for the next season if I don't feel like I can fully explore it that season. I think retailers really appreciate it because they get it—it's not a lot of different thoughts. I feel like as long as there's enough [product] to have them feeling like they can merchandise and they can refresh it throughout the season with these sub-collections, then I'm meeting their needs.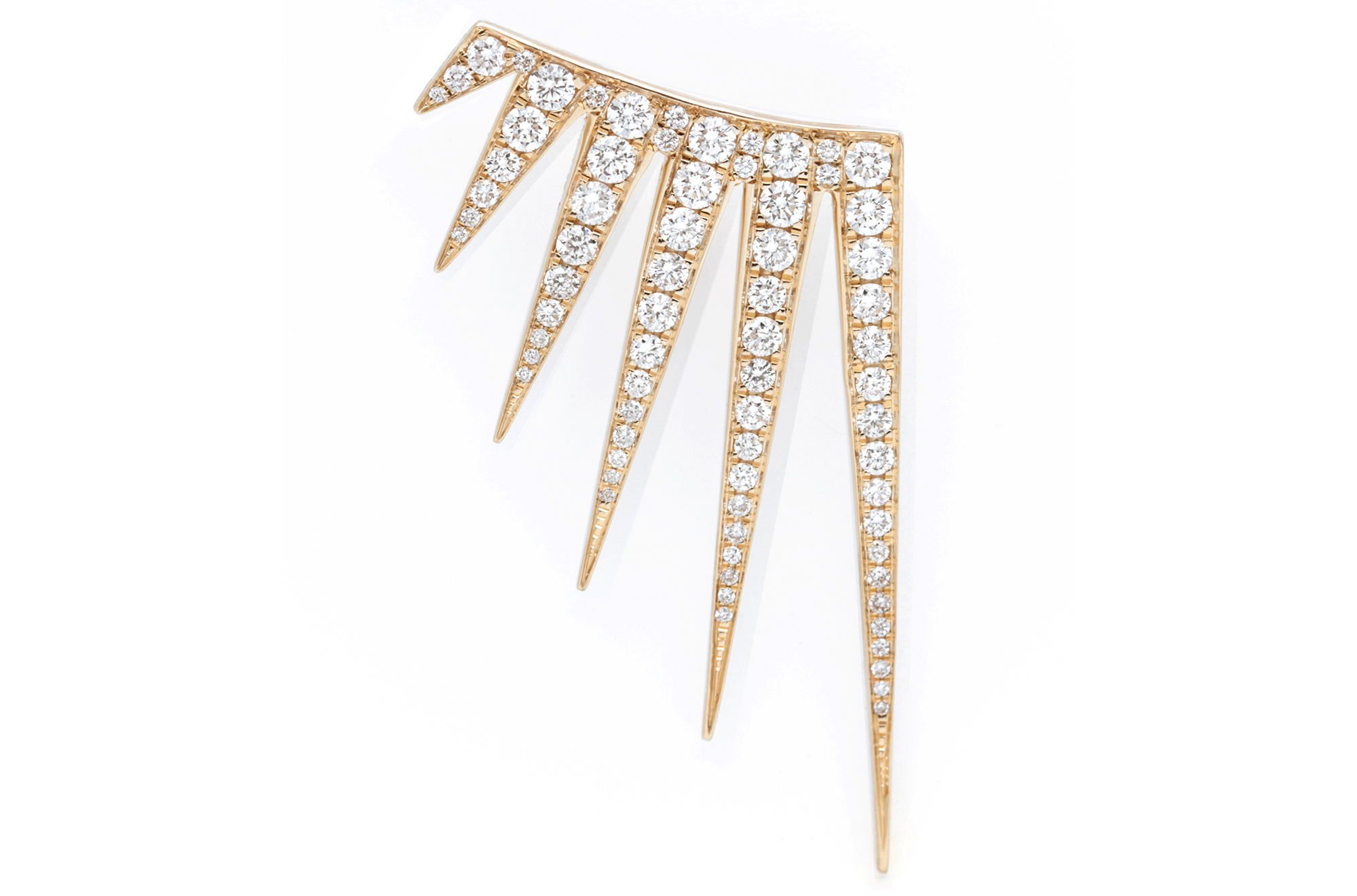 The Electric ear wire in 18-karat yellow gold with diamonds / Photo: Courtesy of Azlee
AD: Can you give me an example of a piece that you created but held off on producing until you could explore it in the next collection?
BZ: I made the "Circuit" collection as part of the first collection—the "Light" collection. I started with the Circuit ring and I loved the concept so much and I knew it wasn't the right time for it all to go together, so I held off. Then I created the Electric ear wire and realized that would sit really well with the Circuit cuff. I made a whole separate collection based off of those two pieces.
AD: How did you begin designing fine jewelry?
BZ: I had moved to Guatemala to work at a non-profit after working at fashion magazines in New York—they needed someone to do their photography, design, and development. They did fair-trade accessories with artisans, so it was jewelry and purses and home décor. There was a lot of metalworking going on, and I had bought these beautiful stones once upon a time in Morocco and I always wanted a ring made out of them. I approached this man and he said, "Well do you want to make it?" and I was like, "Sure that sounds like a great idea; that would be really special." After one session of metalworking, I fell in love with jewelry design and everything about it. I couldn't get enough. It would keep me up at night. I was obsessed with it and I'm not someone who is usually like that. I don't usually latch on to things so strongly, but I felt like I had found my thing.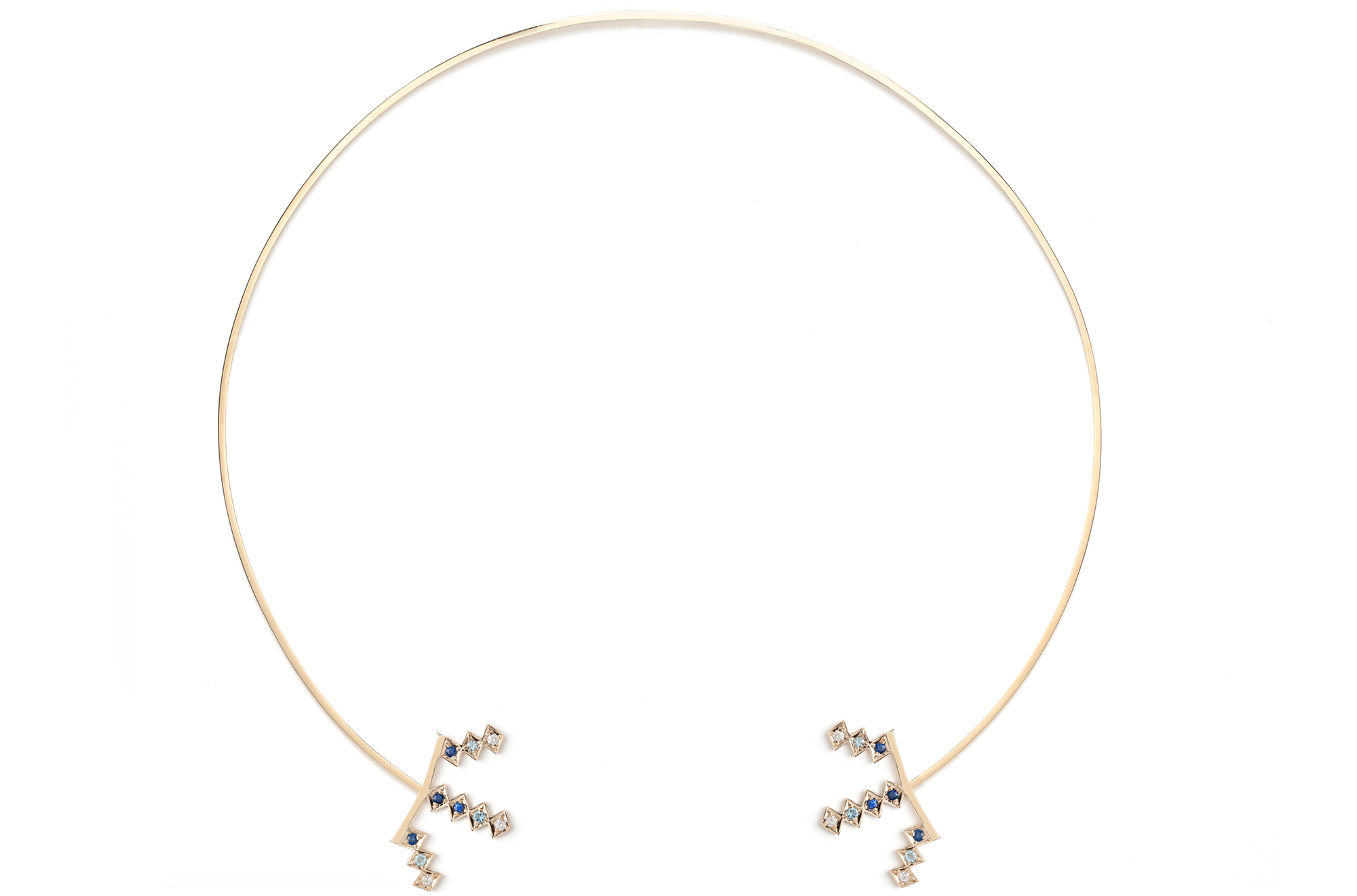 The Triple Burst Collar in 18-karat yellow gold with sapphires, aquamarine, and white diamond / Photo: Courtesy of Azlee
AD: How did you go from being obsessed with jewelry making in Guatemala to having a jewelry business?
BZ: It was an interesting evolution. I made some of the originals down there that are still in the collection today, but I got back [to the United States] and I didn't know how to start. I began working with some local manufacturers—I was up in San Francisco at the time—and realized that wasn't going to be the right place to do it. I got offered a job at Toms, and they were doing a high-end line at the time that was for Neiman's and Bergdorf's and Lane Crawford—awesome accounts—so I started working for them and kept doing my jewelry at night.
That got me down to L.A., so I've been working with my [L.A.] manufacturers for years and years now, even though my company hasn't been around that long. It was in the making for years before we launched. Once I couldn't balance the two I decided to leave and it was great because the Toms community is so supportive to this day. I'm just so grateful for my experience there because I had to go to China a lot for manufacturing and I learned a lot about production and the business end of things. I'm super thankful for it because it enabled me to really hit the ground running when it was time.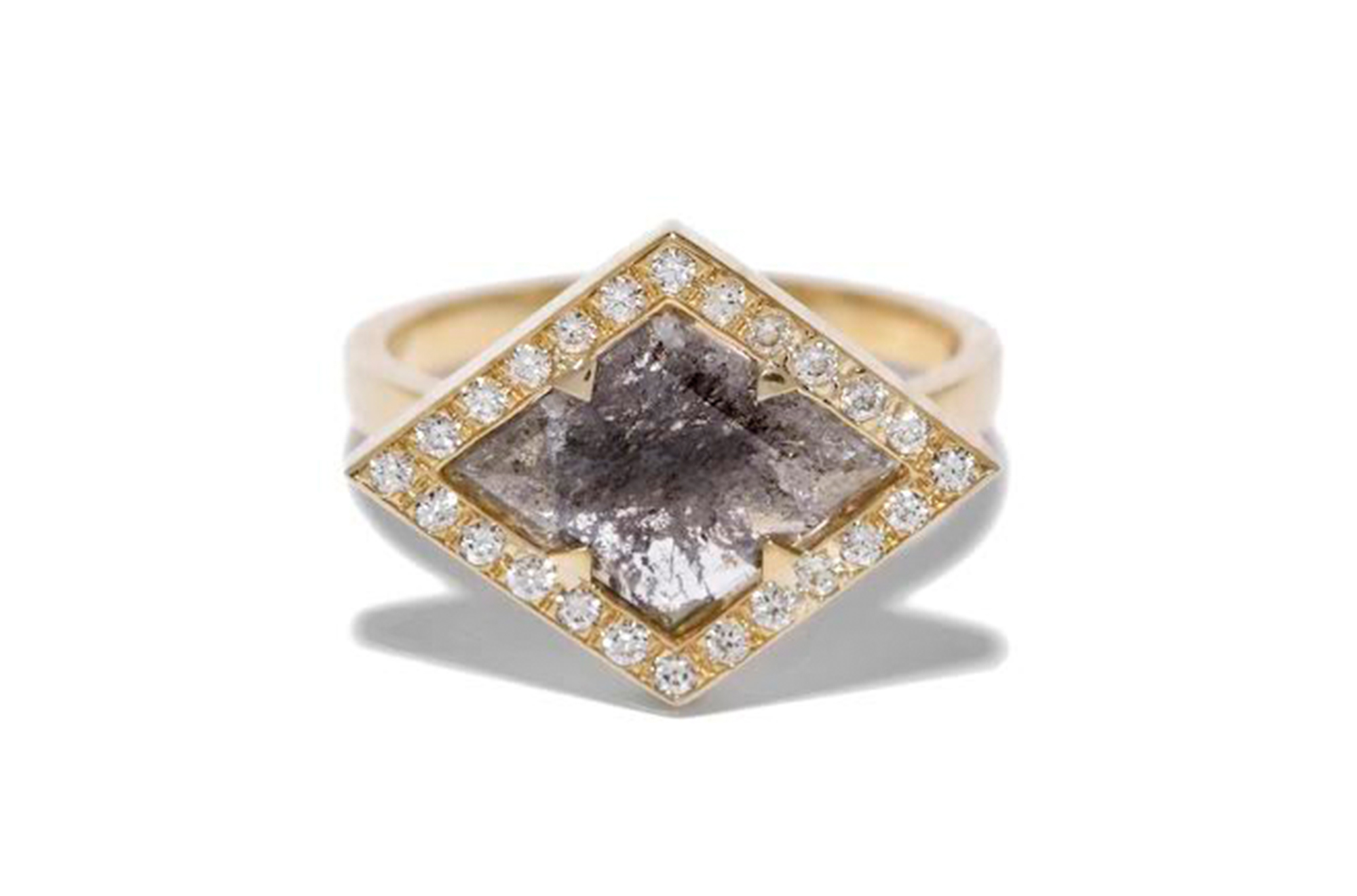 The Electric Diamond Slice ring in 18-karat yellow gold, with champagne slice diamond and white diamonds / Photo: Courtesy of Azlee
AD: So you're new, but you're not so new—it was a carefully thought-out process.
BZ: Exactly, which is nice for your first collection, to have the time to develop and figure things out. Because once you start, it's collection after collection after collection. You don't really have the same opportunity to sit with it and be with it.
AD: Is everything made in L.A.?
BZ: Yes we've kept everything local, that's something super important to me, especially because I was making it all myself originally. Each piece would constantly evolve, the concept would constantly evolve as I physically created it, but I couldn't' scale that model by making it all myself. To work with a manufacturer, I had to keep it local because I'm in there every day and I'm still so much a part of getting the pieces to where I want them to be. We've kept our supply chain really tight.
AD: What is your design process like?
BZ: I do best at night. Honestly, in the middle of the night I'll have an image cross my mind and I'll sketch it out at my bedside and that's the jumping-off point. There will be a few of those instances where I'll get an image and I'm like, That's what I want to do. Then I commit to the concept and see it through and make a cohesive collection. It's a lot of middle of the night inspiration.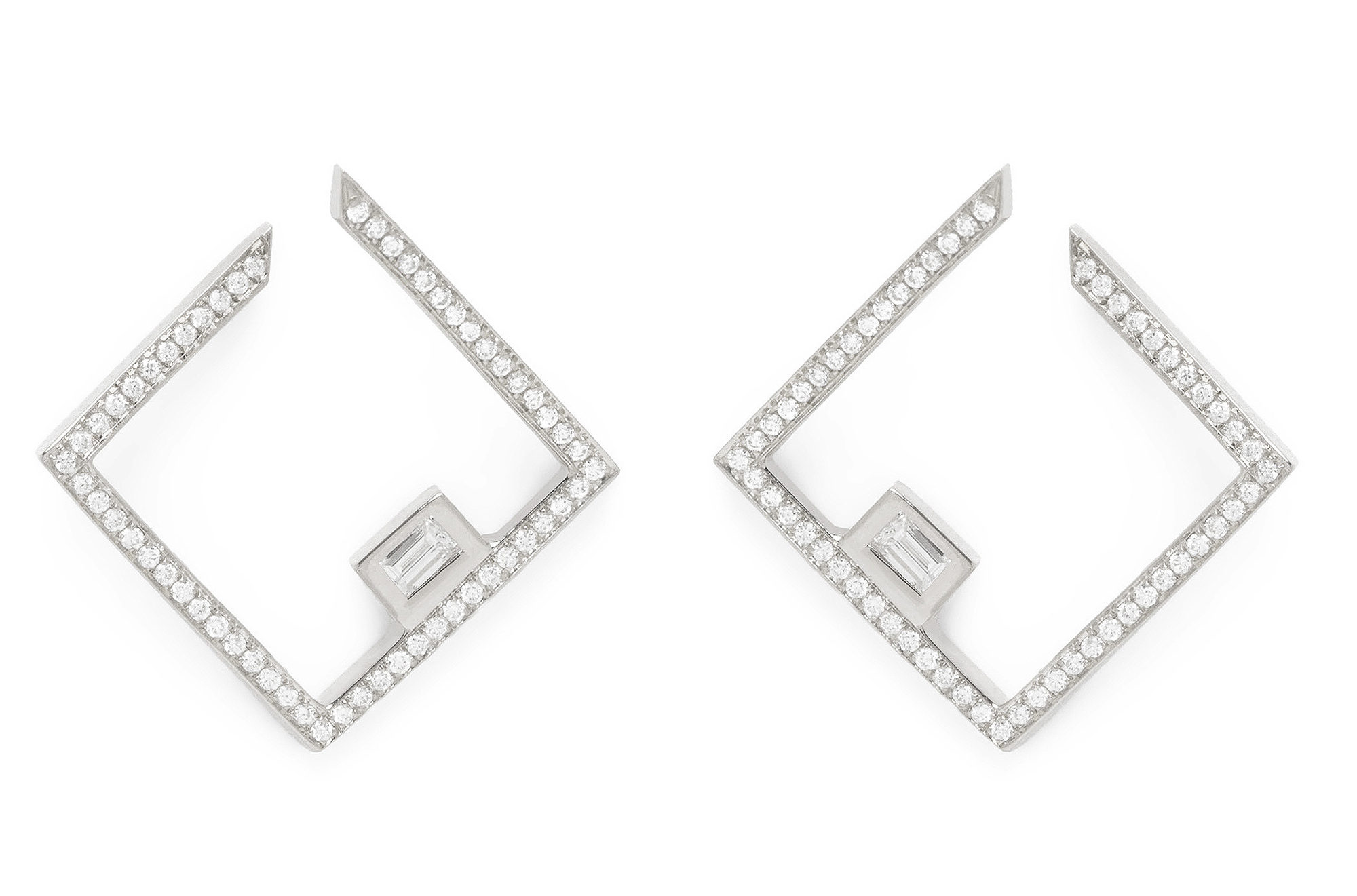 White Light earrings in 18-karat white gold with white diamonds / Photo: Courtesy of Azlee
AD: What have been some of the challenges of navigating the fine jewelry industry?
BZ: The challenges go on and on. I think it's an interesting time to be in jewelry because a lot [is being sold] on consignment, and that's just a challenge for everyone. Retailers will be like, "Oh, we don't want to take on the financial risk," and it's like, well we're designers, we don't either, no one wants to. I think it's important that people continue to step up and have confidence in what they're buying and confidence in knowing their customer well enough to do that. I think it's important to have some solidarity in [the jewelry industry] and continue to explore the questions we're all facing together.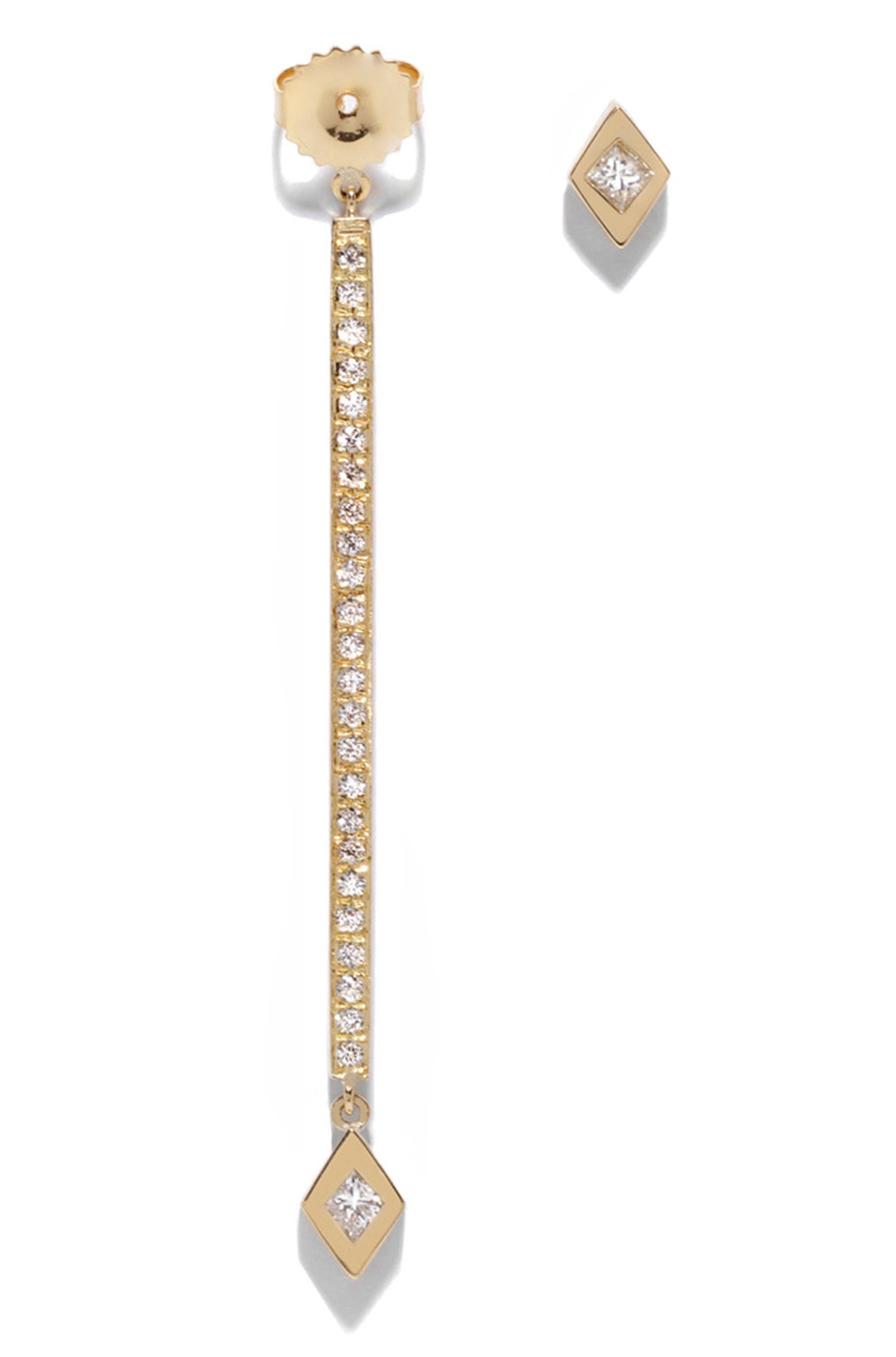 The Spark Stud and Ear Jacket in 18-karat yellow gold with white diamonds / Photo: Courtesy of Azlee
AD: Where do you feel you're going next, and how true do you want to stay to a similar aesthetic?
BZ: We are definitely looking toward stones and how to use stones while keeping true to our aesthetic, so that's a big, new frontier for us. And as collections evolve, I start to understand my customer a little bit more, and that always affects the jewelry itself, [but] I always try to create something that has a slight edge to it, something that feels fresh and relevant and has personality. I design with the assumption that people aren't just layering, that they are going to invest in one piece, so I want that one piece to be able to stand on its own. I always try to make it modern in some way, with strong architectural lines. That's what interests me, and that's a theme throughout all the collections. I try to keep it super clean and sleek and fresh and always try to do something a little different. It's hard to do with jewelry, but I constantly strive for that because I see so much jewelry that looks the same and I don't want people to feel that with our collections.
0 Comment