Any shoe designer whose graduate collection was conceived with candy, sweets, and ice cream on the mind is a girl after our own hearts. So when British talent Camilla Elphick stepped onto the fashion scene with a range of brightly-colored Pez heels, we were instant fans. It's not surprising that the youthful footwear talent, who launched her namesake label in March of 2014 after working under industry greats like Nicholas Kirkwood, Sophia Webster, Paul Andrew, and Charlotte Olympia, has also garnered props from the ultimate trio of cool girls—Alexa Chung, Dree Hemingway, and Leandra Medine have all sported Elphick's shoes around London and New York. As her brand continues to gain traction and her team preps for the launch of her Spring 2017 collection, the blonde-haired Parsons grad chatted with Fashion Unfiltered about her design inspiration, her first pair of shoes (ever!), and the New York apartment she rented from Girls' actress Jemima Kirke.
Jessica Minkoff: Tell us a little bit about your childhood and when you discovered your passion for fashion, accessories, and design.
Camilla Elphick: When I was younger, I always liked fashion, design, and art. I used to try to turn all of my art projects into something fashion related even if it was slightly off topic. I've also always had a thing for shoes—I still have my first pair of shoes ever. On the weekends, I used to get dressed up and go to all the shops while my friends were playing in the park. I went straight to Harrods. Then I started going to art galleries and traveling to New York a lot and I always wanted to move there. I applied to Parsons and when I got in, that was a dream come true.
JM: You say you still have your first pair of shoes. What were they?
CE: I got them at a shop in England called Clarks. They were a little Mary Jane style.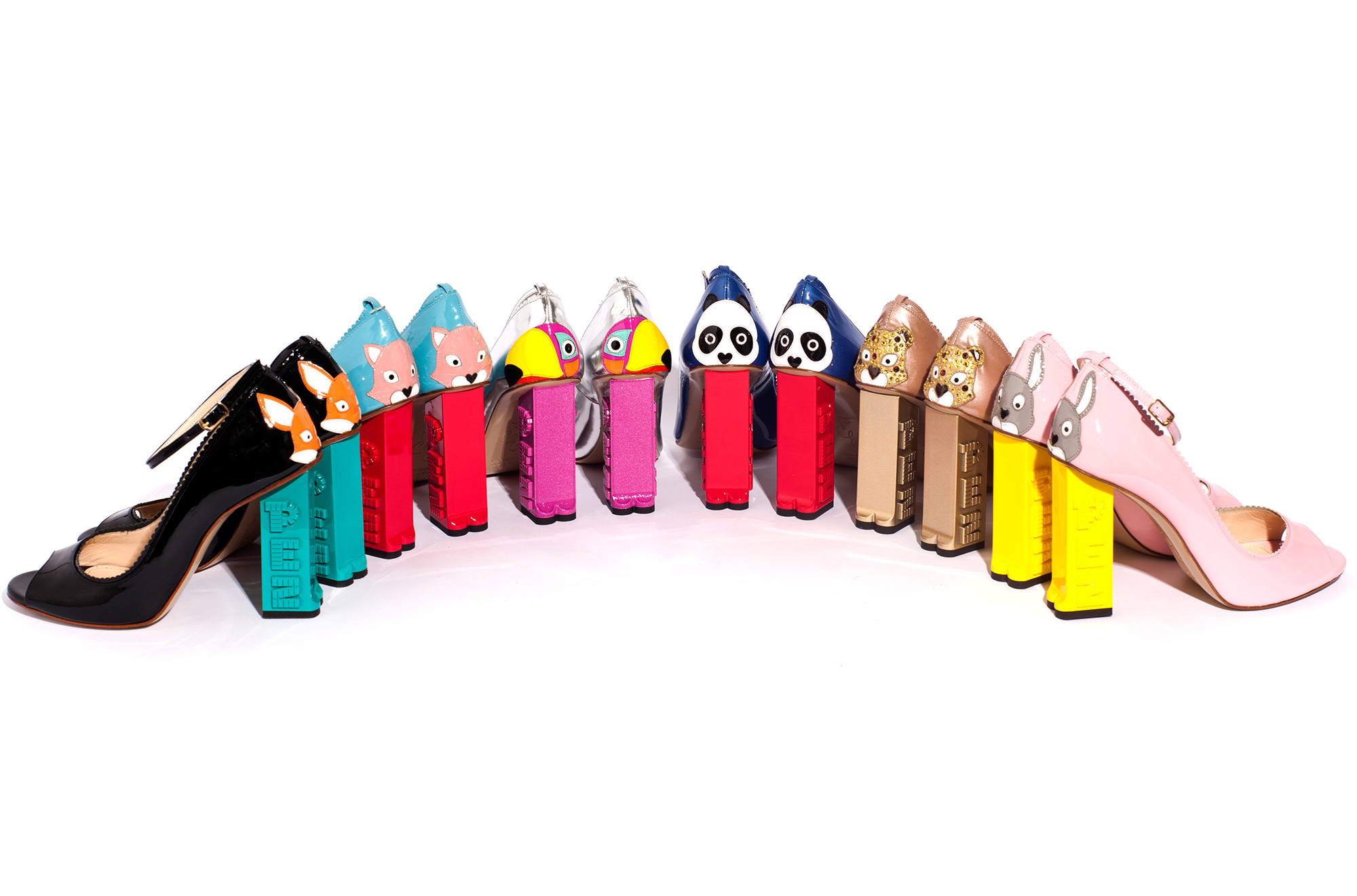 Photo: Courtesy of Camilla Elphick
JM: How many pairs of shoes do you currently own?
CE: I would say about 200. I am rather lucky because I usually keep all of the samples that we make. I try to wear them all to understand how each one fits. I used to do the same thing when I worked at Nicholas Kirkwood. At home, I have them set up on shelves so that I can look at all of them. It's rather scary when people come over.
JM: While you were studying at Parsons you lived in an East Village apartment owned by Jemima Kirke. What was that experience like? Were you friendly with Jemima?
CE: Jemima owned the apartment with her husband and it was through my friend Georgia, who has a bunch of actor friends from London that once stayed at the apartment. It was a one bedroom and when I came back to New York, Georgia told me that it was free. I didn't even look around at other places—I trusted Georgia, so I just took it. The space was amazing. Jemima's mother is an interior designer, so it was filled with all of these peculiar chandeliers and little objects like really cool vintage pieces. I remember there was a mint green fridge. It was on 1st Street and Avenue A and Alexa Chung lived in the building. I was a little starstruck at the time because Girls had just come out and I remember watching it while I was living there. Unfortunately, I never got the chance to meet Jemima. Maybe I will one day.
JM: When did you decide to launch your own label?
CE: It was in March 2014. It wasn't really intentional, but I always had a taste for this feminine and fun aesthetic that is refined at the same time. It's not too in-your-face and I think that is what sets me apart from other designers that may have shoes that are bit more loud or novelty-driven. Rather than trying to make something different, I chose to design shoes that I really loved and could see working on other people.
JM: A lot of your designs are super playful, like the Pez heels. Would you say that your collections reflect your personal aesthetic?
CE: They definitely go with my look. I sometimes wear plain outfits so that the shoes really pop, but I find it so fascinating to see how other people style the shoes. You can wear them with ripped jeans, and also with a dress. Today, I'm wearing bright yellow flats with yellow shorts. I always get dressed by thinking about the shoes first and than I style them accordingly. We worked with stylist Elizabeth Fraser Bell for Spring 2017, and she had such great ideas. She created all sorts of color-blocked looks, and now everyone in the office is wearing color-blocked outfits.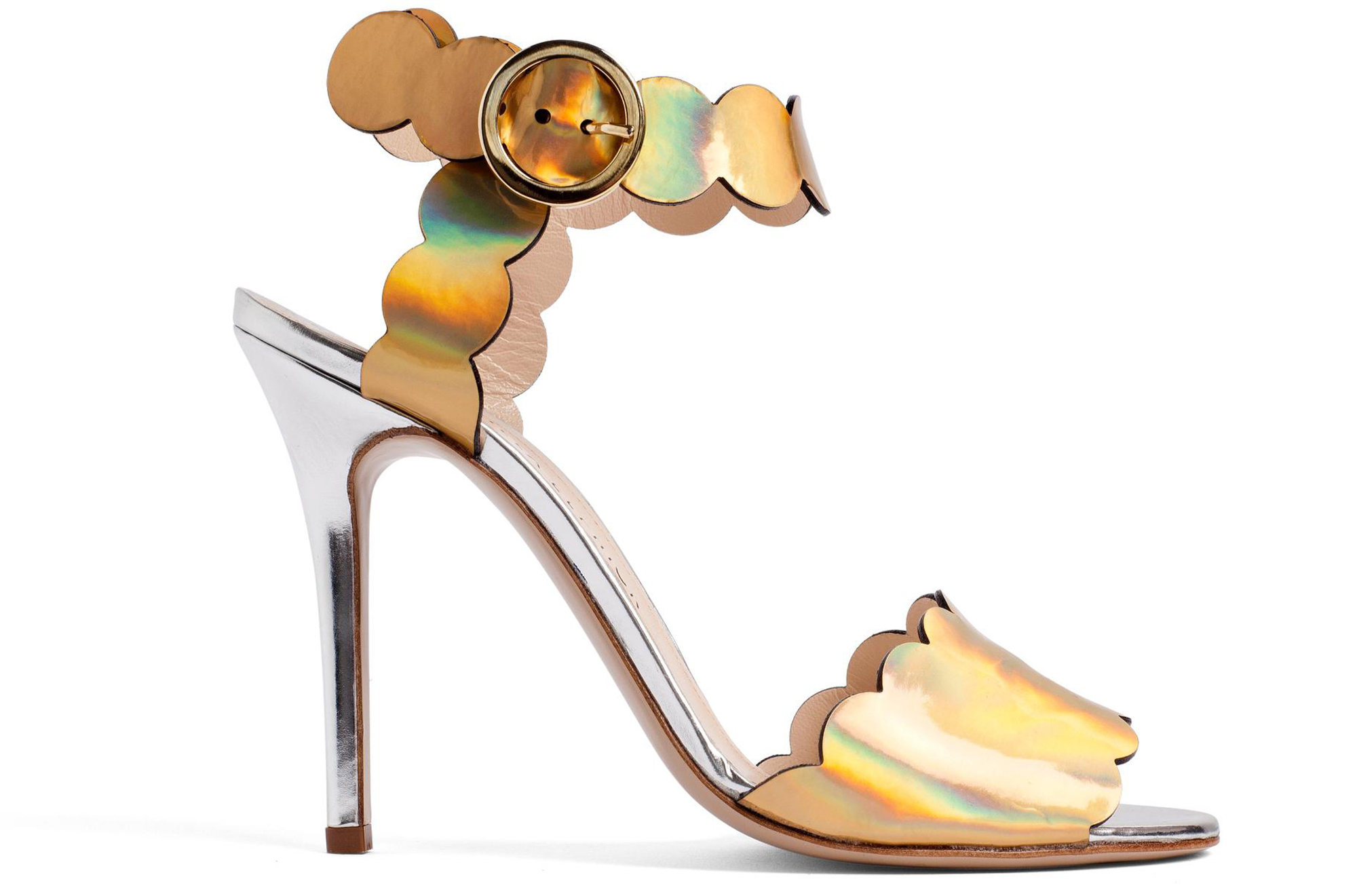 A piece from the designer's Spring 2017 collection / Photo: Courtesy of Camilla Elphick
JM: How did the idea for the Pez collection come about? Do you like Pez candy?
CE: When I was coming up with ideas for my final project at the London College of Fashion, we needed to have a theme, so I thought it would be fun to do a collection around candy, sweets, and ice cream. I was looking at the work of Kent Christensen, an American, Mormon artist who does clever paintings of iconic American things that look so good but are actually so bad for you. I was researching his paintings and iconic American candy symbols and PEZ popped up and I felt immediately that the dispenser looked like a heel. I initially wanted it to dispense candy too, but I'm not sure how many people would want to be eating things from their heels.
JM: Can you speak a bit about your design process, and how you find inspiration?
CE: We will go to trend events and then we go to a leather fair in Milan, which is where we see all the new materials for the season. We have to source all of our materials near our factory in order to be sustainable and we work with tanneries that don't use harsh chemicals on the designs. After that, we put together a mood board of the new trends and colors that we like and we come up with a theme. For this coming spring, the theme is Digital Dreamland. It was so much fun to work on because there are so many references to music and art, as well as the Beta Wave, which we heavily researched. We get inspiration from all sorts of places, but ultimately it's about creating something that people can look down at and smile.
JM: Is there a pair of shoes that you conceptualized in your head but haven't successfully produced?
CE: We made these Venus and David shoes for Spring 2017, which have literal cutouts of Venus and David. At first I wasn't sure that it would be possible to produce them because the factory gave us an odd look when we sent over the design. It was tricky but luckily we were able to make it work.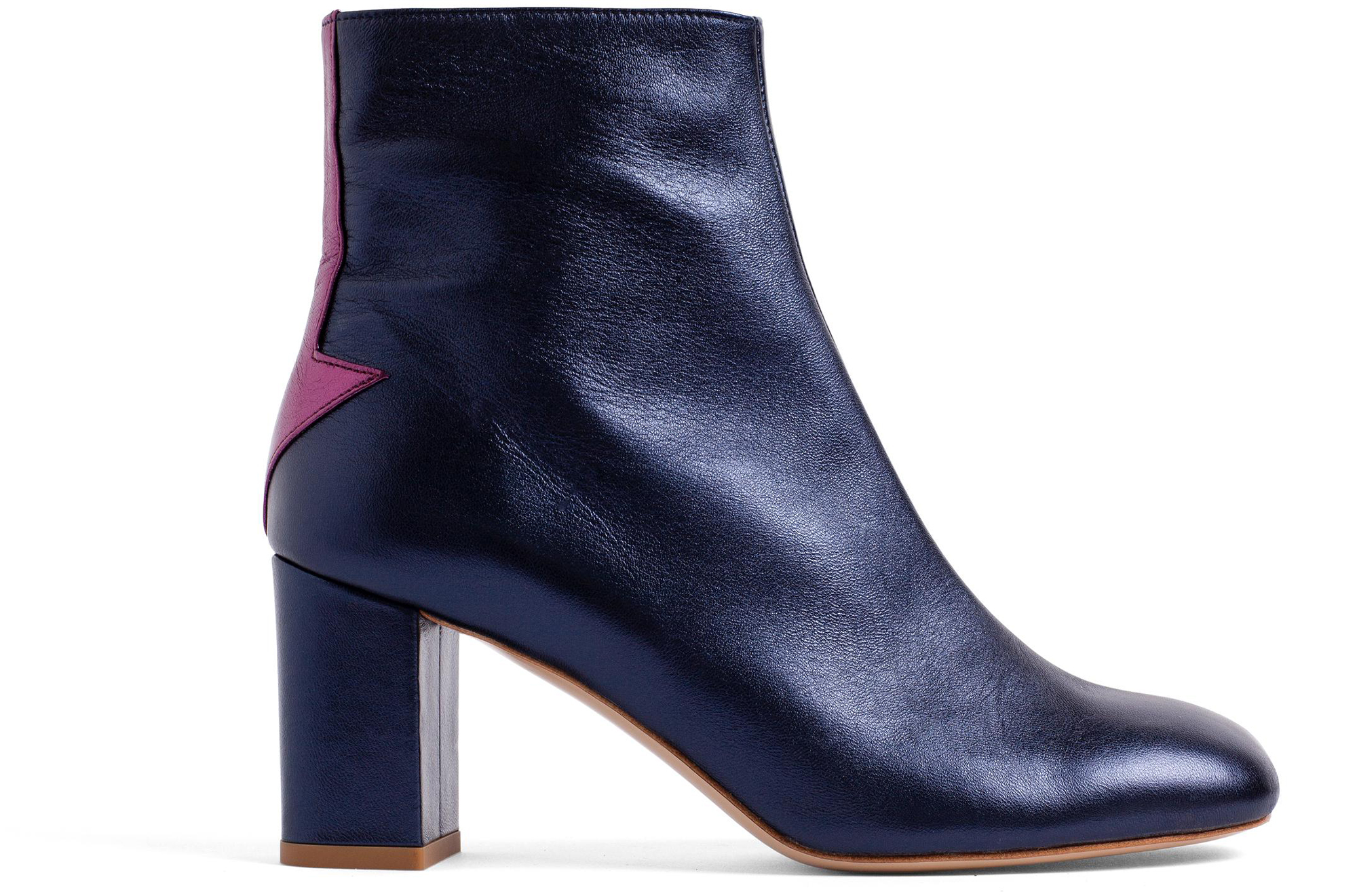 A piece from the designer's Spring 2017 collection / Photo: Courtesy of Camilla Elphick
JM: Can you tell us a bit more about the upcoming Spring 2017 collection?
CE: I think the Spring 2017 collection is the most put together collection and my favorite to date. We have created a really fun video to go with it that is launching during fashion week. There is also a smiley face collection that is separate but will be shown alongside Spring. For Christmas, we are launching an exclusive capsule collection with Selfridges that features different Pez party animals. There is a party parrot, a lively lioness, etc., and they are all mirrored and shiny. At the same time, we are starting to do more bespoke wedding shoes. They are an offshoot of the Lucky Seven shoes that have two number sevens on the front. We offer customers the opportunity to put their initials in a pearly white.
JM: Would you like to expand into other markets? Like handbags or ready-to-wear?
CE: Yes, I would quite like to do accessories to match the shoes and eventually even clothing. The clothing would be quite simple to compliment the shoes. At the moment we are looking at bag factories and I think we would start out with little clutches.
JM: Do you have a favorite shoe from Spring 2017?
CE: I really like a pair of the sandals that has a scalloped edge and is done in a slightly glittery black material. On the heel, it has a Japanese symbol that means "dreams".
JM: What is something that most people may not know about you?
CE: I started training to be a yoga teacher but I never finished the course!
JM: What is your go-to pair of shoes at the moment?
CE: The silver Lover flat because I like walking around a lot and they go with absolutely everything and are extremely comfortable. Heels wise, I love the Palm Springs heels because they are simple from the front and when you turn to the side they have that element of fun that I always strive for.
0 Comment