One look at Christina J. Wang's cheeky, colorful scarves and you'll immediately come down with a case of wanderlust—or, at the very least, be inspired to indulge in a warm bowl of ramen from Momofuku Noodle Bar. Food and adventure are, after all, the inspiration for Wang's designs hand-drawn and painted prints, which she describes as "deeply personal," and brimming with "things I love, things I've encountered in travels, and things I do." If her Spring 2016 collection is any indication, Wang, a painter who splits her time between Manhattan and her art studio in Brooklyn, has a pretty eclectic array of interests.
Her debut lineup focuses on three cities: New York, her "self-chosen home"; Tokyo, where she loves to travel; and Hong Kong, where she grew up. "What's important to me is that I want the things I draw to have a little bit of authority behind them," she said. "It's not just looking up Yelp reviews to make a scarf." The designs are quirky and unique—think trash bags, rats, pigeons, even Maurizio Cattelan's intentionally-destroyed-at-the-Whitney "It Always Seems Impossible Until It's Done" sculpture, one of her favorite works, for the NYC-themed scarf. "The premise of it is to have a local's take on New York City, so that's why I've deliberately eliminated a lot of iconic references like the Statue of Liberty or the Empire State Building," she said. "It's more about the things you notice once you get to know the city a little better." The same goes for her Hong Kong- and Tokyo-themed scarves, the latter of which features Shiba Inu dogs and Japanese toilets which, Wang said, come equipped with bum-heaters, water-spout functions, and even music players to drown out potentially embarrassing sounds.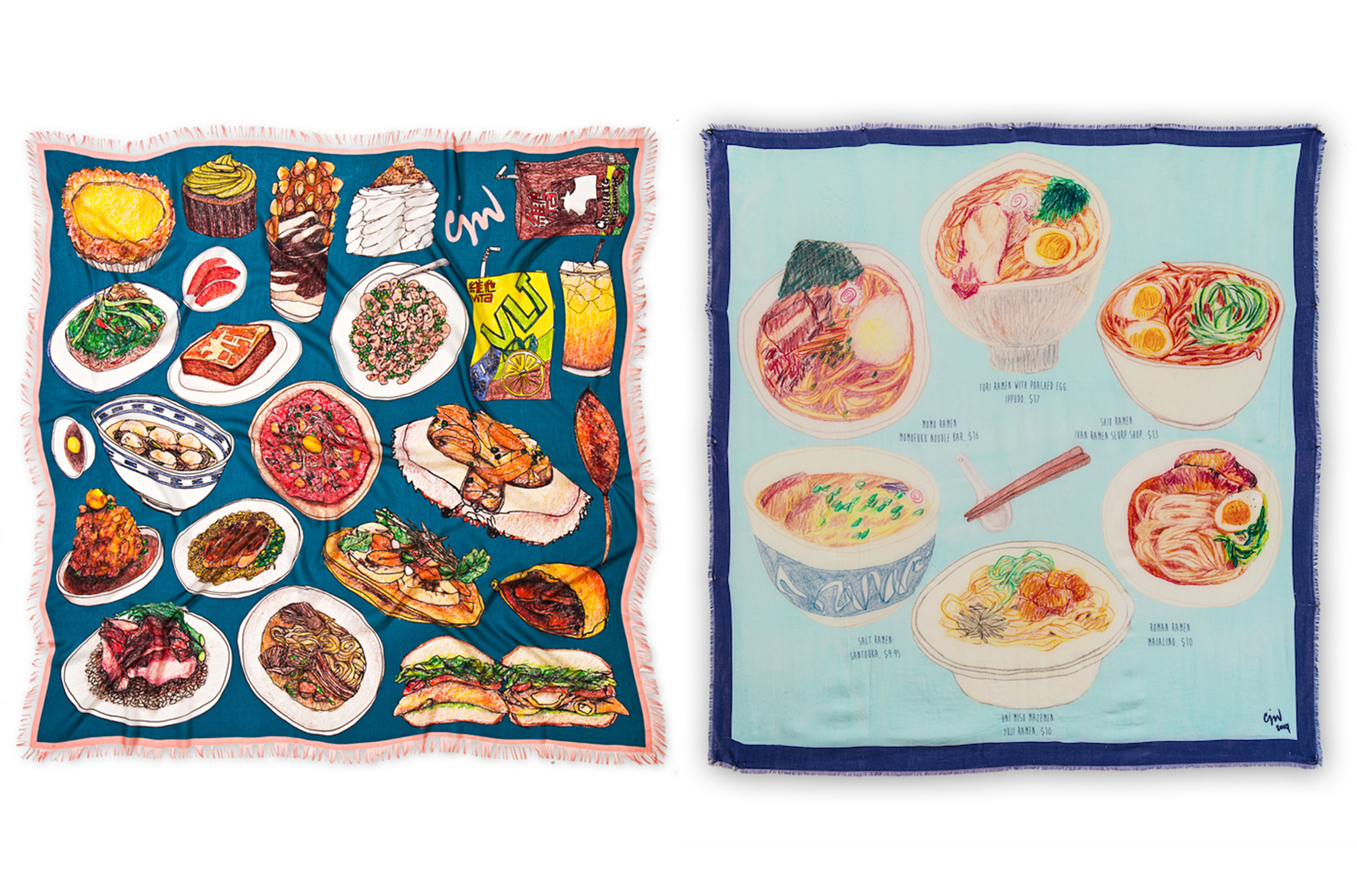 Hong Kong and NYC Ramen scarves / Photos: Courtesy of CJW
For her digitally printed pieces, which are produced just outside of Shanghai, Wang employs fabrics like chiffon silk, cashmere, jacquard knits, and her signature Australian featherweight wool, which she said feels as good as cashmere without the hefty price tag. "I want to give buyers this sense of discovering something, kind of like a little gift, where you're getting more than you bargained for," Wang offered. Her hand-drawn scarves run anywhere from $150 for a "mini" (36" x 36") to upwards of $400 for one of her 53" x 53" end-of-season "everything" scarves, which incorporate elements from the entire season—"almost like a bookend or glossary," she said—and often include two different materials. Her stockists include American Two Shot and Kirna Zabete in New York, Nordstrom in California, Texas, Virginia, and Washington, and Harvey Nichols in Hong Kong. Not bad for someone who launched in 2014.
"It's definitely still a pretty new process for me, but I've been a painter for longer," she explained. (Wang is an alumna of both Brown University and New York's School of Visual Arts.) "The scarf business was started from wanting to bring new attention and a new energy to my paintings," she explained. "As I started delving into the idea more and more, it took on a life of its own."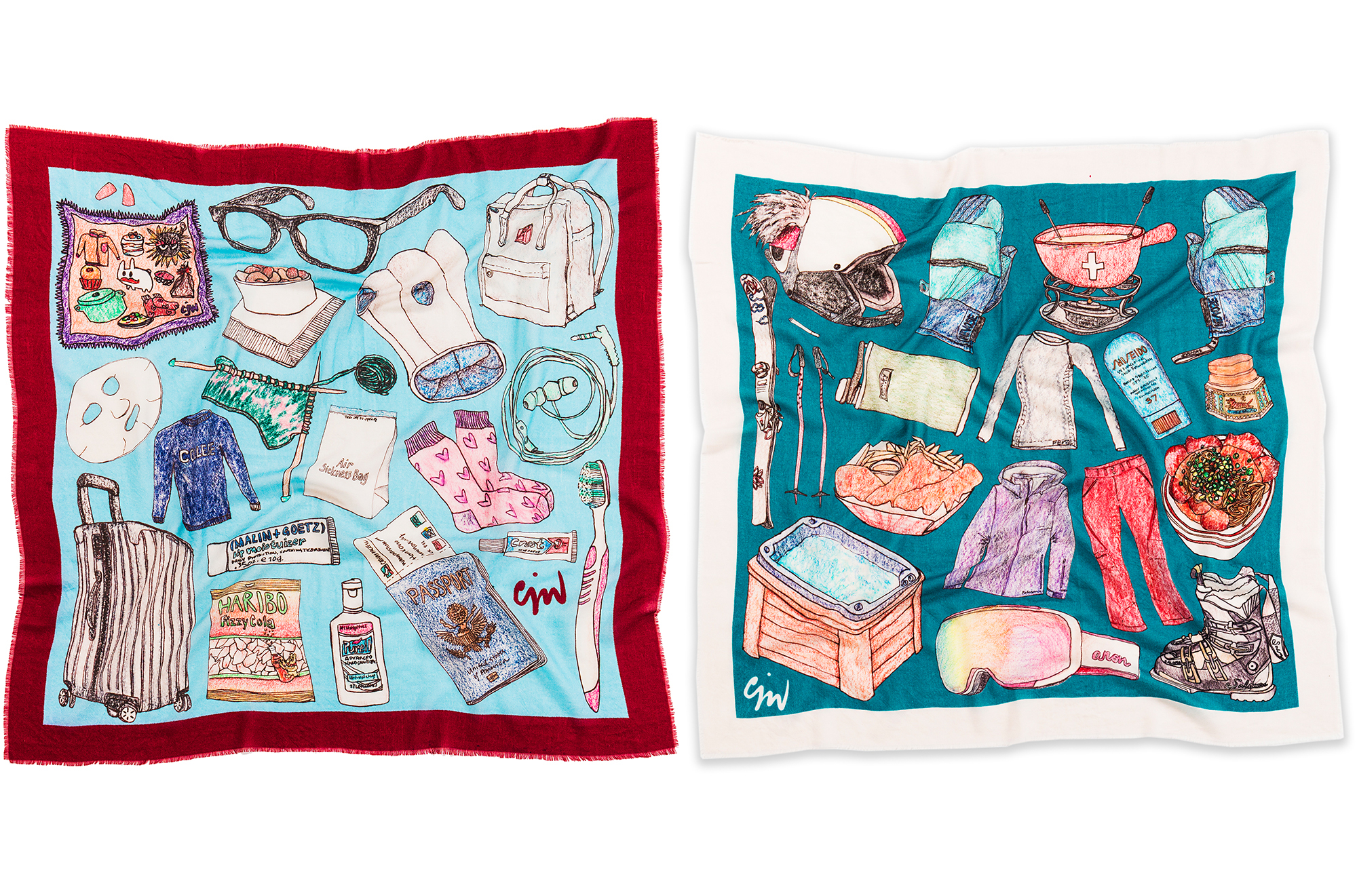 Plane and Ski scarves / Photos: Courtesy of CJW
With a pretty sweet Momofuku Milk Bar collab under her belt—a "total fan girl moment" for Wang, who's been a long-time admirer of founder Christina Tosi—and a Fall 2016 collection (which she calls "a season based on adventures") now available for pre-order on her website, Wang shows no signs of slowing. Her limited-edition collection with Lululemon just dropped last month, and her Fall 2017 and Spring 2017 outings are underway. Oh, did we mention she's getting married in October? "I'm going to be wearing a bridal scarf," she said. "It's going to be my something blue."

0 Comment