A new column in which Ashley Davis takes us into the studios and minds of the world's most exciting independent fine jewelry designers
When I began pondering my new column highlighting independent jewelry designers, it took me about a hundredth of a second to decide that my inaugural Jewel Artist would be Daniela Villegas. Villegas is an amalgamation of everything that led me to fall in love with fine jewelry. She's wildly talented, fiercely original, passionate about her craft, and a bit under the radar. While even the least interested observer of fashion can name a few buzzy ready-to-wear or accessory brands, independent fine jewelers have been enjoying a quieter success over the past decade as they gain popularity among the Cartiers and Tiffanys of the world. Their relative anonymity to the average consumer is understandable, considering the value of the commodities they work with, but what I like best about the designers I've dubbed the "jewel artists," is their willingness to subvert tradition and abandon the preciousness typically associated with fine jewelry to create designs that are thoroughly modern. Villegas looks to nature for inspiration, but not to the flowers and butterflies we're used to. Rather, Villegas is known for her insect pieces, rendered in gold, precious and semi-precious stones, and sometimes, actual insect parts. I chatted with the L.A.-based designer about her design process, sourcing beetle wings, napping, and more.
Ashley Davis: Let's start with your background. What led you to design?
Daniela Villegas: I'm Mexican, born and raised in Mexico City, and I moved to Los Angeles in 2008 with my now husband who was living here. All my life I've been in the jewelry business and always wanted to be a jewelry designer. I studied business administration but after two years, I quit because it was really not my passion. In Mexico, a woman being an artist or in a creative field [is rare], but I thought, At least I'm going to be happy. So that's why I started studying fashion design and jewelry and working with different companies in Mexico. I started making jewelry and learning in downtown [Mexico City] and then when I moved to L.A., I opened my own company.
AD: You work with very distinctive motifs. What about insects appeals to you?
DV: All my life I've been fascinated by insects, by the colors. I love miniature things and it's kind of like a mini world. They're a symbol of rebirth, good luck, and they're always conversation pieces. It started with beetles, then worms, centipedes, mayflies, dragonflies… They're like fairies; they're very dreamy and I love them so I felt a connection. It's my most powerful collection for sure.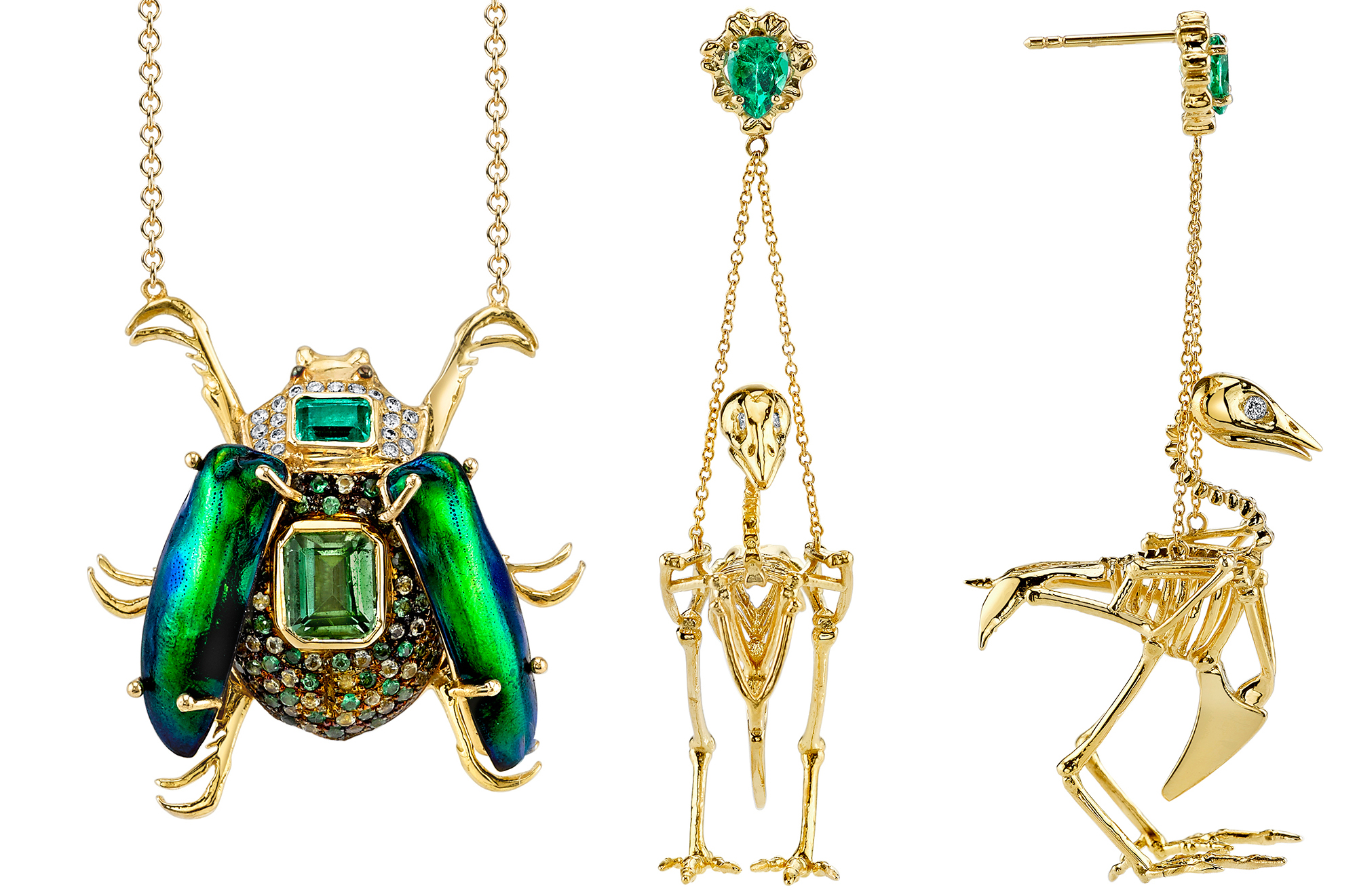 Photos: Courtesy of Daniela Villegas
AD: Did your very first collection have insects?
DV: No. The first collection, "Freedom," is inspired by feathers. And it was inspired by the thought of be free, be yourself, fly. At the beginning, I thought it was better to do something simple and easy. Also, because I was launching my company and had just moved to Los Angeles, everything was in line with the consciousness of you're free, do whatever you want, you're happy, you're having a new baby. Then six months later, I launched the "Backyard" collection, which is the insects.
AD: What materials do you work with?
DV: All the jewelry is made in 18-karat gold, yellow and pink. I have a few things in white as well. I use precious and semi-precious stones, from rubies, emeralds, and diamonds to malachite, lapis, and quartz. I use enamel as well. I started using it last year and I'm doing some of the pieces that I'm launching [for Fall 2016] with enamel as well. I like it for just a drop of color in certain areas where it's hard to put stones. I also love to use natural elements, like feathers or the real parts of the insects or porcupines, as a respect for nature and to have that element for good luck. I want [the wearer] to have that energy of nature with [her].
AD: Tell me a bit about sourcing these materials, particularly your beetles, feathers and porcupine quills.
DV: My husband calls me gusano, which means worm, because I'm always on the floor picking pebbles and branches and leaves. All of my materials are ethically sourced. I go to bug fairs in Los Angeles, Pomona, Mexico, and Seattle. I go for my porcupines to a reserve in Chino, California. One of my best friend's family lives in South Africa and her dad goes hiking on their property everyday, and he's always picking up porcupine quills for me, too. He sends those every six months. You have the energy of another country, another land—that adds value to the piece.
The feathers are from everywhere—from Mexico, from the U.S., from Europe. Most of the beetles are from Asia because they're a little more colorful but I also have some from Oaxaca, from Ecuador, from Peru. I love to travel and I see jewelry as my playground and I want to do innovative things. I want to take it seriously but at the same time I want for you to have fun with the piece. I don't want to make incredible, super expensive pieces that sit in the vanity because you cannot wear it. I want you to wear the pieces.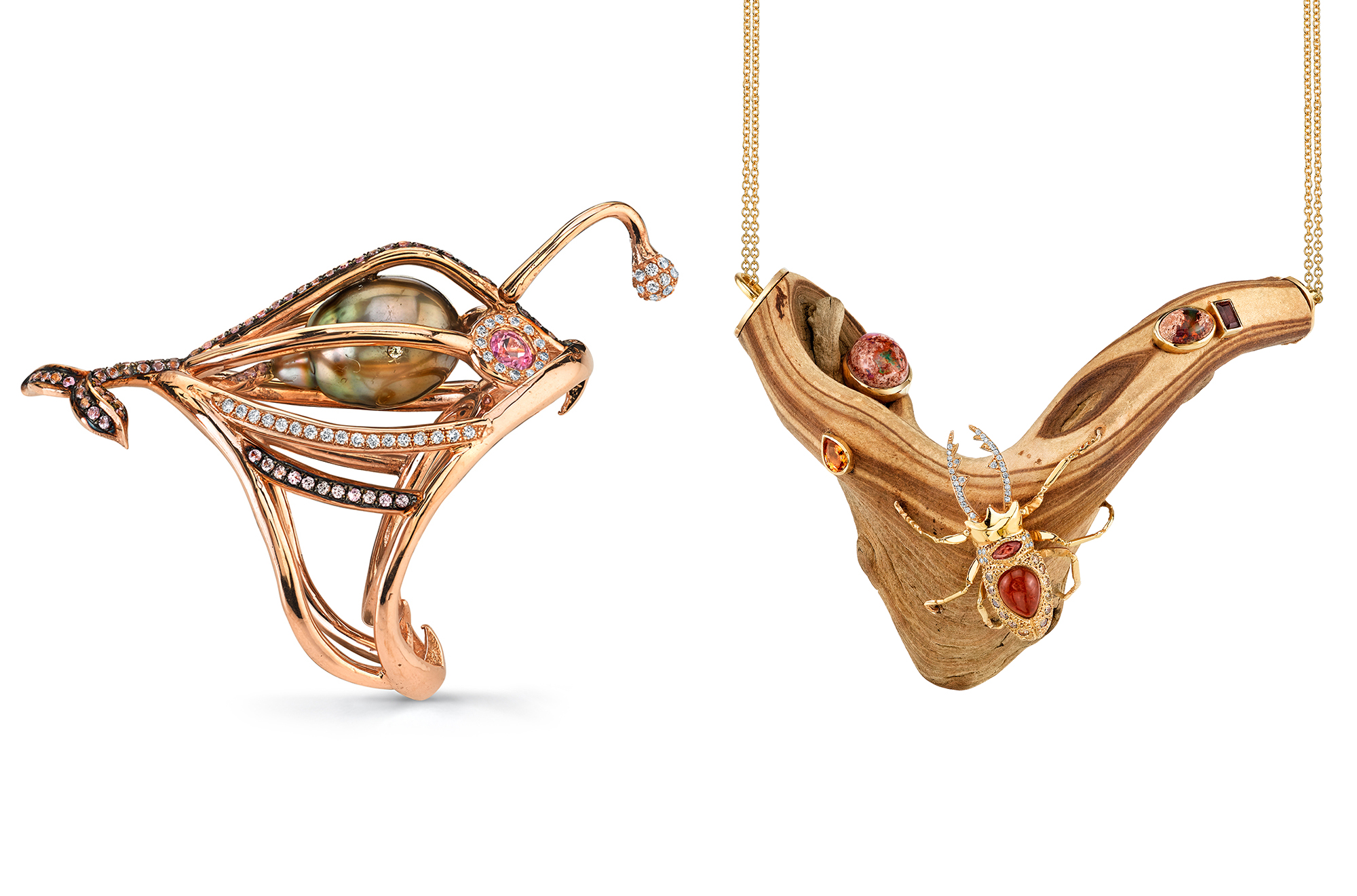 Photos: Courtesy of Daniela Villegas
AD: What is your design process like? Is it different for your various collections?
DV: All the collections are permanent and I'm just adding [pieces] depending on my mood. I need to have a connection with the collection. I feel like the fashion world right now is so fast and I don't want to create just because I have to create things. I always make the "Backyard" collection because I feel it's the most powerful and everyone loves the insects and the stores want them but sometimes I do more porcupines, sometimes I do more "Into the Deep"—they're like the monsters of the abyss—and last September I launched the "Peru" collection. It's something I'm very excited about.
I nap and I dream because for me, napping is a way to recharge and have more energy. Sometimes I feel my head is full of ideas and sometimes it's like, Okay, nap and have a break for 10 minutes, and that way I can check if it's the right decision. And when I wake up in the morning, I always write about my dreams—a few words, concepts, or colors.
AD: Is your team in L.A. with you?
DV: Yes. I have a big team, like thirteen jewelers working for me and I bring them my ideas. All the jewelers, the setters, the polishers, everyone is specialized. I've been working with them for 10 years. They're very passionate about what they're doing. It's kind of like working with family, and sometimes, I see them more than my real family in Mexico.
AD: A lot of people talk about the saturation of the fine jewelry market and that there are so many people designing. What are your thoughts on this?
DV: I agree. A lot of my very close friends are also jewelry designers but I feel you can tell in two seconds who is really into the business because of passion and love and not just because, Hey I have a little bit of money and I'm going to go downtown, buy a few things and now I'm a jewelry designer. Maybe you can make great pieces and you have good taste but that doesn't make you a jewelry designer.
The competition is good because it makes you better and actually I'm very happy right now that the independent jewelers are having a moment because when I started, it was like, if you buy something it needs to be the big brands. But now, husbands, boyfriends, or if we buy something for ourselves, we don't buy anymore for the brand. You buy because you like the design and because you feel a connection. I feel that this trend of independent jewelry designers is very cool and important.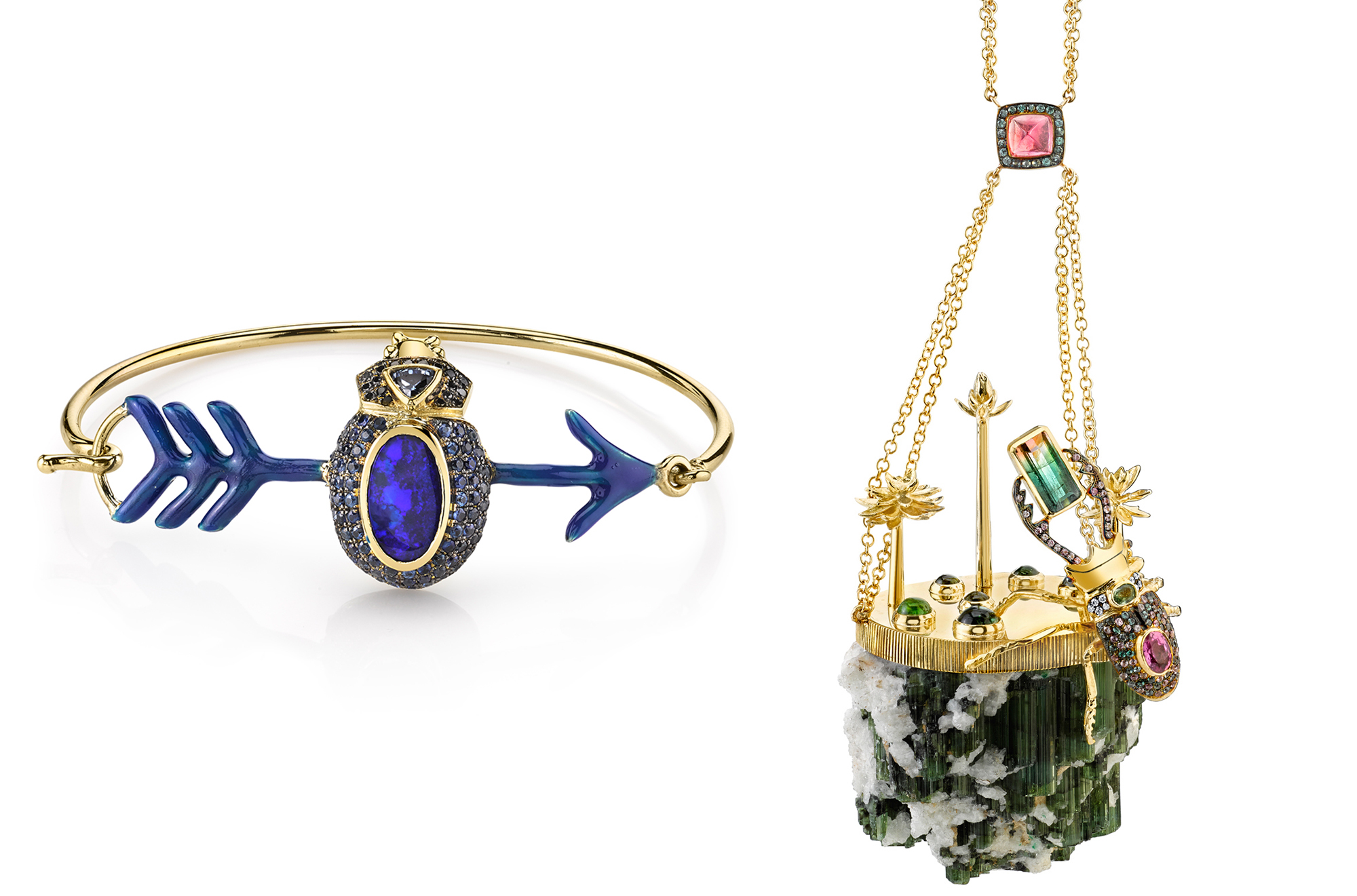 Photos: Courtesy of Daniela Villegas
AD: Tell us about Fall 2016.
DV: It's a twist on my "Backyard" collection. It's inspired by the thought that everything in the universe is alive, that everything belongs to an infinite whole, and that each and every one of us has an effect on the collective whole. It's about love—to love and be loved. It's a lot of hearts and a lot of color and enamel. Also, because it's the Chinese year of the monkey, I'm doing some skeletons of baby monkeys. A few pins, a lot of earrings, and rings.
AD: What are some of the positives and negatives of being an independent designer?
DV: I like to think more about the positives. The negative could be that, when you're working for someone else, you're learning your mistakes with others' money, not yours. But at the same time, [with your own company] you are more conscious and more careful. Also, I feel it's important not to think too much. Obviously be conscious about the cost but it's about love and passion. I prefer to feel more than thinking because if not, everything becomes very automatic, very robotic. I want to see myself more as an artist.
The good thing about having your own company is that you have the last decision. When you make a mistake, you cannot blame anybody, it's your mistake, even if it's the mistake of your employee, because you're responsible for that employee and that makes you grow in a different way.
Sometimes [financing] it's hard, especially in fine jewelry, because most of the time, in the beginning, [stores buy] on consignment. I started with seven pieces so that's why every time I create a new collection, I always make seven as a symbol that good things take an effort and they take time, and if you work hard you can expand. Now I have my pieces in more than twenty stores and it's great.
0 Comment