There was nothing wrong with tonight's Emmys red carpet. But there was nothing particularly right about it, either. Where the VMAs were a sartorial cornucopia of individuality, the Emmys saw everyone essentially wearing a handful of expected gowns—sheer gowns, cut-out gowns, caped gowns—in a few different colors. And per usual, the men mostly wore the same black (or, if they're particularly daring, navy) suit.
But perhaps the Emmys get the short end of the stick in terms of fashion coverage. After all, they're smack dab in the middle of fashion month, and maybe we jaded insiders want to see the same kind of risk, savvy, and spectacle on the red carpet that we hope to witness on the runway (though, to be fair, there hasn't been a whole lot of that at the shows, either). Let's be serious—the red carpet ain't got nothin' on Marc Jacobs' rainbow dreads and raver platforms. And while we're being serious, let's admit that an actress trying to pull off that full runway look would be crucified on social media, television, and in the gossip rags. It's all about context, baby.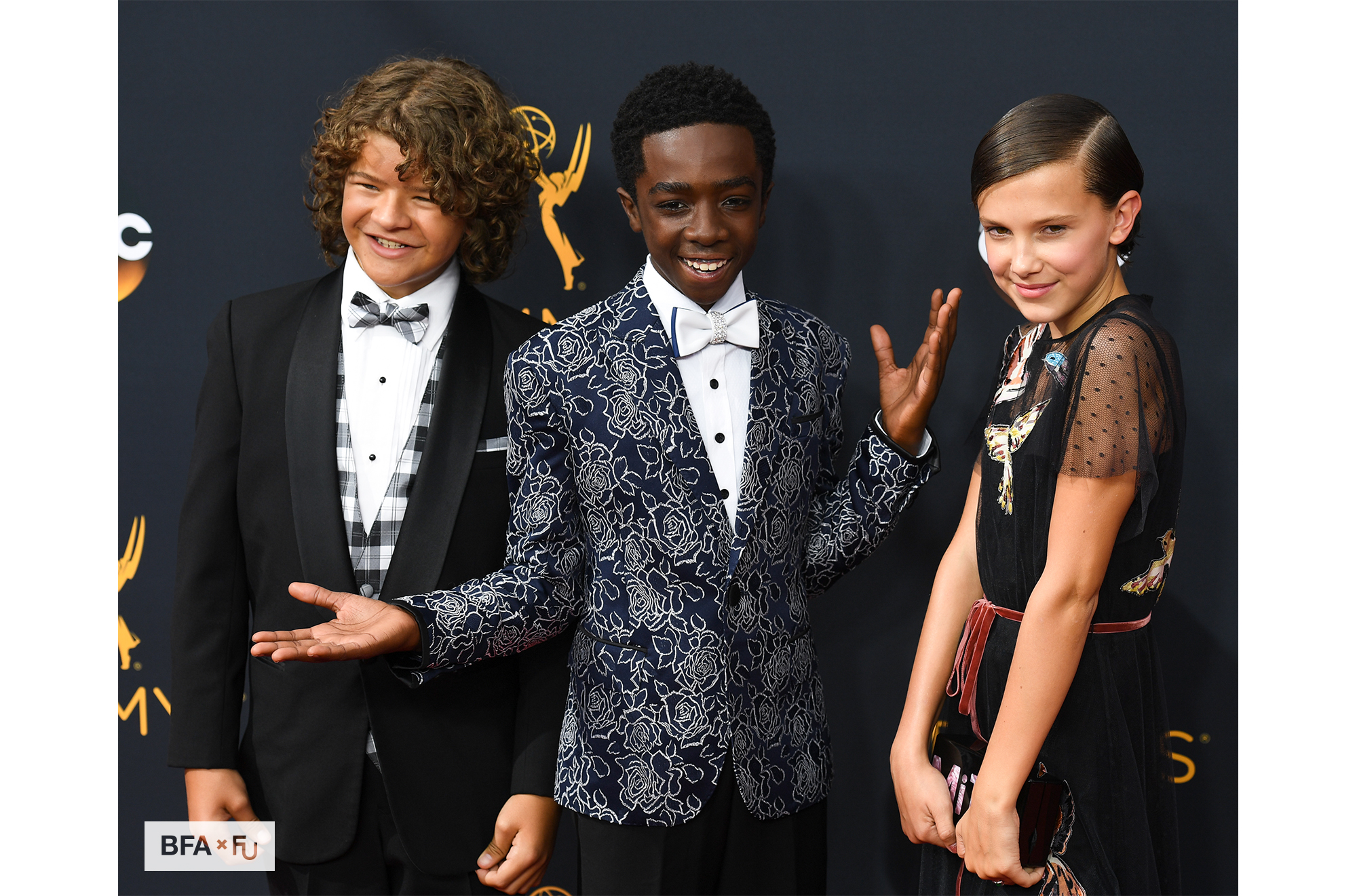 Gaten Matarazzo in Neil Allyn, Caleb McLaughlin in Eaden Myles, and Millie Bobby Brown in Red Valentino; Photo: BFA.com. View more at BFA.com.
With that in mind, we couldn't help but wonder: Are Hollywood red carpets really displays of fashion? Being so heavily visual, fashion is objective. This is why "best dressed" lists are often met with debate. Celebrities on the red carpet are not presenting ideas of fashion or style in the way designers do. Rather they are expressing them (whether their own, or on the advice of a stylist). When Gaby Hoffmann arrives in a vintage shirtdress, she does so for the sole purpose of feeling glamorous for no one but herself. If Sofia Vergara's Versace feels familiar, it is because she chose to wear something she feels comfortable in. Lets be real—they all look good. They're television (and some movie) stars.
It's unsurprising, then, that the most interesting ensembles appeared on the more interesting actors. Take Sarah Paulson, who confidently strutted in a stunning, beaded, emerald Prada gown. That certainly didn't get lost in the sea of sameness. And a very pregnant Kerry Washington was breathtaking in a custom skin-baring Brandon Maxwell gown that accentuated her tummy. Kudos should also be given to the kids from Stranger Things (Millie Bobby Brown, Gaten Matarazzo, and Caleb McLaughlin). Brown's Resort 2017 Red Valentino dress is beautifully delicate, and, Matarazzo and McLaughlin mixed patterns into their suits, proving themselves to be more fashion-forward (and for that reason, brave) than most of the adult men could ever hope to be. But that's just one opinion.
0 Comment