Every year, the British Fashion Council's annual awards ceremony goes up a level in octane. It gets glossier, brassier, more confident. Apart from its inaugural event in October of 1989, where Princess Diana rocked up in a (now iconic) Catherine Walker Elvis-esque bolero gown, last night's affair was the shiniest in years. Before, it was an endearing hodgepodge of East End designers and Central Saint Martins students, with dresses that had just come off the sewing machines, feathers and threads askew. To be fair, there were always the McQueens, Westwoods, and Zandra Rhodes around, but there was also a very homey, somewhat provincial feel to the awards, which lent the evening a sort of authenticity. But last night, at the ultra regal, candlelit Royal Albert Hall (even the venue has had an upgrade), well, it was very slick. Kate! Karlie! Gaga! Naomi! Donatella! Wow. Dressed in Oscar-worthy attire, this was a different level altogether. Progress, perhaps, but it did make many sentimental for the good old days.
The newfound sophistication is one change. The other of course, is that they are not the British Fashion Awards anymore. They are now simply the Fashion Awards—a sage decision for a switch in moniker by way of the BFC and its chair, the American-born Natalie Massenet. After all, in our Brexit age, national identifiers are causing an uproar—and don't you know, darlings, division is so out of fashion. Fashion is truly international now, and to limit it just to the Brits seems such a jaundiced idea. Although the BFC claims the name change wasn't due to politics.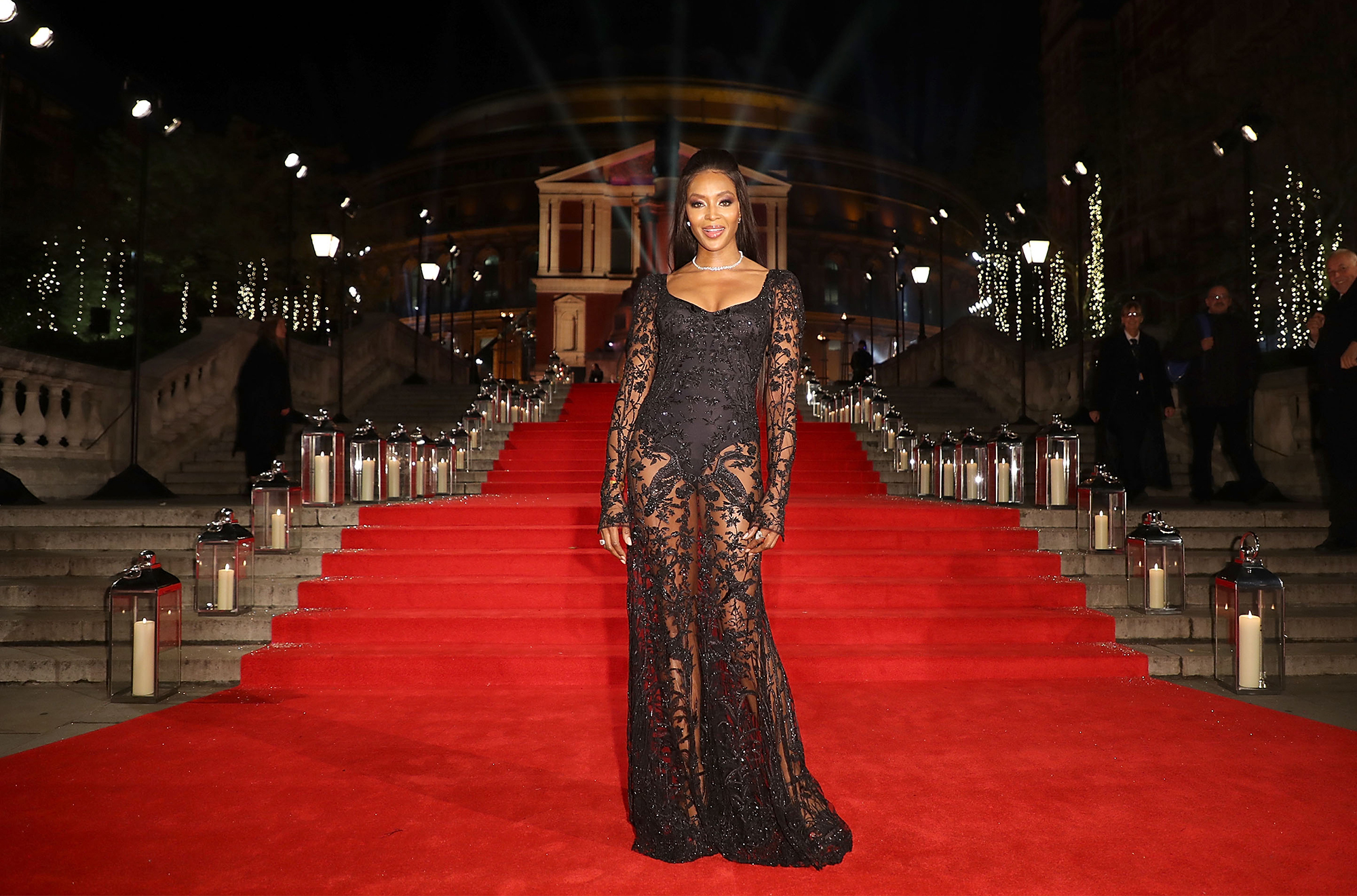 Naomi Campbell
Photo: Getty Images
"We didn't plan the name change to coincide with anything political but it seemed like a good time for our industry to show we are fully international, collaborative and without borders," said Caroline Rush, chief executive of the British Fashion Council, to the Financial Times. So though some people rue the loss of "British" in the name, we applaud the BFC for its international stance, as it is exactly what the industry is: international. So, there. More progress.

But that's not to say there weren't any Brits in attendance. Many were nominated—categories were even created for them—with Simone Rocha and Craig Green walking away with hardware. Alexander McQueen, a brand whose mythical appeal cannot be dampened by mere death, also brought home a trophy. But a quick glance at the list of winners will show how international the field is. Lebanese-American Gigi Hadid, and Demna Gvasalia, who hails from Georgia and designs for Balenciaga, a French brand founded by a Spaniard, took home big gongs. Ditto for American powerhouses Ralph Lauren and Bruce Weber. Italy's Alessandro Michele walked away with Accessory Designer of the Year for Gucci, and perhaps his story is the most telling of the new internationalism that is pervading fashion. The night before these awards, Michelle Obama wore a custom Gucci gown to her final Kennedy Center Honors, which is notable, considering it marked the first time she didn't wear an American designer to the event. That power move all but sums up fashion's increasingly global spirit.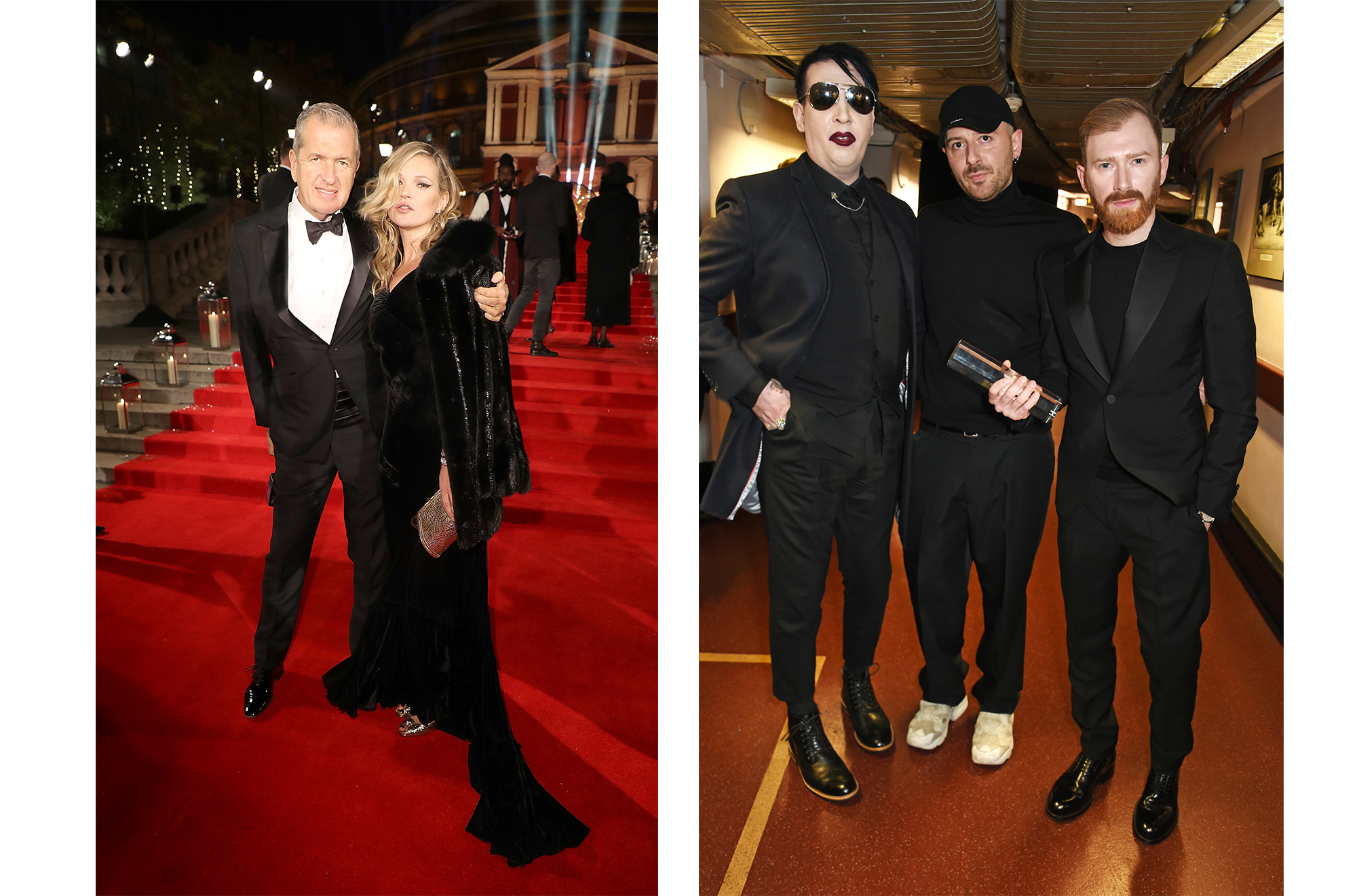 Left: Mario Testino and Kate Moss; Right: Marilyn Manson, Demna Gvasalia, and Guram Gvasalia
Photo: Getty Images
As the supes took to draping themselves over a giant glittering orb at the front of the venue, there was one constant that was decidedly British: a lot of booze. A lot. So by the time Marilyn Manson (random or what?) took the stage to present Vetements with its award for International Urban Luxury Brand, any confusion gave way to merriment. Yup—by this time, vats of wine had been consumed. To be sure, the atmosphere suggested that people came on a mission: to eke some joy out of the last hiccup of 2016. Trump, Brexit, Syria, continuing economic uncertainty—all that was thrown by the wayside. This gang was hell-bent on partying, and did so with admirable conviction.
That spirit spilled over into the official after-party at Store Studios, which, as far as this reporter can remember, was somewhere on the Strand. I think. One enduring British tradition that survived the face of globalization? A whooping hangover the next day. Some things will never change.
0 Comment