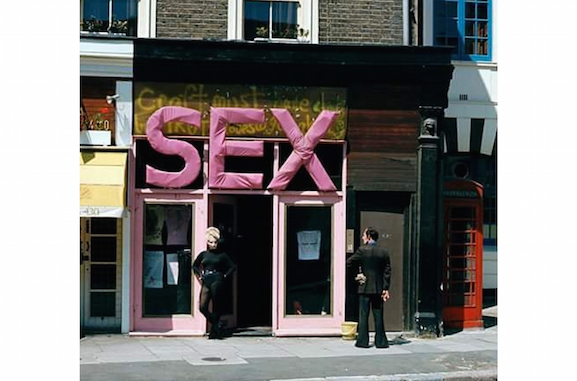 SEX; Photo: @domenicomaisano / Instagram
Equally building a community (although in a completely different scene) the department store Fiorucci in New York City outfitted the party crowd. Though he began his line in the '60s with stores in Milan, Elio Fiorucci's eponymous shop, opened in 1976, came to define the brand's connection to disco culture. Much like Seditionaries, the figures in the scene not only shopped there, but were also employees. "He certainly hooked in very early on with lots of very young people," said Steele. "Rubin Toledo told me that when he was just out of high school he got a job working at Fiorucci." Other famous club-kids that worked there included Klaus Nomi and Joey Arias, who held tenure there in the early '80s when the store shifted to what we know of it today. After Elio's death in July 2015, Arias spoke to Paper Magazine, recalling tales of personalities such as Divine and Andy Warhol loving the products available, to even old-Hollywood stars such as Lauren Bacall and Greta Garbo fascinated by the staff and environment.
"A lot of people were kind of hanging out there," says Steele. "I think that's another thing—key thing—with all of these boutiques. They weren't just places to sell clothes, or to buy clothes. They were places where kids went to hang out...the boutique's almost like a discothèque, a meeting place, and all of these famous youth boutiques were like that. They were like private clubs."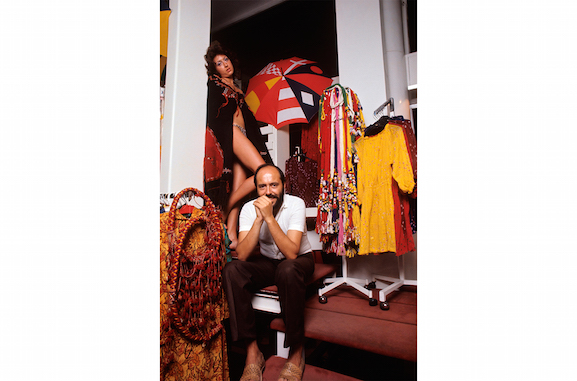 Elio Fiorucci / Photo: Getty Images
Many stores not only capture the attitudes of a generation, but also the flavor of a specific place, or city. And while most were born from the culture they represented, or grew into, figures such as Susanne Bartsch took an active role in planning and executing. Opening her shop in SoHo in 1981 (a bold undertaking, as she was on a tourist visa), Bartsch brought British fashion to New York. "She [imported] English avant-garde clothes by people like Vivienne Westwood, a very young John Galliano, and Bodymap," explains Steele, who recently curated an exhibit titled Fashion Underground: The World of Susanne Bartsch, and co-authored a book of the same name. "It became a meeting place for downtown kids and visiting Brits, and Japanese." Bartsch went on to organize parties raising money for AIDS research, most notably the Love Ball in 1989.
The connectivity these shops provided and the social aspect of them may seem quaint to modern eyes, as the Internet has made the world available at our fingertips. It's hard to understand the necessity for locations where like-minded people can converse when social media has allowed us to seek out others from the comfort of our own homes. That being said, the idea of hanging out at a boutique, or making a pilgrimage to a particular store is not unheard of. Modern shops have evolved into the "concept" store, building on the idea that a shop could be more than just a place to buy clothing, by offering visitors more in both aesthetic stimulation, as well as the comforts of a place to spend time. Many are able to utilize both traditional brick-and-mortar locations, as well as develop online spaces to build global identities.
The famous Parisian store Colette, which opened in 1997, gained a reputation for always catching on to, or creating, the next big thing, and not just in fashion. Since opening, the shop has become known for carrying independent, hard-to-find, and exclusive clothes, magazines, books, and movies. In addition to shopping, customers can spend time exploring the gallery (which has a new exhibit every month), or sit in the Water Bar. Stores like these have gained success by flipping the script on how their community develops. Rather than relying on a community to flock to their locations, modern boutiques seek out creative entities, and give them a platform, introducing them to new customers.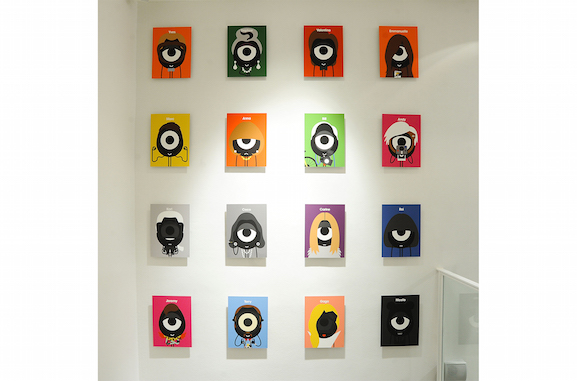 Colette; Photo: BFA.com. View more at BFA.com.
Although online shopping has made it possible to participate from afar, boutiques like Dover Street Market have multiple brick-and-mortar locations around the world. The first DSM was opened on Dover Street in London's tony Mayfair neighborhood in 2004 by Comme des Garçons designer Rei Kawakubo. The store began as both a way to sell Comme des Garçons multiple lines, but also to invite other brands to display and curate their own spaces. "I want to create a kind of market where various creators from various fields gather together and encounter each other in an ongoing atmosphere of beautiful chaos," reads a statement from Kawakubo on the DSM website. "The mixing up and coming together of different kindred souls who all share a strong personal vision."
"Beautiful chaos is the philosophy that governs all DSMs—the coming together of various creators, artists and designers; it's about the synergistic and accidental energy that results from all these elements colliding," explains Adrian Joffe, president of Comme des Garçons International and DSM International. "Our biannual changeover to the new season—our New Beginning—is always a pivotal time in which we transform our shops with new installations and event spaces, launch many new brands/exclusives and the season's new merchandise. Nothing from the previous season remains; we are constantly looking forward and prefer not to be tethered to the past." Since 2004, DSM locations have opened in Ginza and New York, and this Friday, the conceptual shopping destination will move from its original Dover Street space to a new London location at 18-22 Haymarket.
Of course the idea of youth culture is a repeating theme when discussing these boutiques, and it is certainly not an aspect that has been outgrown. What has changed, however, is the shift to online spaces. VFiles (which has a location in SoHo) has become its own social media platform, building an extensive online community of young designers, photographers, stylists, and more, allowing them to connect and encouraging them to create. It was from this online community from which the boutique sources the talents for its VFiles MADE fashion show, with members voting on which models and makeup artists would participate, and eventually nurturing the winning designers in starting their lines.
Old-school boutiques captured a specific moment, but fizzled out once it had passed. It seems as though modern boutiques have evolved to be able to navigate the generational shifts in fashion—necessary, as its defining quality is that it is ever-changing—while also retaining the ability to stay relevant. What these spaces illustrate is that fashion does not occur in a vacuum. It is driven by, and frequently intersects with culture. Regardless of how the narratives move, every story needs a setting.
Fashion movements are somewhat hive-minded. One person with great style is simply a well-dressed individual. But a group of people with great style and similar aesthetics—well, that's a trend. Like any good story, there needs to be a who, what, where, when, and why, and if it's a tale of fashion, the "where" is usually a boutique. Many eras, sub-cultures, and movements have had a store that captured the lifestyle of a group, not just the clothes. Although they may not have realized it at the time, certain shop owners who were bold enough to believe that a store can move beyond just retail went on to have an impact on the cultural zeitgeist.
Mary Quant opened her shop, Bazaar, in 1955 with the help of her husband, and her business partner, selling clothes that directly appealed to a younger consumer. "She wasn't professionally trained or anything," explains fashion historian Valerie Steele, citing an anecdote in Quant's memories of how she would naïvely purchase her fabric at retail cost. "But [she became] pretty savvy about it, then traveling and getting connections with different manufacturers, and she travelled to the U.S. and was really impressed with how you could mass-produce fashions." Quant's designs caught on just as the Youth Quake movement began, and she continued to have her finger on the pulse throughout the '60s, expanding to both accessories and makeup.
London Boutique culture, as summarized in the book Fashion Since 1900, was heavily driven by teenagers with money to spend and interests in fashion and entertainment. In addition to Quant, and the Carnaby Street boutiques owned by John Stephen, there was also the vintage-inspired shop Biba. Owned by Barbara Hulanicki, the first boutique opened in 1964, and was the aesthetic opposite to Quant's work, drawing heavily on Art Nouveau themes. Nonetheless, Biba found it's own market, and in 1973 the department store Big Biba opened. Lavishly decorated, the multi-story shop aimed to transport customers to another world—a Biba world—and offered them an entire product range to complete this with. Unfortunately Big Biba, although fabulous, was short lived, closing its doors just two years later.
Vivienne Westwood and Malcolm McClaren had a much better ability of catching on to rising sub-cultural groups in London, and fashioning youth ideology. They first opened Let It Rock in 1971, catering to the Teddy Boys. A year later they changed the name to Too Young to Live, Too Fast to Die. SEX (renamed in 1974) was the store's third and most famous incarnation, likely due to the provocative name (which was written in large hot pink letters above the door), and merchandise (fetish gear, anyone?). Of course Westwood and McClaren are most associated with the Punk movement, fashions for which they carried in the fourth iteration of their store, titled Seditionaries. Punk fashion itself is heavily based on a DIY attitude, so a boutique that sold pre-made Punk clothing—at a retail prices higher than what one could create with what they have—seems unnecessary. Yet Seditionaries was more than just a store, it was a hub for the London Punk community, with McClaren managing The Sex Pistols, and punks like Sid Vicious hanging out at the shop. In modern times Maison Kitsuné has taken this direct merging of music and fashion to the next level, acting as both a boutique and a record label.
0 Comment