This morning, in the moments leading up to Gucci's Resort 2017 show in London, Instagram was flooded with images of lush, emerald green needlepoint pillows stitched with kittens, rabbits, snakes, and floral bouquets. Similar to the set from Chanel's supermarché, which inspired multiple members of the fashion elite to turn to petty crime by swiping double C-branded canned vegetables and boxed goods, we imagine many of these cushions—designed to make the stone seats in the Cloisters of Westminster Abbey more comfortable for the many bony behinds in attendance—will turn up on various guests' settees. Which got me thinking...the last time I saw such a copious amount of needlepoint was on my grandmother's "fancy" couch where we weren't invited to sit as children. However, we were encouraged to admire her collection of pillows that she painstakingly crafted by hand.

It makes perfect sense given that Alessandro Michele's aesthetic is akin to that of octogenarian. And I mean that in the best of ways. His granny-chic makeover of the formerly sexed-up, 95-year-old Italian house has received rave reviews the world over since he was named creative director. What can I say, age looks good on Gucci—and every It girl and boy on the red carpet right now. Fur-lined loafers are a favorite amongst the street style set and all the cool kids are coveting the quirky prints, pussy bow blouses, hats, bags, and jewelry from recent collections (all of which look like they were unearthed from an eclectic great aunt's closet).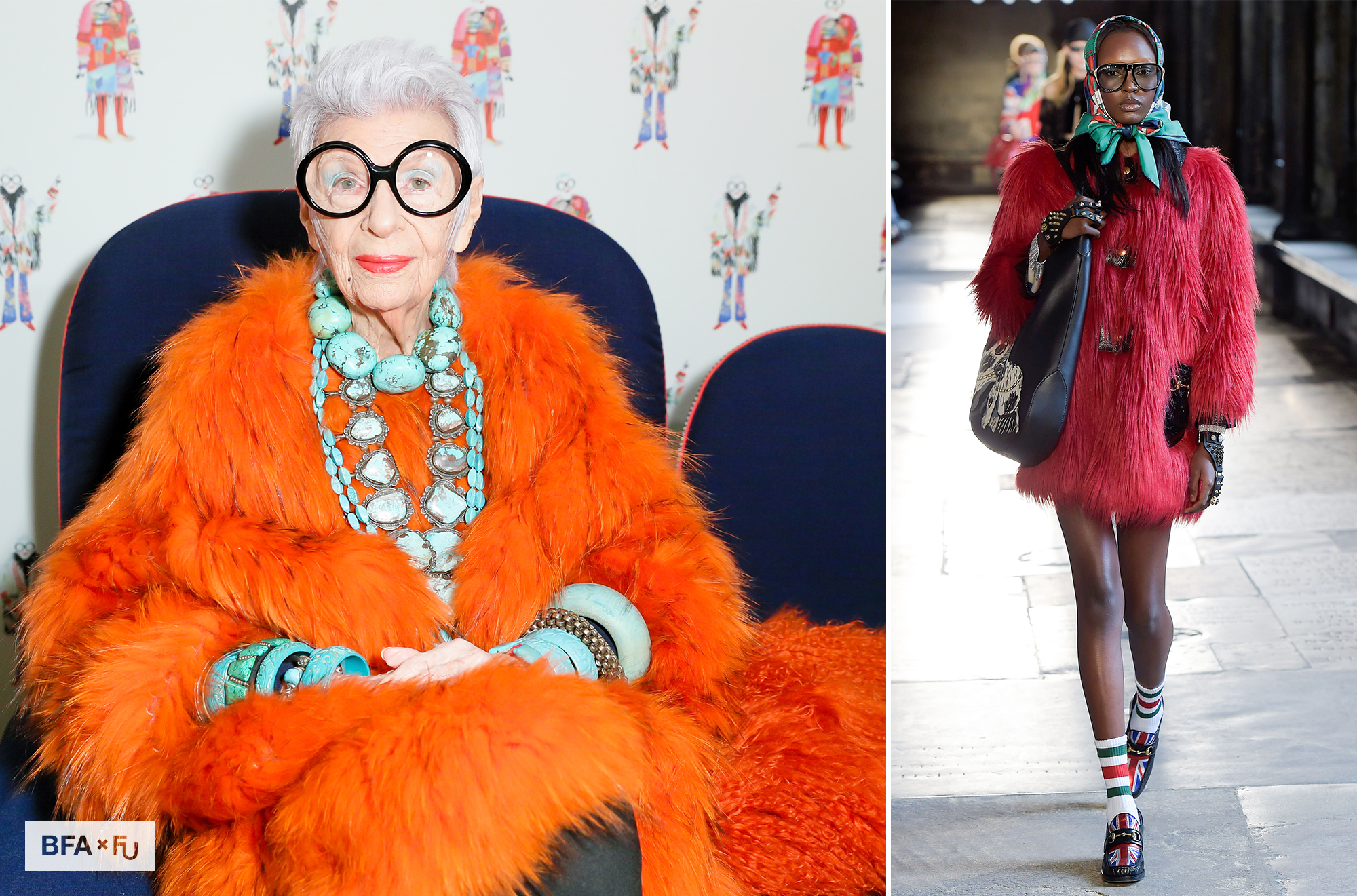 Photo: BFA.com. View more at BFA.com; FirstView
Today, however, my attention turned to glasses—an accessory frequently spotted on Michele's runway. Almost every model had a pair in some shape or form—ranging from the designer's signature square frames (now available with flip-up lenses, a function my late grandmother would have loved) to classic cat-eyes to super-sized and round. Immediately, visions of 94-year-old interior-designer-turned-fashion-icon Iris Apfel came to mind. She began sporting her saucer-like frames long before Michele helmed the house (and probably before the 42-year-old designer was born). Asked in an interview with Fashion Unfiltered what she thought of the resurgence of big glasses, she quipped, "They're only about 50 years too slow." Study the rest of Apfel's look—her vibrant, fluffy furs (many of which bear a striking resemblance to Fall 2016's look 34); her bold costume jewelry (seen in the brass knuckle-like pearl rings on the runway today); and her love of color (there has been no shortage of shocking hues in Michele's Gucci lineups)—and it's clear that she's the ultimate Gucci woman. I'd even go so far as to say that she could be Michele's secret muse or fashion spirit animal.
If my grandmother were still alive, she would likely recite Dorothy Parker's quote—"Men seldom make passes at girls who wear glasses"—and encourage me to wear contacts instead of Michele's major spectacles that are clearly man- (and Jewish doctor husband-) repellers. But as much as I miss my grandma's relationship advice and regular attempts to marry me off, I'm going to side with Apfel on this one. I'm taking a lesson from her personal style playbook and shutting down anyone who questions my love of Michele's massive glasses. "Everybody would say to me, 'Why are you wearing such large ones?'" Apfel told FU of her frames. "And I got bored with it, so to shut 'em up I said, 'The bigger to see you with.'" It's far more creative than the standard "Boy, bye."
0 Comment