A pair of lips, disembodied and used as a symbol, suggests many things: allure, seduction, playfulness, a hint of cheek. Much like eyes or legs, lips and/or mouths are an often-used theme in fashion, whether printed on fabric, or used as a focal point. Unlike legs and eyes, lips are malleable, and can convey more meaning when separated from the rest of the face. They can pout, kiss, scream, hold a cigarette, and bare teeth. With all these options, it's no wonder lips pop up everywhere.
Googling "lip print fashion" will produce a list of retailers carrying an array of clothing covered in or in the shape of smackers. The likes of Betsey Johnson, Olympia Le-Tan, Giles Deacon, Stella McCartney, and Victoria Grant have frequently used the shape in their accessories or garments. Some designers, including Jeremy Scott for Moschino, dress up their lips with props, like a cigarette—a suggestive emblem in itself. Most recently, Gucci's creative director Alessandro Michele is allowing clients to customize the Dionysus bag and the Ace sneaker with bejeweled lips, and lip-embellished pumps and loafers have both been hot ticket items.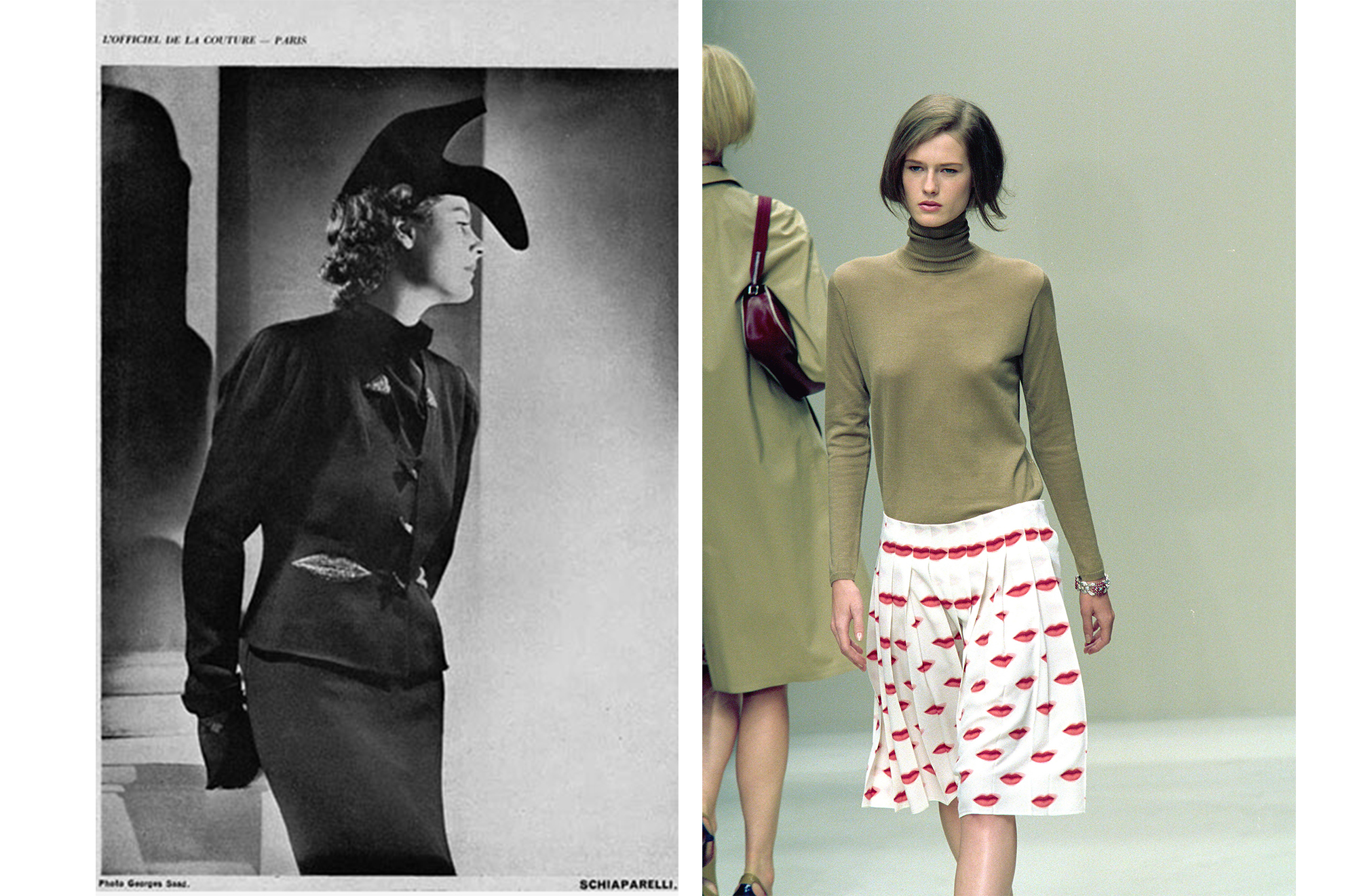 Left: Schiaparelli look with Salvador Dalí shoe hat, 1937; Right: Prada Spring 2000 RTW / Photos: Courtesy of L'officiel; firstVIEW
Occasionally, specific lip motifs will stand out in the public consciousness. Elsa Schiaparelli, who often incorporated surrealist themes in her work, would often hide unexpected details such as lips on her wares. There is, of course, the Lip Sofa that her friend and collaborator Salvador Dalì made (based off the mouth of Mae West, another of Elsa's pals) in Schiaparelli's signature shocking pink, but when it comes to clothes, the designer's love of lips can best be seen on a jacket photographed for L'Official in 1937. From afar, the slightly stretched-out lips (a pair on either side of the center buttons) appear to be no more than abstract design details. But for those paying attention, the metallic mouths lend a fun quirkiness to the look.

Miuccia Prada, too, has demonstrated an affinity for lips, using them on a number of garments and accessories. For Prada's Spring 2000 collection, she spaced them out like polka dots all over the clothes. Sometimes, cherry red lips were placed side by side on a white base and made to look like stripes. This last pattern in particular was used by the Costume Institute to highlight a connection between the work of Prada and Schiaparelli in the 2012 exhibit, Schiaparelli and Prada: Impossible Conversations. In fact, the comparison got the cover of the show's exhibition catalogue. Prada's approach, like Schiaparelli's, somewhat dehumanized the body part, transforming her pouts into cartoon-like stamps. Lips can so easily be read as sensual, so the stoicism in Miuccia's print comes across as somewhat creepy.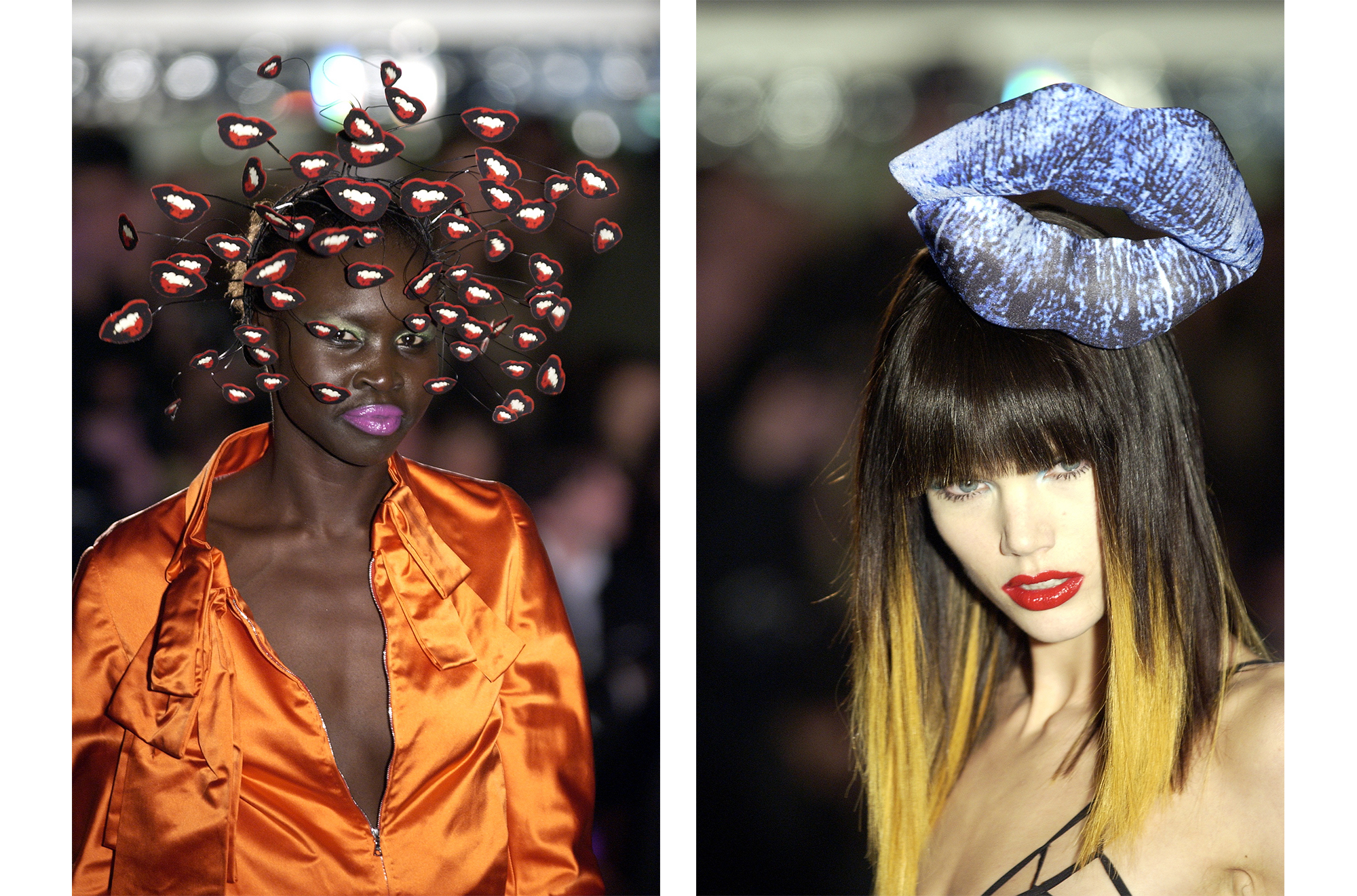 Philip Treacy Spring 2003 haute couture / Photos: firstVIEW
Milliner Philip Treacy, on the other hand, kept in every bit of detail and life when rendering mouths for his Spring 2003 show. With an Andy Warhol theme in mind, the designer crafted looks that ranged from cutouts of lips that he borrowed from the artist's work, to hats that featured an assembly of smiles floating around the wearer's head. Treacy's lips all came with personalities, likely stemming from the original faces the pouts were snatched off of, forever locked in a scream, smile, or snarl. The wrinkles and creases in the blue kiss hat are so realistic, it could be an enlarged version of a real lip print.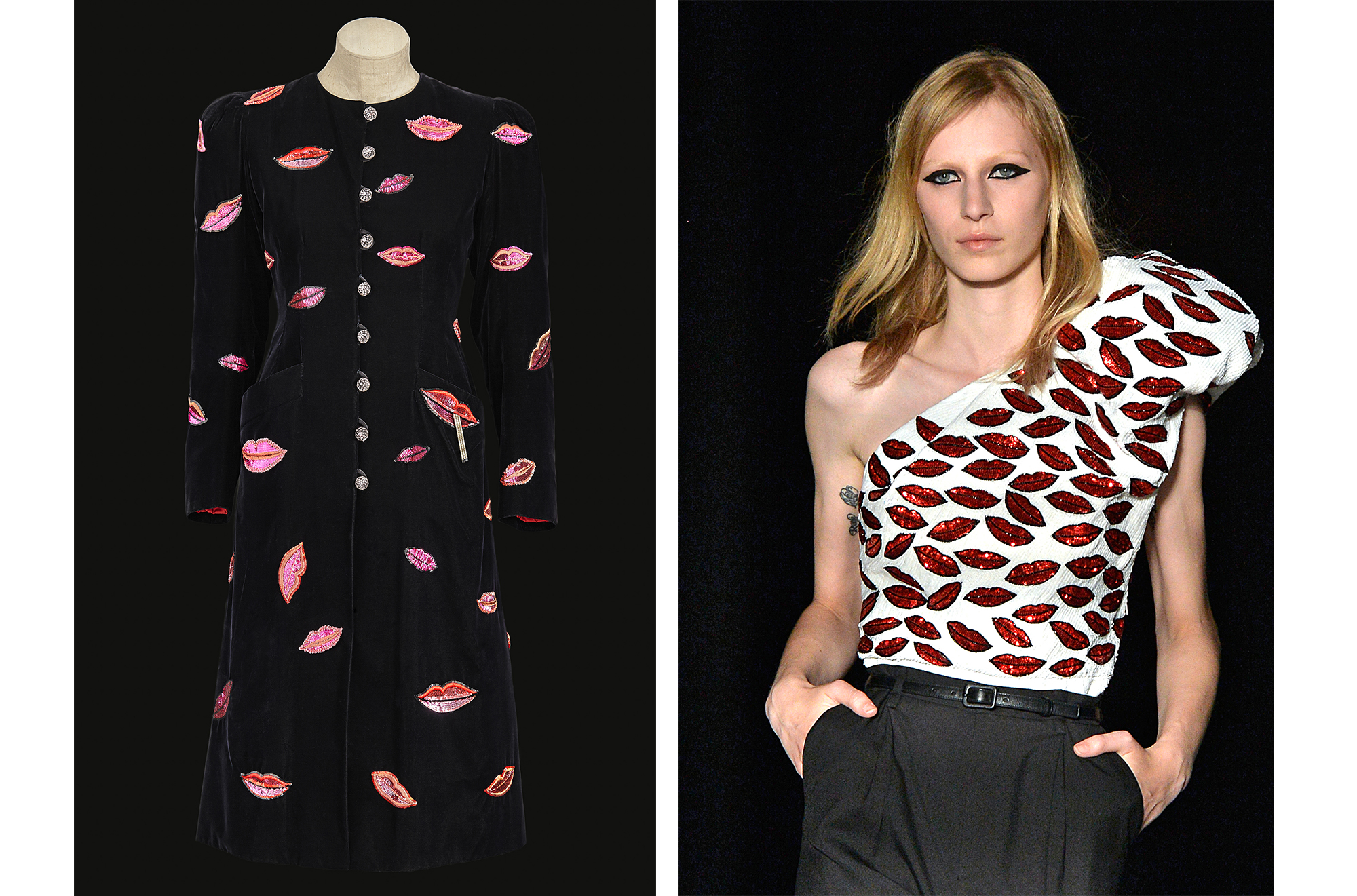 Left: Yves Saint Laurent "lips" pattern coat, Spring/Summer 1971 haute couture; Right: Saint Laurent Spring 2016 RTW / Photos: Sophie Carre / Courtesy of Fondation Pierre Bergé - Yves Saint Laurent; firstVIEW
Meanwhile, some houses have lips ingrained in their heritage. Take Saint Laurent. Former creative director Hedi Slimane included lip prints in his Spring 2014 collection for the house. Taken at face value, the garments seem on par with the rock-and-roll vibe that he had devised for the brand. But Slimane was actually referencing an infamous collection in Yves Saint Laurent's history. In 1971, Saint Laurent (the man, the legend) debuted his couture lineup that is now often referred to as the "Forties" collection (or sometimes the "Liberation" collection, or the "Scandal" collection), which referenced Parisian fashion during wartime occupation. A standout item was a black coat with a dress-like silhouette that was covered in red sequin lips, a possible reference to the lasting popularity of cosmetics (especially lipstick) during times of economic strife. Naturally, anything involving Nazis was going to cause an uproar, and the collection was torn apart by the press, who believed the garments glamorized a terrible time of suffering, and celebrated women who were seen as Nazi sympathizers.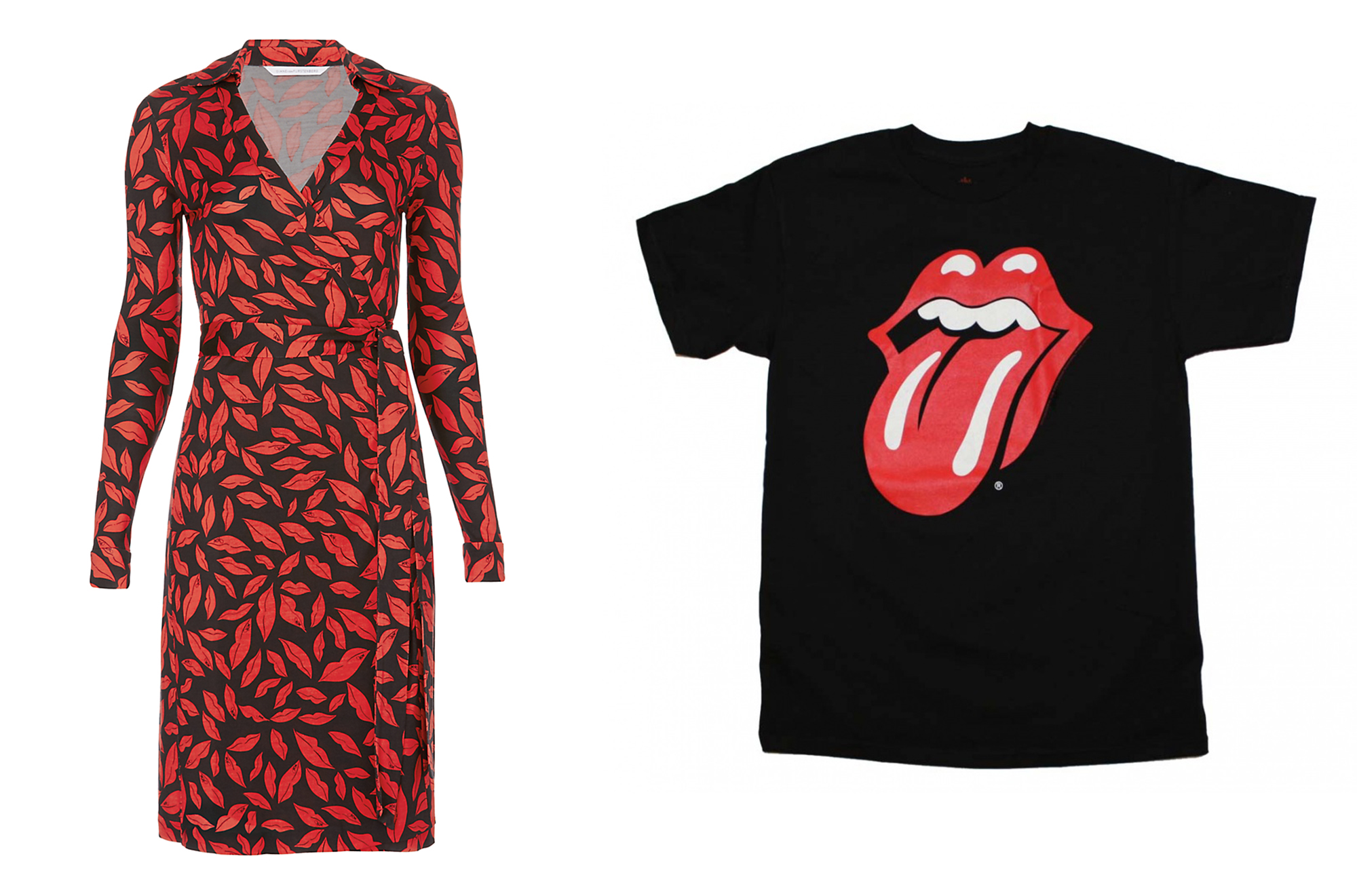 Left: Diane von Furstenberg New Jeanne two silk jersey wrap dress; Right: Rolling Stones logo tee / Photos: Courtesy of dvf.com; flyclothing.com
In the same year that YSL unveiled his Forties collection, the Rolling Stones introduced their iconic logo—a tongue hanging out of an open mouth—designed by Jon Pasche. At the time, Pasche was only paid £50, but the piece has been heavily repeated on album covers, posters, and merchandise. If you're wondering what connection this has to fashion, look no further than one of the most important pieces of brand merch: the t-shirt. Rolling Stones logo tees have had a continued popularity through the decades, and often make appearances in street-style pictures. The image of a tongue wagging out of an open mouth is provocative. There is a sexual implication to it, even without knowledge of the band's notoriety. To this day, the shirt can be found everywhere from vintage shops (if you seek authenticity) to Urban Outfitters (if you don't).
Also introduced in the 1970s was Diane von Furstenberg's iconic lip print, based on her own lips, as designed by Andy Warhol. In 1977, Warhol created an image of von Furstenberg for his magazine, Interview. In the rendering, the designer's mouth gives a sly smirk. DVF isolated the lips from that image (retaining the silk-screen effect), repeated them, and a print was born. It has since become a major part the brand's identity, and is used for everything from iPhone cases to dresses, sometimes in different colors, and sometimes in abstract patterns that fall over items like leaves. They carry quite a bit of personality, even without being tied to a specific persona. DVF's mouth is mysterious—it's not the same full-on shape that most people use when designing a mouth. It's not quite a smile, but it's certainly provocative. Although the print reduces DVF's mouth to a shape, it retains its humanity, a group of little secrets peppered onto her products.
More recently, accessories designer Yaz Bukey has adopted the mouth as her logo which carry a much more explicit shape. Titled "C'est Ahh," the lips, which are bright red and hang open, are meant to mimic the way the mouth looks during an orgasm. "C'est Ahh" was the first major piece Bukey designed, and in recent years, Bukey has morphed into hats, sunglasses, furniture, and more.
Although lips as a pattern or detail have never seemed to be a trend, per se, it seems as though the intrigue of the shape, the subversive, sensual message they can send, the possibilities of what a mouth can do, and the general quirkiness (when you think about it, disembodied anything is kind of weird, no matter how cute the image is), continue to inspire designers and artists alike. They may bare teeth, a tongue, or a sly smile, but one thing is clear: Lips will always be in fashion.
0 Comment