It's the age old question, or rather, one that's permeated fashion's round tables and think pieces for the last year and change: Is Vetements cool? The brand, launched by a collective in 2014 and helmed by Georgian-born Maison Martin Margiela alum (and now Balenciaga artistic director) Demna Gvasalia, has become known for its '90s streetwear-tinged duds, ironic, pricey logoed wares (like that now infamous Spring 2016 DHL t-shirt, or the Champion-inspired sweats), and awkward silhouettes (formerly oversized with elongated sleeves, a look that was subsequently copied by every brand from New York to Paris; more recently shrunken, so get ready to see plenty of tight, ill-fitting clothes on the Spring 2017 runways). Kanye West is a fan (which, if I'm being honest, doesn't really help the brand's indie cred), as are a slew of fashion editors, street style stars, and moneyed cool chasers. But a few weeks ago, Lorde, the world's coolest teenager, tweeted, "Vetements is uncool now." Woah. Bomb dropped. "We did that pretty fast," the 19-year-old New Zealander continued. "Planet Earth came in hot for a solid year and now your lame friend down the road is buying a DHL tee." Ouch. Earthshattering stuff.
When Vetements began hitting its stride after its Fall 2015 show in a seedy Paris sex club, fashion's powers that be swooned, gushed, and propped the brand up on a pedestal. "Fashion people are neophiliacs," said Dr. Valerie Steele, the director and chief curator of the Museum at FIT. "They're in love with things that are new, especially when there's a new designer who seems to be doing a new kind of fashion—that's raw meat to fashionistas. Fashion editors and buyers really fall in love fast with the new, hot, young designer, particularly if he—and unfortunately it's usually a he—is doing something that is or seems significantly different from what everybody else is doing. [Insiders] certainly do have that lemming-like ability to go rushing off a cliff after their favorite new person."
But is Vetements new? One editor was quoted in the Guardian saying she'd "seen Margiela the first time around," and thus wouldn't be attending Vetements' Spring 2016 outing. "That's the other thing," Steele said. "They're in love with the new, but fashion people tend to forget really rapidly something that stopped. Margiela is still an amazing force in fashion—lots of people, including Demna, are still inspired by Margiela. And while John Galliano's doing a terrific job at Margiela, he's not Margiela, so in a way, Demna is kind of a surrogate for some of the things that still seem new and exciting about Margiela-style fashion."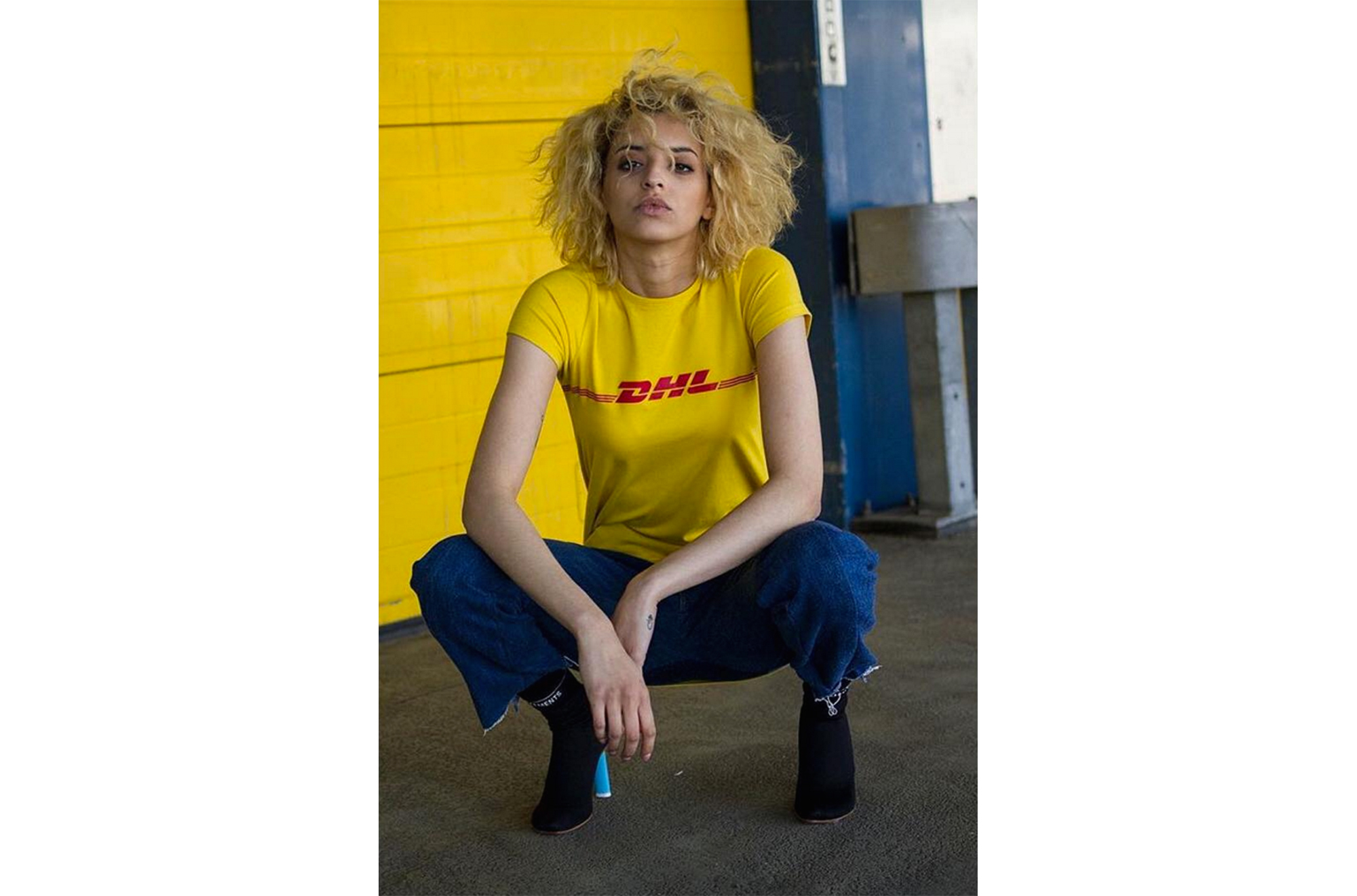 Photo: @vetements_official / Instagram
Even so, just as Vetements was truly gaining steam, resonating with retailers, celebrities, and even a more mass audience, fashion seemed to jump at the opportunity to tear down the beast it had created. Every other day my newsfeed is cluttered with stories questioning whether Vetements is a subversive, Duchampian, anti-capitalist fashion statement, or a complete scam, akin to those glasses a 17-year-old prankster placed on the floor of a San Francisco gallery last week. Spoiler alert: Everyone thought the specs were conceptual art. We live in an age of ridiculousness.
"I think the industry isn't so much turning on the brand, it's just trying to stir up controversy, which unfortunately, as we've seen with this political campaign, is something that the media is very willing to do because it sells," said Steele of the fashion media's current fascination with raining on Vetements' parade. "It's very, very tricky because to be a cutting-edge brand means that supposedly only insiders will know and appreciate you. But the fashion system works so fast now that there's no lead time. All of a sudden, everybody knows about it, and realistically, anybody with money can go into a store and buy it, so there's no time lag."
"I think there's a hipness [to Vetements]," Steele continued. "And fashion people really want to be hip, but they also want something that seems authentic. Authenticity is a chimera that everybody's frantically chasing, but it doesn't really exist. However, inauthenticity is so obvious everywhere in fashion. Whenever there's a whiff of something that could be authentic, people gravitate toward that."
Much of Vetements' air of authenticity comes from its collective, made up of Gvasalia's friends, who are actually just real, normal people that sometimes show up on the Vetements runway. "My belief is that the strength behind Vetements comes from the strength that links the crew, the friends, and the team—the recreated family that is behind it, making it, supporting it," offered Alban Adam, a longtime friend of Gvasalia and bona fide member of the Vetements gang. You might know him as the sharp-jawed gent in the black leather trench from the brand's Fall 2016 romp. "They share the same aesthetic, the same youth idols, and they've probably been on the outskirt of luxury and of mainstream culture for a while, and now they are right at the center of it, standing shoulder to shoulder. It's like that scene in The Craft," he added, "when they come out of the bus and the driver tells them to watch out for weirdos, and they answer 'We are the weirdos, mister!'"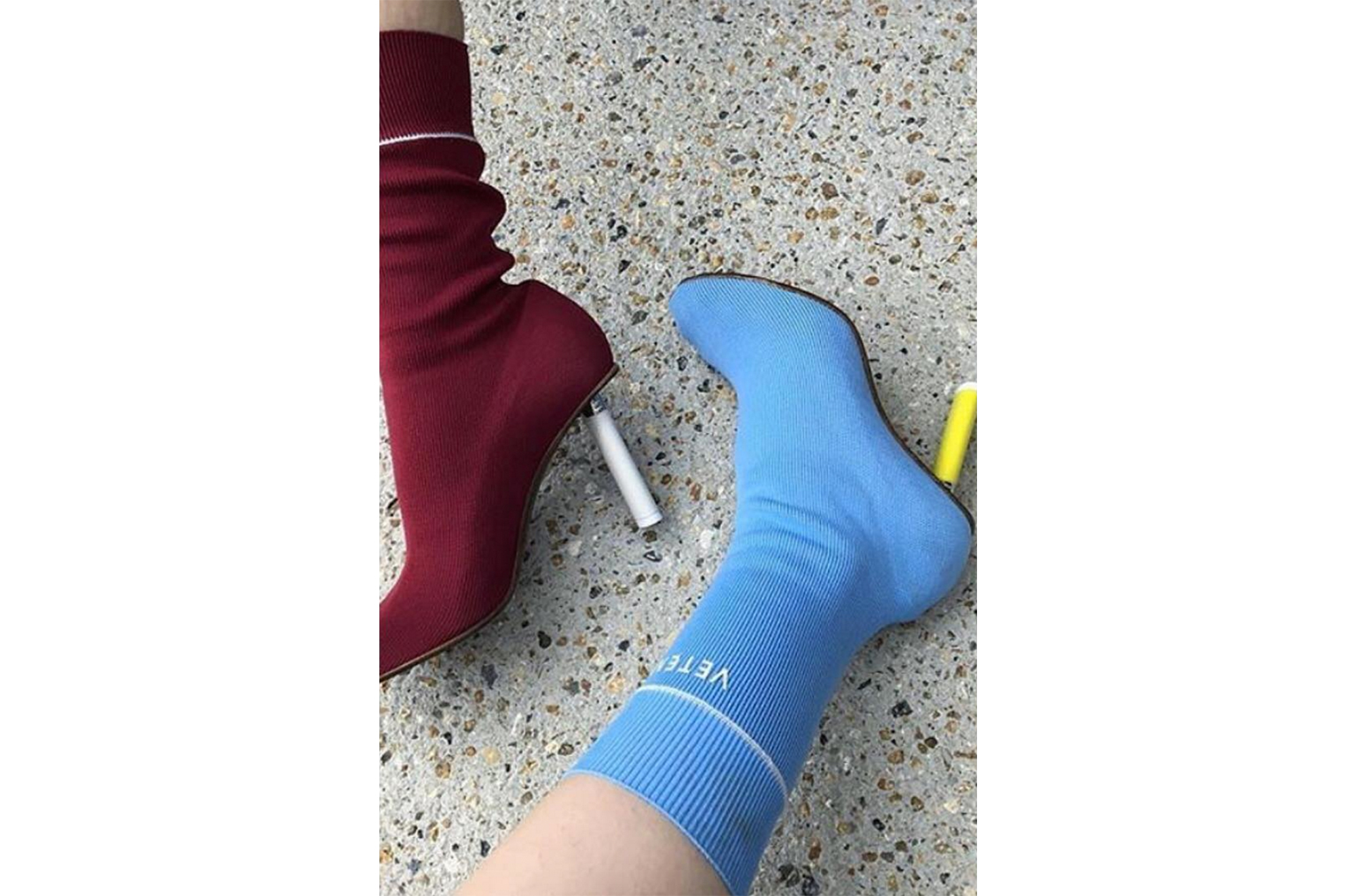 Photo: @vetements_official / Instagram
Ok, so Vetements has a perceived authenticity, a weirdness (which is always cool), a devil-may-care attitude, and a contrarian freshness, but still, what's the big deal about a bunch of off-kilter, '90s outcast-esque sweatshirts? Well, for one, Vetements doesn't just do sweatshirts. The brand cleverly offers a range of garments at a range of price points, and the more complicated pieces, like that silver sequin dress from Spring of Fall's velvet suiting, are brilliantly made. Full disclosure, I just bought some of the brand's lighter-heel boots in black leather, and they're buttery, sturdy, and beautiful. Why did I buy them, you ask? They match all my clothes and I get such a kick out of the idea of a lighter as heels. They look like nondescript, Margiela-esque boots, and then, boom, lighter heel. I find it hilarious, but I didn't realize that that's why I love them until having a conversation with my twenty-something intern. During her job interview, I asked this fashion student and emerging journalist why she liked Vetements. "Because it's funny," she said, frankly. Oh my god, I finally get it, I thought (because in truth, I've been just as confused as everyone else as to why not just fashion people, but I like the brand.) It's cool because it's funny! It's also uncomplicated, irreverent, and perhaps a bit of a piss take, but Gvasalia and co. are in on the joke, and I have to imagine that Vetements' core consumers are in on it, too. We've been analyzing the brand so aggressively since its inception, perhaps to distract ourselves from the wave of change our industry faces. And surely there are elements of subversive commentary in Vetements' designs, but at the end of the day, it's just about funny, weird, wonderfully constructed clothes that standout, are surprisingly confortable, and make the wearer feel like a badass in the know. Gvasalia isn't trying to water down high fashion until all that's left are ripped jeans and t-shirts, and he's not trying to bump out master craftsmen and couturiers (hell, he worked under some of the best). There's room for everyone in this industry that's built upon individuality. So sit back and enjoy Vetements' cheeky breed of fashion. Or don't. Because Gvasalia probably doesn't care—he's that fucking cool.

0 Comment