This morning, when Dior announced Maria Grazia Chiuri as the new creative director of the house, she became the first woman to ever helm the namesake of one of the most famous men in fashion. Dior's CEO, Sidney Toledano, told Business of Fashion that he "was looking for somebody that was deeply understanding the needs of a woman of today and tomorrow globally." It seems like a no-brainer—who best to know what women want than a woman? Who best to connect with women than a woman? Besides, isn't fashion a woman's "realm" anyway? That's what society tells us, at least. Those ladies sure do like clothes and froufrou trappings, silly things that they are! So why is it that the (overwhelming) majority of couture designers right now are men?

Out of the 25 houses that showed collections at Paris couture week this season, only five were helmed by a woman on her own (the ladies behind Fendi and Valentino worked with a male counterpart). With Chiuri at Dior next season, this number is expected to rise to at least six, keeping the breakdown of female designers slightly over 1 in 5. Wait, what?

It feels as though in fashion, especially women's fashion, our heroes are more likely to be men. Christian Dior, Yves Saint Laurent, André Courrèges, Charles James—the list goes on, not to mention the current top dogs in the industry, like Karl Lagerfeld, Hedi Slimane, and Marc Jacobs. This is not to say that female fashion designers don't get due credit. Miuccia Prada, Elsa Schiaparelli, and Coco Chanel are all considered geniuses. But why aren't there more women in top positions?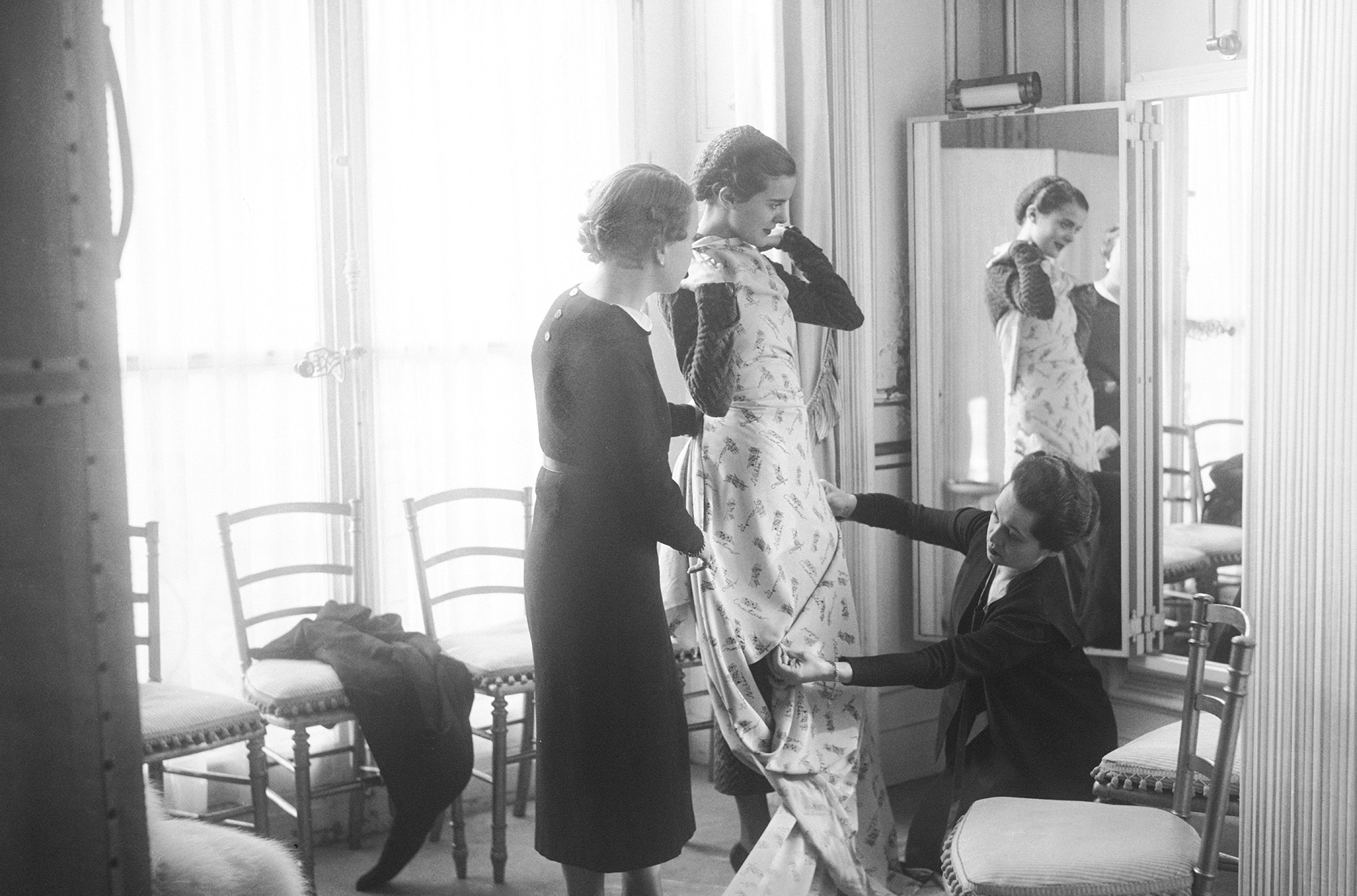 Elsa Schiaparelli (1930-1939) / Photo: Getty
Women have held an important place in couture since before the contemporary idea of couture existed. Back in the days when fashion was reserved for the upper classes, and there were no designers to speak of (you would have a dressmaker who would create what you wanted to your specifications), Rose Bertin made a name for herself as the dressmaker to Marie Antoinette, the Queen of France. What was interesting about Bertin's relationship with the Queen was that her opinion—the creativity and ideas that she brought to the clothes—mattered. She wasn't just a seamstress, she was the co-creator for the looks of one of the most fashionable monarchs in Western history.

Flash forward 100 or so years to Paul Poiret, who (along with Charles Frederick Worth before him) began to establish our modern idea of designer as artist and dictator of style. We revere these men. We call them the Godfathers, Grandfathers, Great-Grandfathers of fashion, depending on how we rank all those that came after them. Jeanne Paquin, however, has somehow been forgotten by history, despite being just as relevant as Poiret in her time and inventing marketing techniques that became the precursor for fashion shows. Her name isn't even listed in the "former members" section of Wikipedia's Haute Couture page, despite the fact that she was a prominent contributor to the art form.

Thankfully, the Callot Soeurs sisters are on that list. And while their designs may not have been the most revolutionary, the work of their apprentice, Madeleine Vionnet, was. Vionnet was one of the most meticulous and inventive designers of all time, her work serving as a fantastic example of how creativity can be born from construction. She became famous for cutting on the bias, understanding not only how to work fabric, but how to work fabric over the female form. She was ahead of her time, and the respect and name-recognition that she deserves is long past due.

One woman who will forever be part of the fashion conversation is Coco Chanel. And while she is a complicated figure, who has now become more myth than human, what she doesn't get nearly enough credit for is understanding what modern women (of the 1920s, and then again of the 1960s) actually wanted. While Poiret was clinging to his fantasies of women in costume, Chanel put forth easy-to-wear, minimalist designs. Poiret sneered at her work, but his inability to connect with the customer and the cultural shift saw him go out of business, while Chanel was embraced by the market.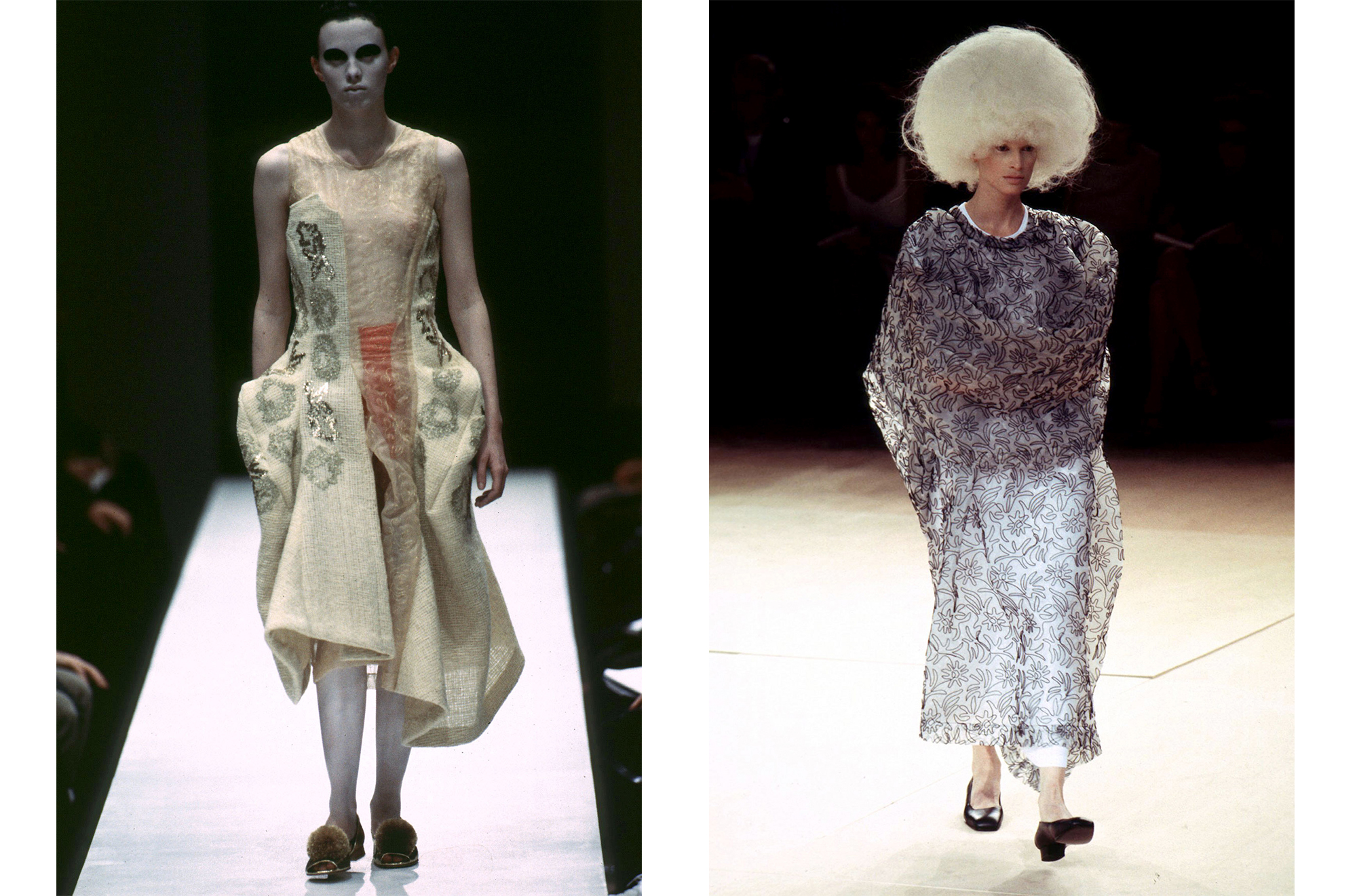 Comme des Garçons Fall 1997 and Spring 1996 / Photos: firstVIEW
Of course, there have been women outside of couture who deserve recognition as well. The American designer Claire McCardell comes to mind, not only for her wares that allowed for ease, comfort, and size customization, but also for her fight to get her own name on the label of her clothing, a battle she won over her manufacturers. Although Courrèges and Pierre Cardin did mini skirts and space-age vibes for couture, Mary Quant was unquestionably responsible for the relevance of the mini skirt in everyday fashion, and the turn in aesthetic to youth culture in the 1960s. Meanwhile, Rei Kawakubo and her label, Comme des Garçons, essentially bitch-slapped Paris out of its stuffy design funk in the early 1980s, leading the way for an avant-garde revolution that continues today. If you're enjoying Margiela or Vetements, kindly turn to Ms. Kawakubo and say "thank you".
Much like all of history, women have made important contributions, yet are usually left out of the narrative. Fashion history is no different, but is perhaps more frustrating because fashion is often a product made for us. More often than not, we celebrate men for the clothing that we wear and the styles that we love. That being said, this is 2016. There should be no more excuses for not knowing the names of outstandingly talented female designers (here, I'll name some more for you to Google: Barbara Hulanicki, Madame Grès, Jeanne Lanvin, Norma Kamali, Donna Karan, Bouchra Jarrar, who was recently appointed to Lanvin, and Jil Sander), just as there should be no excuses for a meager 24% hiring rate for women in Haute Couture positions. Here's hoping Chiuri's installment at Dior is a step in the right direction.
0 Comment