Growing up in Los Angeles, jeweler Lizzie Mandler had no shortage of creative influences. "I've always been surrounded by artists of all different types and all different fields," she recalled. "I never really thought twice about whether or not L.A. was an appropriate place for me to be as an artist and as someone who works in fashion," she continued. "It's home, but also, it's really refreshing to be detached from the fashion world and to be able to jump in and out as I choose. Jewelry doesn't really have to be part of the fashion world—it can be as much as you want it to be, but it doesn't have to be."
Mandler is speaking to the recent change in the amount of attention the fashion community is paying to her hometown, but also to her own development in fine jewelry. Her line, which shares her name, lays a foundation in simple, handcrafted gold and jewel-accented pieces. The offerings are classic at heart—gold and diamond studs are a staple—but they also have an irreverent modernity. Take, for instance, Rihanna wearing Alber Elbaz' fur-lined pantsuit with her hands literally covered in Mandler's stacked rings at Lanvin's Fall 2014 show. Mandler's pieces can carry real attitude just as easily as they can demonstrate sophistication.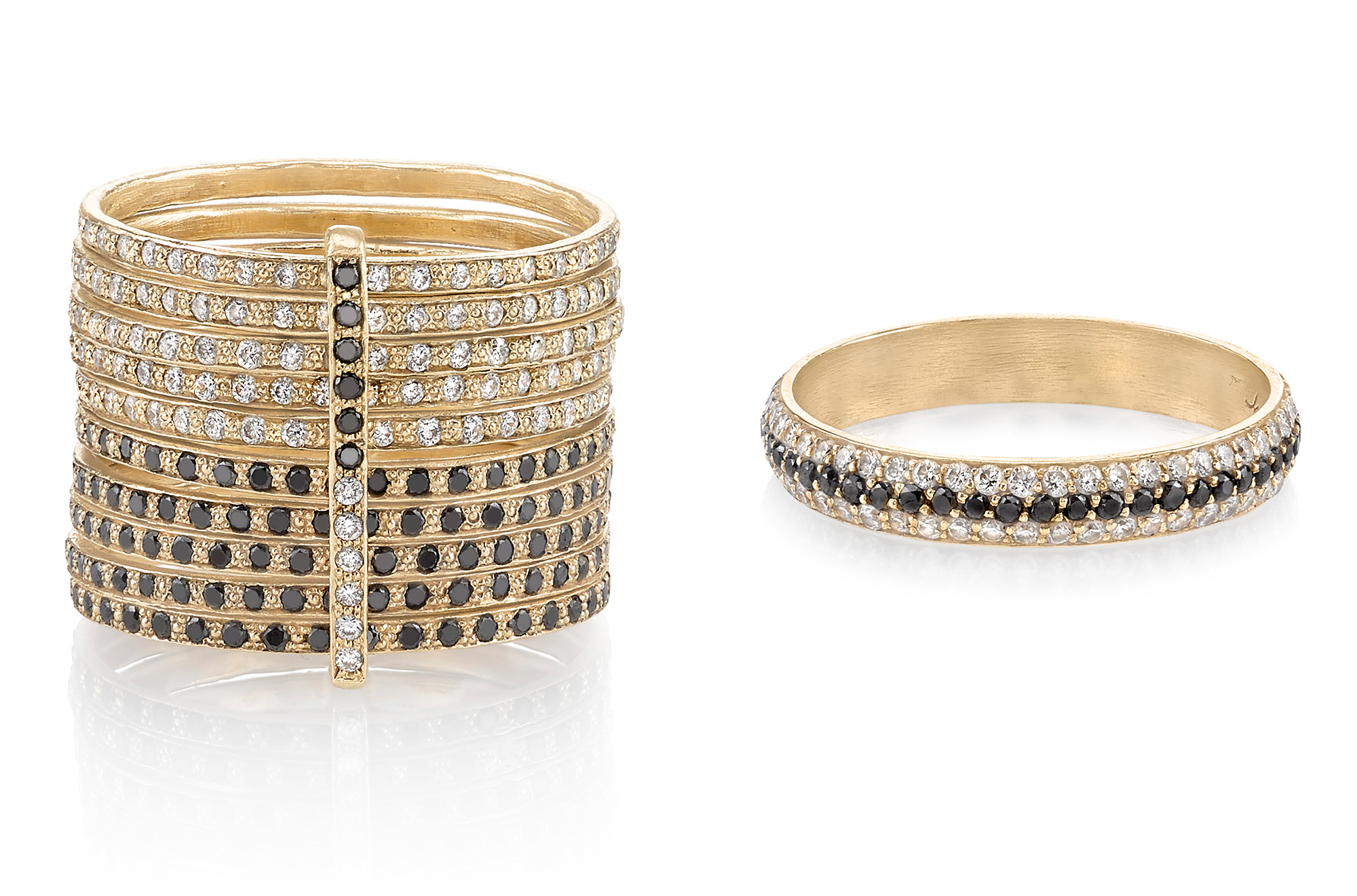 Lizzie Mandler rings / Photo: Courtesy of the designer
Mandler credits this delicate balance to form. "I think what has always attracted me to fine jewelry is that it has an ability to be incredibly timeless, yet very time-specific, which is really unique to the medium," she said. However, it also seems to stem from her own vision and the city in which she works. "I think designers that are based out of LA have a little bit more of a carefree or, excuse my French, but a 'fuck you' attitude," she explains.
Mandler was young when she discovered her passion. "I started non-fine jewelry, basically beaded jewelry, when I was 13, and I worked my way through that world," she said. "When I was in high school—I was 16—I took my first class in fine jewelry. And I remember it was just kind of like, game over. That was it. I knew I had found what I wanted to do."
She continued taking classes at night after school, and when she graduated, she enrolled at USC so she could stay at her jewelry school. "I would go [to jewelry school] after [my academic] classes and go in my office and sit and work and learn," she said. "Like, two days after graduation I filed for my business license. I worked towards my goal the entire time in college, knowing what I really wanted to do."
Now, she creates delicate, diamond-covered yellow and rose gold curving, double finger rings, marquis-shaped emeralds framed with white diamond pave, and black diamond-accented gold crescent studs. These pieces can be found at Dover Street Market, among other retailers.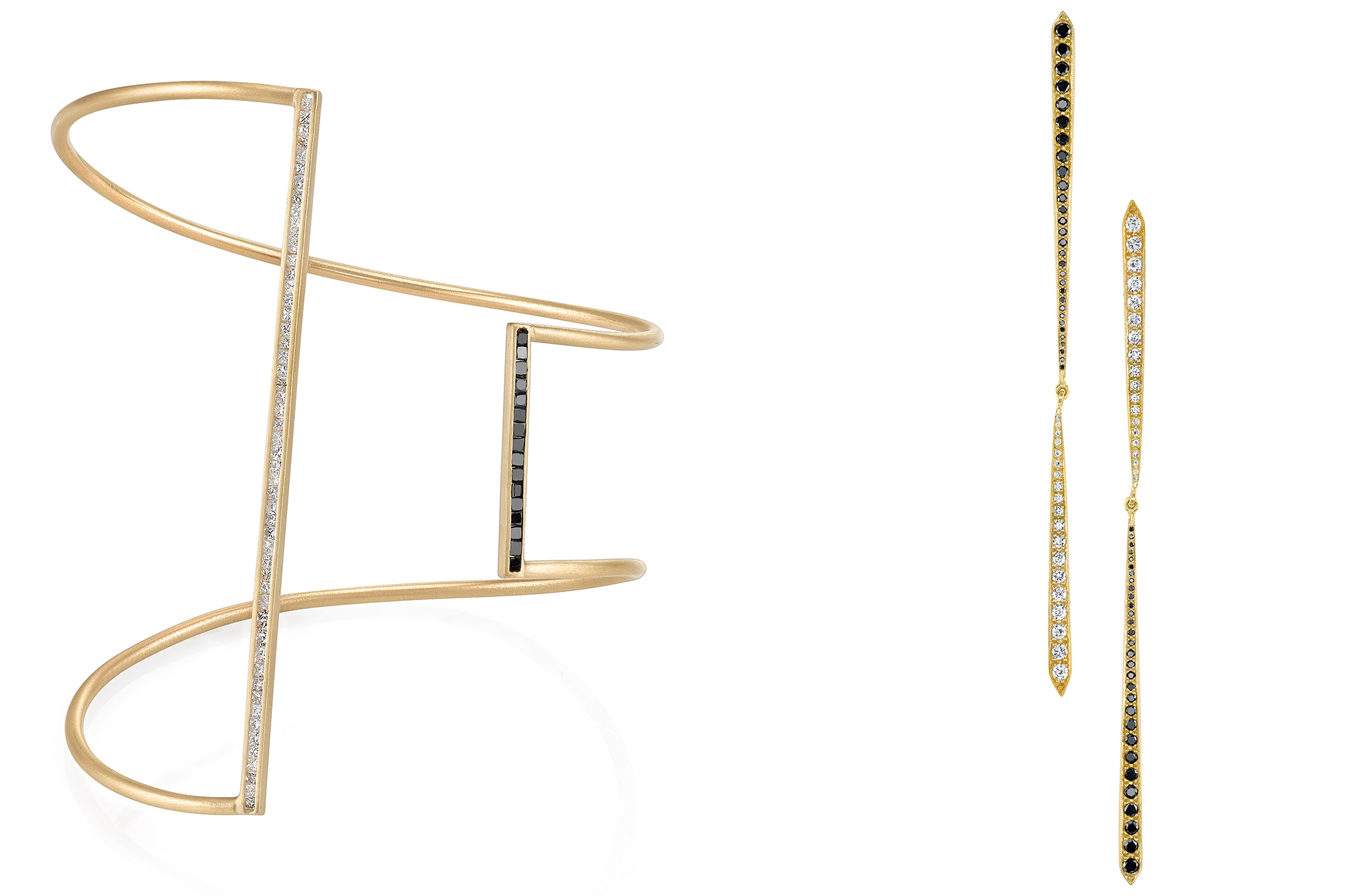 Lizzie Mandler bracelet and earrings / Photo: Courtesy of the designer
"I feel very honored to do what I do, as cheesy as that sounds," reflected Mandler. "Jewelry becomes the medium for someone to express their love or commemorate a particular time in their life. It's rare that you do that with anything else. It's really rare that your grandmother will pass a jacket down four generations."
These days, she's busy developing her forthcoming collection. This includes refinements on favorite styles—a baguette knife ring, for instance—and the development of new pieces. "One of my goals always is doing classics in ways that are modern, so I'm working on a pair of studs that are going to be a more modern take on a very classic pair of diamond studs," she explained.
"Women are starting to realize that within the space of fine jewelry, it doesn't have to be as sacred as they once felt it was," mused Mandler. "It's not just reserved for a special occasions or an engagement ring. Jewelry is what you make it, so I have no problem wearing a giant pair of diamond earrings and a white t-shirt. I think women are realizing, you don't spend money, or someone doesn't spend money to give you this beautiful piece of jewelry for it to just sit in your jewelry drawer or your safety deposit box. Sometimes jewelry seems untouchable and just so precious, but really, it should be worn."
0 Comment