It seems the movie Back to the Future Part II (the one in which Marty McFly is actually trying to get back to the past) is having a heavy influence on fashion. The '80s flick proposed several ideas of what technology would be like in the not-too-distant future, but as we've crept past the year in which the movie was set—2015—we, the future people, are wondering just where the hell our gadgets are. Have no fear, fashion is here.
Though sneaker fans have known for a while that Nike would be producing the self-lacing sneakers that were featured in the film, the general public was delighted yesterday when the company announced that the power-lacing shoes are now available. Fans will be happy to know that Nike designed them to look almost exactly like the ones in the movie, right down to the glowing logo strap.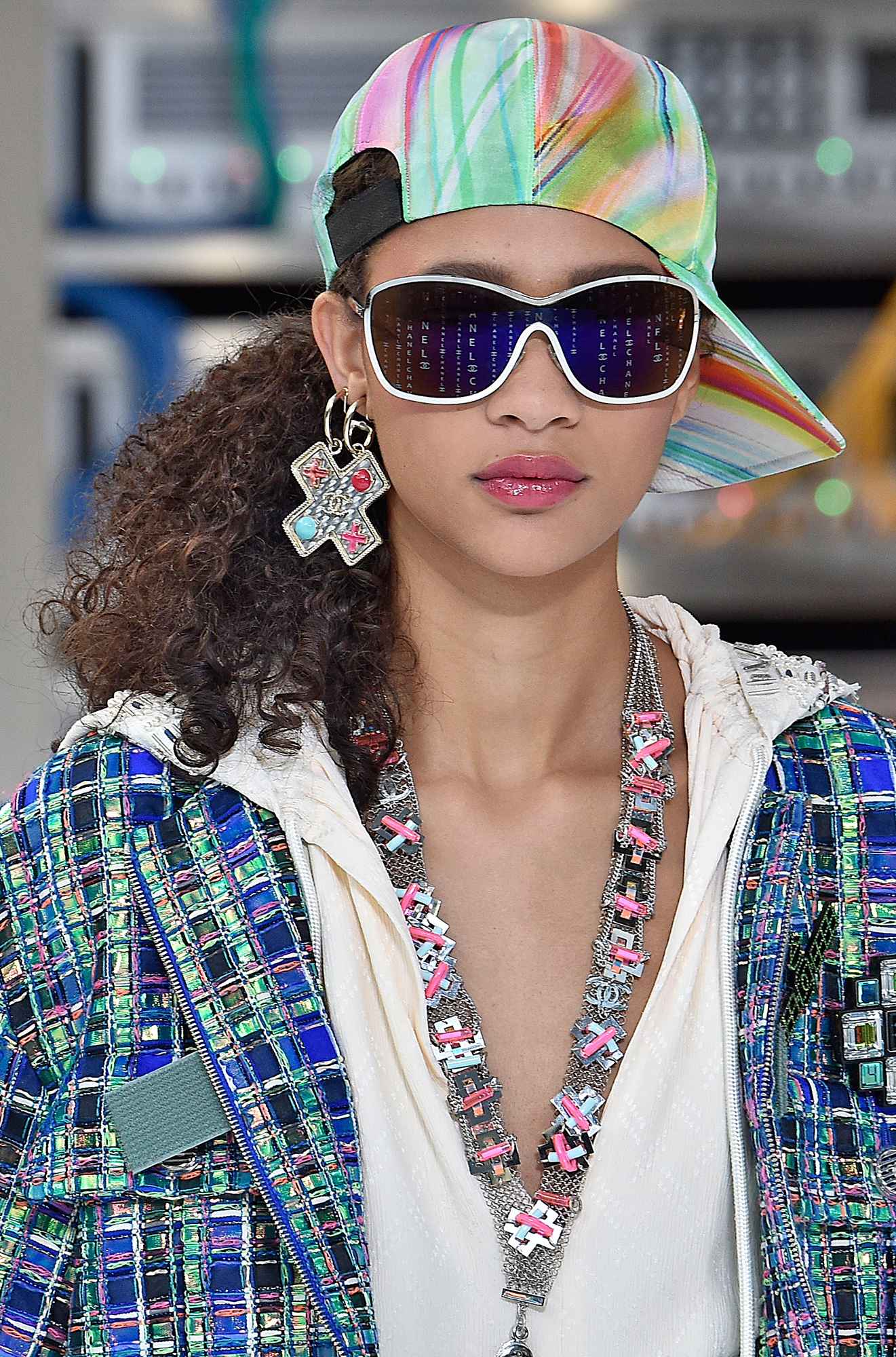 Chanel Spring 2017 / Photo: firstVIEW
But there is some bad news: There are less than 100 pairs available for purchase, and who will be able to purchase them is based on the luck of a draw. Yes, really—but how Nike is going about it will warm your heart. Those interested in entering the draw must make a charitable donation, the proceeds from which will go to the Michael J. Fox Foundation, which is working to find a cure for Parkinson's disease.
Back to the Future Part II fans who are unable to buy the Nike's will have to settle for Chanel (a sentence that has never, ever, been uttered before). The French luxury house showed its Spring 2017 collection at Paris fashion week, which featured bright, multi-colored baseball hats, similar to what was seen in the film. With the side ponytails, neon, and cartoonish tech visuals, it was very similar to an '80s interpretation of the future.
But the '80s have been having a huge resurgence this fashion week in general. Boxy blazers are back, as are big sleeves and shoulders. Even in beauty, many shows featured draping on model's cheekbones, or Robert Palmer "Addicted to Love" video-style red lips. In fact, Kenzo combined all three. Now who's time traveling?
0 Comment