When you work in fashion, for one reason or another, celebrity style at the Academy Awards always seems like a sartorial snooze fest. Maybe it's because Hollywood's biggest night falls right in the middle of the Fall ready to wear shows every year. On the runways, risk-taking and innovation is encouraged. On the red carpets, starlets often play it a little too safe—they'd rather look boring than top a Worst Dressed list. This year was no different. That said, in addition to Chris Rock's brilliant hosting—no topic is off limit—[and Stacey Dash's incredibly awkward Black History month moment] there were a handful of glimmering Oscar fashion highlights that made the 2016 ceremony worth watching.
First, let's talk about how Charlize Theron never fails to slay at the Oscars. She looked pure fire in her plunging red Dior Couture with a dramatic train, which was a lesson in modern Hollywood glamour. Another win: Brie Larson took home the award for Best Actress in a delicate ruffled Gucci cobalt blue number. Although I can't tell if I liked it because it was pretty or if I liked it just because it was custom designed by It designer Alessandro Michele. And then there was Rachel McAdams, who rocked another jewel tone dress. The emerald green halter gown by August Getty was plenty daring with its open back and high slit—all the better to show off her fabulous figure—but lost marks for wrinkles. Seriously, it's called a steamer.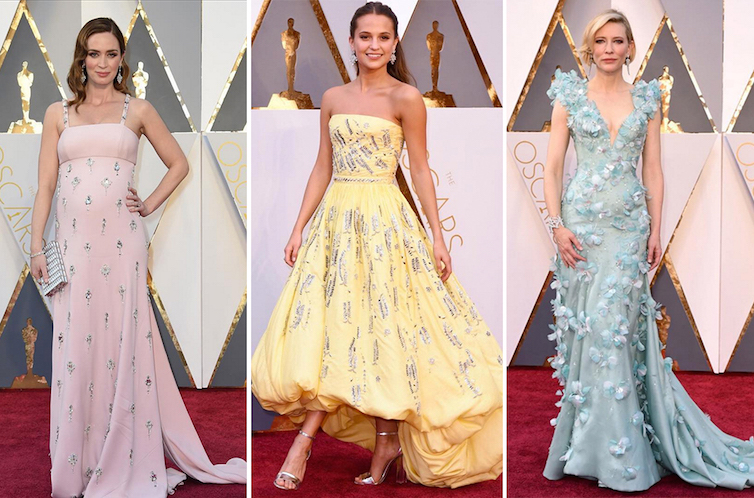 Emily Blunt, Alicia Vikander, and Cate Blanchett; Photos: @Prada / Instagram; @WWD / Instagram (2)
Spoiler alert: if you thought the red carpet trends were going to get more interesting than jewel tones, they don't. Pastels also had a major moment. Pregnant Emily Blunt looked radiant in an embellished Prada column gown with a flattering empire waist. While Cate Blanchett can do no wrong, we've seen her do SO much better than that seafoam-hued Armani Prive. Ditto goes for Alicia Vikander in Easter egg yellow Louis Vuitton with a puffy, gathered skirt that looked like what Belle from Beauty and the Beast might wear to a middle school dance. But hands down, the Most Tragic pastel award goes to Heidi Klum in a one-sleeved Marchesa dress responsible for nightmares about lavender chiffon.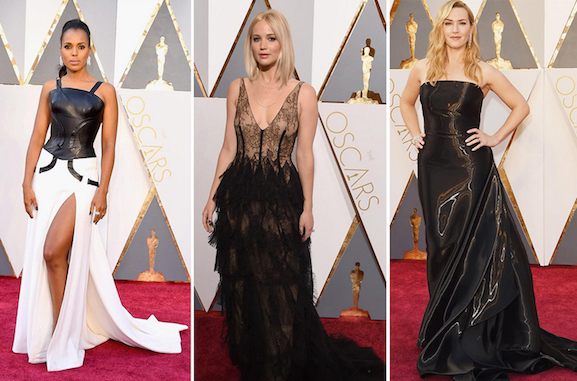 Kerry Washington, Jennifer Lawrence, and Kate Winslet; Photos: @versace_official / Instagram; @dior / Instagram; @ralphlauren / Instagram
The red carpet reaction to #OscarsSoWhite? More black gowns than usual. Jennifer Lawrence wore black and nude Dior (of course) featuring tiers of vampy black lace. Julianne Moore (who is usually one of the more daring A-listers) was pretty unmemorable in Chanel Couture. Kate Winslet wore a strapless Ralph Lauren look in a high-tech, shiny fabric that could've been dangerously unflattering—she pulled it off better than most. The boldest look in this category was Kerry Washington, who made a statement in black-and-white Versace with a leather corset detail at the bust.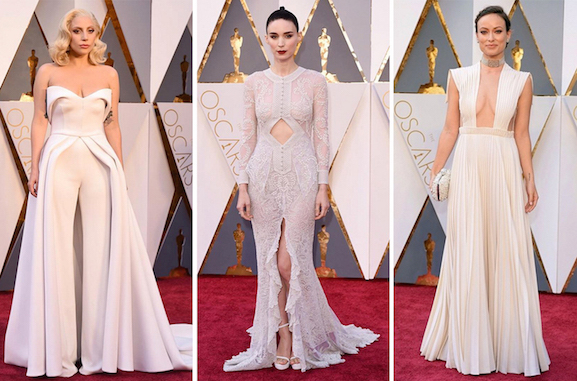 Lady Gaga, Rooney Mara, and Olivia Wilde; Photos: @WWD / Instagram (2); @lauritarpalo / Instagram
Leading ladies also made a case for fancy white gowns that have nothing to do with bridal. Olivia Wilde was beautiful as usual (if not a little bit risqué) in plunging, pleated Valentino Haute Couture. Rooney Mara was pretty (but pretty predictable) in Givenchy Haute Couture. As might be expected, Lady Gaga wore one of the more cutting-edge looks of the evening: a strapless Brandon Maxwell jumpsuit (we all knew she'd be wearing the young designer) with a cool overskirt. The only other starlet to really promote young talent was Game of Thrones actress Sophie Turner, who looked like Jessica Rabbit in her glam gown by up-and-coming eveningwear brand Galvan (which was created for Opening Ceremony x Swarovski).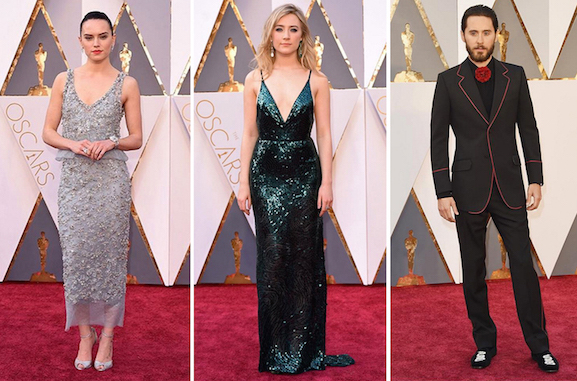 Daisy Ridley, Saoirse Ronan, and Jared Leto; Photos: @twenty6magazine / Instagram; @WWD / Instagram; @gucci / Instagram
Last but not least, some of the youngest talent on the red carpet scored the highest marks for their embellished looks. Star Wars' Daisy Ridley was fresh in a slim, beaded Chanel Haute Couture dress, while Saoirse Ronan stunned in sparkling Calvin Klein Collection. And last but not least, our awards for Best Dressed Dudes go to Jared Leto and his Gucci suit, plus Pharrell, who has single-handedly sparked the cuffing your tuxedo pants trend.

0 Comment