We're nearing the end of the Democratic National Convention, and it seems like the whole world has gone political. If you were trying to ignore the fate of our United States, you're out of luck. To be fair, this is yet another historic election. On the left, we have Hillary Clinton, the first female candidate to gain the Presidential nomination in a major American political party. She's arguably been campaigning for this ever since her husband entered the Oval Office in 1993, so we'd say she deserves the recognition. On the right, we have Donald Trump. This is historic because, well, it's Donald Trump. He may be the Republican candidate, but we'll always remember him as that orange guy from The Apprentice with a rotation of supermodel wives who has a side career of attacking women (and everyone, really) on Twitter. We can only imagine the sparks that will fly between these two during the Presidential debates this fall, so get your popcorn ready.
This election is a very serious one, and could have a massive impact on the future of our country. However, politicians also wear clothes, and we at FU thought, Hey, wouldn't it be fun to imagine how some of fashion's top stylists would dress the candidates? So, while watching convention speeches, we hypothesized what Trump might look like if Carlyne Cerf de Dudzeele had her way, or what ensembles Madonna's go-to stylist Arianne Phillips might pull for Clinton. So here, without further ado, we invite you to dive into a fashion fantasyland in which the industry's top celebrity and editorial stylists garb 2016's presidential candidates. You're welcome.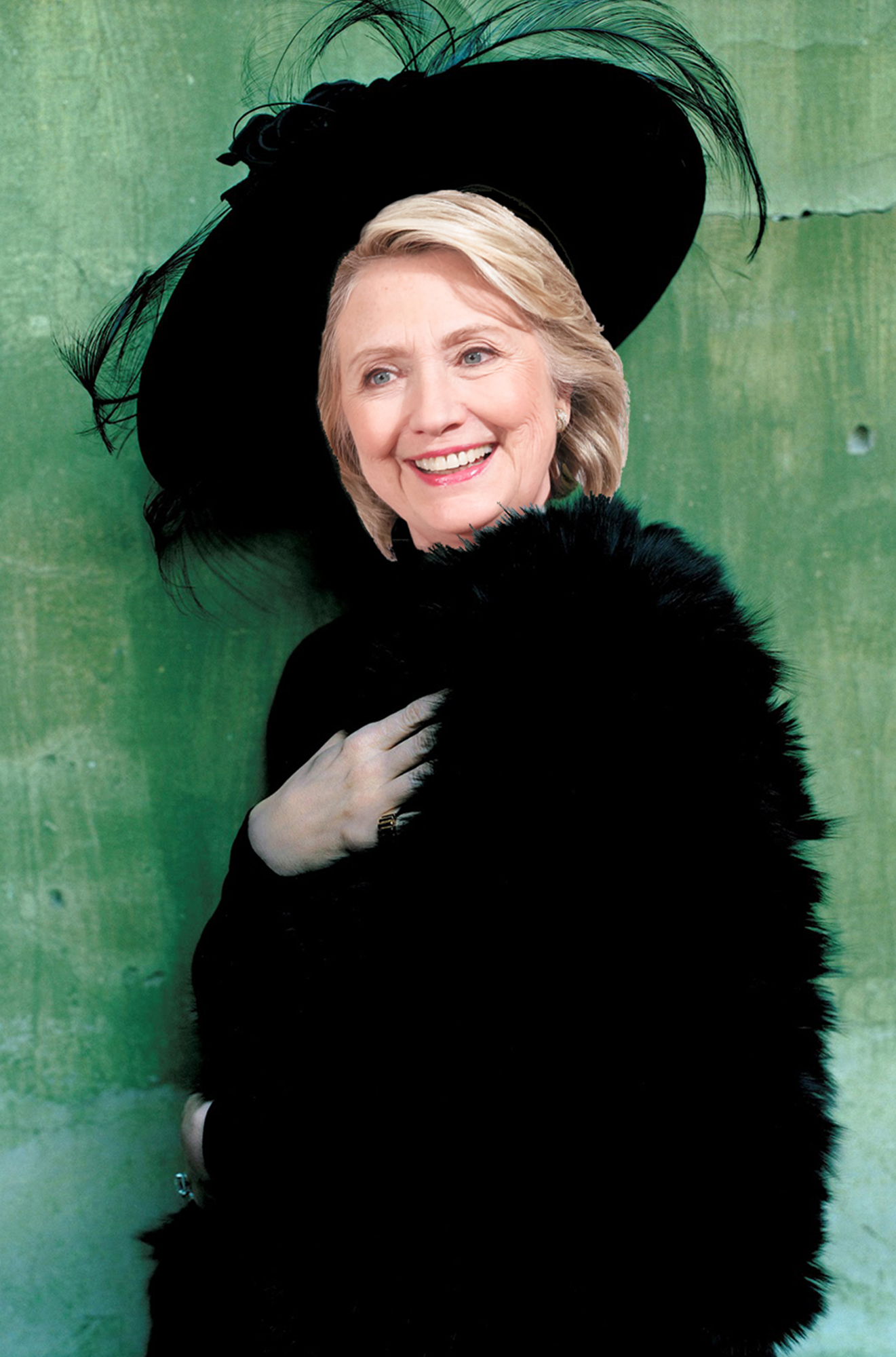 Photo: Madonna, photographed by Mario Testino for Vanity Fair, November 1996 / Courtesy of Vanity Fair; Hillary Clinton / Photo: BFA.com. View more at BFA.com.
HILLARY CLINTON
Stylist: Lori Goldstein
Known for: Styling iconic magazine covers for Vanity Fair, W, and Vogue Italia; working closely with Annie Leibovitz and Steven Meisel; creating ad campaigns for high-end labels like Prada, Dolce & Gabbana, and Valentino; styling Madonna's "Take A Bow" music video
When you have a feather-brimmed hat and fur on your side, there is no election you won't be able to win. (Okay, maybe not president of PETA, but maybe she could go faux?) If Hillary Clinton wears this Lori Goldstein look when she takes the stage at the DNC tonight, America would instantly see why she has raised over $300 million dollars: Pure Fabulosity. Unfortunately, winning an election these days seems to be less and less about policy and more about the candidate's coolness factor, so this look would be sure to hit all the right marks. And if Clinton does become the first Madame President, wouldn't this just be the best outfit to wear while talking diplomacy with the Queen?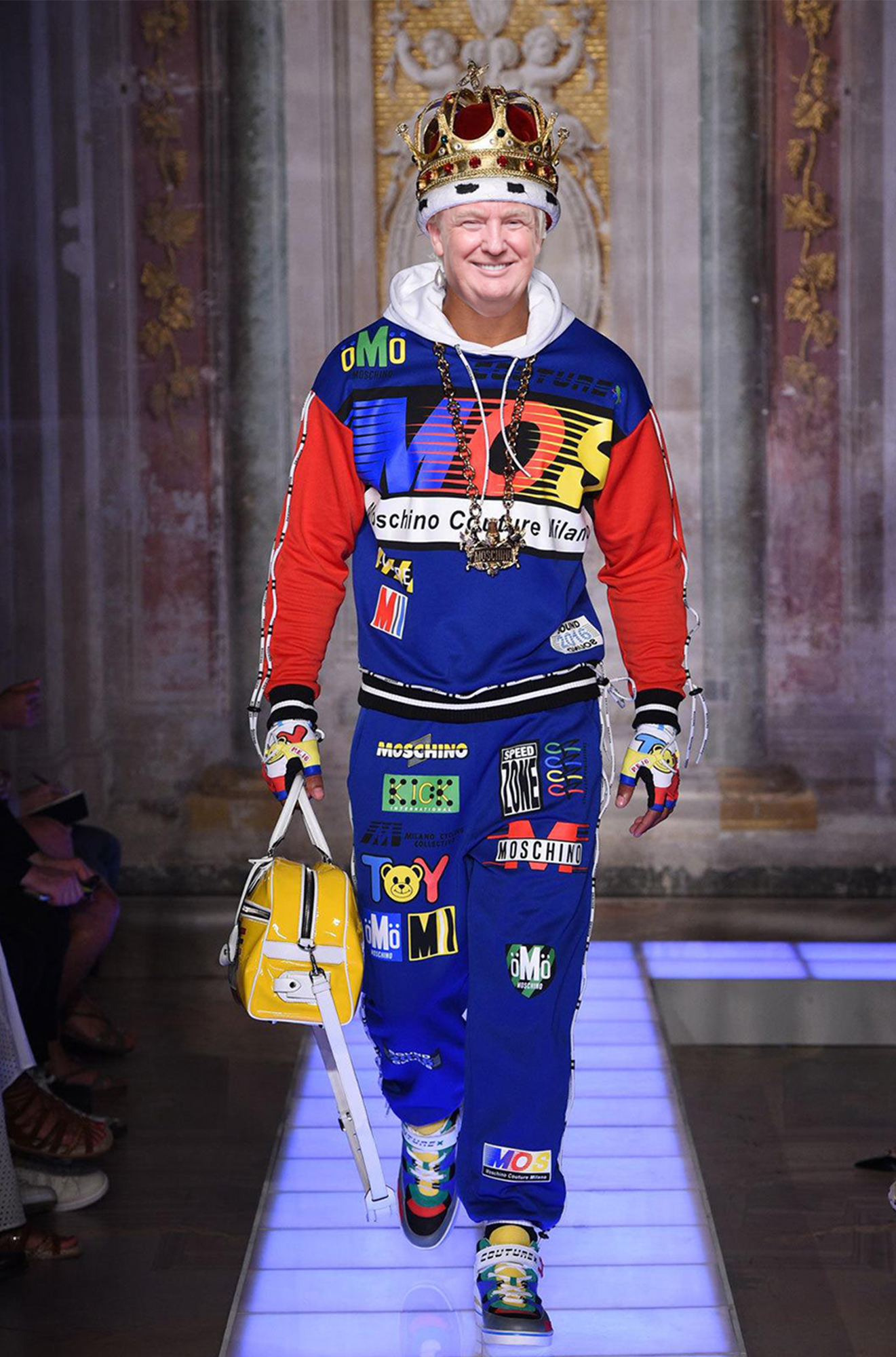 Photo: Moschino Spring 2016 Menswear / Courtesy of Moschino; Donald Trump / Photo: BFA.com. View more at BFA.com.
DONALD TRUMP
Stylist: Carlyne Cerf de Dudzeele
Known for: Working alongside Gianni Versace, Azzedine Alaïa, Karl Lagerfeld, and Jeremy Scott; collaborating with iconic lensmen like Irving Penn, Richard Avedon, Helmut Newton, and Steven Meisel; heralding the logo-and-gold-chain-filled "Versace" look from the '90s; being a living f*cking legend
Donald Trump has arguably gotten compared more to dictators than any other presidential candidate. If that isn't scary enough, there are plenty of Americans supporting his campaign, and a Trump presidency no longer a complete oxymoron. If Trump were to be sworn in as President, he'd surely want to make the most of the crowning moment. For that reason, this Spring 2016 Moschino tracksuit, complete with a crown, seems the obvious Inauguration Day option.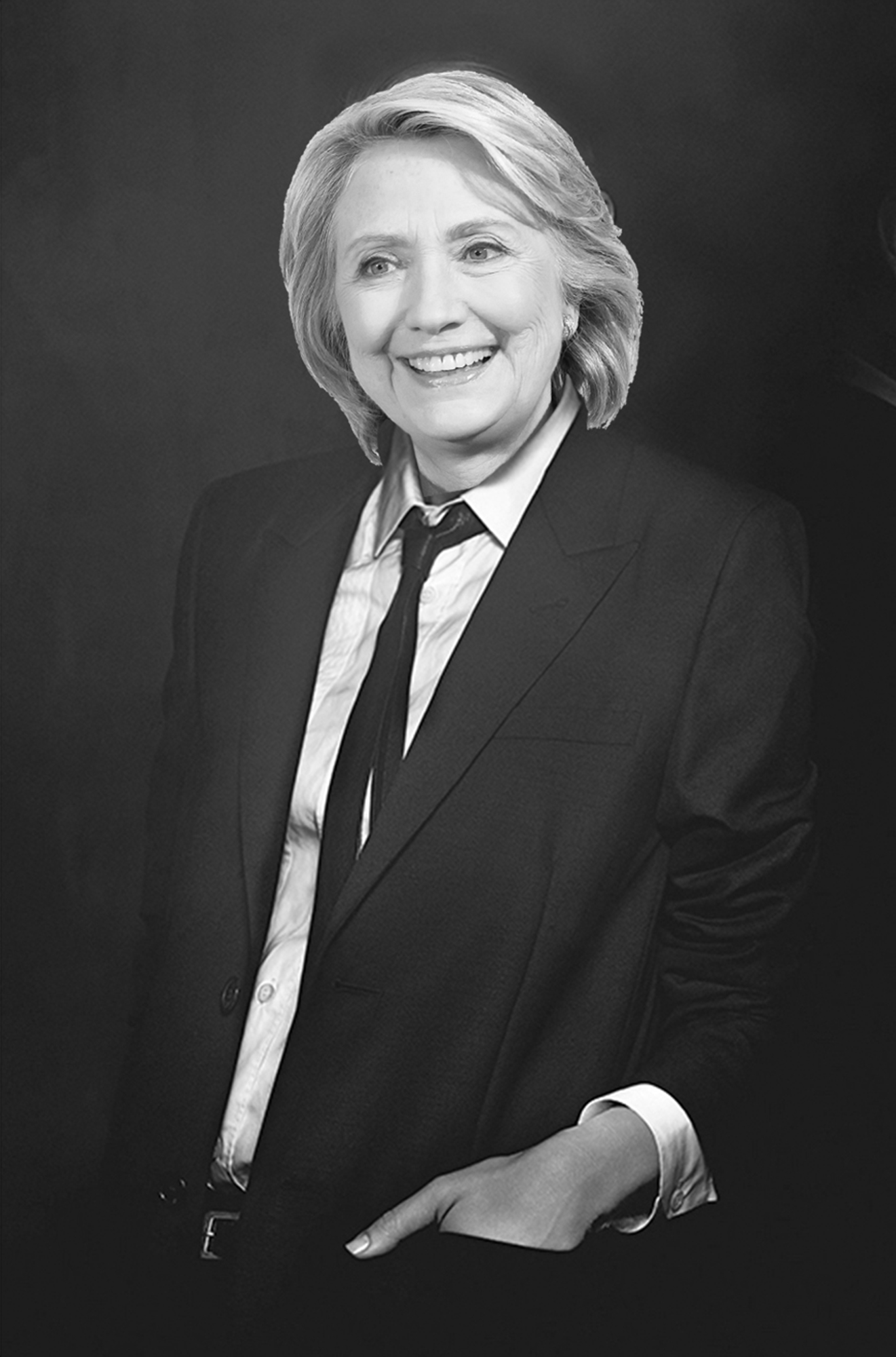 Photo: Cate Blanchett, photographed by Francesco Carrozzini for L'Uomo Vogue, March 2014 / Courtesy of L'Uomo
HILLARY CLINTON
Stylist: Elizabeth Stewart
Clients: Cate Blanchett, Julia Roberts, Charlize Theron, and Reese Witherspoon
No one does a pantsuit quite like Hillary Clinton, and while we love seeing Clinton in her signature style, we think an updated version is just what she needs for all her future meetings about foreign policy. Perhaps she could take a cue from Yves Saint Laurent and throw on a suit jacket. If she took this look on the campaign trail, we could just imagine the look on Trump's face when he realizes that Clinton looks better than suit than he does. Just think of the possible headlines: Anything He Can Do, She Can Do Better.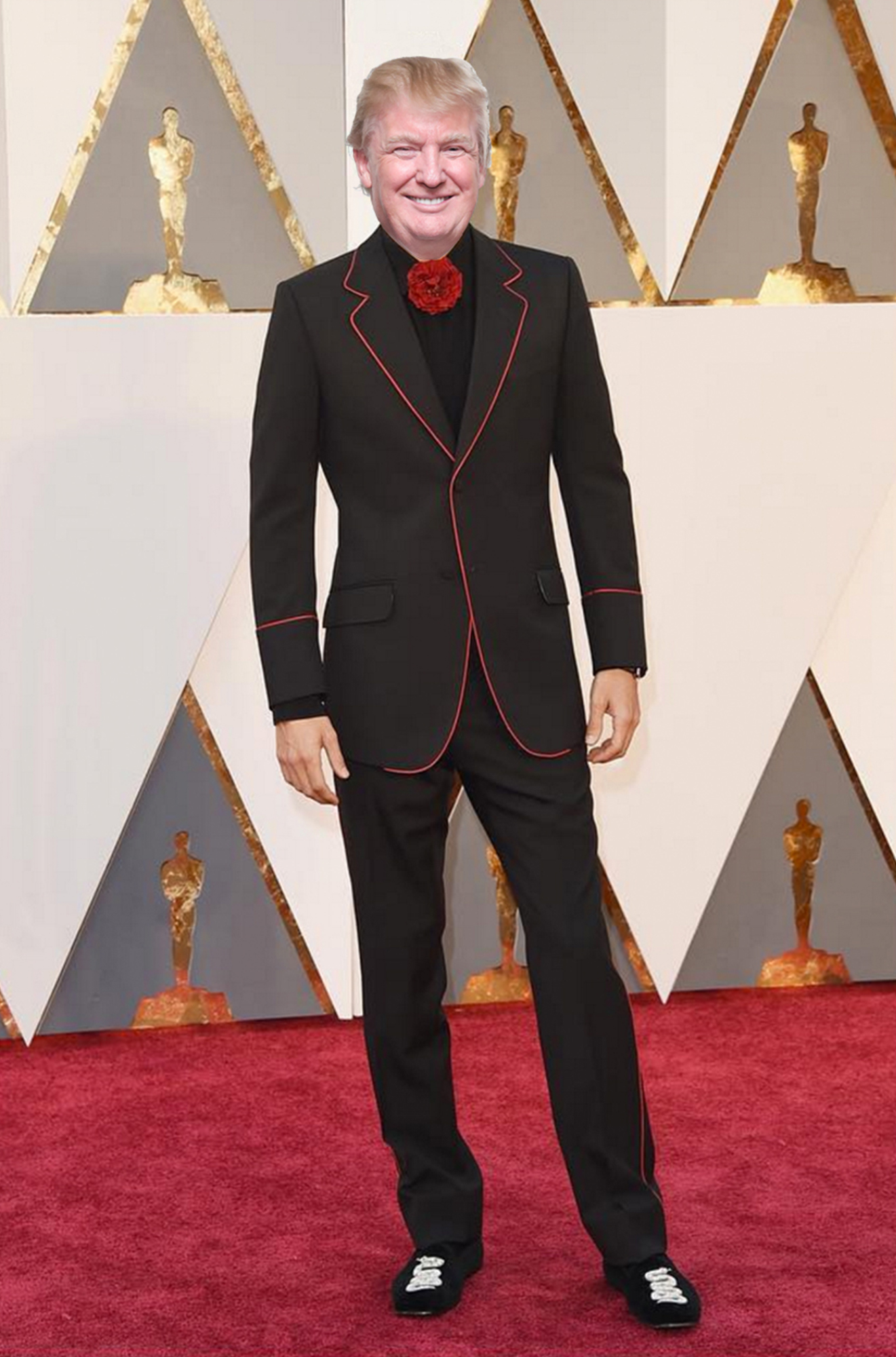 Photo: Jared Leto, in Gucci, at the Oscars, February 2016; @gucci / Instagram
DONALD TRUMP
Stylist: Micaela Erlanger
Clients: Jared Leto, Lupita Nyong'o, and Meryl Streep
Gucci is ridiculously cool. Jared Leto is ridiculously loveable. Donald Trump is neither of those things. But maybe a little bit of Gucci is enough to make the American people reconsider their stance on Trump. He could easily wear this look to a rousing rally; when he wants to start criticizing Clinton, he could just point to his shoes. Can't you just see him saying, "Look at my shoes! It's Hillary! She's a snake. Let's get Russia to find her missing emails." Personally, we'd just love to see Trump forgo his tie for a bright red flower. It might clash with his orange skin, but it would be a fashion statement nonetheless.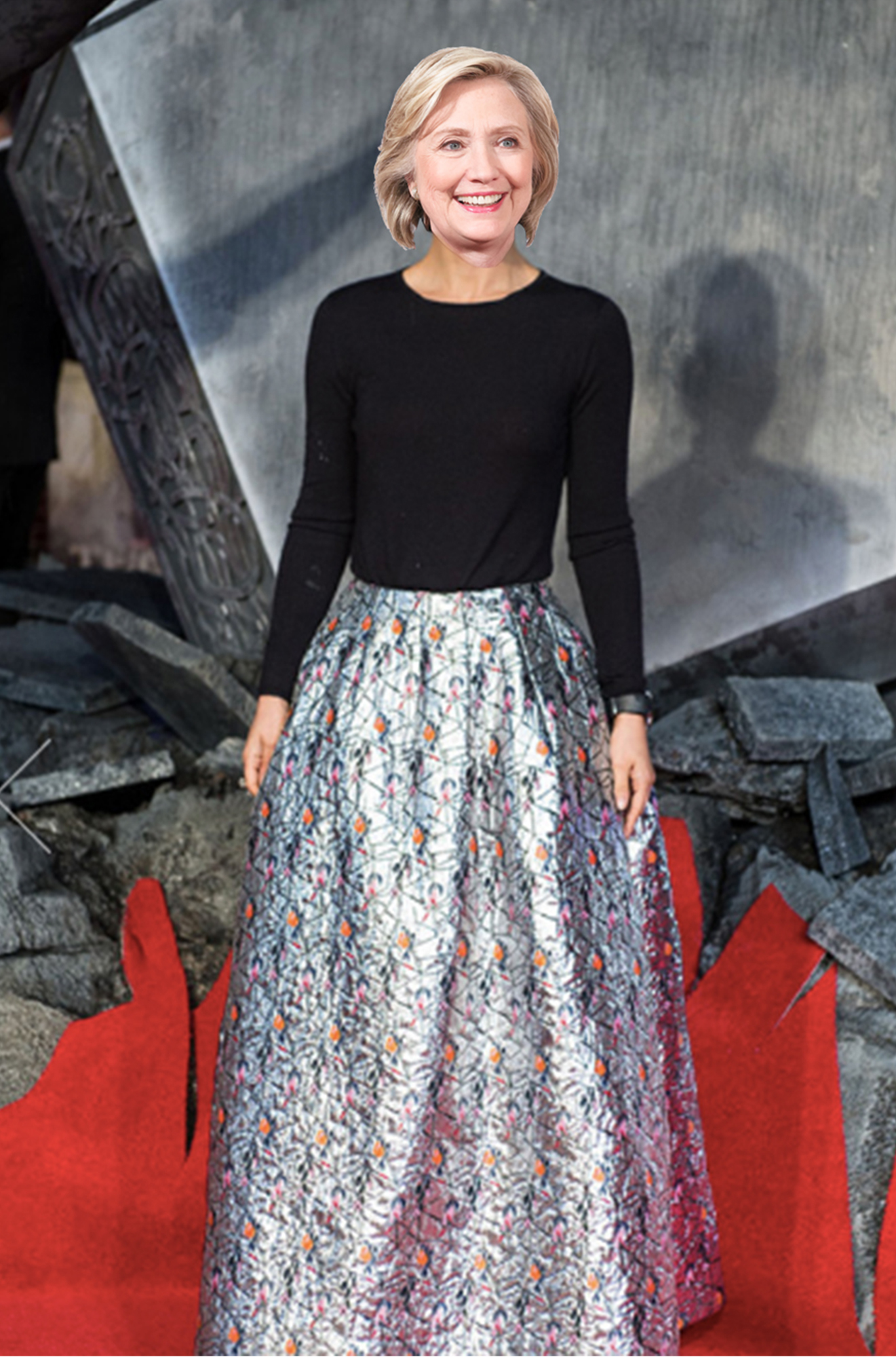 Photo: Natalie Portman, in Christian Dior, at the Thor: The Dark World premiere, October 2013 / Courtesy of The Wall Group
HILLARY CLINTON
Stylist: Kate Young
Clients: Natalie Portman, Dakota Johnson, and Selena Gomez
Arguably, the most important thing one can learn from watching Scandal orVeep is that State Dinners are like prom for the West Wing. Everyone gets dressed to the nines to schmooze their way to the top of the totem pole. As Commander-In-Chief, Clinton's look would need to be tasteful yet jaw-dropping. There has never been a woman in charge before, and she needs to set the precedent. Since the world will never not be impressed by the wonders of Dior, Clinton would look divine in this number that Raf Simons designed for the house. With its simple black top and voluminous skirt, the gown could serve as a metaphor for her entire Presidency: Business first and foremost, with a little bit of pizzazz.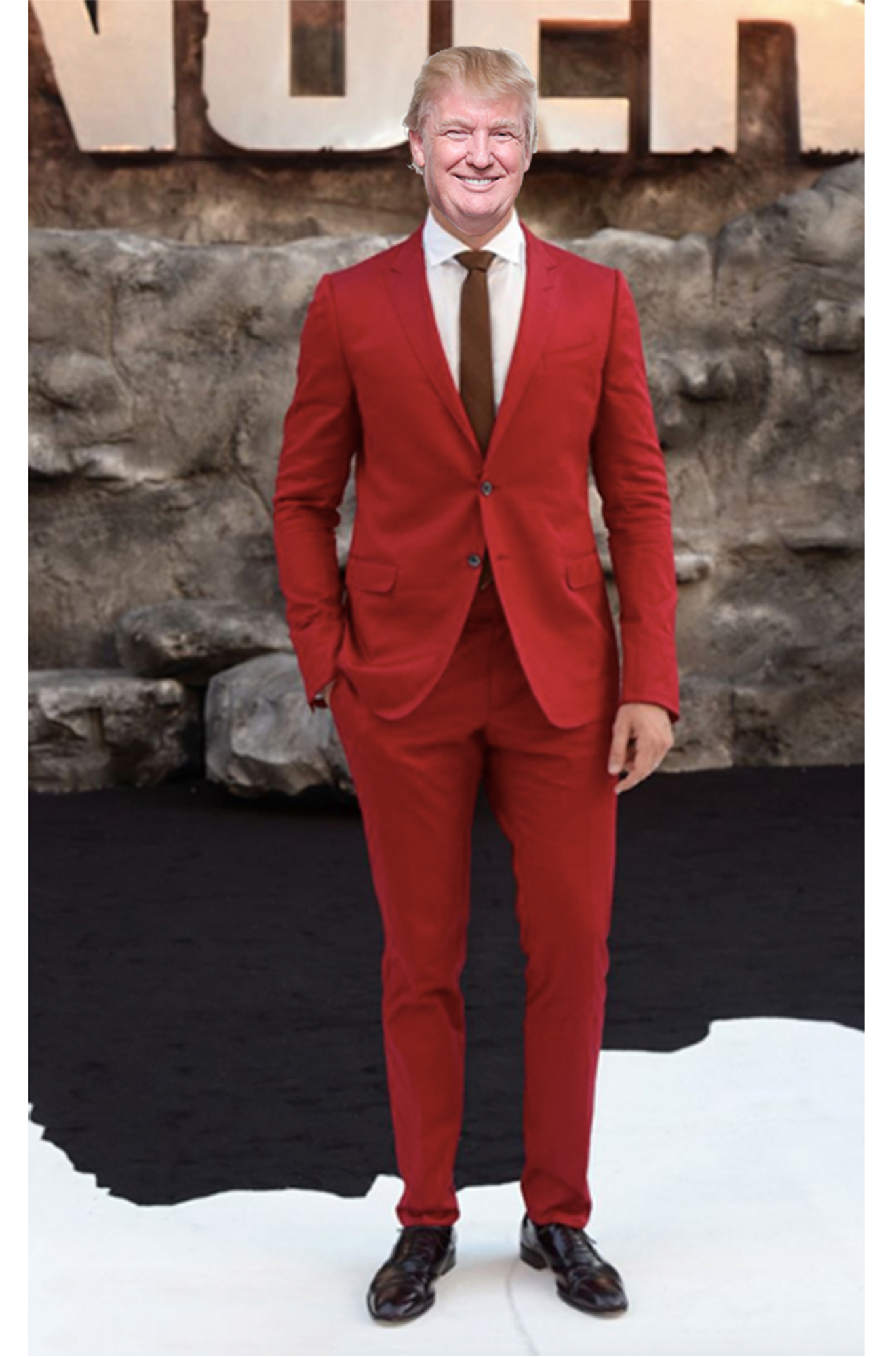 Photo: Armie Hammer, in Gucci, at The Lone Ranger premiere, July 2013 / Courtesy of The Wall Group
DONALD TRUMP
Stylist: Illaria Urbinati
Clients: Armie Hammer, Bradley Cooper, and Common
As we have already discussed, Donald Trump's tan, or makeup, or whatever is making is his skin look like that, is visually upsetting. So we might as well emphasize his unusual hue with a bright red suit. Trump is already a bit of a hothead, so maybe having a suit to match his personality is the way to win an election.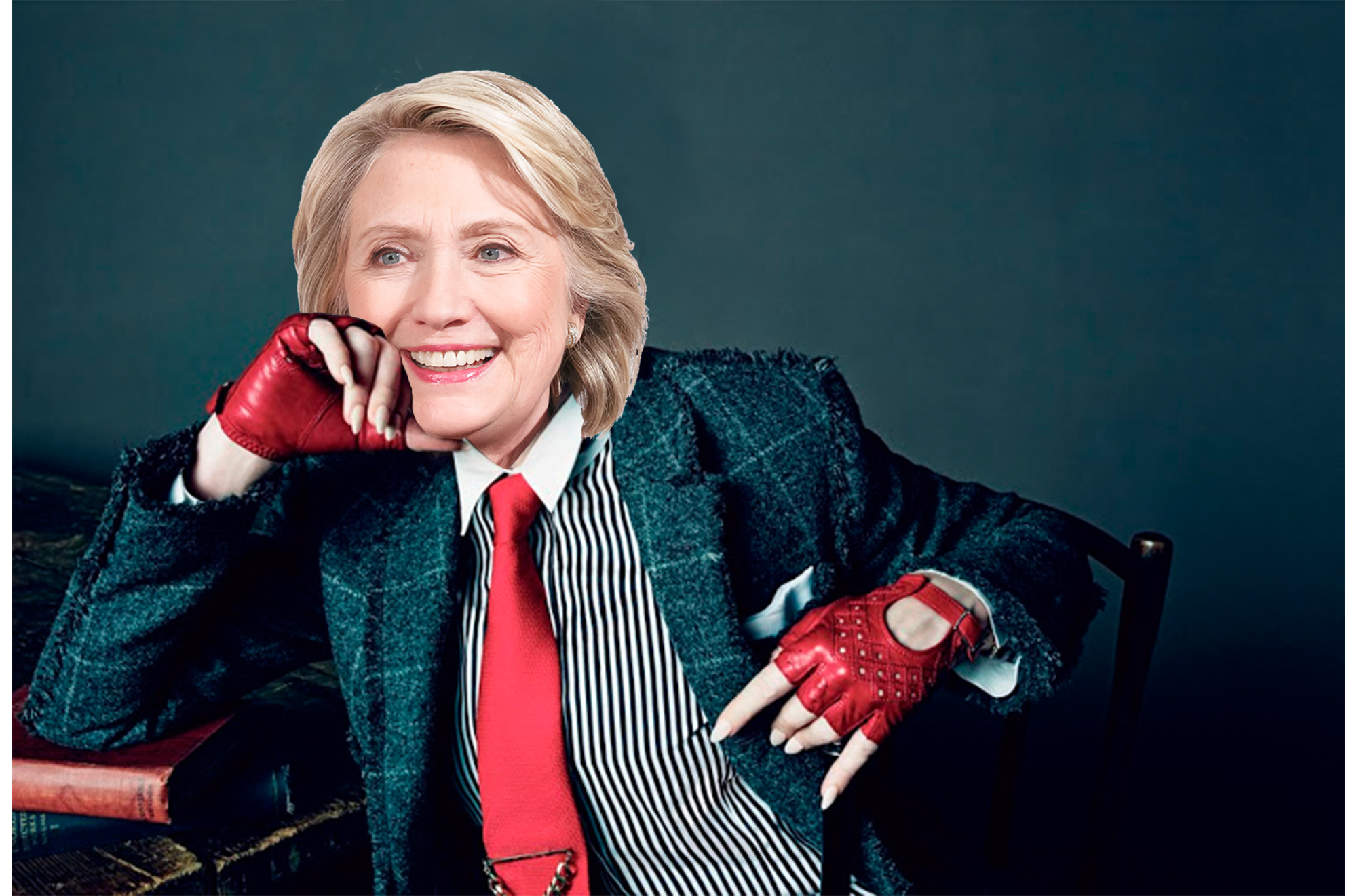 Photo: Madonna, photographed by Tom Munro for L'Uomo Vogue, May-June 2014 / Courtesy of L'Uomo Vogue
HILLARY CLINTON
Stylist: Arianne Phillips
Known for: Being Madonna's stylist; styling covers for V, Love, Harper's Bazaar, and Interview, among others; working with everyone from Lenny Kravitz and Courtney Love to Justin Timberlake and Katy Perry
When it comes to female empowerment, you can't do much better than Madonna. She may be controversial, but she is one of the pioneers for the independent woman. So imagine how mind-blowing it would be if Clinton channeled her inner Madonna on election night? A little androgyny never hurt anyone, and a feminine twist on the suit could make all the Clinton haters realize that women are no different than men. And come on, nothing says I'm about to become the most powerful person in the world like a pair of leather fingerless gloves.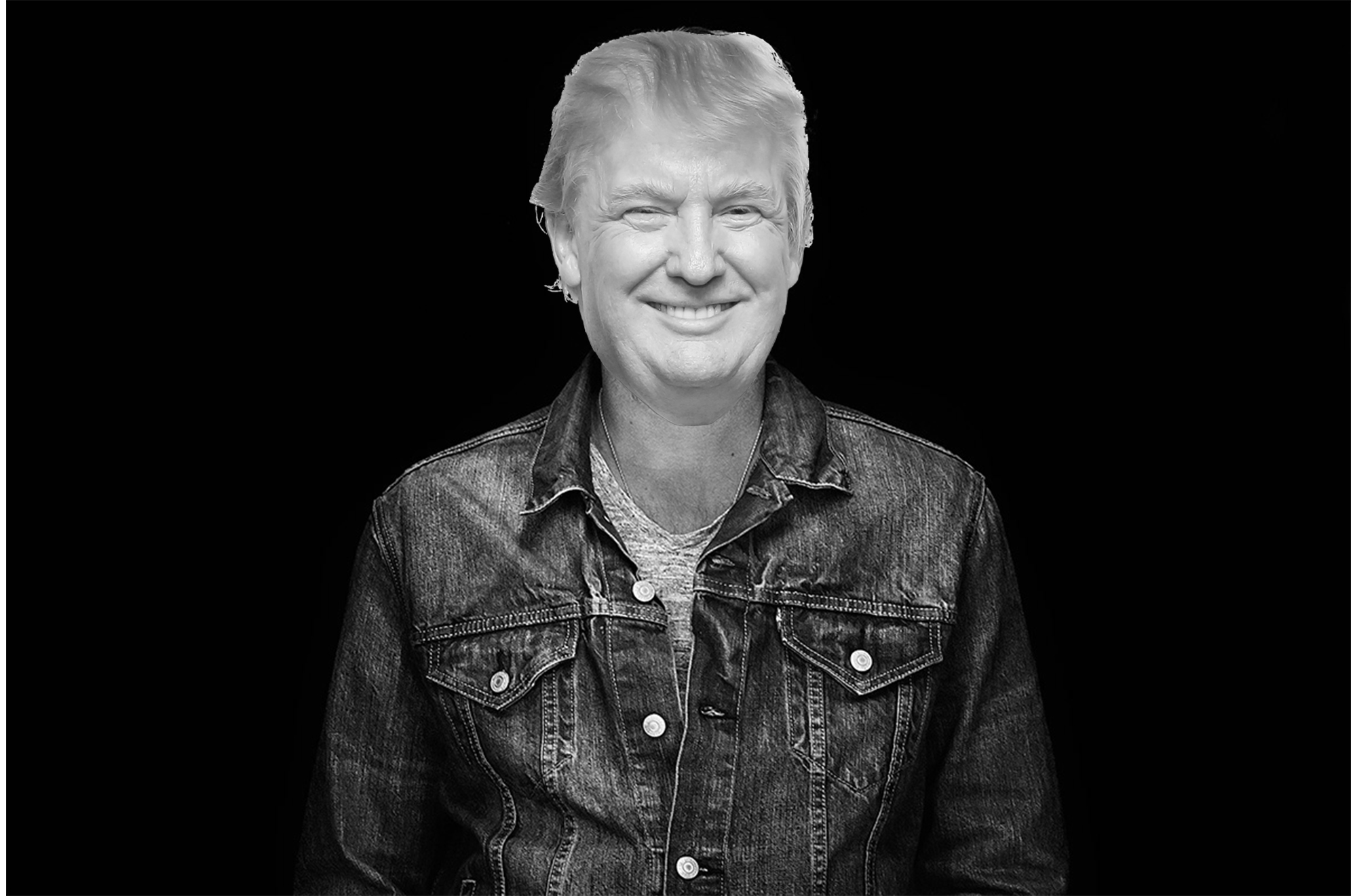 Photo: Leonardo DiCaprio, photographed by Robert Maxwell for New York Magazine, September 2013 / Courtesy of New York Magazine
DONALD TRUMP
Stylist: Evet Sanchez
Clients: Leonardo DiCaprio, Ben Affleck, Aaron Paul, and Luke Mably
Due to his status as America's Republican, Trump will be spending plenty of time campaigning down south. And when you're trying to secure the Southern vote, what could be better than a Canadian Tuxedo? Trump will definitely lack the sex appeal of DiCaprio, but we think his version could easily fit in at a pig roasting. (It's fitting, no?) Just imagine him shaking hands and eating pork in his causal Friday attire. He may be a billionaire, but in this moment, Trump would just be a regular, jeans-loving American. And let's be serious, few things are more American than denim.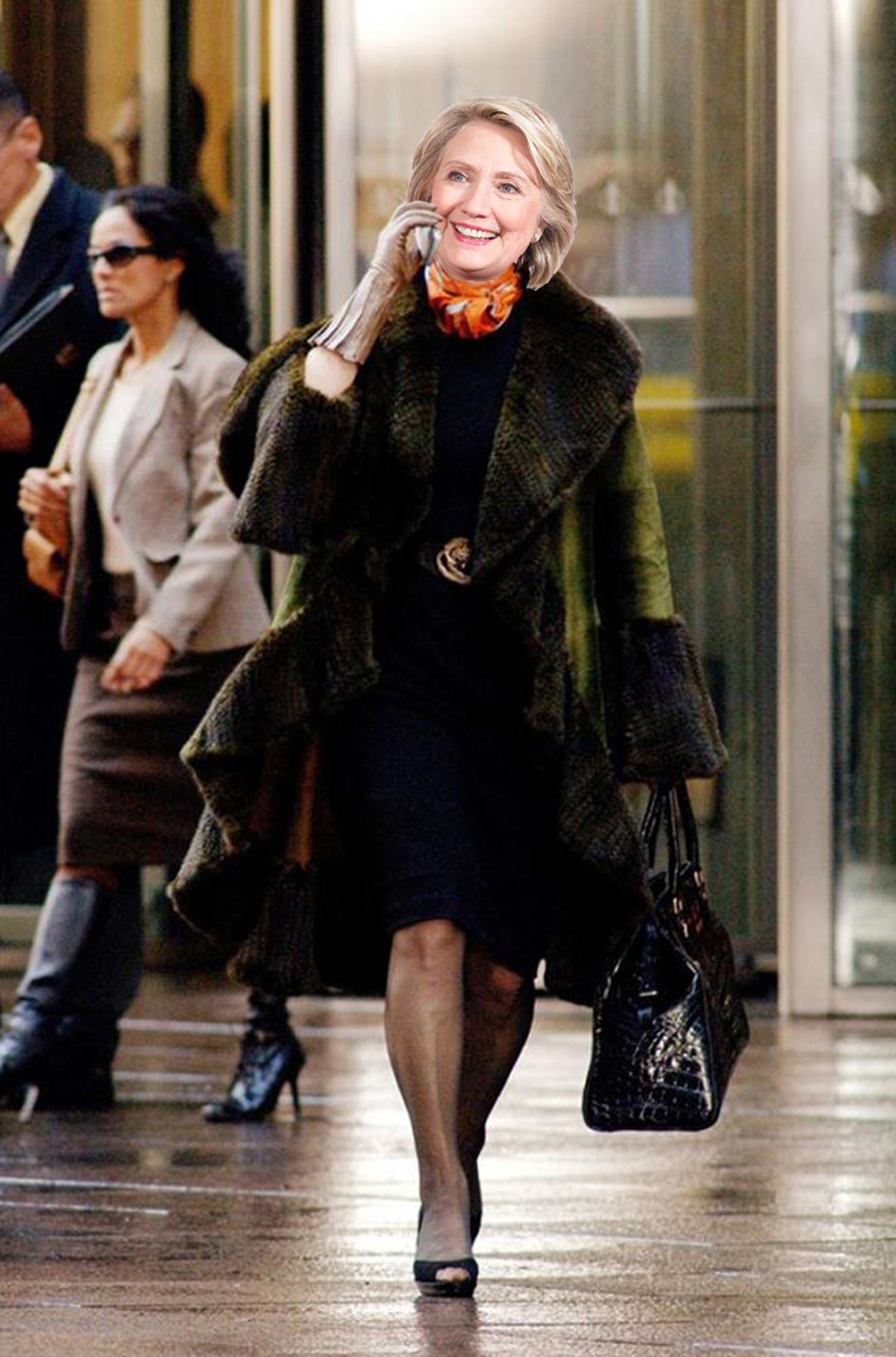 Meryl Streep as Miranda Priestly in The Devil Wears Prada, 2006 / Courtesy of IMDb
HILLARY CLINTON
Stylist: Patricia Field
Known for: Her work on Sex and the City—'nuff said—and the Devil Wears Prada
In our biased fashionista brains, Miranda Priestly will always be considered the quintessential alpha female. When you get to the top, you have to command respect and attention. In our wildest fantasies, Clinton would project nothing but confidence walking into her first presidential debate in this classic Miranda number—it's striking, it's luxurious, and it would most definitely make Trump realize he has no chance. If she wants to take it to the extreme, Clinton could even throw the coat on her opponent's podium.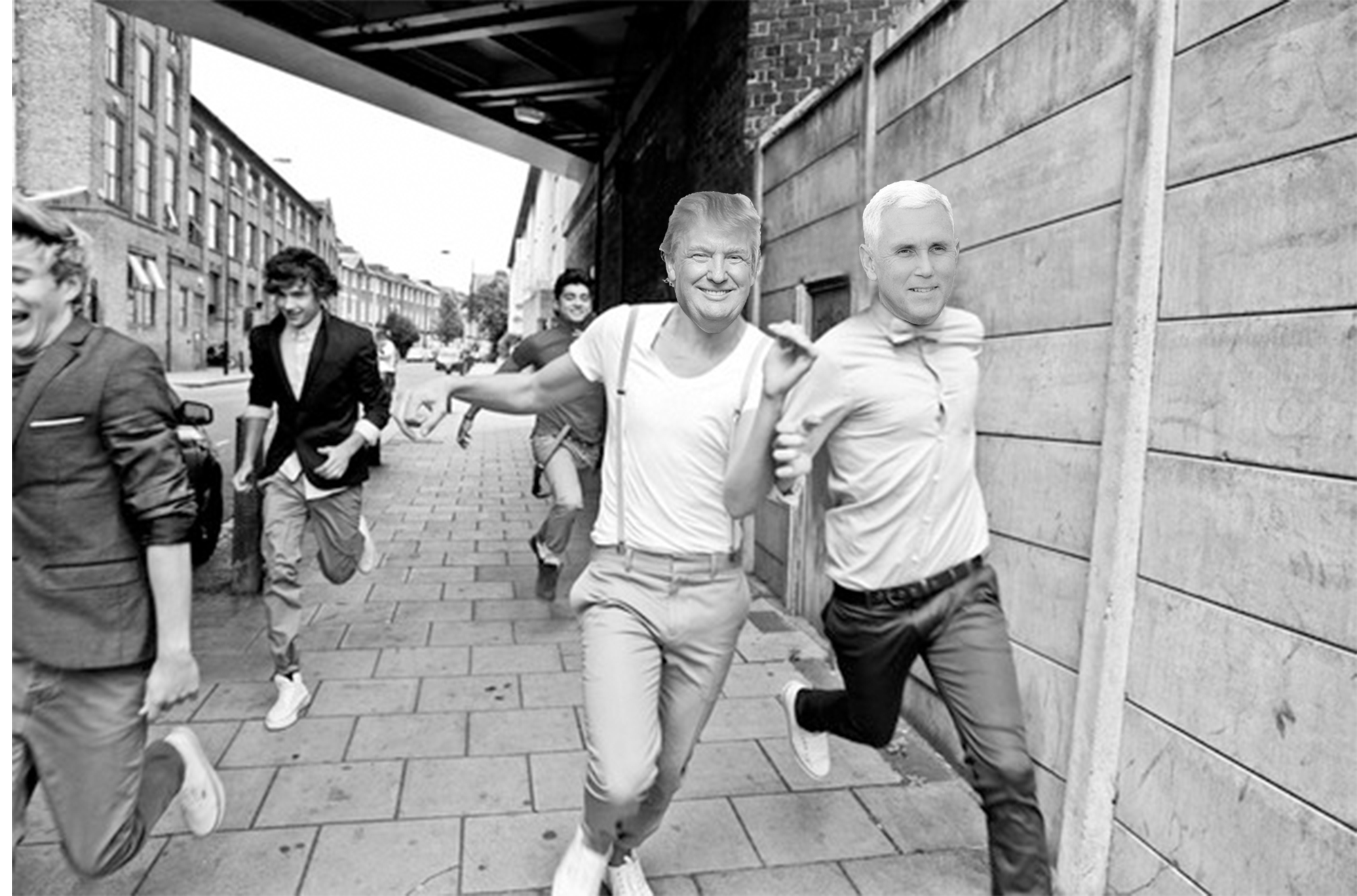 Photo: Louis Tomlinson and Harry Styles / Courtesy of OPUS Beauty; Mike Pence / Photo: Facebook
DONALD TRUMP AND MIKE PENCE
Stylist: Caroline Watson
Clients: One Direction—but, since they're on a "hiatus," she has moved onto Zayne
If you really think about it, Louis Tomlinson and Harry Styles are exactly who Trump and his VP pick, Mike Pence, aspire to be: Boys who are free to run their mouths and sleep with anything that moves with little to no penalty. We can just imagine Trump and Pence frolicking about in these boyish outfits, hunting for prey and scaring off potential voters. Apologies if the idea of both of them in such tight pants has made you want to click off this page immediately.
0 Comment