"FUCK TRUMP" read the dress on the invite to R13's Spring 2017 show. The garment came down the runway with a capsule collection of similar statement clothes ("God Save America" was another slogan that appeared) in a bold declaration that designer Chris Leba felt necessary. A couple of days later, John Targon and Scott Studenberg of Baja East took their bow wearing matching "Be With Her" tees (now available for pre-order on their website), a nod to Clinton's campaign.

Particularly in New York and London, politics were unavoidable on the runway. Policies and issues were at the forefront of public discourse in both cities, with the former heading towards a major vote, and the latter reeling from the results of one.
Of course, this isn't the first time political issues have been addressed through fashion. In fact, the Museum at FIT built a whole exhibit around the topic in 2009, titled Fashion and Politics. While many with an opinion have not been shy in the past about integrating their beliefs into their work, it seems that during the Spring 2017 shows, more and more designers decided to use the runway as a platform for more than just clothes.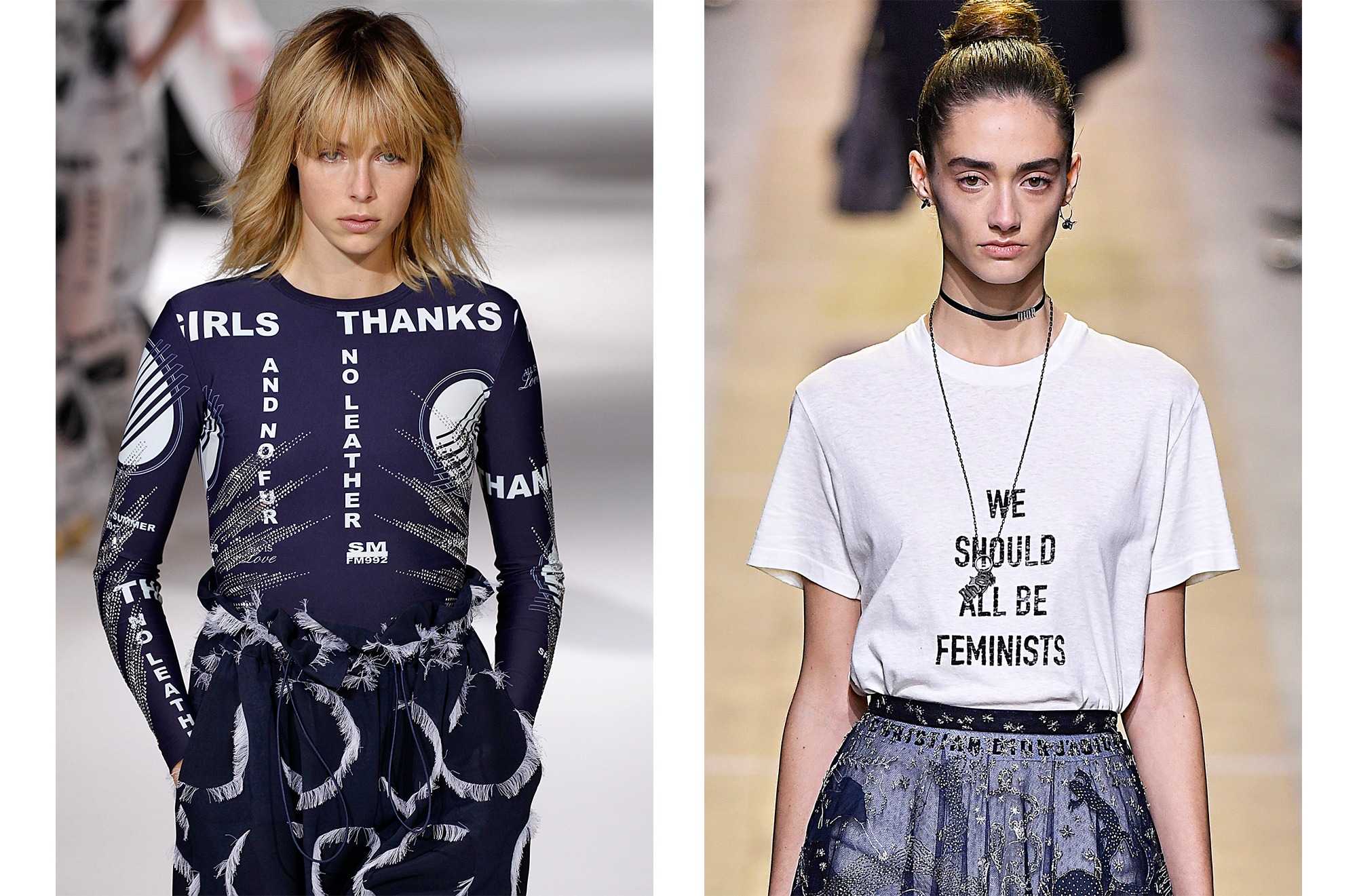 Stella McCartney and Dior Spring 2017 / Photos: firstVIEW
Feminism was one of the most talked-about social issues during Paris fashion week, due to Maria Grazia Chiuri's "We Should All Be Feminists" t-shirt. Many, including FU, wondered how sincere the statement was, considering the marketing push that seemed to pick up speed after the positive press surrounding Chiuri's appointment as the first-ever woman to helm the house. While it's still too soon to tell, the fact that an age-old couture house used the actual word, and not some "girls can do anything" allusion to it, is a huge proclamation that deserves kudos. Meanwhile, Prabal Gurung's collection featured quotes from noted feminists Susan B. Anthony and Gloria Steinem, which were embroidered and printed on his clothes.
Stella McCartney also put a slogan to good use, adorning her clothes with the phrase "Girls thanks, and no fur, no leather." McCartney has long (and famously) been a supporter of animal rights, and does not use animal products in her clothes. But with this collection, what she gives to fans is a way to express their own pride in cruelty-free clothes, and potentially promote the cause.
That being said, not all of this season's political and social statements were so overt. An increasing number of designers chose to break traditional notions of sex and gender, either by showcasing unisex or gender-ambivalent clothing. Typically, "unisex" styles have been men's clothing (suits, athletic gear) repurposed for women. But Spring 2017 saw an rise in more feminized styles for men—Burberry had softer silhouettes, Rihanna used lots of lace in her Fenty x Puma collection, and Vivienne Westwood, designed for the first time by Westwood's husband Andreas Kronthaler, had boys in skirts. Kronthaler even took it a step further by adorning models in penis jewelry and makeup, for once sexualizing men, rather than women. Other brands that went sex-positive were Adam Selman and Hood by Air, both of which incorporated porn into their clothes. These are but a few examples, all from commercial runways, which don't even begin to cover the ways issues of gender of more conceptual offerings from VFiles and the Parsons graduate collections.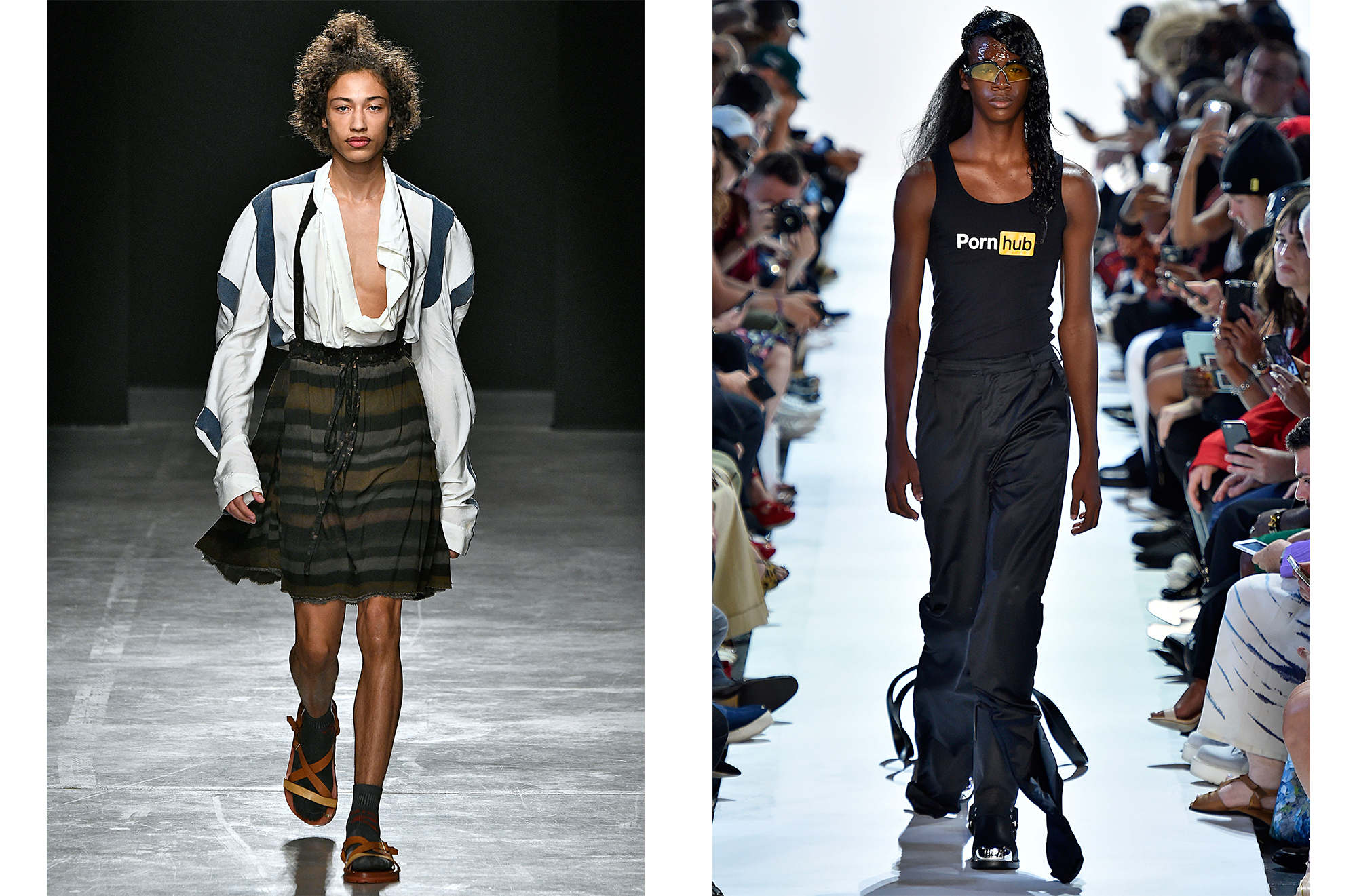 Vivienne Westwood and Hood by Air Spring 2017 / Photos: firstVIEW
One of the most frequently addressed issues in fashion is the environment, which is appropriate, given how big a polluter the fashion industry is. Both John Galliano for Maison Margiela and Miuccia Prada for Miu Miu referenced the ocean in their collections, specifically in terms of pollution. On a quieter level, many top brands are moving towards more ethical and sustainable design practices that create less waste and improve the lives of garment workers globally.
But why is all of this happening now? It's not as though designers are just waking up to their power of influence. Perhaps what this generation is waking up to is the idea that fashion can be a communication tool far beyond that of aesthetic beauty. We have arguably reached a point at which every style that ever will exist has been done. Very few designers can change the way people dress today. But maybe they can change the way people think.

Fashion is social, not only in the sense that we use it to create our own identities, but also in that designers draw from what is happening in the world and mirror it. If we really want to rethink fashion, the best place to start is to rethink how the world works.
0 Comment