In the PYT series, Fashion Unfiltered introduces today's most exciting up-and-comers.

On the fifth floor of a window-lit loft on the corner of Canal and Kenmare streets, Piotrek Panszczyk and Beckett Fogg cut vintage Cadillac seat-embossed silk into slim-running bell-bottom slacks. They have a mood board covered with splashes of bubblegum pink and hair-slicked '90s beauty queens opposite a rack of embossed basics for Pre-Fall. Charlotte Wales-lensed lookbooks and white chaps from seasons past rest on wooden shelves. This is the studio of Area, the now three-year-old line from the design duo. Fogg, 27, who hails from Kentucky and cut her teeth at Calvin Klein, and Panszczyk, 29, who's Polish by way of Paris and got his start at Chloé, are fast preparing for their 2016 show, which will be held by Made Fashion Week at New York's Standard Hotel on February 11. The sketches and inspiration images for the brand's forthcoming outing debut here.
"This is going to be fun," says a grinning Panszczyk of the upcoming collection. "We're playing on this idea of hard-core femininity. That could mean anything. It could be overly feminine, floral; it could be like drag. It could be overly sensual. It's all these ideas of what women are, and when does it become almost ridiculous and almost masculine? And how can we translate that into color and feeling?"
"It's about contrast as well," adds Fogg. "Contrast between textures. Very historical references. We did a lot of research at libraries. Like, real libraries. But then we also did a lot of research on the Internet, looking at Tumblr. For us, it's always about that contrast, that back and forth between those ideas."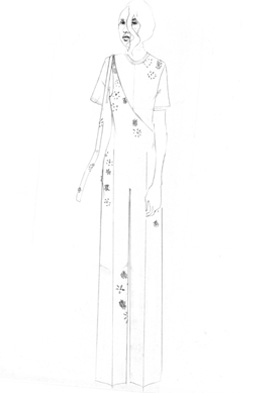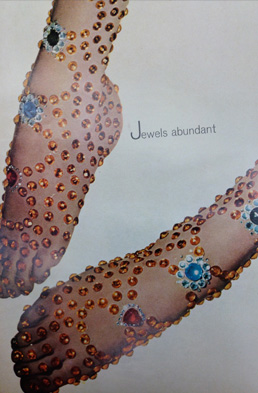 A sketch of a look from the Fall 2016 collection (left); A Fall 2016 inspiration image (right). CREDIT Area.
This very modern juxtaposition—of competing concepts of high-octane glamour colliding with simple, almost minimal art school basics, all to be delicately embossed on streamlined essentials for subtle effect—is at the core of the young ready-to-wear brand's appeal. The line, with its clever reinterpretation of classic luxury and girlhood, and very direct celebration of labor-necessitating processes like embossing and hand shaving, is slowly becoming a sort of new staple for the irony-appreciating creative/gallery type. Area is stocked at Opening Ceremony, and will soon be carried at Lane Crawford.
Since meeting as grad students at Parsons School of Design in 2011, Fogg and Panszcyzk found working together a natural fit.
"We overlapped by a year. And we started working together at school," recalls Fogg.
"While I was working on my thesis, Beckett took some of her embossed fabric into the studio. And I made something out of my patterns in her textiles. It started really organically," adds Panszczyk. "And then we decided to just do it by ourselves [instead of working for more established labels]."
The pair started turning out simple, embossed separates and slipdresses. They're drawn to soft color palettes and concepts like sisterhood (Beckett was in "a not very ladylike" sorority as an undergrad) and makeup (last season's metallic-hued liquid-, gloss-, and lipstick-inspired assortment of sculptural gowns). Traditional textiles—velvet, denim, and sometimes less conventional materials like terry cloth—get shaved down, embossed (a Western saddle print was a standout for Pre-Fall), and otherwise manipulated.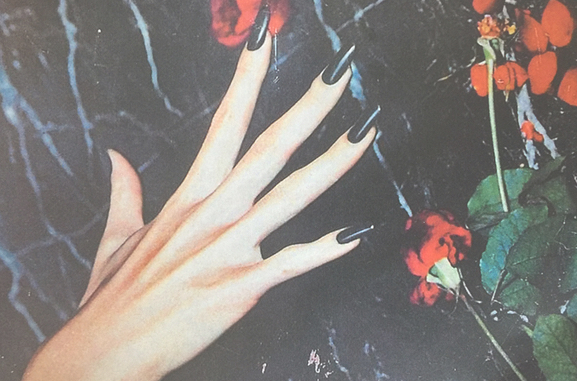 A Fall 2016 inspiration image.
"Fashion is creatively gratifying in that it's so applied," says Panszczyk. "I love that you can basically sit and talk about it, or you can really do something and create and make money. There's so much possibility in it. I think that's what I like about it, even more than like, fine art, for instance. I remember when I started art school, I was like, Oh, yeah, I would love to be a painter, but then I was like, What am I going to paint? What am I literally going to paint?"
Panszczyk and Fogg will launch their own e-commerce this May. "There are pieces that we really love," says Fogg. "Like the gray wool suit. People have been emailing us about it a lot, so we're going to produce it whether or not a store buys it. Because we think it should be available."
PHOTO: Courtesy of Area
LEAD IMAGE DETAILS: Designers Piotrek Panszczyk and Beckett Fogg (left); fabric from the Fall 2016 collection (right)

0 Comment