One of the world's most prestigious textile fairs, Milano Unica showcases the best of Italian-made textiles. Last month, the fair partnered with the CFDA to take three emerging American brands and Fashion Fund grads—Ryan Roche, Orley, and Gigi Burris—to Italy, where they were introduced to renowned fabric mills that work with many of the fashion industry's most influential and storied houses. "Young designers represent the future of fashion, and Milano Unica is eager to support them through the opportunity to establish direct and privileged contacts with the best high-end textile and accessory companies in Italy," Milano Unica's president, Ercole Botto Poala, told Fashion Unfiltered of the Fabric Program. "The partnership with CFDA is a win-win collaboration for both Italian companies and American designers," he continued. "This is particularly true for Italian mills that can show and share their invaluable heritage and knowhow, as well as the innovative technologies they are developing every season." Here, we bring you the tale of Orley and the brand's Italian journey. Tune in tomorrow when we speak with Gigi Burris, and don't miss our story on Ryan Roche, here.
The Orley crew—Michigan-born brothers Alex and Matthew Orley, and Matthew's wife, Samantha—had a head start on their Milano Unica tour. After all, the brand, which launched for Fall 2012, exclusively uses Italian textiles, and already worked with a handful of mills on the Fabric Program itinerary. According to Alex, being chosen by Milano Unica and the CFDA allowed them to further those relationships. "We basically road tripped all over Italy for a week, going to all these mills and developing the collection," Alex, who focuses on design, told Fashion Unfiltered. He took the trip with Sam, leaving big brother Matthew back in New York to, as Alex told it, "hold down the fort."
After listening to tales about Alex and Sam's trip, it sounds like Matthew got the raw end of the deal. "We went to one mill that has an archive of fabrics starting from 1940," recalled Alex with excitement in his voice. "There were Balenciaga fabrics from the 1950s, Chanel fabrics from 1970s, and Louis Vuitton fabrics from the late '90s. To have a mill like that engaged in our business is really helpful for us."
For an independent company like Orley, the support of these top-tier Italian mills, as well as organizations like Milano Unica and the CFDA, is invaluable. "We allocate resources in a really focused way," Alex explained. "There's not a ton of wiggle room. And the fact that all these mills are developing specialized fabrications for us free of charge…the amount of value that gives a small brand like us is indescribable. It opens so many doors to things we probably wouldn't be able to try otherwise."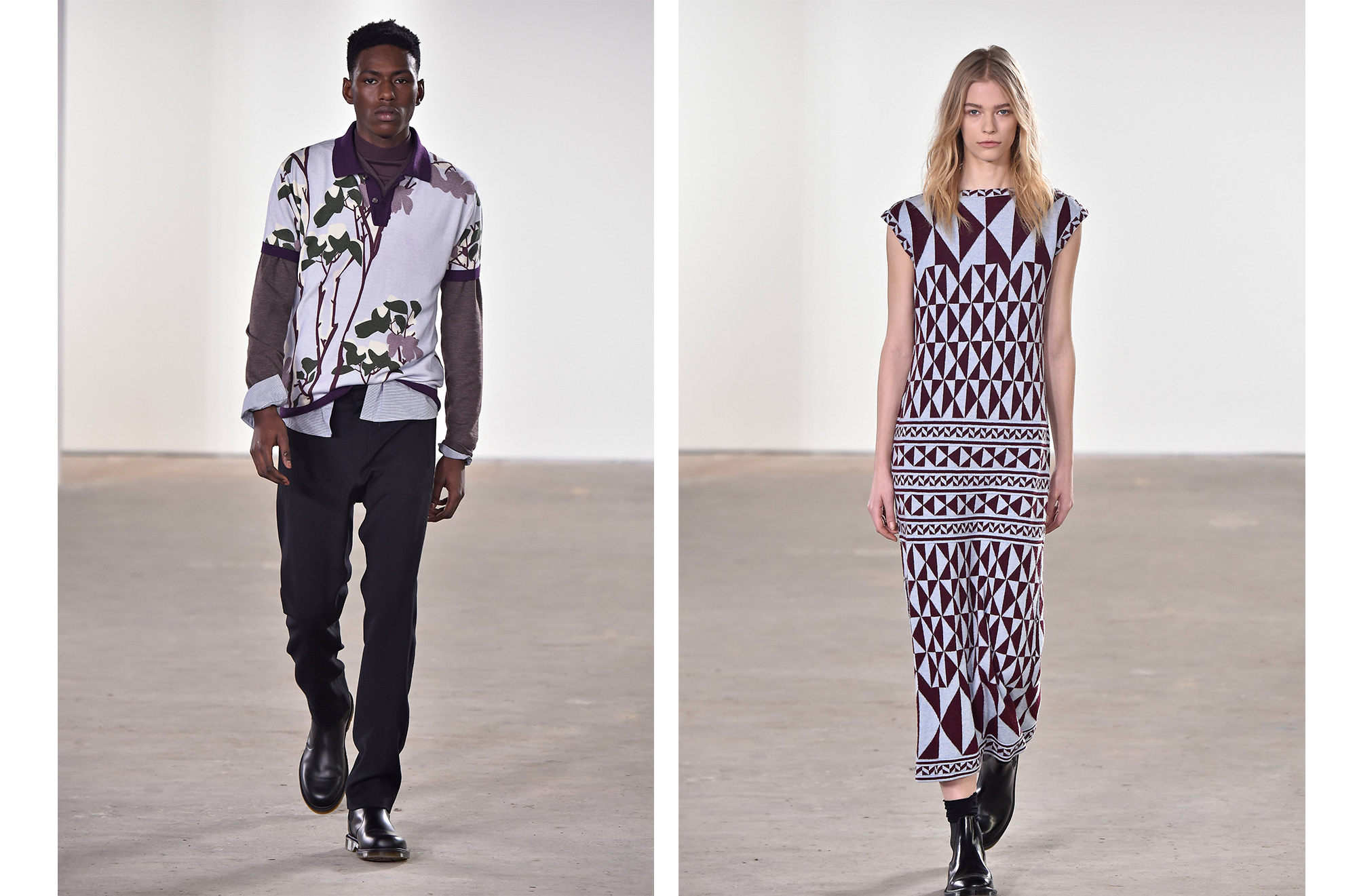 Photo: Courtesy of Orley
To be fair, the Orleys have done a pretty good job of opening their own doors since producing their first capsule of five sweaters in Matthew and Sam's kitchen. Prior to launching, each member of the trio was working in the fashion biz on what Alex described as "parallel tracks." "We had been talking for a while about doing something together and one day, we had lunch and thought the timing felt right. If we're going to slave away for a brand, it might as well be our own."
Orley, which initially only offered men's knits, but has since branched out into men's ready-to-wear and, due to popular demand, an edited women's knitwear range, was soon picked up by Bergdorf Goodman, Barneys, Opening Ceremony, Matchesfashion.com, and more. Their quirky, colorful knits, commitment to quality and craftsmanship, and almost obsessive attention to detail caught the eye of the LVMH Prize panel back in 2015, and the label was shortlisted for the award. Additionally, Orley was a 2014 CFDA/Vogue Fashion Fund finalist and was nominated for the 2015 CFDA Swarovski Award for Menswear. They've been nominated for the emerging menswear accolade again this year. Alex, however, is particularly pleased about the brand's latest milestone—Orley has just moved into a new studio double the size of its previous headquarters. "We're not going to have to share a desk anymore, which I'm really excited about," he laughed.
Alex credits the line's success to strong retail partnerships and a clear focus. "We're not attempting to be for everyone," he said. "Instead of painting with broad brush strokes and trying to attract a really large audience, we've always been narrow in our vocabulary as far as who we're speaking to and what we're trying to say. I think people are receptive to that." Identifying a niche and sticking with it has served these three emerging talents well, and they don't plan on shifting their model to fit the new see-now, buy-now craze. "I think all that noise is really industry-facing. Or retail sales are good, and we're not looking to explode the system—we're just trying to tell our story in a compelling way, so we're going to keep doing what we're doing."
When asked how Orley's family dynamic has evolved over the past four years, Alex chuckled. "Matt and I are definitely still brothers, and Matt and Sam are definitely still married, so in that sense, the dynamic is very much the same." However it's not always sunshine and lollypops in the studio. "We agree on big picture stuff, but we'll get into it over the minutiae, like moving a cuff from here to there," Alex admits. "I fight with Matt like he's my brother, but I think it's surprising for people that I fight with Sam like she's my sister." Hey, being passionate means not always being pleasant. But squabbles aside, the Orleys are in a solid place. "I feel like we're having a lot of success by being true to who we are," Alex mused. "Ultimately, it's about sticking to that."
0 Comment