"In the future, everyone will be world-famous for 15 minutes," Andy Warhol said in 1968. His prophecy captures the current state of street style to a T—although today it's more like 15 seconds.
In the age of smartphones and social media, everyone can be a street style star. #StreetStyle clocks over 12 million posts on Instagram. Facebook, dating apps, and the Internet in general have made everyone more self-aware about the way they get dressed. It's totally democratic now.
My first exposure to "street style" came in 2007 during a fashion closet internship at Teen Vogue. Taylor Tomasi Hill was the accessories director at the time, and I became obsessed with her personal style (apparently, I wasn't alone), coveting these vertiginous, chunky biker boots she wore by the cult, now-defunct NYC label Phi.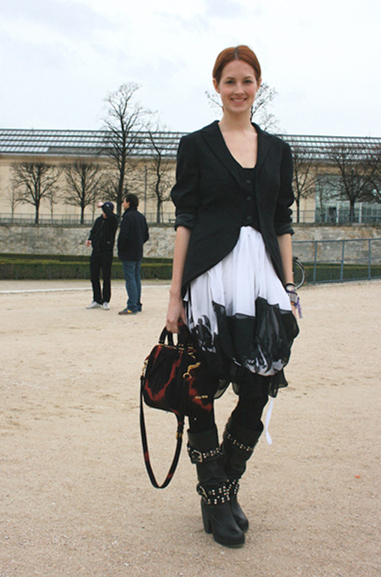 Photo: Street Peeper
When I searched the boots online, her picture popped up on Jak & Jil, a photography website by Tommy Ton. Discovering his site was my portal into a whole new world of style inspiration that had nothing to do with the runways or glossy photo shoots. These were real, chic women (often fashion editors) who all of sudden become demigods when they dressed up for fashion week—like super heroes putting on their designer capes. I was hooked.
"The great thing about street style, in theory, is it seeks to capture authentic personal style out in the wild," said fashion director and stylist Rachael Wang, who is frequently snapped herself. "It's wonderful when people are celebrated for candid self expression.
The late aughts were the golden years of modern street style as we know it (notwithstanding pioneers like Bill Cunningham). "In the beginning, there were only a handful like Scott [Schuman], Tommy [Ton], and Phil [Oh]. They were guys who all loved fashion and were taking pictures out of fascination, as a hobby," said Wang. "Now it's a business."
The street style scene exploded overnight, spawning a new legion of bloggers who used more-is-more style as a power play and branding tool. They started out-peacocking the editors (except for patron saint Anna Dello Russo), inspiring thousands of aspiring bloggers to loiter outside of the shows in ridiculous outfits hoping to get their pictures taken. Couple that with the aggressively growing pack of fashion week paparazzi, and you get what Suzy Menkes notoriously called "the circus of fashion."
When street style reached its peak in 2012, Phil Oh rattled off a list of 30-plus photographers you were likely to see outside every show—and those were just ones he recognized, including Adam Katz Sinding, whose Website Le 21ème proudly proclaims, "This is NOT a Street Style Blog." Sinding compares the flashbulb mob to an ecosystem. "You have a forest filled with deer (the showgoers) and a small population of wolves [the photographers]," he says. "Those wolves eat well and increase their pack. Eventually the wolves are doing so well that they outnumber the deer. When it's 10 AM and Chanel has started...and there are still 500 people standing outside, there are too many wolves."
The general consensus among most fashion folks? Street style is beyond tired. The majority of street slideshows have been featuring the same dozen or so girls repeatedly for years—and more often than not, their entire head-to-toe look was borrowed or gifted. In fact, some girls get paid by labels to wear their clothes during fashion week. Not to mention many of the shots you see are posed. Brands have co-opted the zoomed-in, on-the-go aesthetic to push product—just wait until we can click-to-buy on Instagram. In short, street style has become less candid, more canned.
What killed it? Lack of authenticity. Consider the swift rise of Snapchat, for example, which thrives on raw, in-the-moment posts rather than pre-planned photo ops. Street style needs more of that realness again, and it can start by diversifying its subjects (who are basically all models or skinny white women), and expanding its scope beyond fashion weeks.
"I'm personally more inspired by candid photos of club kids in Berlin, Harajuku girls in Tokyo, and beachgoers in Rio than runway clad editors attending Couture in Paris," says Wang. "I love seeing how people interpret fashion in totally unselfconscious ways." Agreed. That said, as much as I love to hate those girls who court attention and get their picture taken [oh, and seriously, stop thinking you're too cool/important by pretending to be busy on your phone], part of me secretly wishes I could be that kind of person, too…nah.
"Street style is a trend, to be sure. But I don't think I follow trends. And I definitely try not to shoot them," says Sinding. "We have to choose, to brand ourselves. We get to dictate how to tell our story of what Fashion Week is."
0 Comment