To pull off an unabashedly sparkly, curve-hugging dress with peek-a-boo cutouts and a nearly-belly-button-low neckline is no easy feat. Glittery, tight, and flesh-exposing can often veer…well, tacky. It's a delicate dance between vulgar and sexy. Just ask Elizabeth Sulcer, who dressed many of the Victoria's Secret models for the official post-show after-party on Thursday at the Mandarin Oriental Palace in Paris. Lais Ribeiro dripped in gold Balmain; Bella Hadid shined in a Swarovski-encrusted showstopper from Julien Macdonald's Spring 2017 collection. All her clients fulfilled the mandate of looking overtly sexy, but tastefully so. Again, no easy feat.
Sulcer is not really a celebrity stylist—it's more like she dressed some of her best girlfriends for the evening, having an informed eye from her editorial styling gigs and having worked with many of the VS models for a while. She studied fashion at the Rhode Island School of Design, spending her summers apprenticing for Lee McQueen in London. After graduation, Sulcer landed the position of fashion director of BlackBook before branching out into styling. She's worked with every photographer from Mert Alas & Marcus Piggott to Peter Lindbergh for major fashion glossies spanning from American Vogue to Numéro Paris. In addition to her editorial work, Sulcer regularly consults with brands including, of course, Victoria's Secret (whose annual fashion show, by the way, will be broadcast tonight at 10 PM EST on CBS). It was through her work there, consulting on the brand's ad campaigns, that she got to know the models, who then wanted her to style them in real life. Here, Sulcer tells Fashion Unfiltered all about her approach to a glamorous, Angel-filled evening.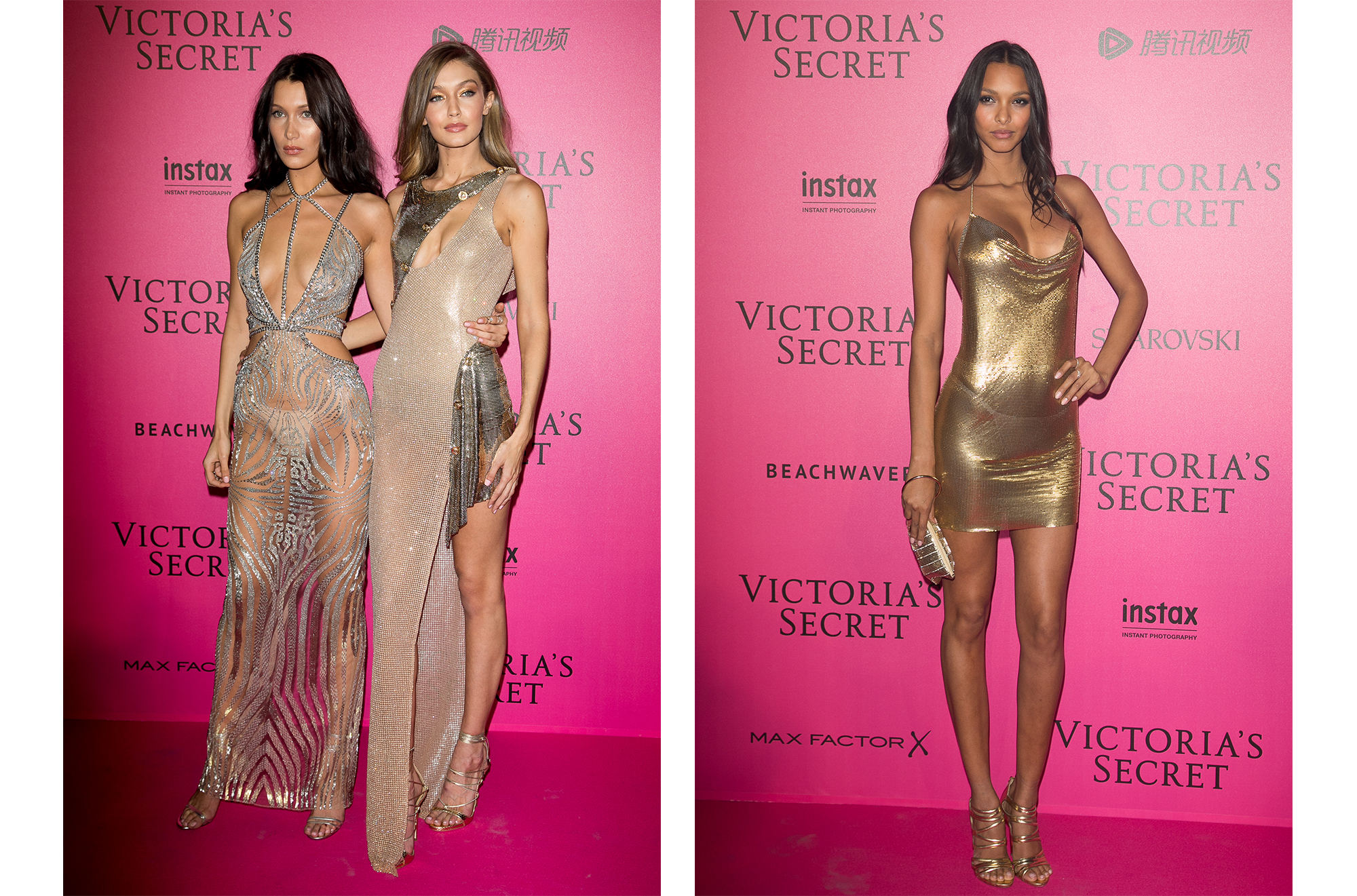 Bella Hadid, in Julien Macdonald, and Gigi Hadid, in Versace; Lais Ribeiro in Balmain
Photo: Getty Images
Taylor Harris: How do you prepare for an evening like the VS after-party, when you're dressing so many clients?
Elizabeth Sulcer: The key is being highly organized and you've got to start early. We started prepping this way before the actual event. I work very closely with a lot of the girls on many of the Victoria's Secret ad campaigns and other high fashion jobs for various magazines so I know them very well. I've worked with a lot of them for a very long time so I know their personal style.
TH: How far in advance did you start sourcing looks?
ES: We started having the conversation about a month beforehand and all of our requests were in at least three weeks in advance. I wanted to work with all the fashion houses that I normally work with and they need notice. It's getting close to awards season so you need to plan ahead.
TH: There was quite a mix of designers, from Balmain to lesser-known labels such as Kristian Aadnevik, which Stella Maxwell wore. Was that deliberate?
ES: We always want to feel like it's an exciting statement and, like with any job, you work with brands that you feel inspired by. We pulled from every high fashion house and so by the time we did the fittings, we had over 200 dresses for the girls to choose from. Each girl is different and unique, so I wanted to have options, different directions for each girl. Certain girls we knew exactly what we were gonna do.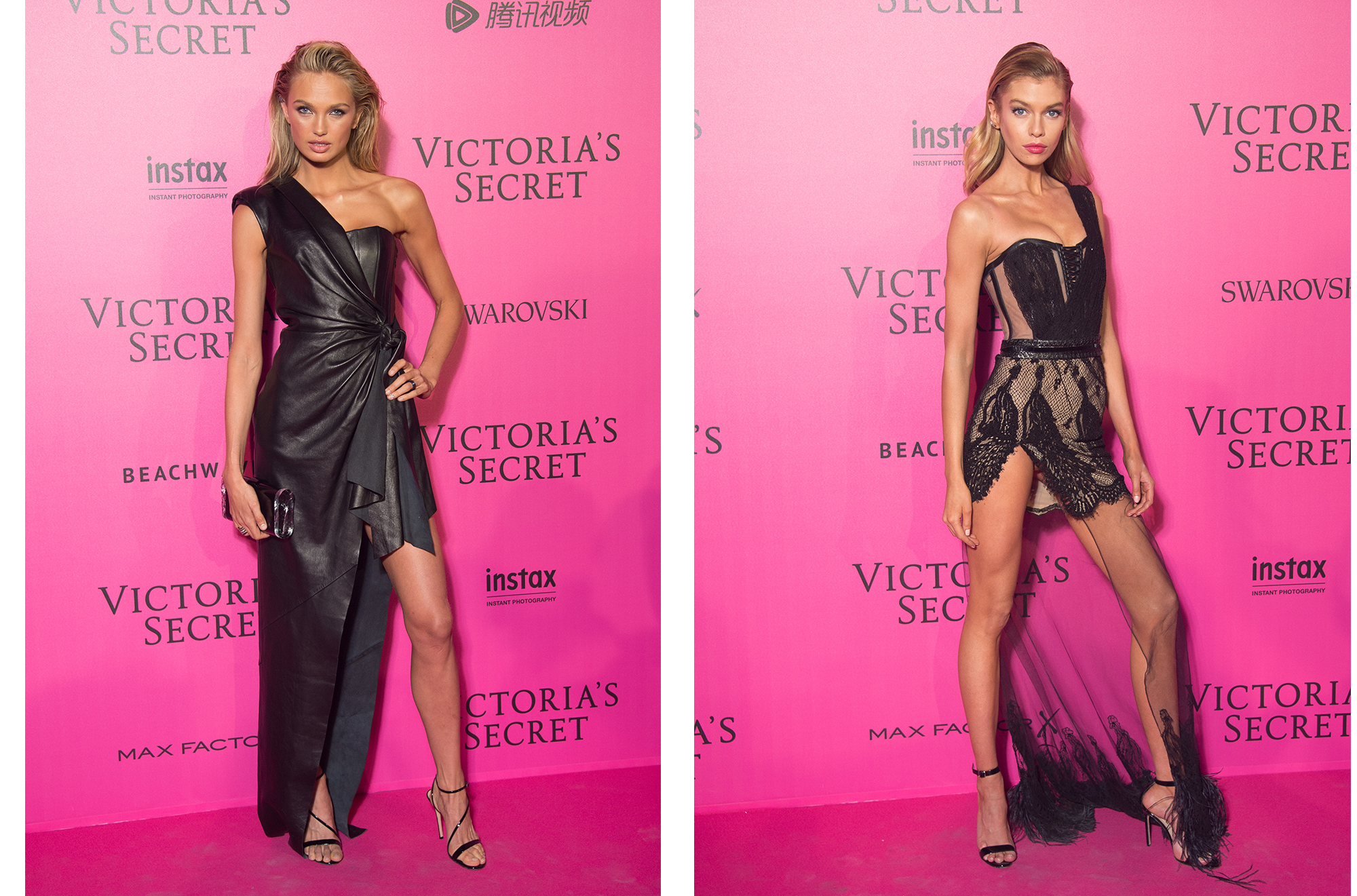 Romee Strijd in Gold by Misha; Stella Maxwell, in Kristian Aadnevik
Photos: Getty Images
TH: What do you mean?

ES: Well, with Bella, I knew that [Julien Macdonald dress] was the look from day one, the day it came down he runway. I was positive. We had been talking about that dress since the actual show. Both of us just felt really strongly that it was the one. It was the same case with Lais [Ribeiro] in the gold Balmain; I was positive that was it for her. Romee [Strijd]'s dress was another one that we chose way in advance—about two months in advance. She wanted something sort of rock-and-roll but still very glamorous and sexy.
TH: When it's not a match made in heaven, how do the fittings go?
ES: We try a few options, photograph each option, and have a running conversation. I'm close to the girls and we talk all the time so it's an ongoing thing. I always want to hear what they think and want. I want them to feel good and beautiful and happy.
TH: How was the party?
ES: I had so much fun. Victoria's Secret is not only one of my biggest clients, they're just incredible people. We're like family, so to be there for the girls the whole way through—I was backstage during the show, doing a special shoot for Self Service. It was just so special. Everything was so glamorous. I mean, it's in Paris, in the Grand Palais. Does it get better?
0 Comment