For the past few seasons, designers and beauty pros have pushed the individuality message hard both on the runway and behind the scenes. From casting diverse models who are more relatable to consumers to celebrating naturally textured hair to singling certain girls out via abstract liner or red lip (a tactic taken at both Atluzarra and Proenza Schouler) to eccentric styling that adds an enviable amount of quirk (think Gucci)—it's all about you doing you, whatever that may be. No longer are armies of same-looking supers the norm, the goal is to stand out. "We're not trying to clone [these models] into one thing," explained makeup artist Gucci Westman backstage at Rag & Bone's Fall 2016 show. "We're trying to be more real—it's what feels right at the moment."

Or is it? If you scroll through Instagram or even look to a handful of fashion powerhouses with cult-like followings, "twinning" or "uniforming" is bigger than ever. Cara Delevingne and Suki Waterhouse doubled their fun with blue braids, while Kendall Jenner and Hailey Baldwin sported "twinning" sweatpants and crop tops, and, as Jenner noted on Instagram, "we didn't even have to try." Where it was once horrifying for A-listers to wind up on the "Who wore it better?" list, now celebs are purposely coordinating for red carpet events (see Jenna Lyons, Lena Dunham, and Jennifer Konner or the Haim sisters at the Met Gala for proof). Even Elie Saab signed off on the idea at his haute couture show, sending models down the runway alongside their mini-mes.

In short: The bigger your matching militia, the better. So alert your squad STAT. This will need to be a group effort after all—you didn't spend all that time curating a selection of friends for nothing. The time has come to play your hand of humans. For those of you assembling your ranks, we suggest starting small. Choose a day of the week (lets say…Wednesdays?), and a simple item to coordinate on (the color pink, for example). Then make it law, prepping the group for the homogeneity of your reign, a show of unity which will eventually be useful as an intimidation tactic for a more hostile takeover.

Next, look for inspiration! Why not try wearing head to toe Balmain, like the #BALMAINARMY? If that's a step out of your budget, look for IRL instances of uniforming, such as Taylor Swift's 4th of July bash. She and her pals donned matching striped maillots and—for the second year in a row—American flag onesies. To top it off, Swift and her girl gang used "#Taymerica" on all of their posts. If you're wondering how to corral your cadre of bitches without Taylor's talent, ambition, or generosity, all it takes is some intense organization and maybe a Pinterest account. Uniforming beauty is another avenue to explore. Why Face Swap when you can all don identical winged eyeliner as seen in Givenchy's Fall 2016 campaign?

It's great that the fashion world has made significant strides to embrace all stripes and types, but what people really want is to feel accepted (especially on social platforms) and validated by several other people doing the same thing (otherwise it's unclear if you made a good decision). Hell, the whole uniforming thing worked for Dolce & Gabbana (just revisit any of the design duo's finales from the past umpteen seasons) long before Olivier Rousteing or Swift made it a thing off the catwalk. The key is to be the one in charge of setting the uniform when uniforming—because you're still a fashion leader, even if you're following a social media scheme.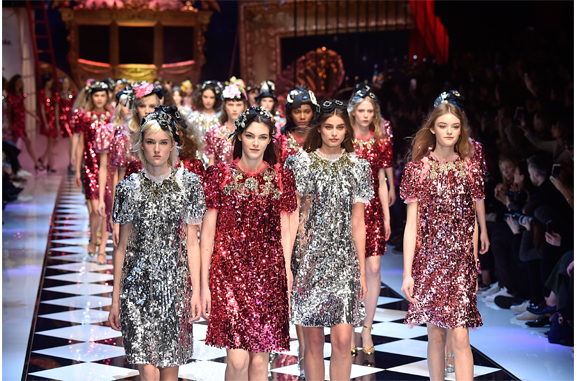 Photo: firstVIEW
0 Comment