Hillary Clinton made history last week when she became the first woman in history to accept her party's nomination for President of the United States. And guess what? She did it while wearing a suit—and a very slick white one, at that.
Call it a coincidence, but while the mainstream media has been focusing on Clinton's penchant for suiting the past few months (let it go guys, a woman is running for President—there is so much more than blazers to explore here!) the fashion industry has been having its own suiting moment. During the Fall 2016 shows, suiting emerged as a prominent trend on the runway, with everyone from Gucci to Balenciaga to Ralph Lauren having at least one in their lineups. There is a suit for every occasion, and for every type of wearer, which kind of makes it hard for many modern women to comprehend that 100 years ago, what was socially acceptable is nowhere near as free as it is now. Among the many innovations of the 20th century, the suit might just pose the most interesting sartorial unit of measure to gauge the changing role of women in society. Believe it or not, we've come a long way just to argue over what cut Hillary Clinton's blazer is, as opposed to being shocked that she is wearing—gasp—pants.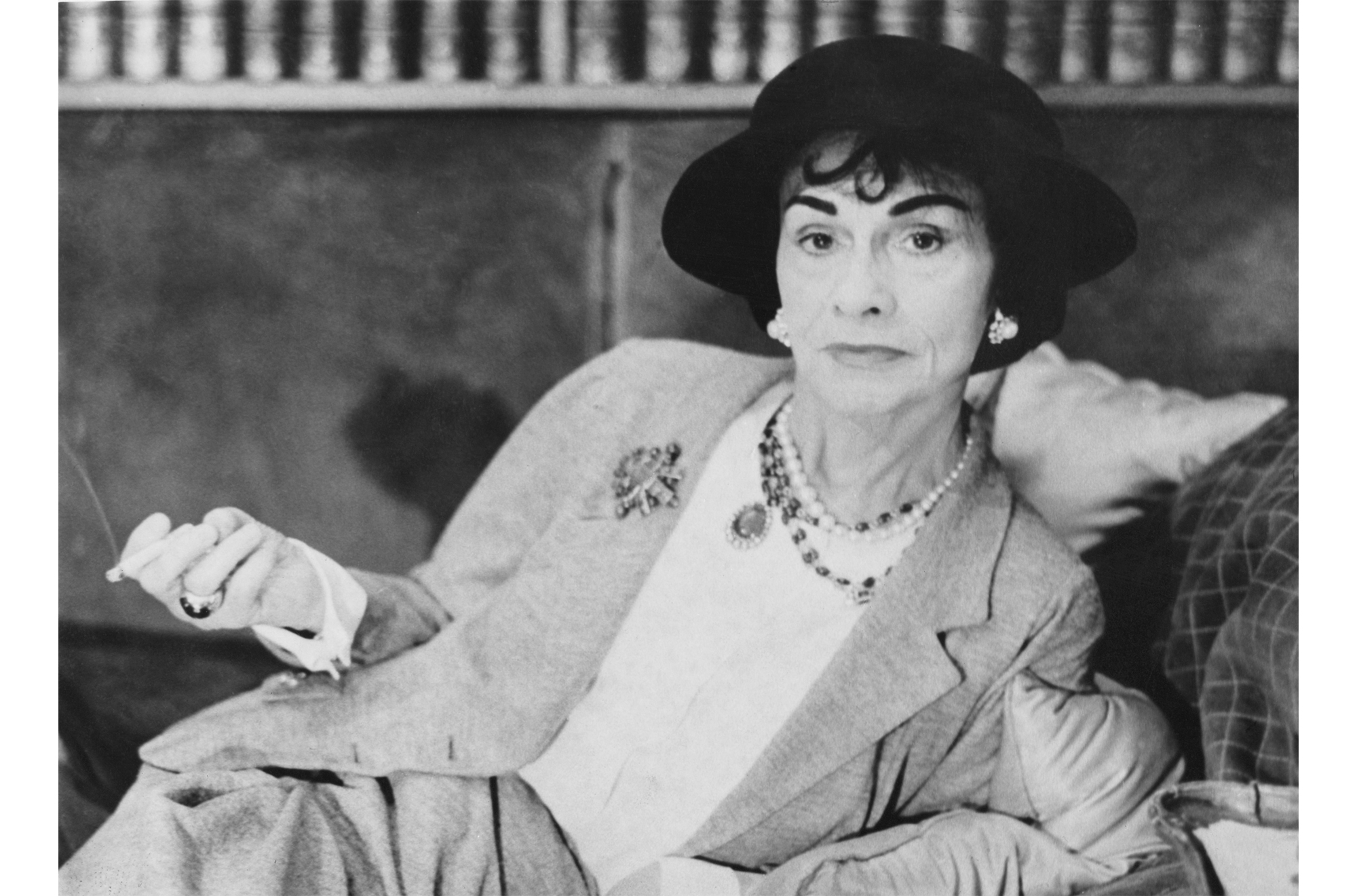 Coco Chanel circa 1962 / Photo: Getty Images
It's difficult to say where the history of women's suiting begins, as you first need to define what a women's suit actually is. Some argue that the earliest forms of suits for women were riding costumes, although they more closely resembled the women's wear of the time, rather than suiting similar to what men were wearing. (Anyone remember that scene in Downton Abbey when Lady Mary traded her riding skirt and jacket for a pair of jodphurs? Scandale!) But this is where the idea of women's suits began—a tailored top piece (jacket or coat) with a matching bottom.
Tailoring, especially in jackets and blazers, has always been a big part of couture and womenswear, although in the 1920s, Coco Chanel was one of the first designers to lift ideas from menswear. She first introduced her suit in 1925, which was collarless, and paired with a skirt.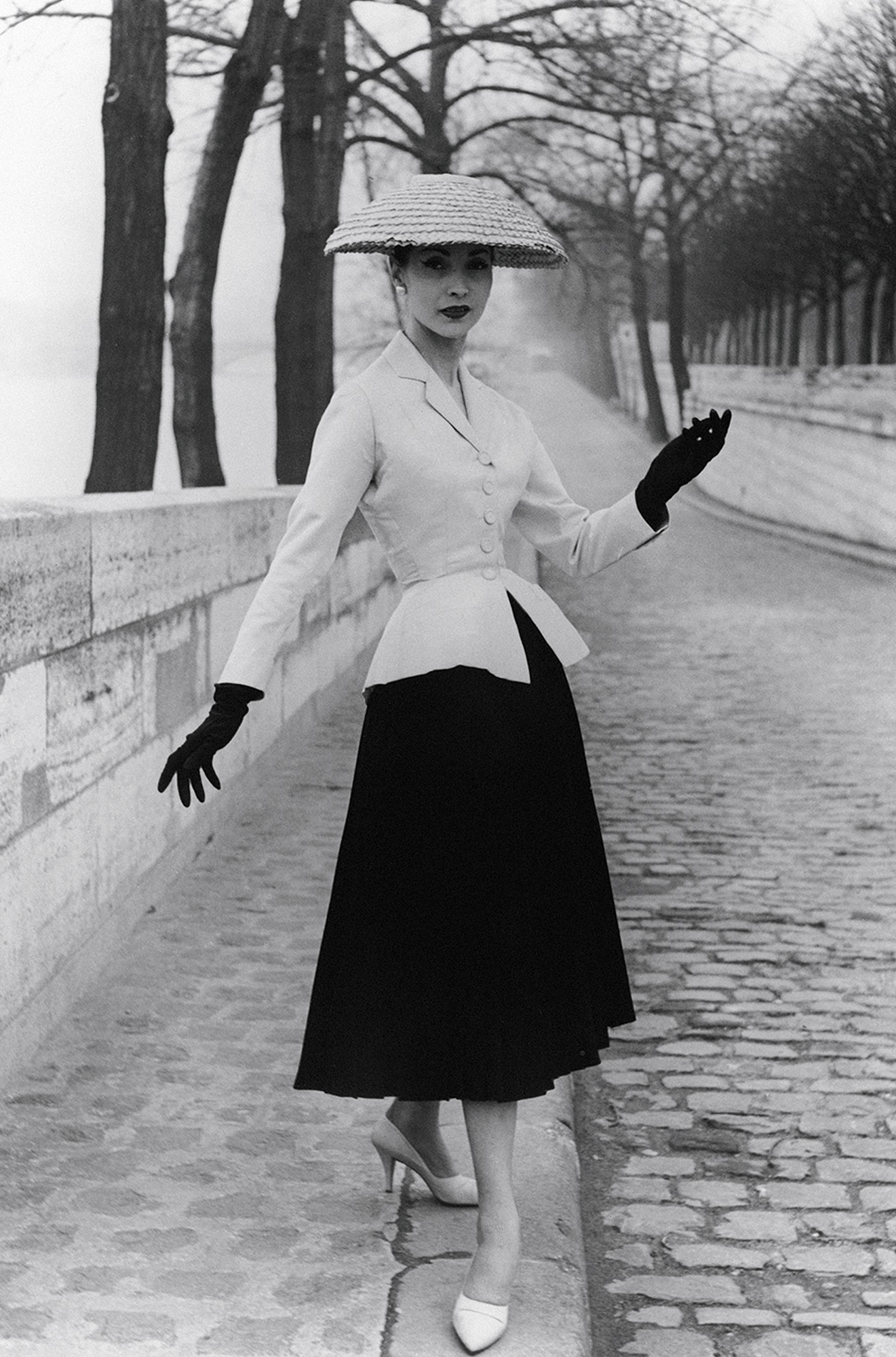 Christian Dior's New Look / Photo: Courtesy of
The skirt, at this point, was the only option for the average woman. In pop culture, women donning pants were seen as subversive, yet some daring, pant-wearing ladies created some iconic sartorial moments. Marlene Dietrich made quite an entrance into American cinema in 1930 with Morocco, which featured a scene in which the actress performs in a tuxedo. Despite the fact that it was a controversial move, the movie was ultimately well received, however it would still be a few more decades before pants became socially acceptable attire for women.
During the wartime years, the suits women were allowed to wear under the heavy fabric restrictions mimicked the bold shoulders and lapels of men's blazers, although they were designed to use as little fabric as possible. Post-war Dior's New Look re-shaped the fashionable silhouette, bringing back full skirts (a luxury that most women had not had for four years), and pairing them with heavily tailored jackets. Dior's classic Tailleur Bar ensemble is a prime example of this. Meanwhile, Chanel's tweed suit made a comeback among the upper classes in the 1960s, and was shown, again, with a skirt, albeit a much slimmer one. But through youth culture in the decade, pants were slowly gaining acceptance in leisurewear, and it was only a matter of time before they made the leap to ubiquity.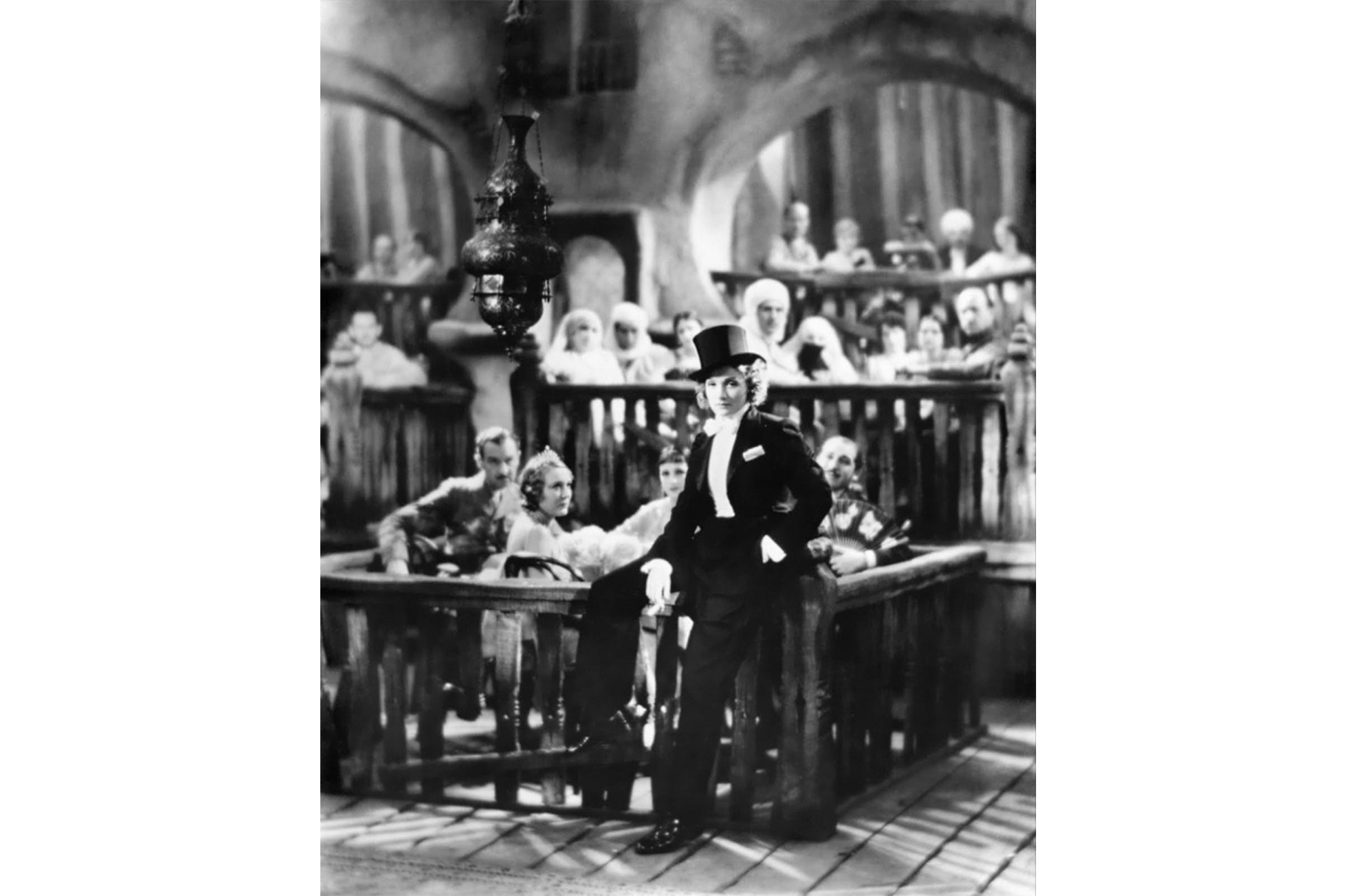 Marlene Dietrich in "Morocco" / Photo: Courtesy of Paramount Pictures
In her essay, "Anti-Fashion: The 1970s," fashion historian Dr. Valerie Steele discusses the adoption of trousers by working women, which previously, she asserted, were a symbol of "masculine power." "The 1970s marked the first time in history that trousers were really accepted as female apparel, not only for informal occasions, but on the street and in the office," Steele wrote, calling it "a development that really does seem to have reflected women's social and economic liberation."
As women began to enter the work force in larger numbers, suddenly suiting for women became the norm. Writing on the Women's Liberation Movement in her book In Transition, Judith Bardwick cited a 1976 article in The Wall Street Journal, which reported that the federal government reported an increase of 1.5 million people in the labor force between 1975 and 1976, and 1.1 million of those workers were women. While Bardwick theorizes that women were becoming more interested in work as a way to develop their own potential, and to establish themselves as individuals separate from their husbands, the increasing number of divorces may also have contributed to an expanding number of women in the workforce. As Barbara Ehrenreich discussed in her book The Hearts of Men, while many women won custody, most did not receive adequate monetary child support. "The result of divorce, in an overwhelming number of cases," Ehrenreich wrote, "is that men become singles and women become single mothers." It is fair to say that while some women were choosing to work, others needed jobs out of necessity, and with that came a desire for professional attire.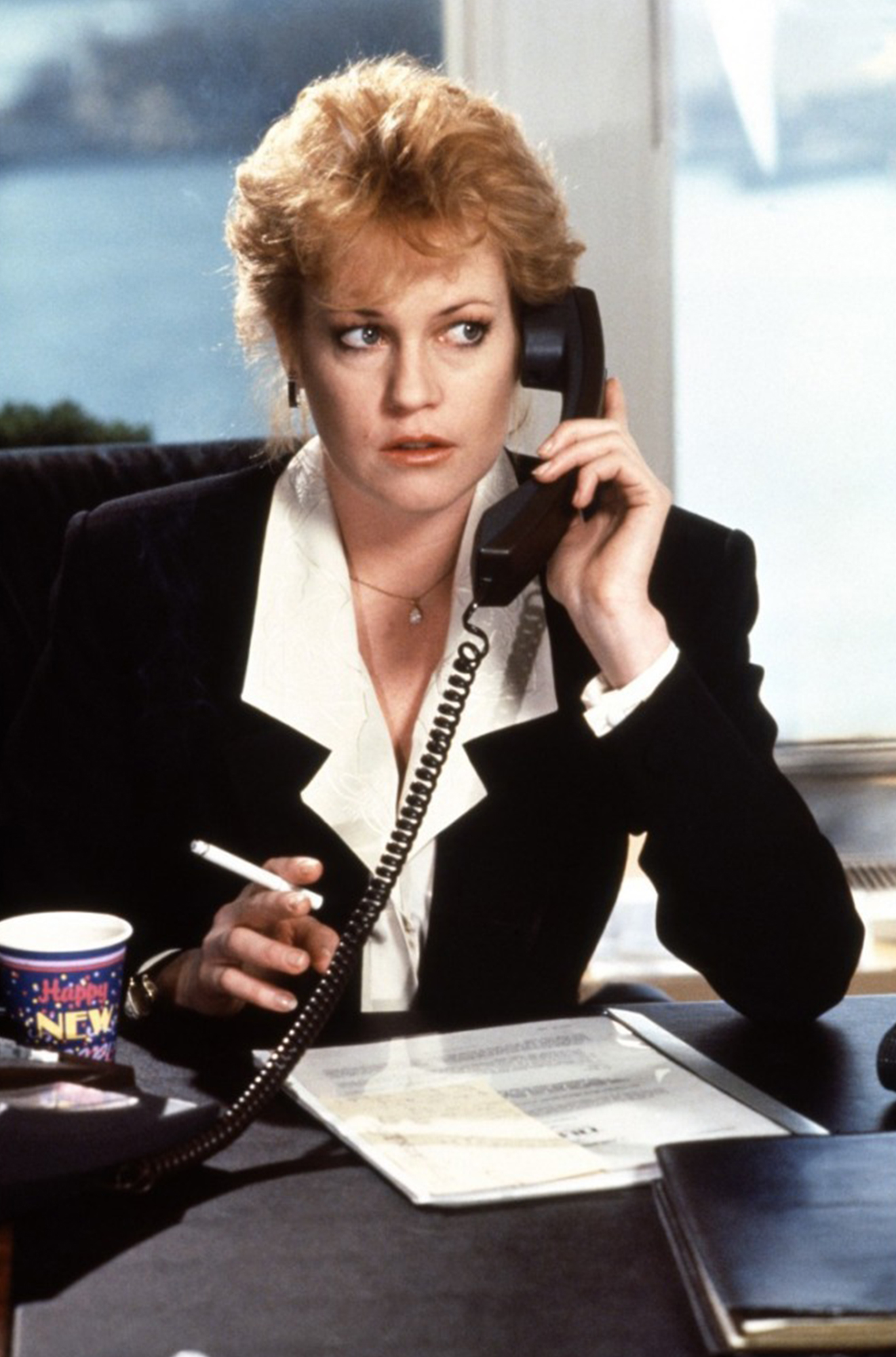 Melanie Griffith in "Working Girl," 1988 / Photo: Courtesy of 20th Century Fox
In the world of high fashion, Yves Saint Laurent's Le Smoking tuxedo became an icon of the decade, although the suit was first introduced in 1966. Le Smoking made women in suits sexy, not only embracing notions of androgyny and subversion, but also helping to normalize suits for women. And obviously, it made women's suits deeply chic. It cannot be underscored how important YSL's tuxedo has been to women's fashion, nor the lasting impact it has had—Le Smoking has been a staple of the house (versions of it were seen for Fall 2016), and has been often replicated by others.
As women solidified their place in the workforce, and many found themselves working up the corporate ladder in the 1980s, "power dressing," which involved oversized shoulders and a slightly boxier silhouette (depending on the designer), became an important idea in fashion. Two pop culture references outline the basic looks for a woman in charge: The film Working Girl (which featured the wider suit looks of corporate America), and the television shows Dynasty and Dallas (which dressed the female characters in bolder, more fashion-forward looks). For every Giorgio Armani and Calvin Klein, there was a Claude Montana or Thierry Mugler.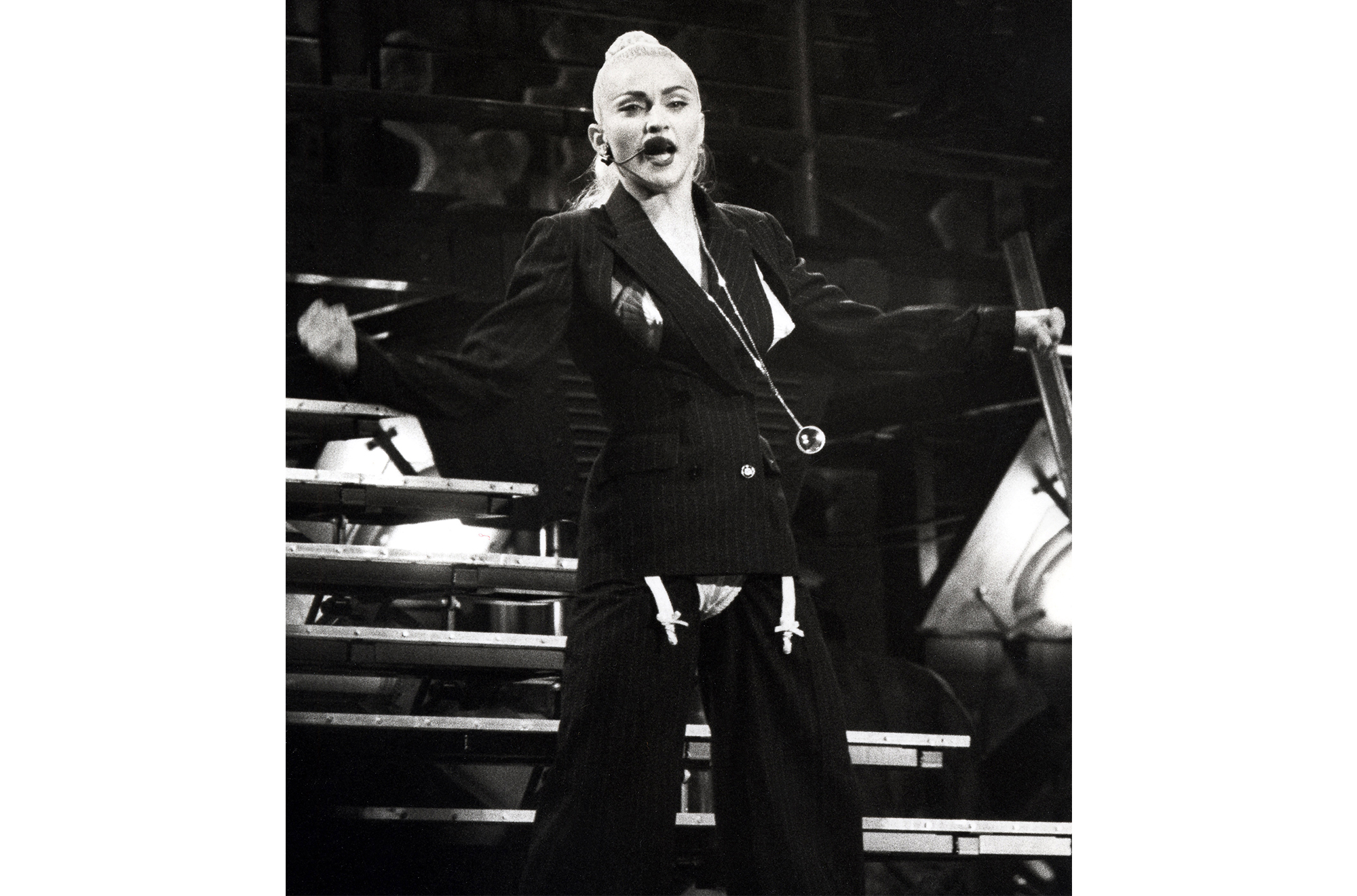 Madonna in a Jean Paul Gaultier suit during her Blond Ambition tour, 1990 / Photo: Getty Images
By the late '80s and moving into the 1990s, much like every other form of women's clothing, the suit became ripe for experimentation and deconstruction. Although traditional suits were evolving to the aesthetics of the time (minimalism and a reduced shoulder size) some designers, such as Jean Paul Gaultier, who made provocative pinstripe suits for Madonna, and Alexander McQueen played with styles and patterns that distorted notions of what a suit could be. This has led to the various styles we continue to see on the runway today.
Despite the celebration of all things avant-garde, many women in professional settings still stick to the pantsuit. This is especially true in the political sphere, where women like Clinton are mocked for the repetition of the same silhouette (which, as FU recently pointed out, is bullshit). However, even though, on the fashion front, she seems stuck between a rock and a hard place (deviating from what she currently favors will only bring on the same, if not more, criticism, for reasons unknown), in terms of color and details, she does have more freedom than her male counterparts, who will consistently wear the same black or navy. Does this make up for the fact that the media focuses on her outfits more than her policies? No. Absolutely not. But less than 100 years after women gained the right to vote in the United States, she has become the first female presidential nominee in history. Progress, however slow, is progress.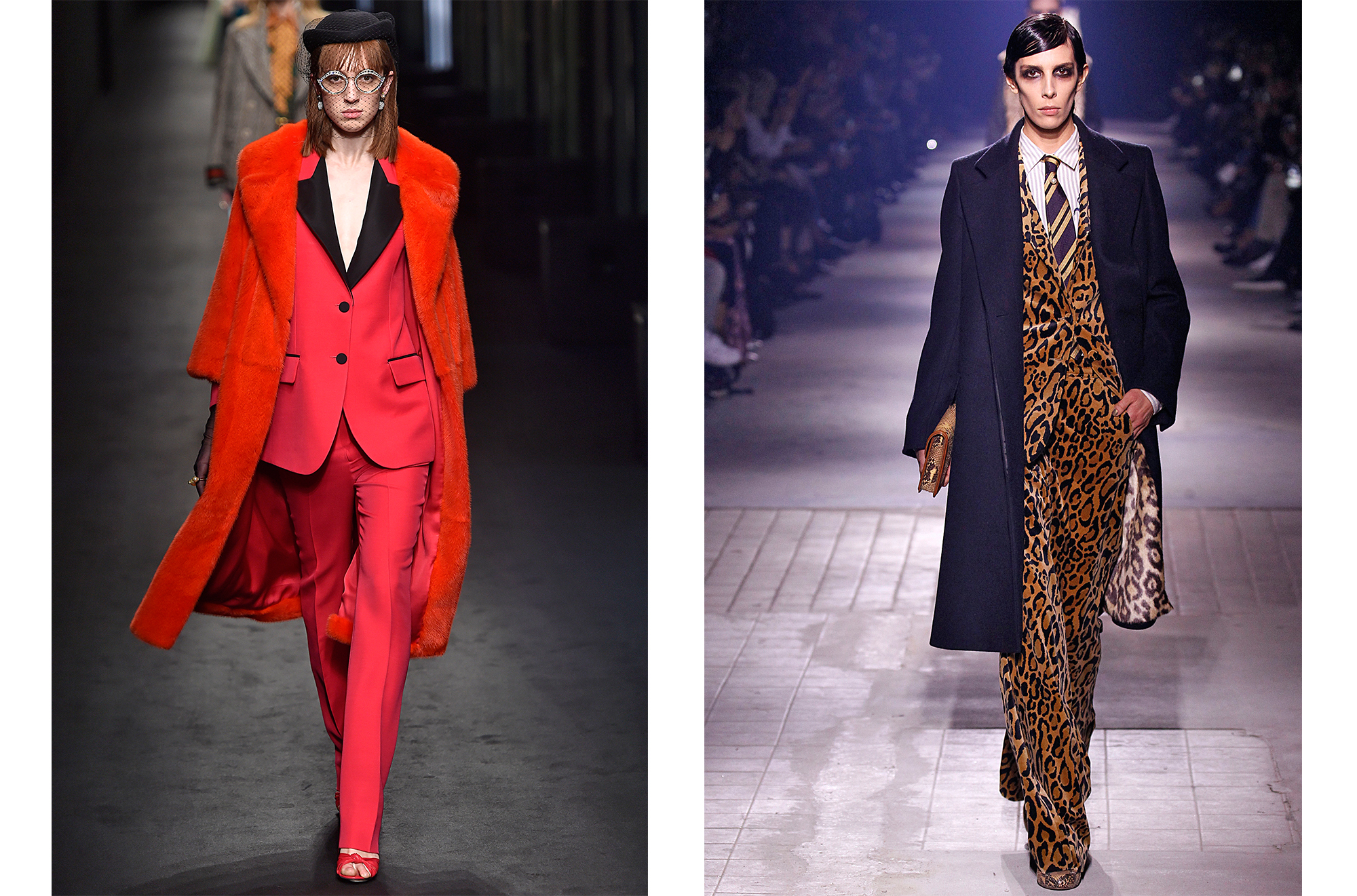 Gucci Fall 2016 Ready-to-Wear and Dries Van Noten Fall 2016 Ready-to-Wear / Photos: firstVIEW
As for the world of fashion, today we seem to be in an "anything goes" phase of suits for women, which, in a way, is a perfect example of just how far women's suiting has come. Just looking at images from the Fall 2016 shows, one can see that there was no single suiting trend that was sent down the runway. Plaids and pinstripes; brocades and velvet; wide-leg trousers, skinny trousers, skirts, or, in the case of Jacquemus, no bottoms at all. Double breasted, single breasted, or belted. Leopard print (thank you, Dries Van Noten), deconstructed (Calvin Klein, Public School, and beyond). Every possible style combination is up for grabs. So go out there and make sure you have at least one suit in your wardrobe. Do it for your great-grandmother. Do it because you can.

0 Comment