People are calling 2016 the "worst year ever," with Zika outbreaks, deaths (Prince, Bowie, Leonard, Zsa Zsa, et. al.), police shootings, terrorist attacks, record-high temperatures, Brexit, Aleppo, and, oh yeah, that time when we elected a reality TV star to run America—ha!—all making things feel, well, empirically awful. As our founder and editor-in-chief wrote in Fashion Unfiltered's very first article, fashion is, indeed, a sign of the times, and naturally it reacted to the collective despondency plaguing the world the best way it knows how: through the clothes. We began the year with the Fall 2016 season, which felt less-than-thrilling. There was a weight of uncertainty that hung in the air (a foreshadowing, perhaps, of what was to come) and many of us—the CFDA included— wondered how to grapple with things like designer burnout, runway relevancy, and consumer fatigue. In June, we saw a reflective season in Milan, from Dsquared2's colorful nod to the tragedy in Orlando to Vivienne Westwood's androgynous, gender-fluid offering. In September, we witnessed Prabal Gurung draw inspiration from Gloria Steinem and Susan B. Anthony and Pyer Moss mock collaborate with Bernie Madoff and Donald Trump. The next month, we watched Maria Grazia Chiuri make a feminist statement during her debut at Dior, and R13 send a sartorial middle finger to our new President-elect. This was, by and large, the year fashion got political. But the year was also marked by experimentation: Consider see-now, buy-now and mixed-gender runway formats. Whether these kinds of changes will solve fashion's identity crisis is yet to be determined, but for now, trial and error seems to be the new normal. On a less serious note, 2016 was, without a doubt, the year of collaborations, with Demna Gvasalia's 18-brand partnership for Vetements' Spring 2017 collection at the very top of the list. And speaking of Gvasalia, he and Gucci's Alessandro Michele were perhaps the most-talked-about designers of the year—for very different reasons. It was the year fashion began a naughty love affair with porn, brought back the concert tee, and cattily debated whether Kendall Jenner and Gigi Hadid are real supermodels, proving that, no matter how bleak the state of the world, fashion can still have a little fun. Below, we nailed down the biggest takeaways of the year.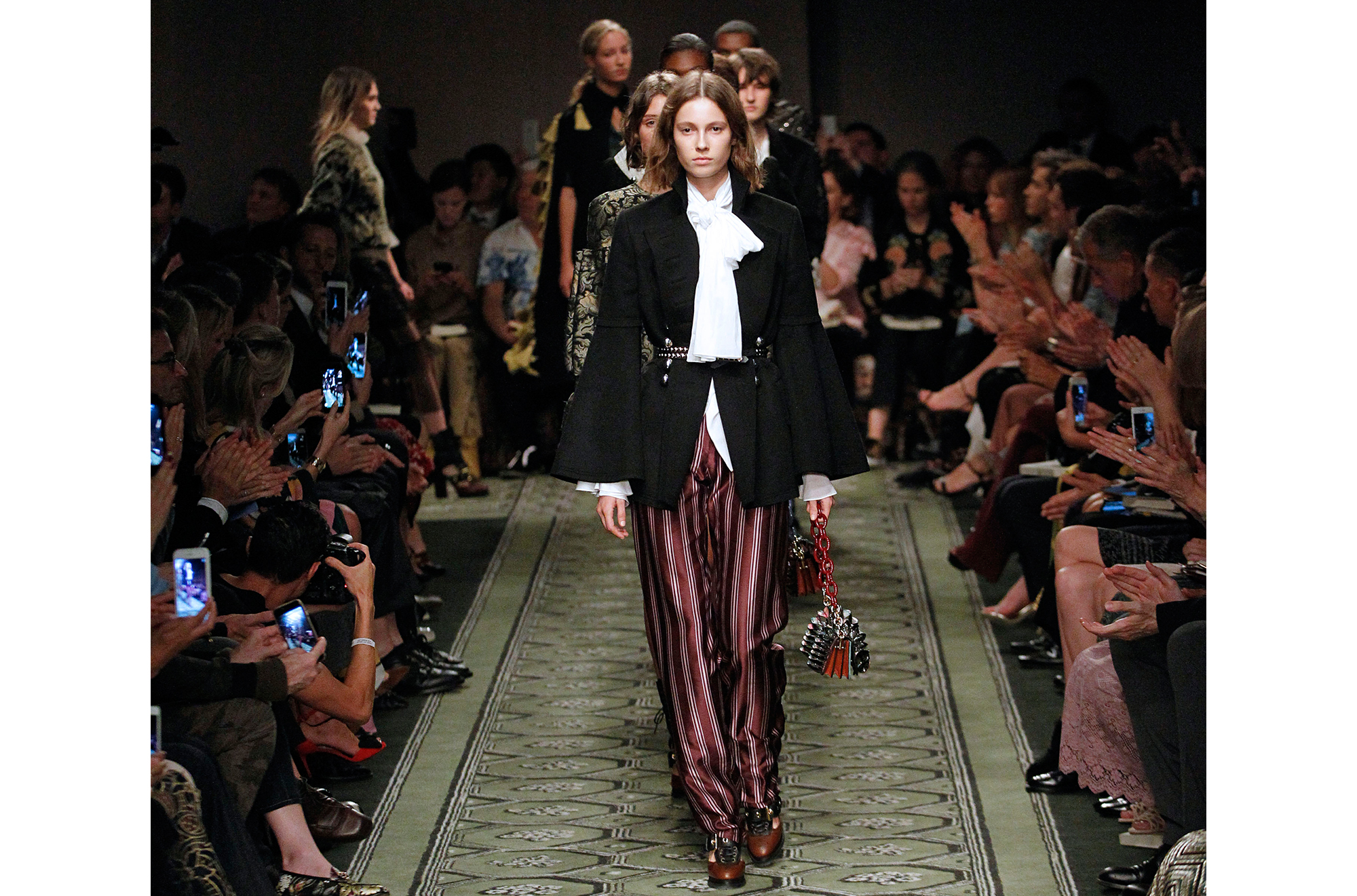 Burberry Spring 2017 Ready-to-Wear
Photo: firstVIEW
1. The Year of See-Now, Buy-Now

To quell the consumer fatigue of waiting up to six months to purchase product after it's shown on the runway, this year saw every brand from Tom Ford and Rebecca Minkoff to Michael Kors and Proenza Schouler turn to a see-now, buy-now business model. It all started, though, with Burberry. Results from the strange season that was Spring 2017 were largely mixed—we'll need more time (that is, more seasons of this kind of strategy) to adequately asses whether a direct-to-consumer model actually translates into better sales, but for now, the fashion cycle is still in flux.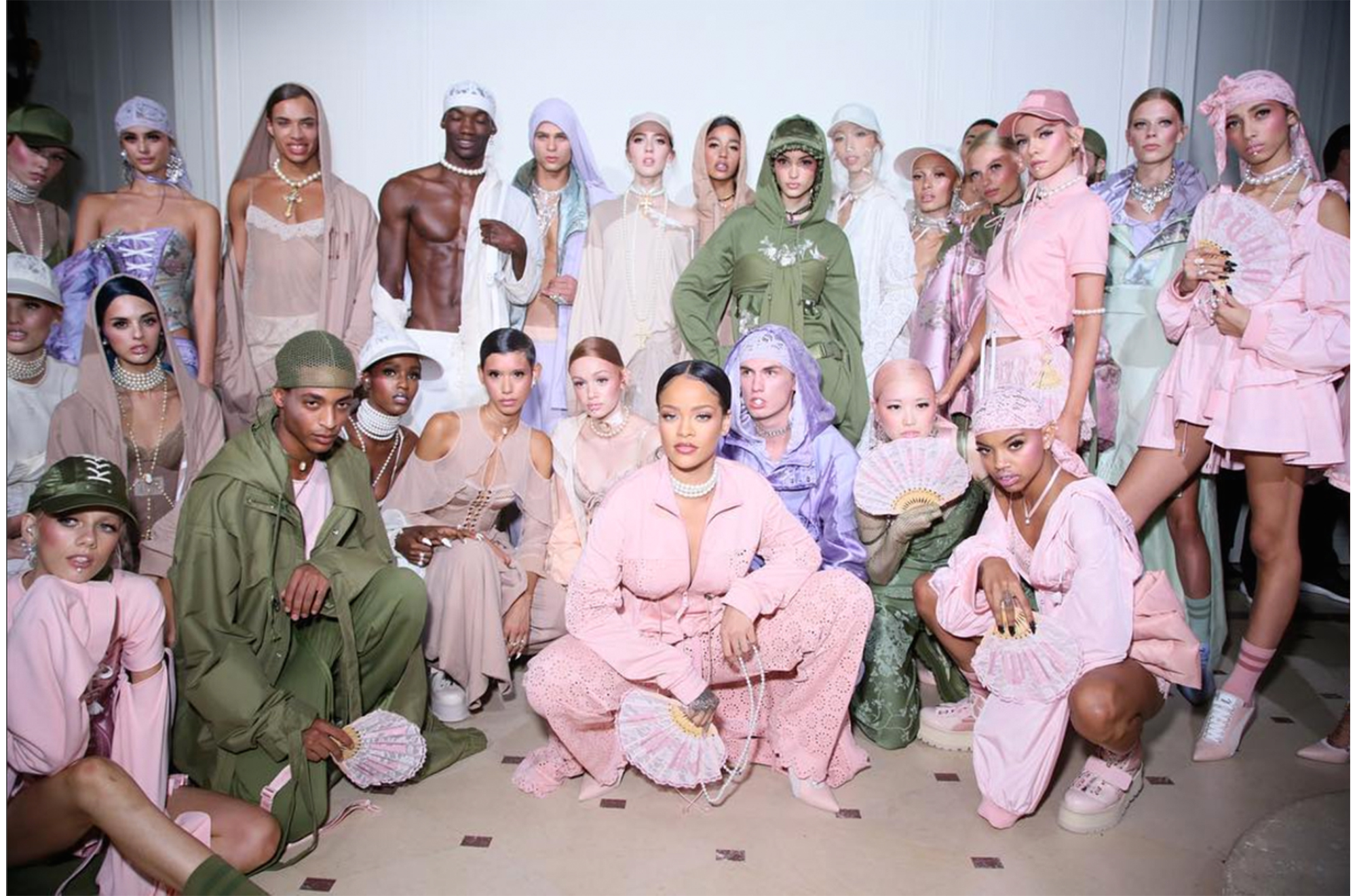 Photo: @fentyxpuma / Instagram
2. The Year of Designer Collaborations

Fenty Puma by Rihanna, Rihanna x Manolo Blahnik, Hood by Air x Pornhub (more on fashion's porn obsession later), Jeremy Scott x Google, Heron Preston x The New York City Department of Sanitation, The Elder Statesman x NBA, Charlotte Olympia x Barbie, Tommy Hilfiger x Gigi Hadid…the list of the year's biggest fashion collabs goes on (and on, and on). Nothing quite takes the cake, however, like Vetements' runway collaboration with a whopping 18 brands, from Juicy Couture to Comme des Garçons to Brioni. Shown at a shopping mall in Paris, Demna Gvasalia's take on couture was bizarre, ironic, and most of all, brilliant.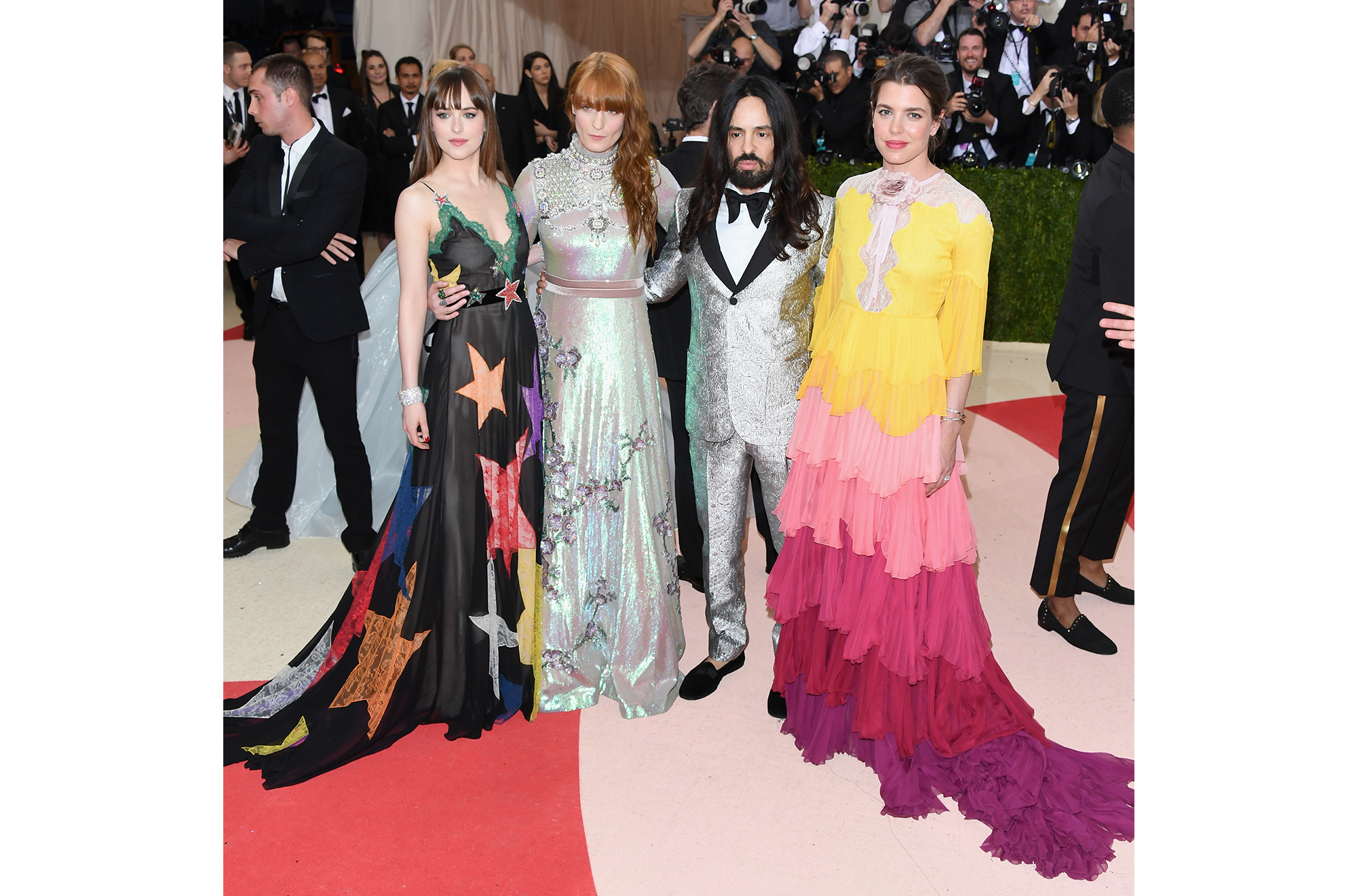 Photo: Getty Images
3. The Year of Alessandro Michele's Gucci
Since becoming creative director of the Kering-owned Italian label last January (his debut collection for the house was for Fall 2015), Michele, who was relatively unknown at the time, has completely revamped Gucci. His more-is-more aesthetic—a vibrant blend of flora-and-fauna, '70s bohemia, and cat lady chic—was a departure from the sleek, sex-oozing Gucci girl of Frida Giannini and Tom Ford. Suffice it to say, Michele has made Gucci "cool" again, with celebrity fans (Beyoncé included) and capsule collections aplenty. The lesson here? Risks pay off.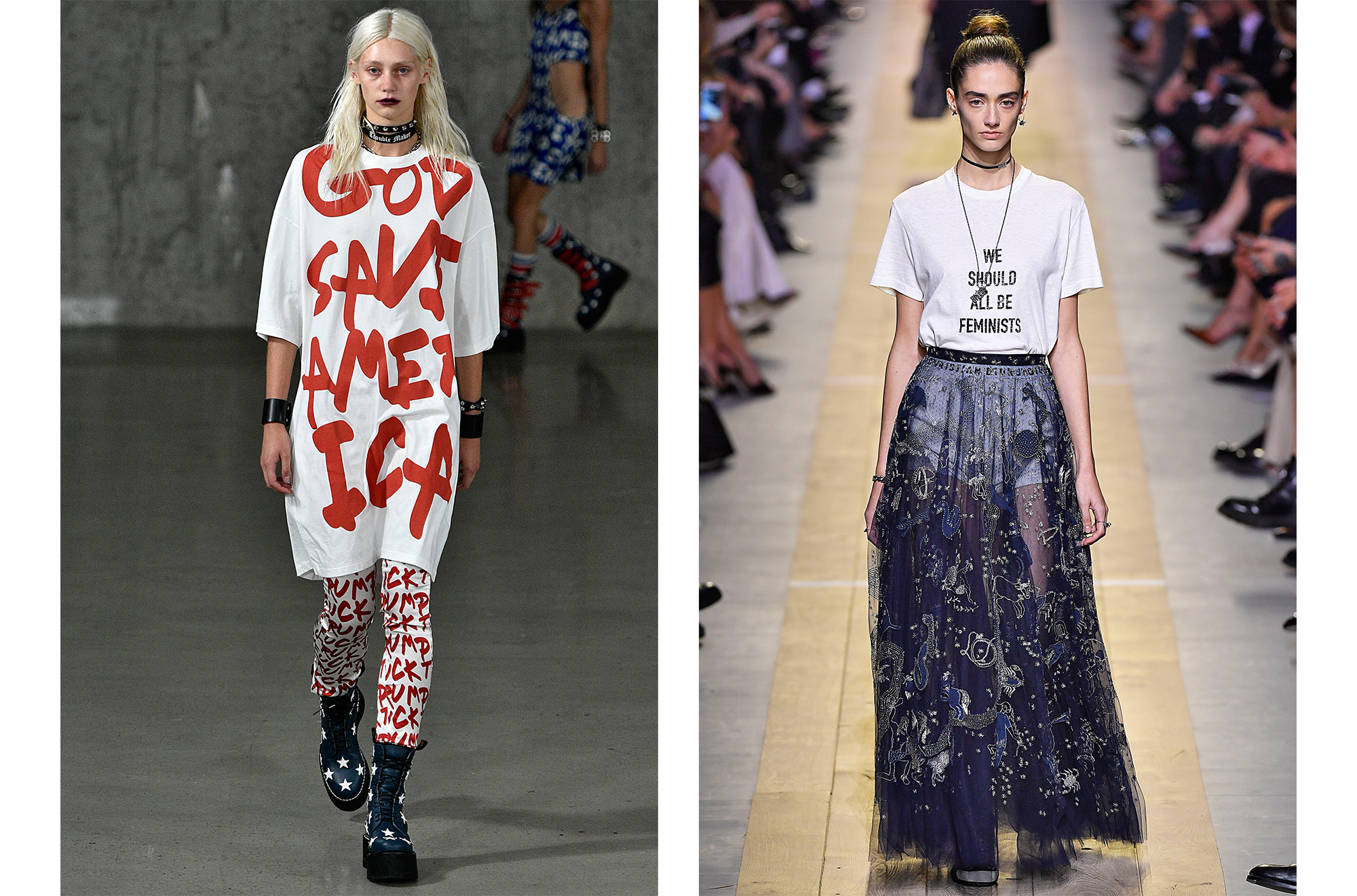 R13 and Christian Dior Spring 2017 Ready-to-Wear
Photos: firstVIEW
4. The Year Fashion Took on Politics
This year saw fashion react to the turbulent-as-hell political landscape in various ways, starting with, as Vanessa Friedman wrote, Beyoncé's Black Panther moment at the Super Bowl in February. We saw Chanel go to Cuba, albeit controversially, in May, and felt a collective mourning when the U.K. voted for Brexit the following month, a dread that was, at the very least, translated into beautiful clothes during the menswear collections in Paris. For Spring 2017, designers like Prabal Gurung and Humberto Leon and Carol Lim of Opening Ceremony infused their collections with political proclamations about, what else, the election. We watched the rise of #pantsuitnation, witnessed Mobama perpetually kill it, and scratched our heads at potentially ironic fashion statements. Never mind the ongoing debate about who will or won't dress incoming First Lady Melania Trump—more than ever, the fashion industry this year proved that it is a platform for political discussion and change. Election outcome aside, the only thing we can really look forward to next year is how fashion will respond—nay, continue responding—to Trump's presidency come the Fall 2017 shows in February.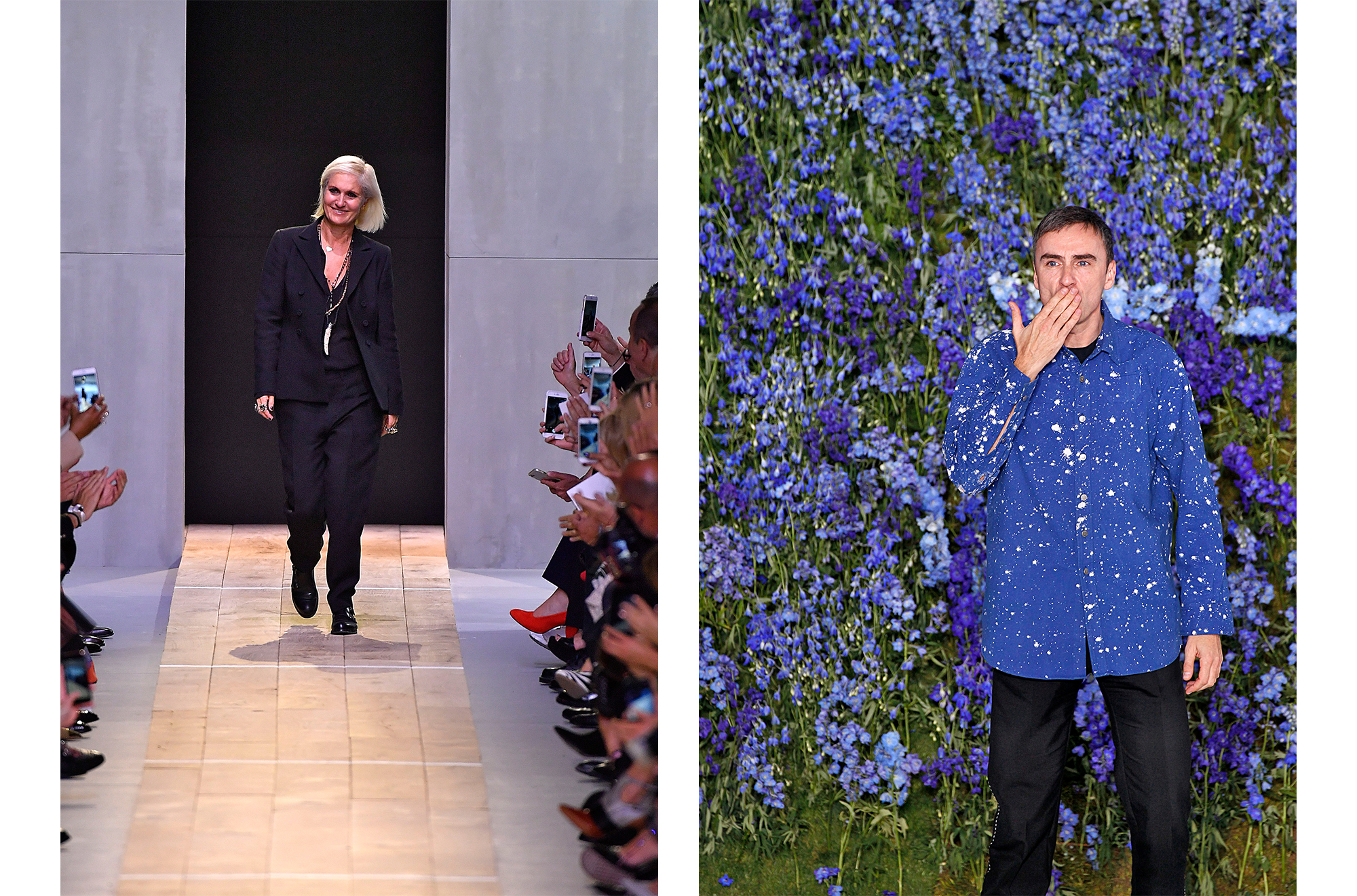 Photos: firstVIEW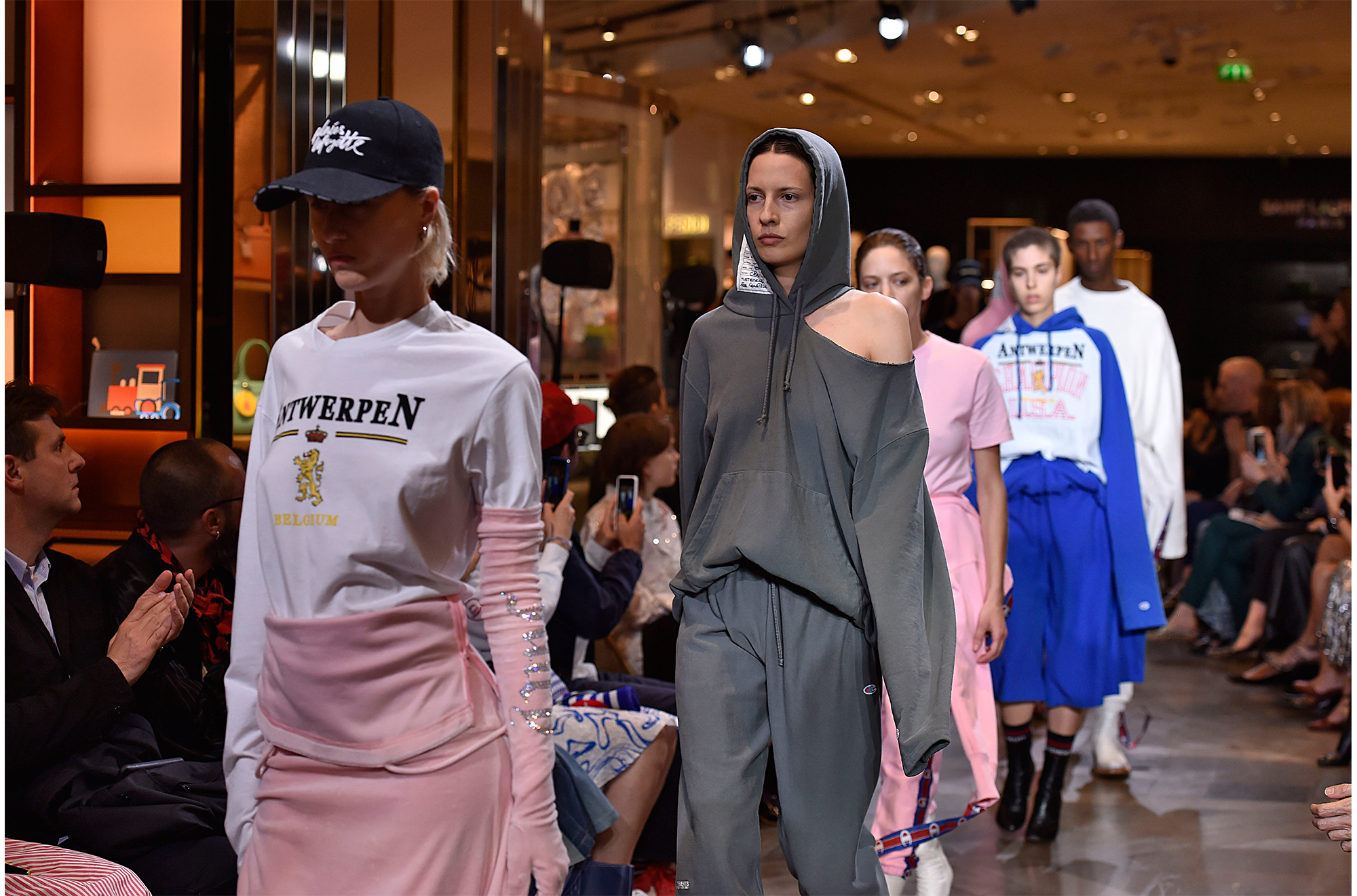 Photo: firstVIEW
6. The Year of Demna Gvasalia and Anti-Fashion

The buzziest word this year? Vetements. (Well, technically, the word of the year was "surreal," but same thing, kind of.) Demna Gvasalia, a 30-something from the Georgia (the country, not the state, obviously) who came from the design departments of Maison Margiela and Louis Vuitton, has singlehandedly revolutionized fashion from the ground-up—and from virtually out of nowhere. His "anti-fashion" approach is one of nonconformism and subversion: One needn't look much further than the $300 DHL tees and thigh-high sock boots with BIC lighter heels he showed for Spring 2016. (His debut collection for Balenciaga, in which he dug through Cristóbal's archives while still infusing the house with a newfound energy, further proved his design prowess.) His tight-knit circle of friends—a "Paris collective" of sorts that includes his brother, Guram, and fellow classmates from the Royal Academy of Fine Arts Antwerp—are behind the designs, and many of them (Lotta Volkova, Gosha Rubchinskiy, et al.) even walk in his shows. Whether Vetements is "cool" or not has been debated ad nauseam this year, but one thing's for sure: Gvasalia made fashion exciting again.

Photo: Getty Images
7. The Year of Merch

Regardless of how you feel about Kanye West, you've got to hand it to him for bringing the merch movement to new heights. Since his "I Feel Like Pablo" concert tees hit the scene, oversized shirts and hoodies bearing that same Gothic typeface have become all the rage. Celebs like Drake, Beyoncé, Rihanna, and Justin Bieber, who subsequently collaborated on merch items with brands like VFiles, Urban Outfitters, Barneys, and Forever21, all followed suit, making 2016 the official year of concert swag.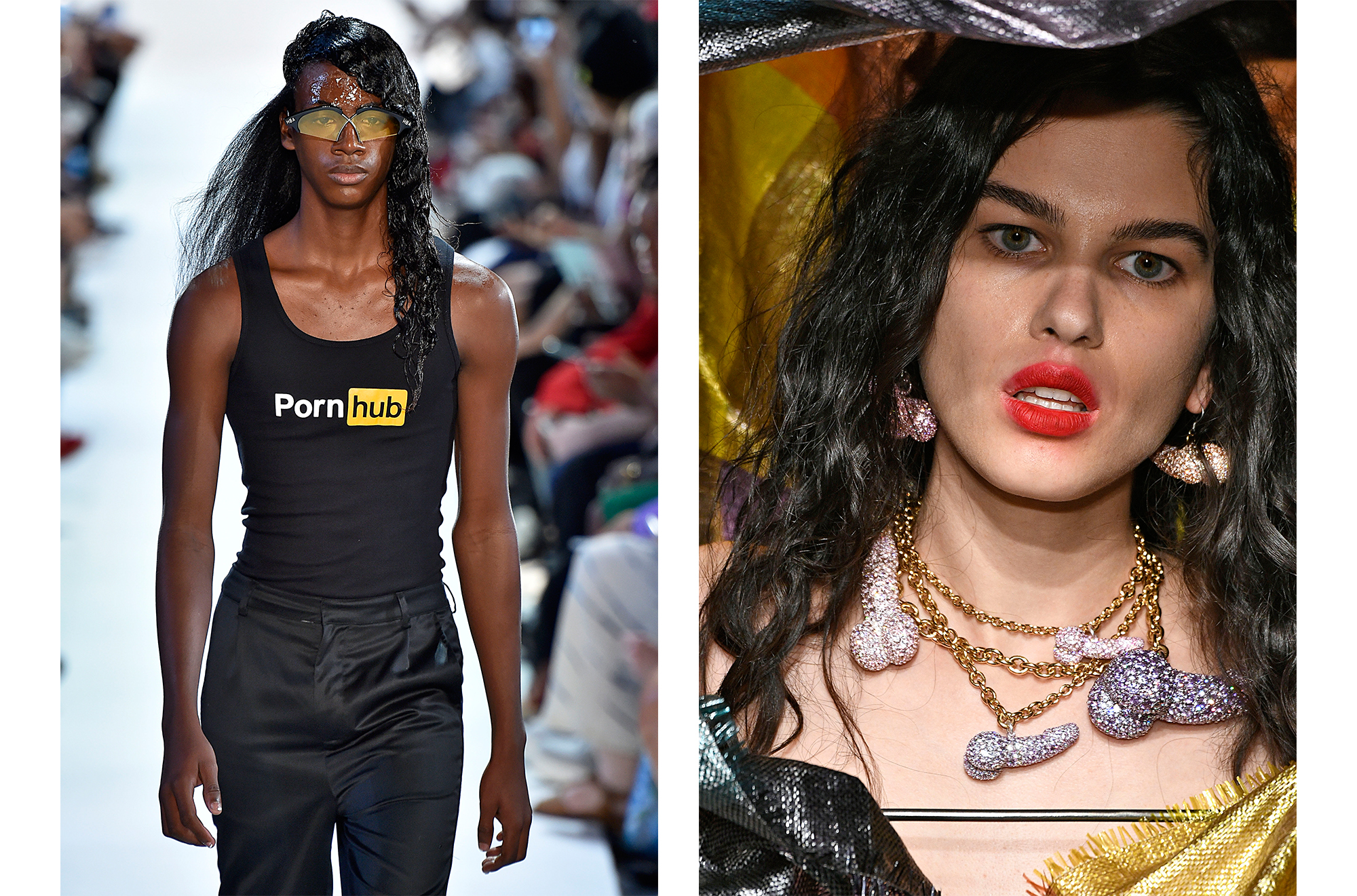 Hood by Air and Vivienne Westwood Spring 2017 Ready-to-Wear
Photos: firstVIEW
8. The Year Fashion Fell in Love with Porn

Fashion loves porn, and porn loves fashion. The relationship is entirely mutual, and includes lube-soaked runway affairs, collaborations with Grindr, penis tattoos, Pornhub advertising (in fact, Pornhub might just be fashion's new favorite partnership)…the sky's the limit when it comes to eroticism, basically. Designers—Hood by Air's Shayne Oliver and Bernard Willhelm, to be specific—are even tapping porn stars to front their ad campaigns and lookbooks. "I don't view pornography as obscene," designer Ashish Gupta told us back in April. (He was releasing a capsule collection of T-shirts with graphic, sexual prints.) "Sex is not dirty—it's something fun and pleasurable and beautiful. Things like racism, homophobia, violence…now those are obscene."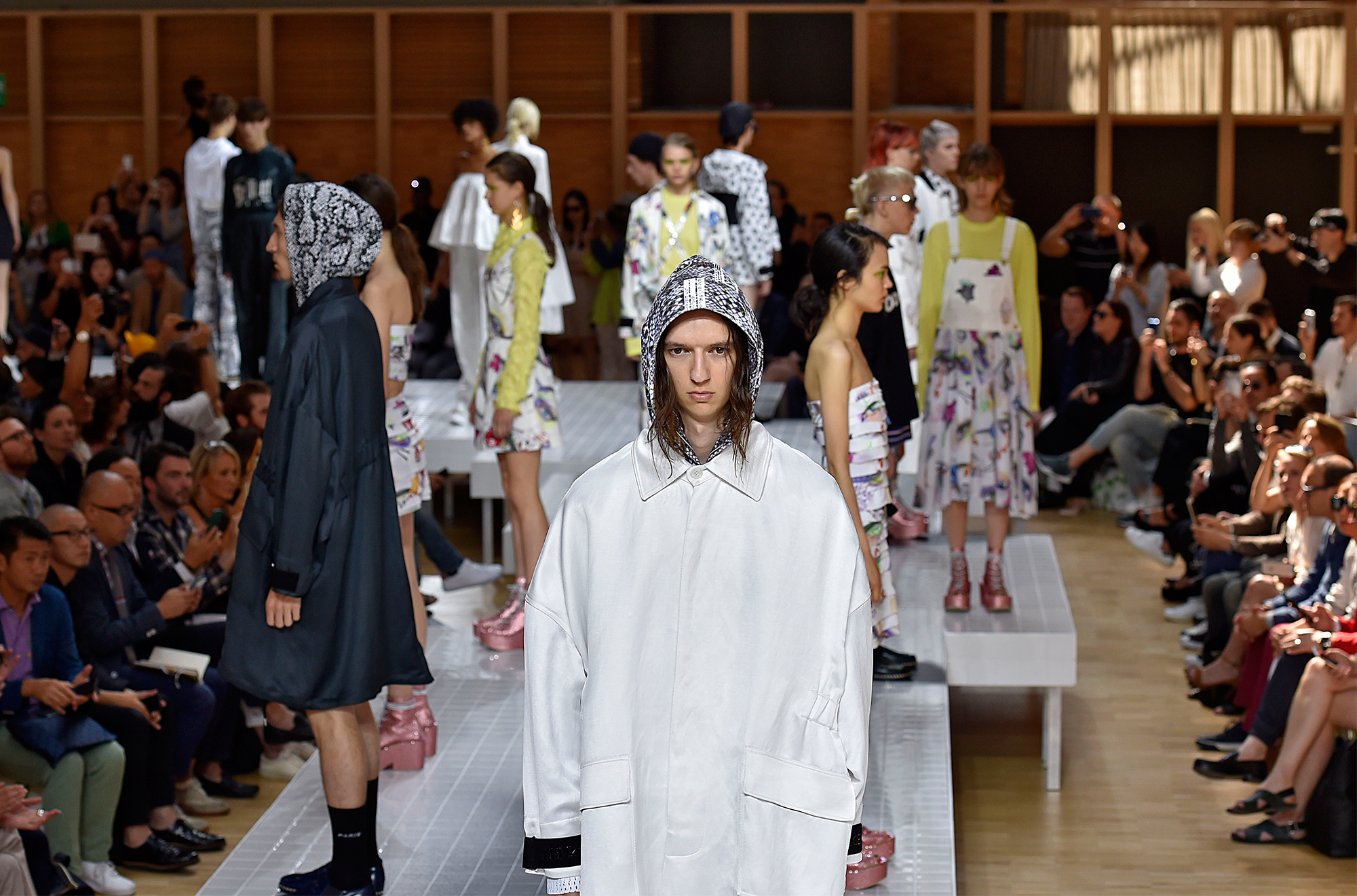 Kenzo Spring 2017
Photo: firstVIEW
9. The Year of Mixed-Gender Runways and the Unisex Garment
If see-now, buy-now shook up the fashion industry, mixed-gender runway formats rattled it to its very core. Gucci, Public School, DSquared2, Bottega Veneta, and most recently, Kenzo, have all hopped aboard the co-ed train—and with good reason. Gender fluidity has flourished organically this year: Consider brands like Eckhaus Latta, Baja East, VFiles, Phelan, and Vetements, all of whom heavily emphasized androgyny in their Spring 2017 collections, and most importantly, are pushing the post-gender conversation into our mainstream lexicon. Here's to more forward-thinking progressivism and less archaic, sexist ideals.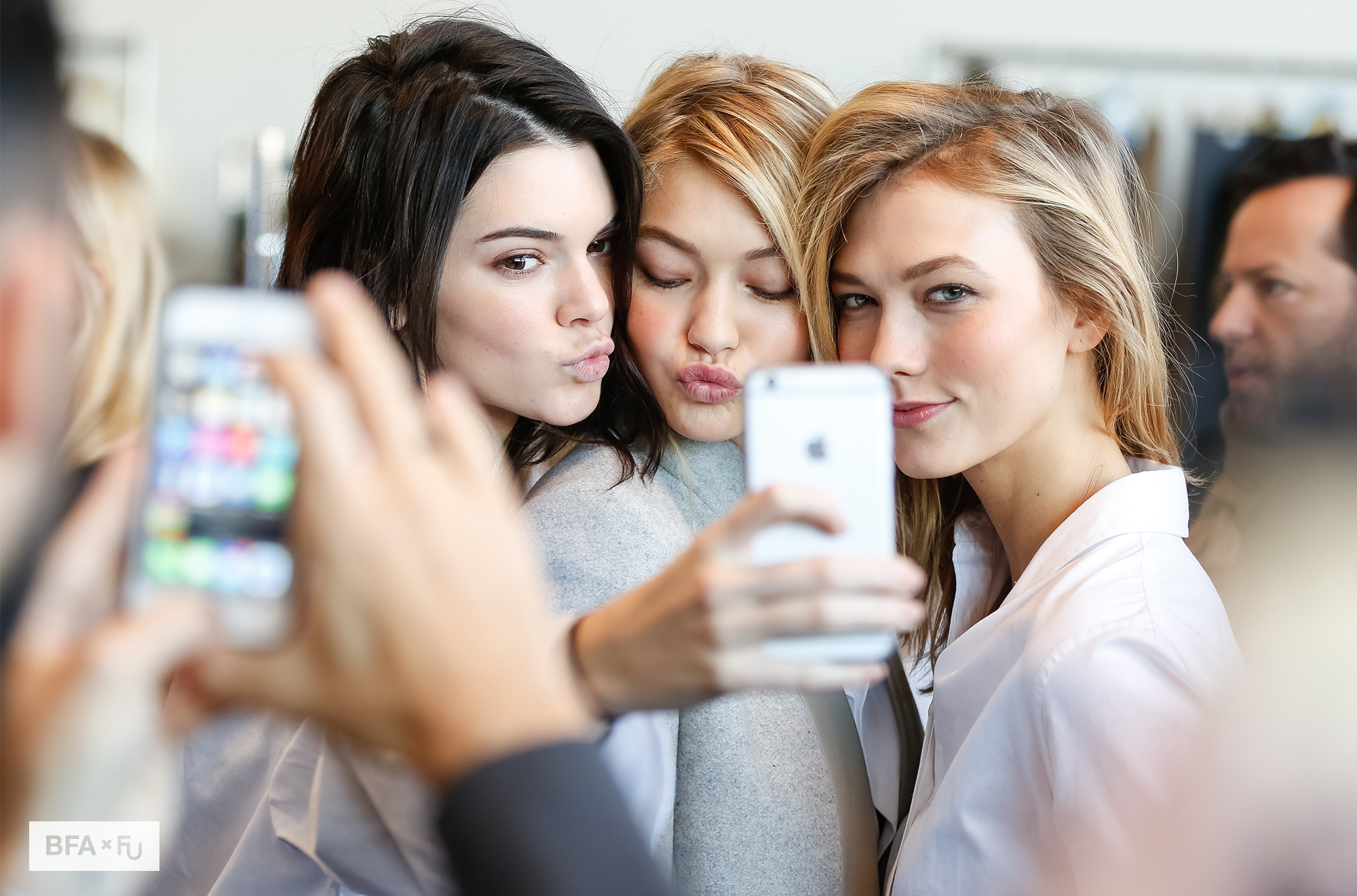 Photo: BFA.com. View more at BFA.com.
10. The Year of the Instagram Model
Gone are the days when supermodels were plucked from their respective hometowns and catapulted into the limelight. Okay, that kind of still happens (Karlie Kloss, Devon Windsor, etc.) but Instagram has certainly been a game-changer in terms of the modeling industry. (IMG even uses it to scout for fresh talent.) Not everyone is so embracive, though: In June, Stephanie Seymour—an OG '90s girl and part of the Linda, Naomi, Christy, and Cindy clan—famously said that "supermodels are a thing of the past," adding that It-girls like Gigi Hadid and Kendall Jenner are just, well, different. Marc Jacobs, having just cast Jenner in his Fall 2016 campaign, rushed to defend her honor, claiming that the real definition of a supermodel is "the ability of a model to effortlessly transform into a look and character that makes her so appealing and inspiring." The incident spurred a supermodel debate—meanwhile, KenGi continue to book job after job.
0 Comment