When gazing upon Zana Bayne's buckle-laden leather harnesses, hardware-embellished collars, and linked tops, fetish (or bondage, or S&M, or kink—whatever your pleasure) likely comes to mind. The designs are sexy, subversive, even racy. But according to Bayne and her partner, Todd Pendu, the six-year-old accessories label's wares are distinctly "post-fetish." Not familiar with the term? I wasn't either, so I asked the pair to enlighten me. "We make something that's aesthetic—it's not meant to be fetish wear," Pendu explained. "So 'post-fetish' is the idea of taking the utilitarian use out of fetish, very much in the same way the London punks did in the [1970s] when they'd go into sex shops, buy harnesses, and wear them. So you go from there, and you have a really long history of harnesses in fashion."
That being said, Bayne and Pendu aren't opposed to their clients using their handcrafted leather and metal accoutrements for sexual excursions—in fact, they're all for it. It's just not their primary intention.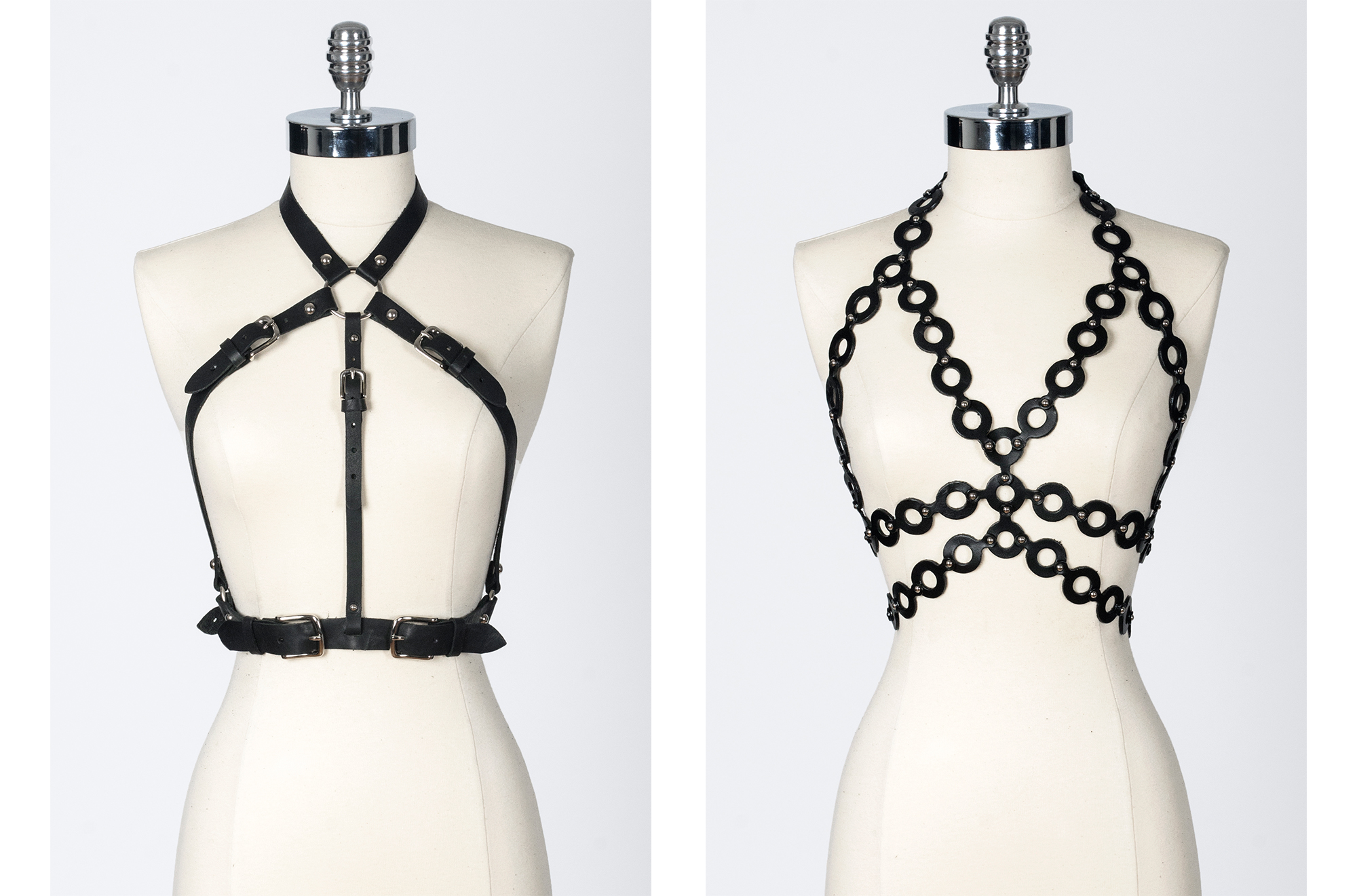 Photos: Courtesy of Zana Bayne
Fashion loves fetish—all one need do is look at decades of haute collars, buckles, leather, stilettoes, and lingerie to see that. It's dark, it's controversial, it's underground, and sometimes shocking, which is likely why everyone from Jean Paul Gaultier to Christian Louboutin has appropriated bondage and S&M iconography for their collections. And that works to Bayne's and Pendu's advantage. Sex, after all, is sexy—and it sells. Never mind the fact that fashion itself can be seen as a fetish—an obsession. But this team hopes clients appreciate its confections for their aesthetic qualities, rather than their sexual connotations.
And rightly so. After visiting the brand's New York studio, one can't help but marvel at the work that goes into Zana Bayne's offerings, some of which boarder on ready-to-wear. From handbags, which, boasting subtle pentagram embellishments or metal details, exude a sense of power, to leather bras, belts, vests, and corsets that recall the sculptural work of Azzedine Alaia, the brand's luxury accessories are painstakingly crafted, and even better, they're all made in New York.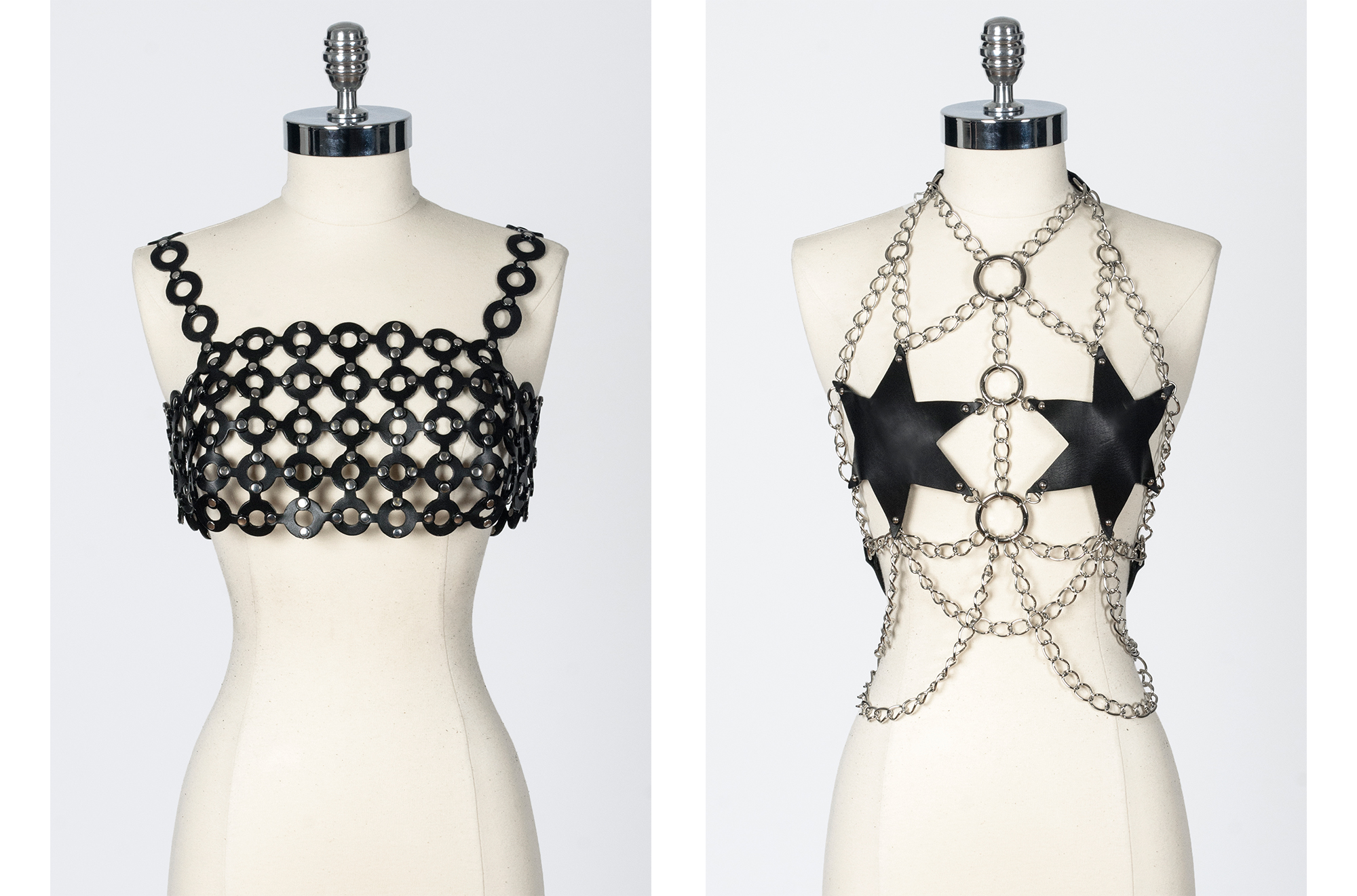 Photos: Courtesy of Zana Bayne
"It's about anti-prudery," said Pendu. "It's kind of a wake-up. And It's not about [adhering to] the rules of this secret, underground society," he insisted. "For instance, a collar in the fetish world actually represents submission, but in fashion, it represents a dominatrix. For us, it's all meant to be empowering."
Having collaborated with brands including Comme des Garcons (Rei Kawakubo is a personal fan, and Zana Bayne continues to work with CDG) and & Other Stories, Zana Bayne has recently experienced something of a meteoric rise. (Surely, the fact that Madonna, Debbie Harry, Beyoncé, and Lady Gaga have worn the brand helps.) But Zana Bayne comes from humble beginnings. "I was in London and I was at a club where I saw a girl wearing a harness over a white button-down shirtdress. I thought this was the greatest combination," recalled Bayne. "So I went back to San Francisco and made myself a harness out of elastic key rings, because that's what I had around." It wasn't long after that Bayne, who studied conceptual art and sculpture at the San Francisco Art Institute before moving to Berlin and finally landing in New York, made her first leather harness. She showcased her handiwork on her nightlife blog, Garbage Dress, and suddenly, the requests came pouring in.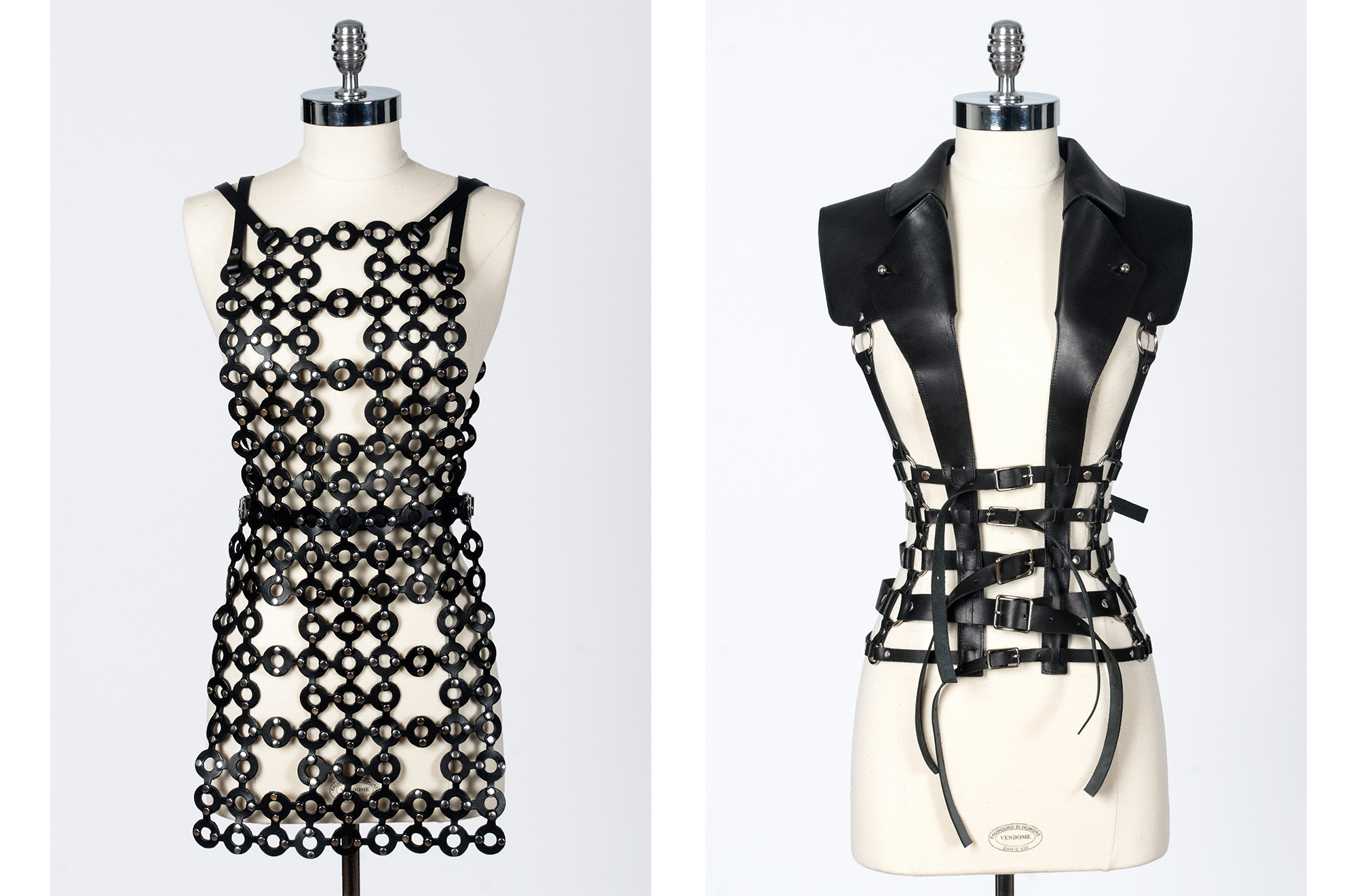 Photos: Courtesy of Zana Bayne
"I'm not technically trained, but I've always made things. I'm a self-taught creator," Bayne said. "[That first harness] was the first time I had worked with leather, and leather is a very sculptural material, so I immediately became interested in it. Other than latex, there's no material that provokes people as much as leather. Even the simplest leather bracelet or the thinnest choker brings out all these thoughts and emotions—not just for the wearer, but for people around them," Bayne noted, citing Iggy Pop's iconic no shirt-and-leather collar look as a prime example.
However, Bayne and Pendu are not out to be provocative—or to shock, for that matter, though sometimes they do unintentionally. ("There's a different level of normal for us," Pendu laughed. "So what is shocking to other people isn't always shocking to us.") Rather, they aim to offer luxury items that make the wearer feel special—excited, even. "We want people to feel like a part of them is accentuated or brought out by what they're wearing," Bayne said. "We want people to feel like there's a part of them that's being strengthened."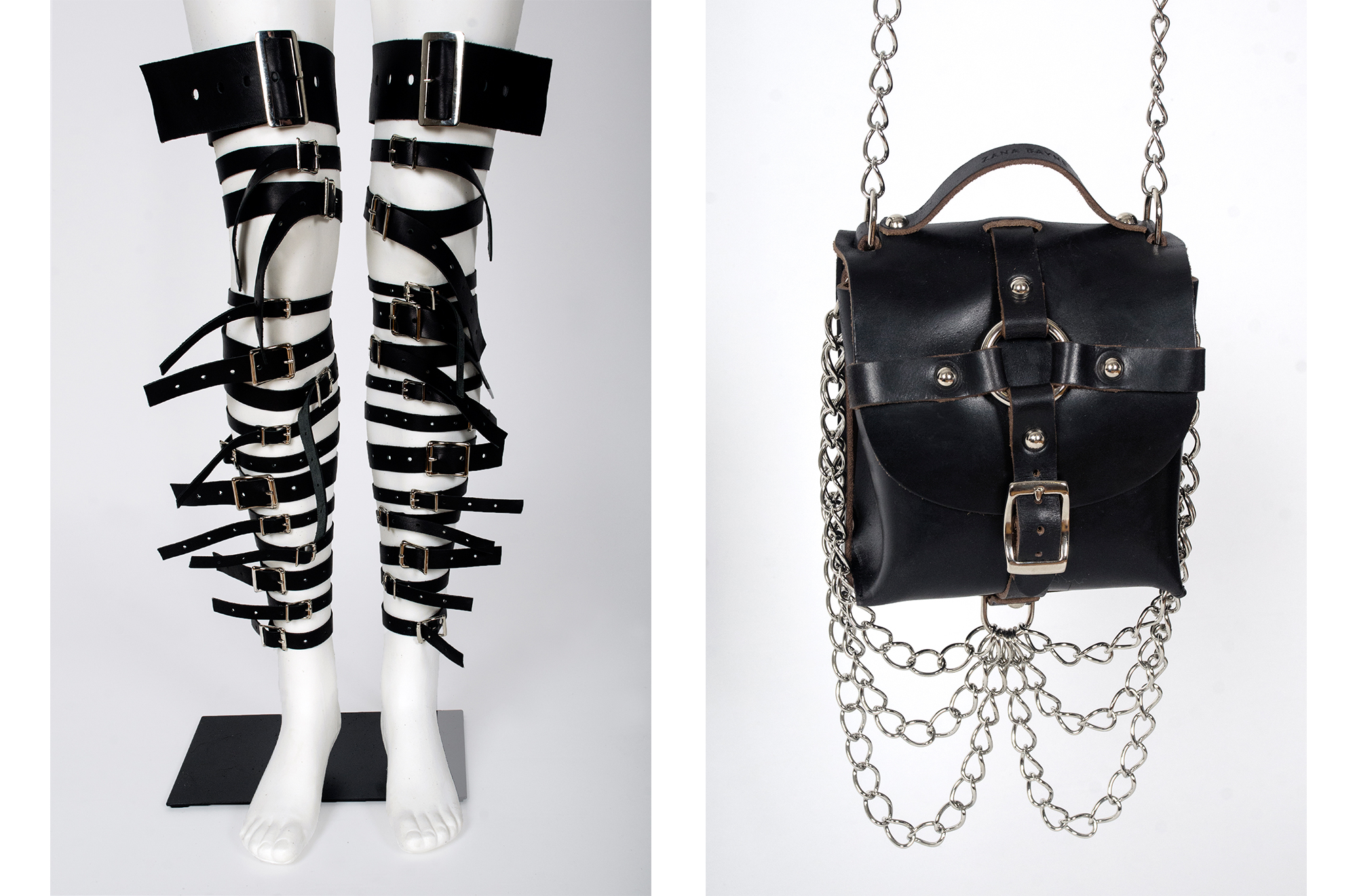 Photos: Courtesy of Zana Bayne
"It becomes all about the lines of the body, and different ways to frame the body using leather," Pendu chimed. "So leather becomes the main focus, not the fetish, necessarily."
Bayne and Pendu have been steadily expanding their collections—each of which is a continuation of the previous lineup—over the years. On the horizon is a footwear project, as well as two holiday collaborations, one of which is travel-focused. From landing their styles on the most visible and, for that matter, interesting celebrities, to getting picked up by retailers including Net-a-Porter and Opening Ceremony, to building a viable international brand from the ground up, this young duo has achieved quite a bit since Bayne crafted that initial harness from elastic key rings. But perhaps what's most impressive is the confidence that Zana Bayne accessories lend their fans. "Over and over again, that's the story people always tell us—[our designs] bring out confidence in people," said Pendu."They're that one extra item that makes them feel complete."
0 Comment