"She was such a pioneer in doing something that is so different and away from the European couture vocabulary," reflected Adeam's Hanako Maeda. The designer was speaking of Rei Kawakubo (who else?) on the eve of the Met's gala for Rei Kawakubo / Comme des Garçons: Art of the In-Between, which is now open to the public. "She uses materials that aren't traditionally high-end couture fabrics. A lot of her inspiration comes from something that is not considered to be high fashion. I feel like that kind of mentality didn't exist before her. She changed the language of fashion."
Maeda, as a young Japanese designer, is in a small group of late.
"[It's something that I think about] especially because I'm from Tokyo—since Comme des Garçons and Yohji [Yamamoto], there haven't been a lot of young Japanese designers," she said. "It's kind of a shame, because Tokyo is such a creative city. And the street style is amazing, too. That [creativity] is not really expressed in the global fashion conversation right now. I'm really happy that Comme des Garçons is being featured at the Met and I feel it will bring amazing light to Japanese fashion and young Japanese designers as well."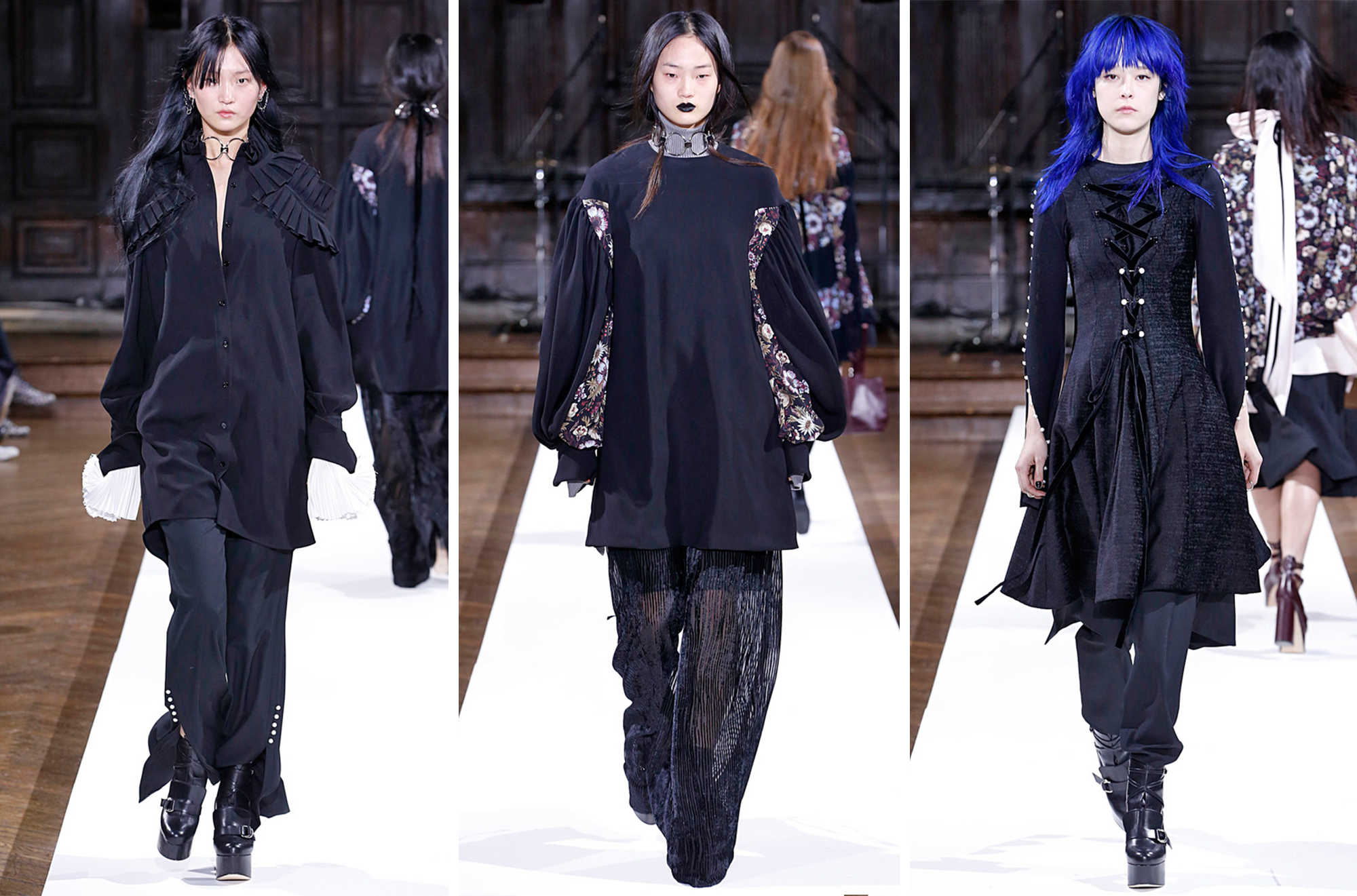 Photos: firstVIEW
It's not something that's often discussed, the lack of young Japanese designers on the current global fashion scene. And that's unfortunate, considering Japan has lent such a transformative voice to the history of fashion and our modern dialogue, dissecting and subverting clothing's relationship to sex, class, and the female body time and time again.
Maeda says she looks to both her heritage and contemporary Japanese culture for inspiration.
"[For Fall], my inspiration was Gothic Lolita," she explained from her Chelsea studio. "The jewelry is inspired by body piercing and that's also reflected in the hardware for the shoes and the bags. There is also a juxtaposition of super feminine details inspired by Edwardian and Victorian clothing mixed with a more punk spirit."
Dark tiered lace and Edwardian tailored gowns—rebellious in tone, but quite pulled together at the same time— sit alongside velvet lace-tied, corset inspired frocks and puffers.
"In the beginning, I was more inspired by traditional Japanese culture," she continued. "A lot of my inspirations came from kimonos or the Edo period or something that is considered to be traditionally Japanese. But now, I'm really inspired by Japanese street culture. I think what's happening now in Tokyo is really inspiring and super different from what's going on in New York or Paris or London. As someone who is from a younger generation, I think it's important for me to shed light on that part of Japan."
0 Comment