The catchy phrase du jour, "woke" was a theme at the 16th annual CFDA Awards, held at the Hammerstein Ballroom Monday night, as the seemingly sub-zero temps on the multi-hued carpet made sure all in attendance were standing at attention. Though designers and guests said it was purely coincidental, a seemingly disproportionate number of partygoers coordinated perfectly with the pink, navy, royal blue, teal, and green entrance set up along West 34th Street.
Swarovski Award for Emerging Talent nominee, Sander Lak of Sies Marjan, arrived with date Brit Marling, who was en pointe in pink with a touch of light green. The two claimed their mutual admiration. "It's like an arranged fashion marriage," the Dutch designer said. Lak and Marling pointed out that the loose silhouettes of Sies Marjan were good for over-indulging. "I've got a tote bag full of candy," said Marling. "I'm Dutch and there is free food here so I'm going to go for it," the designer chimed. "Win or not, take the food."
Claiming she had nothing to do with the Swarovski-sponsored step and repeat's color combo, Nadja Swarovski was on theme, wearing a navy blue gown by Brandon Maxwell, the new Geoffrey Beene, according to the crystal queen. Swarovski is deeply committed to sustainability and was sporting the brand's new fine jewelry line, which is made from lab-manufactured diamonds and emeralds, then paired with the Austrian crystal. "The process is environmentally friendly and doesn't harm workers like some aspects of traditional mining," noted Swarovski. "And wouldn't we, as women, feel better knowing that they were sourced sustainably?"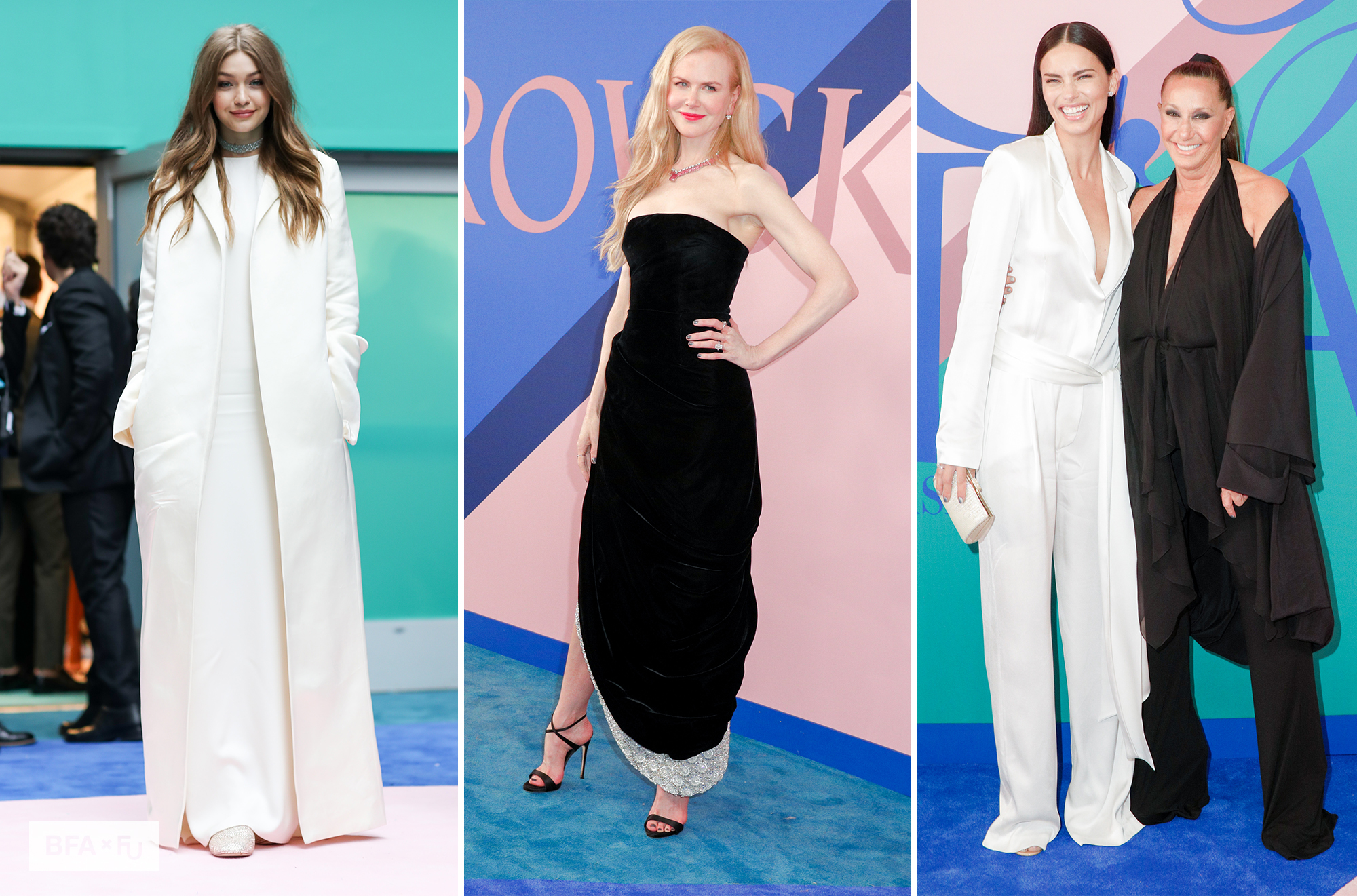 From left: Gigi Hadid, Nicole Kidman, Adriana Lima, and Donna Karan
Photos: BFA.com. View more at BFA.com
Designers Sachin and Babi Ahluwalia, along with date Brooke Shields, who was quick to point out that the designers make clothes to fit tall, striking women like herself, also weighed in on the subject of sustainability. "We could have chosen to sit on the fence about the recent withdrawal from the Paris agreement, but [Michael] Bloomberg had a good point of view," said Sachin. "We [the fashion industry] should be socially responsible when it comes to climate change. I think there is no other option. We have children, and we want to leave the plant a better place. We share the space together."
Kicking off the white trend of the night (guests such as Gigi Hadid, wearing The Row, Heidi Klum, wearing Zac Posen, Meg Ryan, wearing Christian Siriano, and nominee Paul Andrew's date, Lupita Nyong'o, wearing Jason Wu, also stunned in the stark hue), original fashion feminist Diane von Furstenberg in a design of her own commented that the fight for equality should be a non-issue at this point. "Feminism is something we have to practice every day," insisted the CFDA chairwoman. She would later present the Board of Directors' Tribute to three of the instrumental females involved in the worldwide January 21st Women's Movement March: Cecile Richards of Planned Parenthood, singer Janelle Monáe, and godmother of the movement, Gloria Steinem.
Richards wore a royal blue dress by Gabriela Hearst and high heels, against the advice of her late mother, Ann Richards, who thought tall women shouldn't wear them. She has been deeply indebted to the fashion industry's support—especially that of designer Tracy Reese, who conceived those now famous hot pink buttons. "To have the titans of the industry stand up is huge. There is no way to calculate the impact," she said, adding that tomorrow's youth, both male and female, is a big focus of the non-profit organization, which is being challenged under the current administration. "At Planned Parenthood, we are fighting so that everyone has the right to get the healthcare they need to live their best life. To me, this is their fight now, and we have to be there to support them," said the native Texan.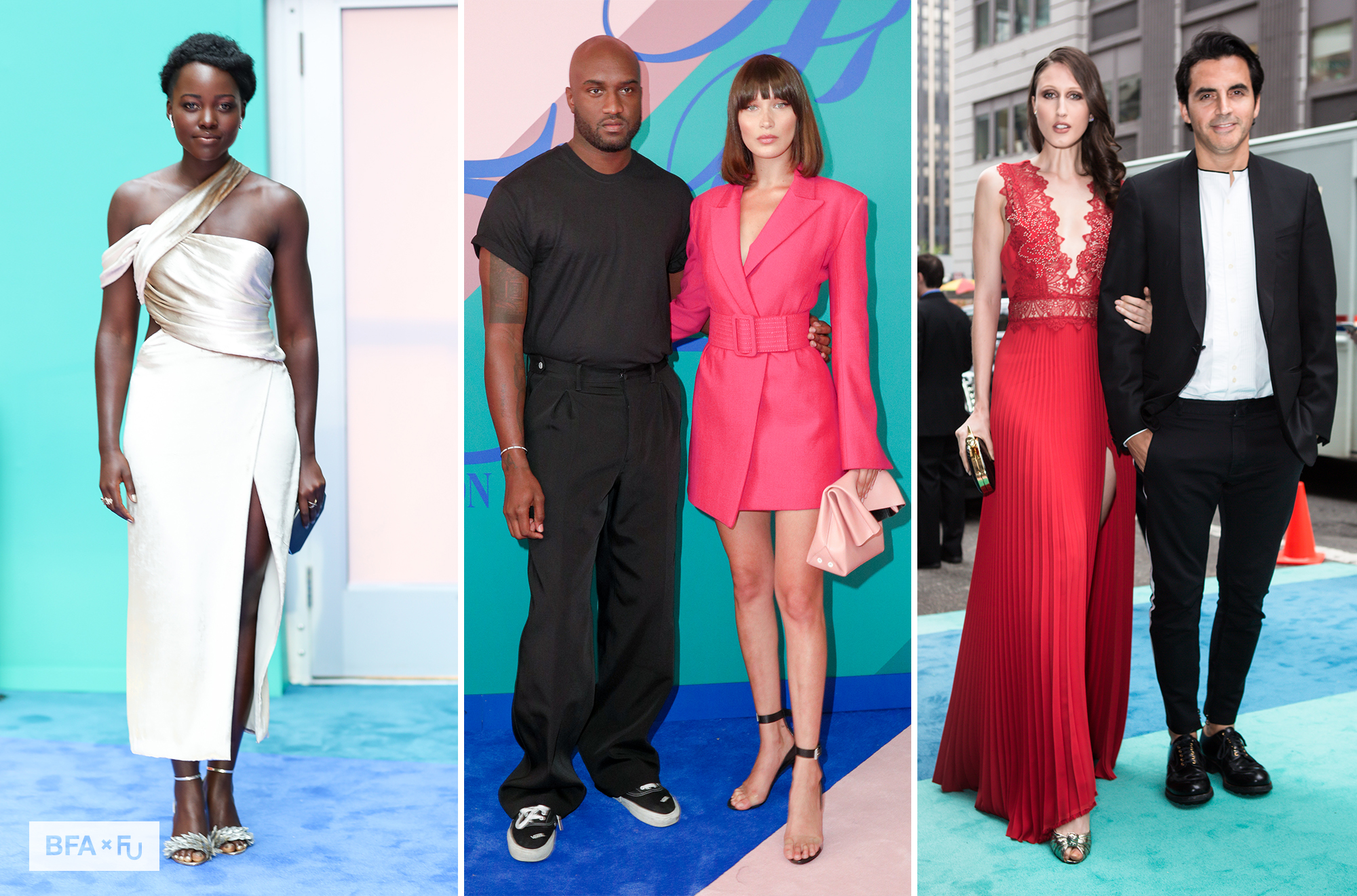 From left: Lupita Nyong'o, Virgil Abloh, Bella Hadid, Anna Cleveland, and Yigal Azrouël
Photos: BFA.com. View more at BFA.com
Bella Hadid, with a 1970s-style "mushroom" haircut, was a visual embodiment of female empowerment in a hot pink power suit inspired by Vogue shoots from the 1980s. The look was made by pal and Swarovski Emerging Talent nominee Virgil Abloh of Off-White. The designer, who was just off the plane and jumping back on one directly following the awards, said it was surreal to be there.
First time nominee and recent CFDA member Stuart Vevers of Coach arrived with James Franco, the poster boy for the American brand's new men's fragrance. The British-born designer offered that he was a "bit nervous and excited and thrilled just to be nominated," and that his guests were equally thrilling. "We have a great table of friends—we have Chloë (Grace Moretz), Suki Waterhouse, Hari Nef, and actress Rowan Blanchard." Surely, being surrounded by all those friendly faces made his Accessories Designer of the Year Award win all the more enthralling.
Awards shows tend to highlight friendships both old and new. Longtime pals and co-hosts of Project Runway Zac Posen and Heidi Klum made an irresistible duo, with Posen in his signature sharp tux and the German bombshell in a sleek white halter gown highlighting her glowing skin, which she confessed was the result of grapeseed oil picked up at Whole Foods. Posen recounted when they met. "Heidi walked in my fashion show years ago wearing a red jumpsuit to a soundtrack by P. Diddy. It was the show when I met Liza Minnelli, so the whole thing was like, epic," said the designer.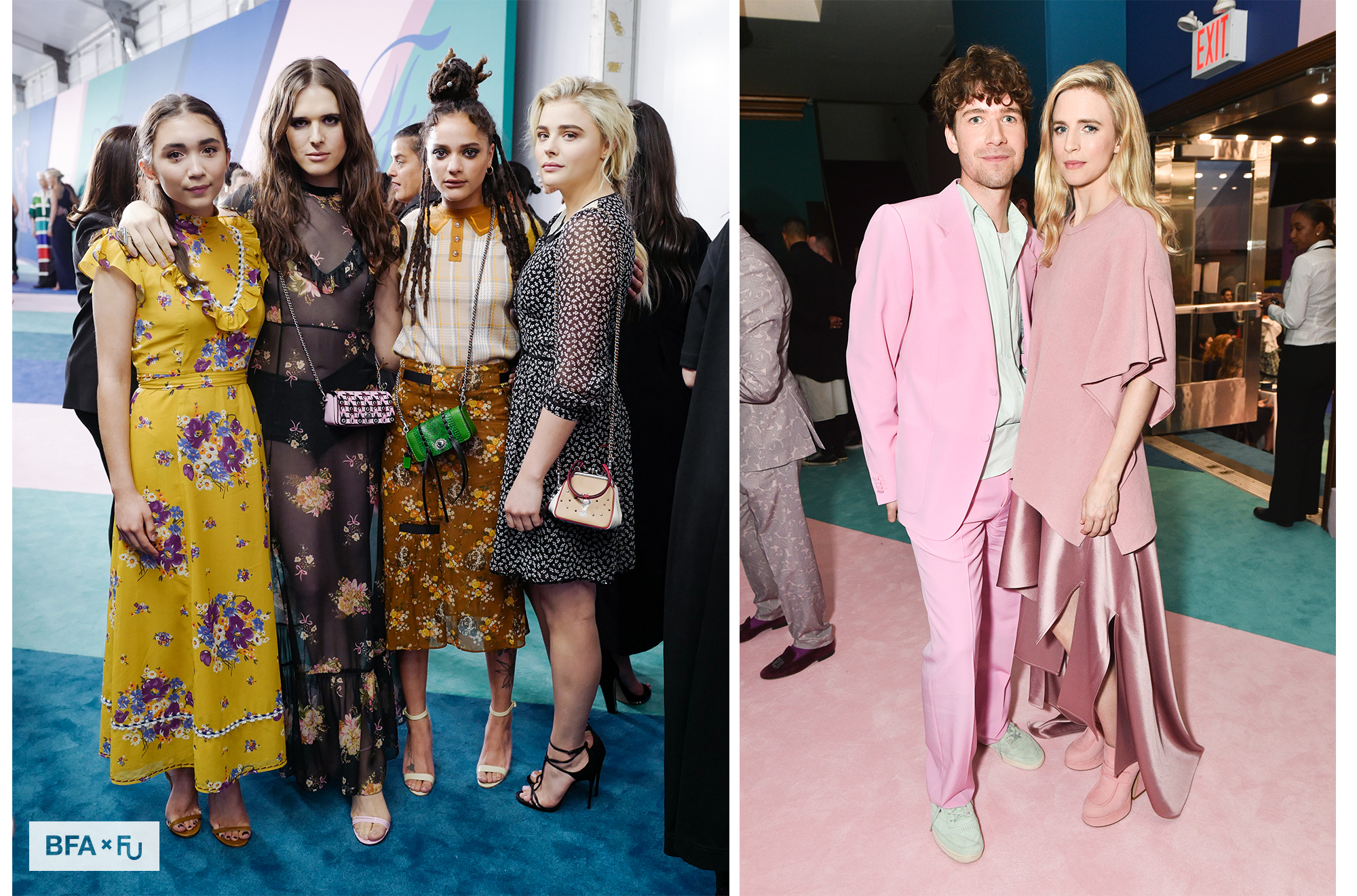 From left: Rowan Blanchard, Hari Nef, Sasha Lane, Chloë Grace Moretz, Sander Lak, and Brit Marling
Photos: BFA.com. View more at BFA.com
Rebecca Minkoff, with Camila Coelho in tow, explained their newly formed friendship this way: "I'm a stalker of hers on Instagram." Both were looking forward to having a good time, though Minkoff would have to a lot to top after last year's event. "I had the craziest CFDA night out last year. I went out for burgers with my dates, the girls from Broad City, and hung out Lena Dunham at the Minetta Tavern. Who needs an after party when that happens?" said the designer of the infamous Morning After bag.
Yigal Azrouël admitted to only meeting his lovely date, Anna Cleveland, that day. The daughter of '70s model Pat, Cleveland wore a red lace and pleated skirt by the somewhat ageless Israeli designer, quipping, "We are friend with pleat benefits."
As the steady stream of A-list attendees (like Calvin Klein's Raf Simons, who won both the Menswear and Womenswear Designer of the Year Awards, International Award winner Demna Gvasalia, Kerry Washington, Lifetime Achievement Award winner Rick Owens, and more) started to die down, makeup artist Pat McGrath, who was receiving the Founder's Award in honor of Eleanor Lambert, caused a ruckus with her posse of Karen Elson (in Anna Sui) and Adwoa Aboah (in Coach). McGrath reluctantly gave some beauty advice when asked how a gal achieves the no-makeup look. "It's 18 steps to do the no-makeup look. Google me—I've written it down 4 million times," she laughed. "Or, I'll tell you what, Skin Fetish from Pat McGrath also does the trick," she said, adding a product plug.
The commotion almost let headliners Seth Meyers and Nicole Kidman, in Thom Browne and Oscar de la Renta, respectively, slip in unnoticed until another late-comer, Donna Karan, arrived with date Adriana Lima, who wore a white satin jumpsuit from the designer's Urban Zen line. Kidman and Lima took one look at each other and knew one more photo, of them together, was in order before heading in for the main event.
To see a list of the CFDA Award winners, click here.
0 Comment