Between the star-studded Met Gala and the opening of Rei Kawakubo / Comme des Garçons: Art of the In-Between, CdG has been on everyone's lips (and Instagram feeds) this week. The Costume Institute exhibition, which covers 35 years of designs and, as curator Andrew Bolton explained, endeavors to foster a "sense of discovery," has introduced the Japanese brand to an entirely new audience. And while the show exquisitely illustrates the evolution of Kawakubo's work from deconstructed "bag-lady chic" to fantastical fashion objects, there is one question it doesn't fully answer: What is Comme des Garçons?

When talking to fellow fashion folk, I'm always fascinated by the varying definitions and descriptions assigned to CdG. More often than not, it's referred to as art, but Kawakubo has dismissed that outright, once telling Interview magazine, "Fashion is not art. The aims of fashion and art are different and there is no need to compare them." I've frequently heard CdG's runway shows hailed as "everything," but that's not terribly enlightening, and adjectives like "groundbreaking," "rebellious," "conceptual," "genius," and "wild," (the latter of which is my father's favorite CdG qualifier) are thrown around with fervor. Seriously though, is it fashion? Is it a sartorial documentation of the global mood? Is it simply great merch? Is it all those things? None of them? Does it matter?
The real power of Comme des Garçons is its ability to be different things to different people. In fact, the exhibition, which includes no text and is housed entirely in a stark white space, encourages viewers to, as Bolton put it, "create their own narrative." But one thing is certain—Kawakubo's work inspires intensely personal reactions, and forces even the most established fashion vets to reevaluate the meaning, purpose, and power of clothing.
In an attempt to further understand the complex brand, Fashion Unfiltered polled industry insiders about their definitions of Comme des Garçons. Here, everyone from Vanessa Freidman and Mel Ottenberg to the elusive Rei Kawakubo herself weighs in on the essence of CdG.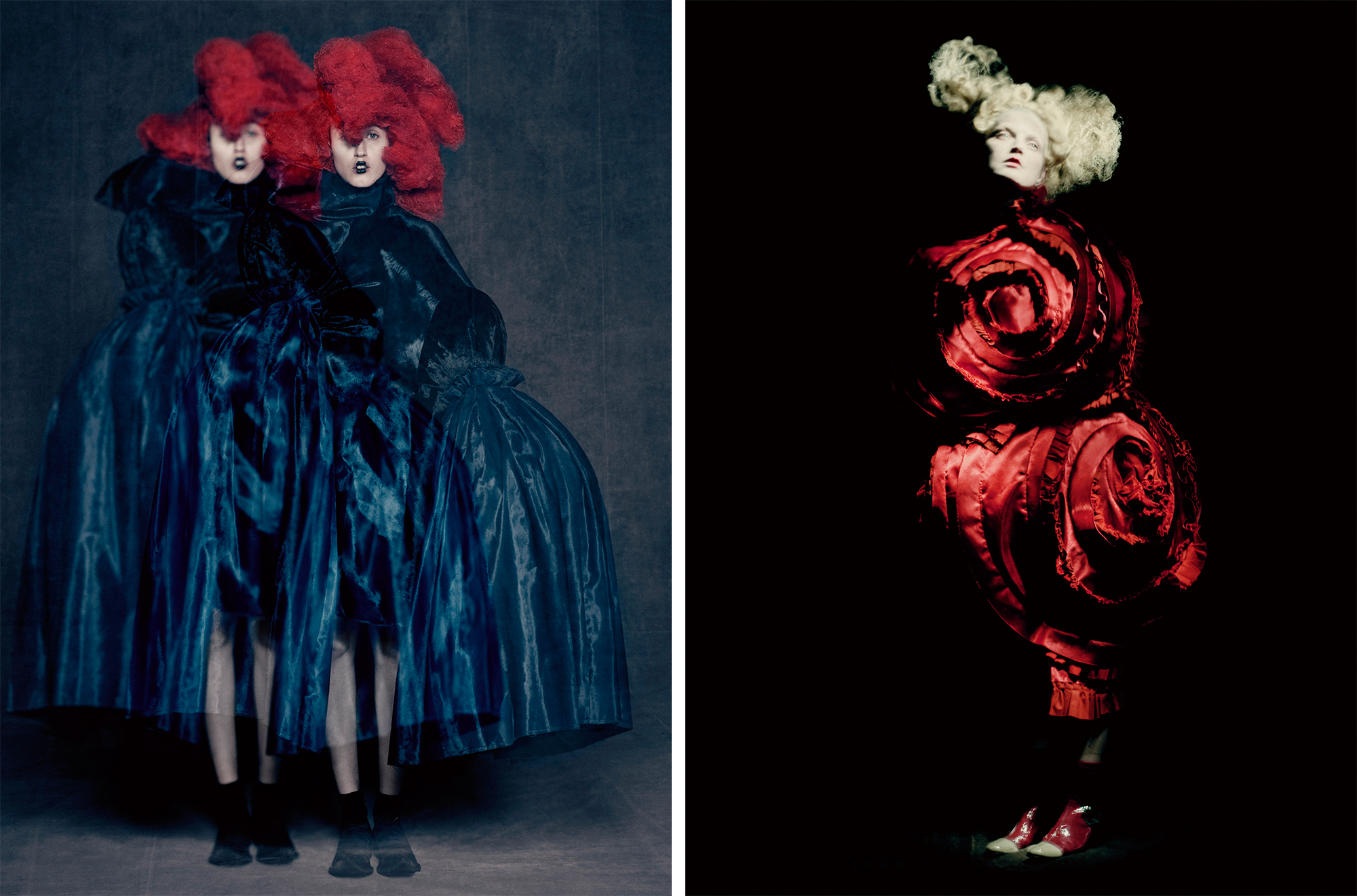 Photos: Paolo Roversi / Courtesy of The Metropolitan Museum of Art
Rei Kawakubo, Designer and Founder of Comme des Garçons: "Comme des Garçons is wearing your freedom."
Andrew Bolton, Curator in Charge of the Costume Institute of the Metropolitan Museum of Art: "Working with Rei Kawakubo, the biggest surprise for me was to take her at face value. As a curator, you're always trying to find the hidden meaning of her work, and it becomes sort of paralyzing. That becomes your pursuit [instead of] just looking at what she's doing. And I think that, yes, of course there are references that she looks at—she won't explain what they are, but you can sort of interpret them. But what she tries to do is obliterate those references to create something new. So, I think originality and provocation are the fundamental aspects of Rei's work. The idea of rebelling against the status quo, and creating something that no one's ever seen before."
Vanessa Friedman, Chief Fashion Critic for the New York Times: "On the runway, it is a series of explorations and ideas. In the store, it is a strategically layered product offering."
Inez Van Lamsweerde and Vinoodh Matadin, Photographers: "Comme des Garçons is a fantasy for the West and a reality for the East!"
Mel Ottenberg, Stylist: "Comme des Garçons is so exciting. You don't have to be a disciple to believe the hype, to know it's great. You can feel it. To me, it's so special because it's an honest lifestyle proposition. You gag on the runway. Then later you see women hailing cabs in full runway looks. You see men in the suits and think, god damn he looks good. Always very exciting."
Cecilia Dean, Co-Founder of Visionaire: "While Rei Kawakubo was guest-editing our 20th issue of Visionaire, I wore her iconic Comme des Garçons "bump" dress, which landed me a full-page in Vogue...on their worst dressed list of 1997. It was one of my proudest fashion moments. I was worried Rei Kawakubo would be mad, but she thought it was cool."
Stephen Jones, Milliner and Comme des Garçons Collaborator: "Comme des Garçons is a Force!"
Craig Green, Designer: "Comme des Garçons is the pioneer [in proving] how fashion can be everything and anything—free thinking, expressive, and emotional."
Katy Rodriguez, Co-Founder of Resurrection Vintage: "To me, Comme des Garçons is a fearless and committed vision that manifests through its creator. Defining Comme as fashion, art, or social commentary is secondary to its creative principle and therefore is not that important. The principle is the important part. It's what all creative people aspire to but it is so difficult to practice. Rei's practice has made her vision permanent and it's from that foundation that the rest of us jump off."
Amy Sedaris, Comedian and Collector: "It's my favorite. It works for me on a lot of different levels. There's a clownish aspect that appeals to me."
George Cortina, Stylist: "I remember meeting Rei Kawakubo before shooting a campaign for her, which is nerve-wracking, I can assure you. At the end, she said, 'I trust you completely to do this as you see fit, however my favorite article of clothing is a white shirt.'"
Gill Linton, Founder of Byronesque: "Comme des Garçons is zero fucks given."
Suzanne Golden, Designer and Collector: "Being a creative person, wearing CdG allows me to express myself visually instead of vocally. I do feel like I'm wearing art, and if I'm making any kind of statement, I leave it to others to form their own opinion.
The clothing is timeless and consequently never out of style. I especially like wearing something that is 10 years old and pairing it with something from the current collection. It always works! There is a uniqueness to the clothing that makes me feel one-of-kind!"
Octavius la Rosa, Founder of Dot Comme: "It's the search for innovation. To me, it represents a sense of freedom!"
Haidee Findlay-Levin, Stylist: "The thing that hits me most is the emotion. But the relationship and the fluidity between the sexes defines it for me as well—that you can wear something so masculine and feel so feminine, or wear something very feminine and feel masculine. Also, the functionality always surprises me because as extreme as it looks, you feel most at home in your own body when you wear it. You feel most yourself within it."
0 Comment