When Louis Vuitton unveiled its Fall 2017 collaboration with Supreme, fashion obsessives and streetwear fans alike lost their minds. Images of the much-anticipated merch appeared all over Instagram and #LVxSupreme started trending immediately. But, amidst the craze of this fresh merge of streetwear and luxury, déja vu hit me hard.
I had seen something like this before, and not only because a picture had leaked on social media the week prior to the debut. It was Dapper Dan, the designer who birthed logomania at his Harlem boutique in the 1980s, and whose clients included LL Cool J, Mike Tyson, and Floyd Mayweather, Jr.
In fact, the Louis Vuitton team said it was Dapper Dan's "logo-heavy and denim dominated Harlem style" that influenced the collection, along with artists like Jean-Michel Basquiat, Robert Mapplethorpe, and Andy Warhol. The references come naturally to Kim Jones, artistic director of menswear for Louis Vuitton, who owns one of the largest fashion archives in the world, as AnOther Magazine reported in 2015.
One might argue that Louis Vuitton may be trying to up its cool factor, or that Supreme is trying to elevate its consumer profile. But, it's no doubt this conversation started in Dapper Dan's shop.
So, who is he?
Daniel "Dapper Dan" Day opened his 125th Street boutique in 1982, when hip-hop was just a New York subculture. And it wasn't until 1985, when LL Cool J turned up at the store, that his designs caught the attention of the rap world. His style was flamboyant and independent, a kind of reinterpretation of high fashion that transformed into streetwear that only rappers and young style fans in New York City would appreciate at the time. "I blackenized it," said Dapper Dan in the 2015 documentary Fresh Dressed.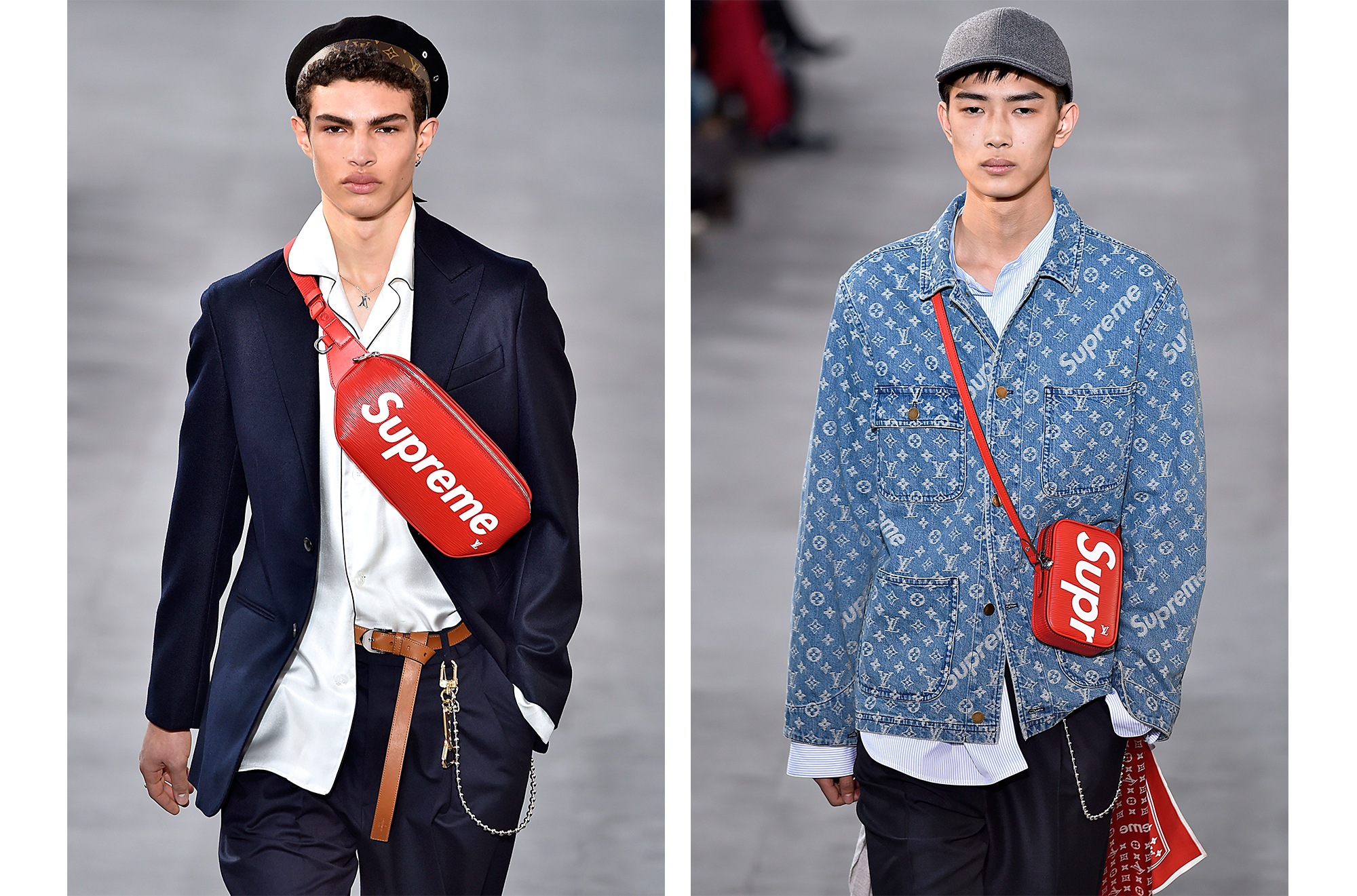 Louis Vuitton X Supreme
Photos: firstVIEW
And it's true. Dan put the Louis Vuitton and Gucci logos where the fashion houses hadn't before: hats, belts, bags, leather sleeves, bomber jackets. He also catered to the hip-hop culture of the time. Big Daddy Kane, Salt 'N' Pepa, LL Cool J, Rakim and Eric B. sported head-to-toe Dapper Dan looks. So, once hip-hop reached the mainstream, it brought Dan along with it.
Yet, one thing was always clear to Dapper Dan: He was not a fan of the fashion industry. In recent years, he has actively said he has no intentions of becoming part of the fashion norm. "When you've been excluded from the class, and they're going on a trip, you usually don't follow along on the trip," he said to Vanity Fair in 2015. He has even criticized the likes of Kanye West for asking to be accepted in high fashion instead of creating his own rules.
One can see why Dan would have such an opinion. He was forced to close down his shop after facing a lawsuit from several luxury brands, including Louis Vuitton, for using their logos. Furthermore, to him, his work was a way of bringing high fashion to a crowd that was not particularly favored in the industry during the '80s. It was the original high-street fashion we know today, that mimicked what went down the runway, turning it into a mixture of luxury and streetwear that blurred the lines between both worlds. He created garments that were the epitome of cool to young hustlers for whom European high fashion was but an unattainable dream, reserved for those with exorbitant amounts of money and, at that time, a lighter skin color.
It's not new for luxury houses to collaborate with streetwear brands. And, Louis Vuitton x Supreme is certainly not the only collaboration happening. Recently, we've seen Vetements' Spring 2017 show that featured collaborations with 18 brands, The North Face's team-ups with Junya Watanabe and Sacai, Tom Coppens' union with Under Armour, and Travis Scott's capsule collection for Helmut Lang.
The mix of hip-hop, streetwear, and luxury is not a new one. Yet, the work of Dapper Dan ignited the very idea that is now bringing us a multiplicity of collaborations. His strategy was to claim fashion that was not accessible to his community and create a new space for it, affording individuals to rise above circumstance, racism, inequality, and rejection by breaking fashion rules, and putting the LV to work in favor of hip-hop.
0 Comment