Fashion is all about what's new and next. But this Resort season, it seems designers are in a reflective mood and are looking to the past in order to move forward. Specifically, many creative directors are revisiting their brands' archives to reconnect—and reaffirm—their houses' heritage.
For Zac Posen, channeling archive styles is a way to educate a new customer. After all, the designer's been in business for 15 years now, and his younger clients, especially those of his ZAC Zac Posen diffusion line, might not be in touch with the staples that made him a household name. His Resort 2018 strategy was to incorporate early hits, like draping, sunburst pleating, and floral embellishment, into his more accessible range. "It's like a training for younger people," said Posen during an interview with FU. "We have thousands of pieces. I've kept everything—every sample, rejected pieces—so it's nice to have it coming back."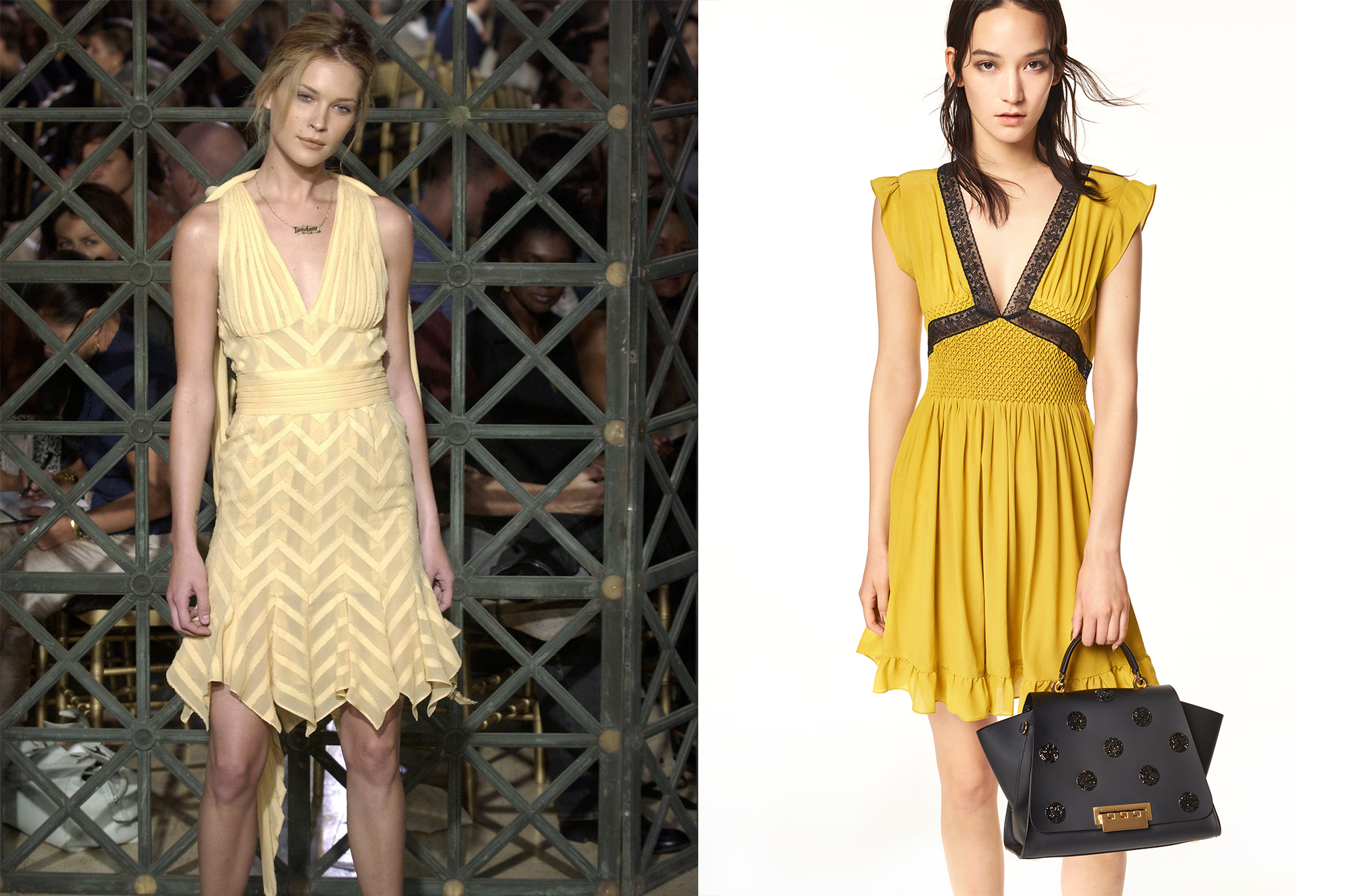 Left: Zac Posen Spring 2003; Right: ZAC Zac Posen Resort 2018
Photos: Left firstVIEW; Right courtesy of ZAC Zac Posen
A customer's relationship with a brand is also based on staples—that's what they come back for. But, in the case of Pringle of Scotland, it was a matter of reminding its customer base that the brand can step outside the box. This season, Fran Stringer, Pringle's design director of womenswear, revisited bright, bold styles from the 1960s and 1970s. She reinterpreted vintage floral prints for the modern age, and incorporated bright, primary hues that were popular during the aforementioned era. "Pringle had its very well-known moments," she said. "People don't know about all of those bold, '60s and '70s [styles], so it's been very fun to reeducate people." Stringer also noted that the colorful pieces she referenced were very commercially successful in their day. Given the strength of her Resort 2018 outing, the brand is likely in for some deja vu.
Similarly, Angela Missoni, who is coming up on her 20th anniversary at the helm of her family's historic Italian house, dove into her rich archives while designing Resort. Not only did she play with '70s silhouettes, but she also reimagined archive patterns and gave them new life in the form of youthful, shimmering, lurex garments.
For Moschino's Jeremy Scott, who showed his Resort 2018 womenswear and Spring 2018 menswear collections for the brand in L.A. last week, reproducing archival prints from recent collections might be a strategy to inject his own DNA into the storied house. Scott constantly references Franco Moschino's irreverent aesthetic, but for Resort 2018, he reproduced his own. The copy-and-paste included the Spongebob Squarepants motif from his debut Fall 2014 collection for the house, and he also brought back the race car theme from his Spring 2017 Moschino menswear lineup.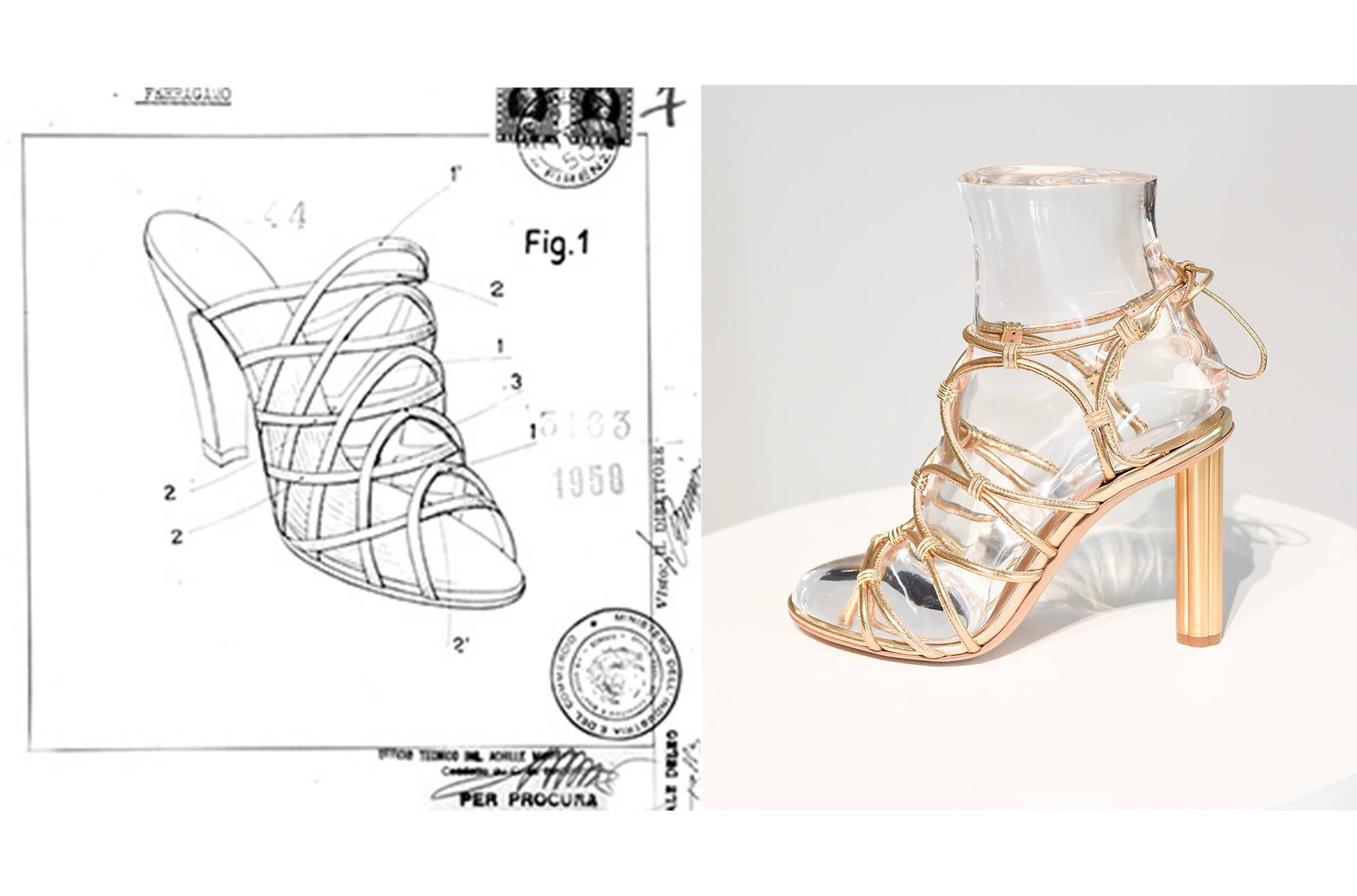 Left: A Salvatore Ferragamo design from 1951; Right: A Paul Andrew design for Ferragamo Resort 2018
Photos: Left courtesy of Salvatore Ferragamo; Right BFA.com. View more at BFA.com
In an era of appropriation and pastiche, it's also important that brands remind customers and peers who made the original. At least, that was the strategy for Paul Andrew, design director of women's footwear for Salvatore Ferragamo. For Resort, he focused on modernizing the brand's iconic, patented "F" Heel and "Flower" Heel, which were introduced in 1947 and 1939, respectively. "There are other guys that like to borrow from our archives, so I'm trying to establish that they really are ours," Andrew humble bragged during an interview with FU. Andrew also mentioned that he feels like the "luckiest guy alive," because when he joined Ferragamo last year, he gained access to an archive filled with over 15,000 pairs of shoes. "Ferragamo is a beautiful, luxury, heritage brand and I feel so lucky that they've given me the keys and invested in me to help move it forward," he said.
Is pulling from a house's archive anything new? Obviously not—heritage is what makes so many of these brands so covetable in the first place. Heck, just last season, for example, Demna Gvasalia dove into the Balenciaga archive in order to turn the founding designer's iconic ball gowns on their heads. And everyone is aware of the way Alessandro Michele has embraced and exploded Gucci's house codes to great success. But it's interesting that so many brands are relying heavily on their roots for Resort. Perhaps it's a sign that designers are nostalgic for simpler times. More likely, shining a spotlight on what made these houses so great to begin with allows them to stand out during a period when fashion is wildly homogenous. In actuality, by looking back, brands—and designers—are not just able to be distinct, they're able to truly be themselves.
0 Comment