No ifs, ands, or buts about it, Maria Grazia Chiuri's thematic Cruise 2018 Dior offering was all about the Wild West. But was this ode to frontier fashion indicative of a larger trend?
Nods to cowboy clothes have been appearing more and more frequently on the runway, either as amusing details in otherwise un-western collections (such as Hood By Air's and Rodarte's Spring 2017 lineups), or as tongue-in-cheek experiments (like Ashley Williams and Anna Sui for Fall and Spring 2017, respectively).
It is a theme on pop culture's radar as well. Westworld is one of the most popular shows on television right now, while films like Hell or High Water, The Hateful Eight, and The Revenant made a big splash critically and commercially.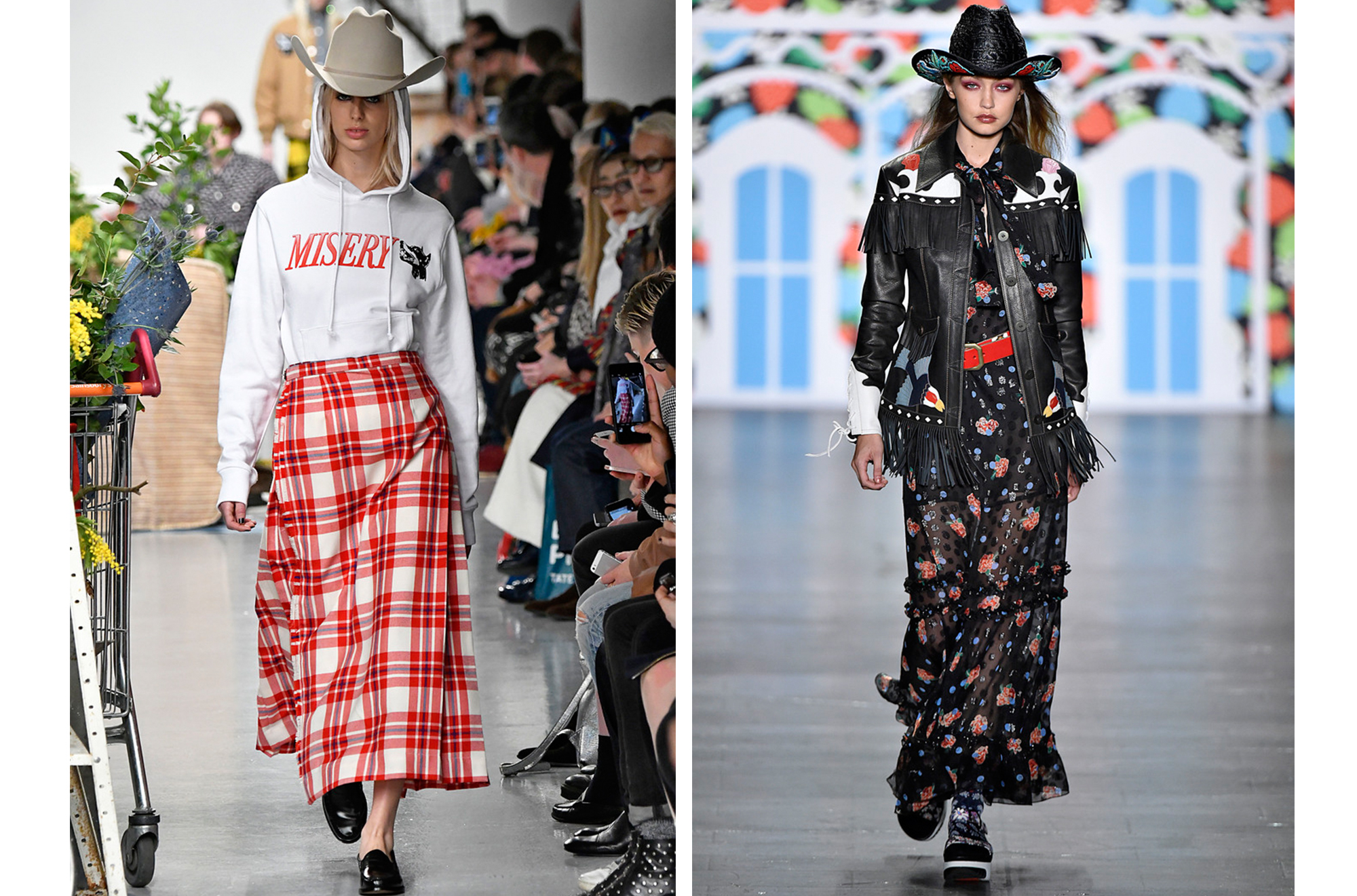 Left: Ashley Williams Fall 2017; Right: Anna Sui Spring 2017
Photos: firstVIEW
That being said, there have been some flops as well—The Magnificent Seven and Jane Got a Gun (both movies from 2016) didn't really go anywhere. It appears that audiences seem to gravitate towards westerns set in a modern context (Hell or High Water was set in the present day, and Westworld in the not-too-distant future) over classic iterations of the genre. This nuance appears to be what's keeping westerns from taking over our screens the way that zombie apocalypse stories have. Though it's worth noting that, like the zombie craze, this western expansion's roots go deeper than a need for entertainment. While zombies were seen as a metaphor for society's fears about the current state of affairs, the resurgence of westerns comes from designers and filmmakers tapping into a wholesome tidbit of Americana at a time when our country is going through an uncertain and frightening shift.
There is an intrinsic connection between fashion and pop-culture. Consider the effect that Mad Men had on the runway when it premiered in 2007, or Baz Luhrmann's The Great Gatsby in 2013. If the powers that be really want to make the Wild West "happen," they would do well to pay attention to what is working (and not working) for Hollywood.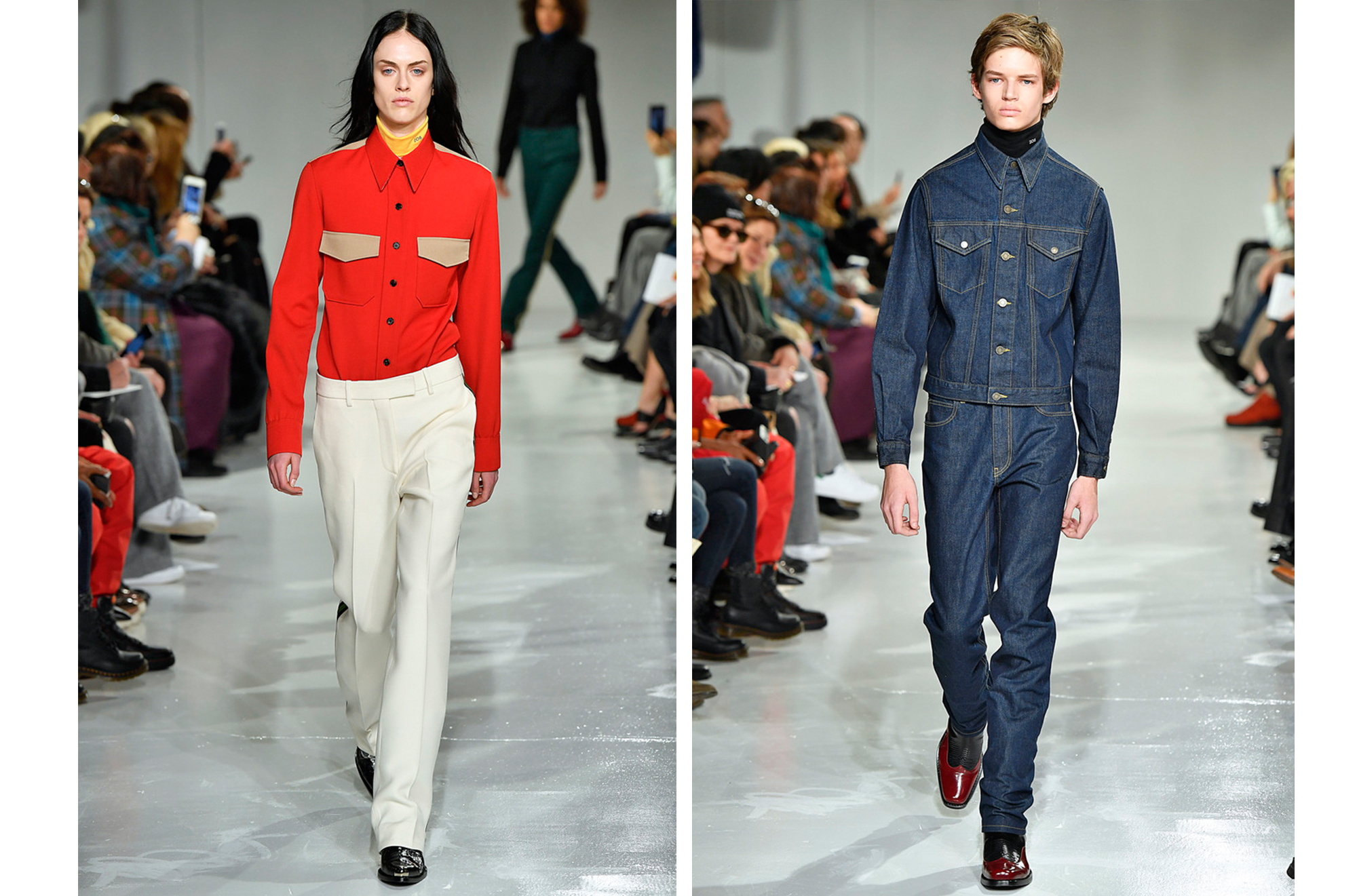 Calvin Klein Fall 2017
Photos: firstVIEW
What most designers have done so far is lean on stereotypical iconography (fringe jackets, snap buttons, and stylized shirt yokes), remixing or satirizing, but ultimately freezing late 19th century details in 1950s kitsch. As such, collections, even when met with mild enthusiasm, are not really sparking a revival of interest. But this is where Dior's offering might actually succeed.
The collection, while decidedly pioneer-like and based heavily in history, still felt quite modern. Though Chiuri went a little too literal with her interpretation, she mercifully didn't include chaps or cowboy boots. The collection presented a decidedly sincere frontier feel, but in a romanticized (and expensive) way.
When Raf Simons presented his Fall 2017 New York debut for Calvin Klein, he drew from classic American fashion styles (western included), giving them a minimalist twist. His straight face homage—though very different from what Chiuri envisioned—proposed a new idea of what American fashion is today.
What these two major brands have tapped into (much like successful TV shows and movies), is a new way of looking at the style that is more of an evolution of what it is known for. Trends in fashion, like popular culture, depend on innovation. If these two labels are commercially successful, expect a resurgence in cowboy chic.
0 Comment