You don't need to understand basketball to know Dwyane Wade—and the fact that he's as dapper as he is dangerous on the court. The 34-year-old Chicago Bulls shooting guard is one of the best-dressed players in the game, often walking into arenas in looks straight off the runways (he counts Dsquared2 as his all-time favorite label, and even wore a custom suit from the quirky Canadian brothers for his 2014 wedding to actress Gabrielle Union) and sitting front row at every major fashion show from Versace to Thom Browne to Public School. What's more, the Olympic gold medalist has countless fashion collaborations under his belt, having worked with The Tie Bar, Converse, Mission athletic apparel, and, yes, Dsquared2. Did we mention he's got his own line of sneakers?

Wade's latest endeavor is with Amazon Fashion, which as of last month provided the NBA player with a mini boutique where consumers can shop various pieces from his capsule collections. There are more than a hundred pieces to choose from, ranging from activewear to accessories. "It's funny," said Amazon Fashion Director Kate Dimmock. "He sat with me at the CFDA Awards last year and the conversation started there. Now, one year later, it's actually happening." Dimmock added that the e-commerce giant saw something "compelling" and "authentic" about him, and they wanted to give him a place to put all of his products into one place. "We have a high male consumer rate, and a lot of them are not unlike Dwyane—there are these men who have style and are looking for a way to express that.
"Dwyane is passionate about fashion and we want to be there with him as he evolves," she continued. "We want to be his partner on this ride." To celebrate the launch of the superstar athlete's new home on Amazon Fashion, Dimmock and Wade hosted an intimate dinner last night at The Flower Shop in Chinatown. (Wade apparently picked the spot, having ensured beforehand that the televisions would be broadcasting the NBA Playoffs.) There, we caught up with the 6-foot-4 Wade—who was casually sporting a mix of Givenchy and Dsquared2 (natch)—to talk everything from his most cringeworthy fashion memory to his favorite menswear trend of the moment (it's not what you think it is) to the one NBA player he'd love to makeover.
Hilary Shepherd: You were at the CFDA Fashion Awards on Monday looking amazing with your wife, Gabrielle Union. How was it?

Dywane Wade: It was my third time [going]. It's cool, you know, for me and my wife to get a seat at the table and really be included in this space. My job is basketball, but I have a passion for fashion. And obviously, I've done some [fashion] things, but that's not what I do. So for them to continue to invite us and give us a seat at the table is pretty cool.
HS: You wore a killer Gucci suit.
DW: Thank you. I appreciate that. It was between Dsquared2 and Gucci, and my style is always like, yo, what do we want to do? Let's pull some stuff from Dsquared2 and then let's pull some stuff from Gucci, cause it's Gucci. So I walked into Gucci and they already had stuff pulled when I got there. I was like OK—that, that, that, and that. And the first suit I tried on was the only one I tried on. When I put it on, I was like, this is it. I just felt it.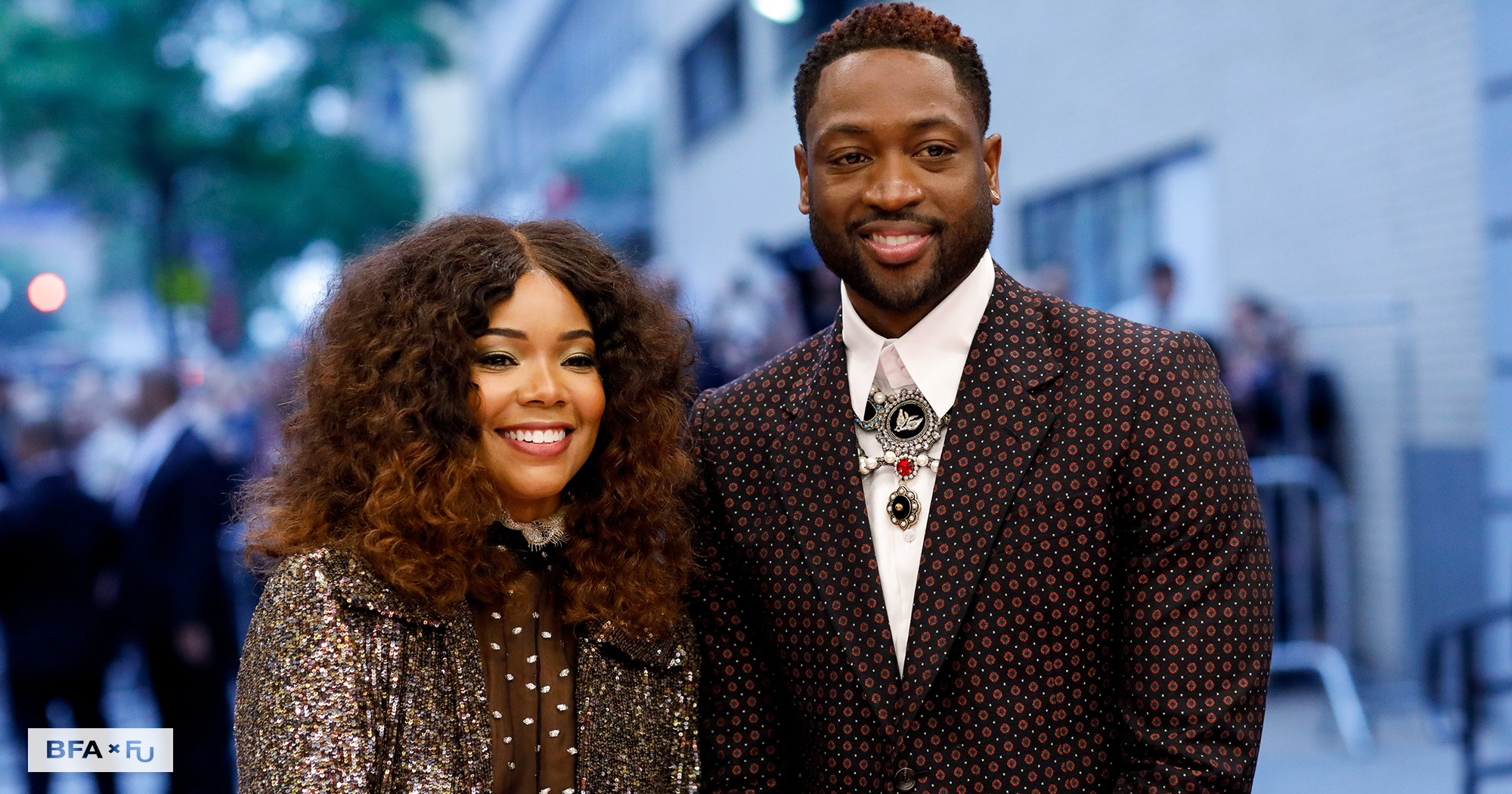 Photo: BFA.com. View more at BFA.com.
HS: Let's talk about your Amazon Fashion capsule collection. How did that come about?

DW: We met with a lot of retailers. You have to understand the market. You have to understand where the shoppers want to go. Amazon is where a lot of people are going to shop.
HS: Indeed. I have Amazon Prime boxes waiting outside my apartment right now.
DW: Everything clicked [with Amazon Fashion]. We were in there drinking wine in the meeting. It was great. They saw our vision and they got behind what we wanted to do. It's cool to be able to have what we call a one-stop-shop. It's cool to be the first athlete with his own store [on Amazon].
HS: You've collaborated with everyone from Dsquared2 to Converse to Gatorade. Who would your dream collaboration be with?
DW: Honestly, this is not a lie, but I feel like I'm living the dream. I've been able to collaborate with great partners. Some we sought out, and some sought me out. I don't have a "dream" partner right now. My dream when I was young was to be a part of the Jordan brand. And I did that!
HS: You're a dad of three. What do you want for Father's Day?

DW: I just want love on that day. For me, I had to fight to be in my boys' lives, so I appreciate just being with them and loving them. But this year, me and my wife are taking my ten-year-old son [Zion] to Europe. The other boys have AAU basketball and stuff.
HS: Speaking of your sons, I saw on your Snapchat that your 15-year-old son, Zaire, asked for a car, and you told him he has to share with his cousin. How is the sharing going?
DW: They knew that. I told them that a long time ago, so I retold them. I told them they have to share because even though we're blessed to have a lot, I still try to teach certain values in our home. And they gotta work for it—this ain't just happening because Dad got money. Y'all have to work for these things. Right now as we speak, they're out in California interning. I got them interning. I want them to understand work ethic, too. I told them that if they do everything that I feel they should do, they will get a car. It will be an OK car and they will share it.
HS: What, like a Honda Civic or something?
DW: No. Look, they're big boys so I gotta give them something with leg room.
HS: Your wedding anniversary is coming up in August. Do you and Gabrielle have any anniversary traditions?
DW: We just go on vacations for our anniversary. We go on a nice trip. Really no traditions. We just kind of pick where we want to go in the world and then go there. We just go. Like, fuck it, let's go.
HS: You're known as one of the best-dressed players in the NBA, but do you have any embarrassing fashion moments?

DW: No. They've all been amazing.
HS: I don't believe you.
DW: No, I'm sure there's a lot of them. But I need to go back and look because the only thing that comes to mind is when I wore this trench pony jacket in Miami.
HS: A pony-skin trench coat?
DW: Yes, but, like, in Miami. It was almost ten years ago and I thought I was fly as shit. Now I look back and I don't know if I should have done that.
HS: What's your favorite menswear trend right now?
DW: The romper.
HS: Seriously?
DW: You don't like the romper? What are you talking about? I love the romper. You don't like the romper?
HS: You're joking.
DW: I love the romper. I'm wearing the romper. I've worn one before.
HS: Do you have photographic evidence?
DW: No, but I will when we go [to Europe] because I'm wearing a romper there. I'm definitely going with a few rompers.
HS: I'm sure Gabrielle and your son will love that. Who has the best uniforms in the NBA?
DW: I think Golden State right now. You can see [the colors] from afar—like, you know Golden State Warriors fans. They got dope colors. I like them. They are like my colors, too. The blue, the gold, the white…those were my college colors.
HS: Which NBA player would you love to give a makeover?
DW: In the past, Tim Duncan. I would have loved to sit down and be like, 'Tim, let me dress you. Let me dress you one time. One time!'
HS: What men's trend needs to go?
DW: Well, they're bringing back the men's platform shoe. I hate platform shoes! Even though they may look cool to a short person, I hate them. They're not me.
HS: I don't think I've ever seen a man wear platform shoes in real life.
DW: Oh, yeah. They're rocking them. It's a thing now. It's bad.
HS: Which NBA player has the best off-court style?
DW: The thing I love about [Russell] Westbrook's style is that he does whatever he wants, and he's very risky and he tries things. The thing I love about LeBron [James]'s style is that he's always keeping it fresh. He's always switching it up; it's never the same thing. You got the young kids like D'Angelo Russell who are playing in L.A. I love the coolness that they bring. [Jordan] Clarkson, too. I like what they bring, the different coolness and the different swag. I appreciate their individuality.
HS: Would you ever create your own line?
DW: I would love to, but it would have to be done right. I wouldn't want to jump into it too early and have myself sitting there. But we're definitely talking about the possibility, but who knows when that will happen.
HS: You sported a short-sleeved blazer back in March during a Bulls game. Where did that idea come from?
DW: Well, my elbow was dislocated, and I wanted to be able to put my suit coat over [the cast], which would have looked crazy. I told my stylist, 'Yo, it might not be a thing right now, but let's go for it. People started wearing shorts with suit [jackets], so why not cut it here [at the sleeve] and make it a style?' So I did it.
HS: What do you think about Rajon Rondo copping your look later in the season?
DW: It made feel good.
HS: Which fashion tips have you learned from Gabrielle?
DW: Oh, she learns from me.
0 Comment