Maria Grazia Chiuri's American-themed collection for Dior has been met with less than positive reviews, with some seeing the aesthetic as being too much of a cartoonish gimmick compared to what she has shown for the brand thus far. It wasn't that critics had a problem with cowboy themes—those have been appearing a lot in fashion these days. It also wasn't the fact that she took her show on the road—Dior has been doing that for some time now. The problem seemed to stem from the feeling that the theme was too much of a play on the location. It felt like a stunt.
But wait—the Chanel show (which occurred a week before), featured a brazenly gimmicky collection based on ancient Greece, and was fairly well received. And the Louis Vuitton show (this past weekend) was praised, even though it was thematically connected to Japan, where the show was held. So what gives? What makes one gimmick work, and another fall flat?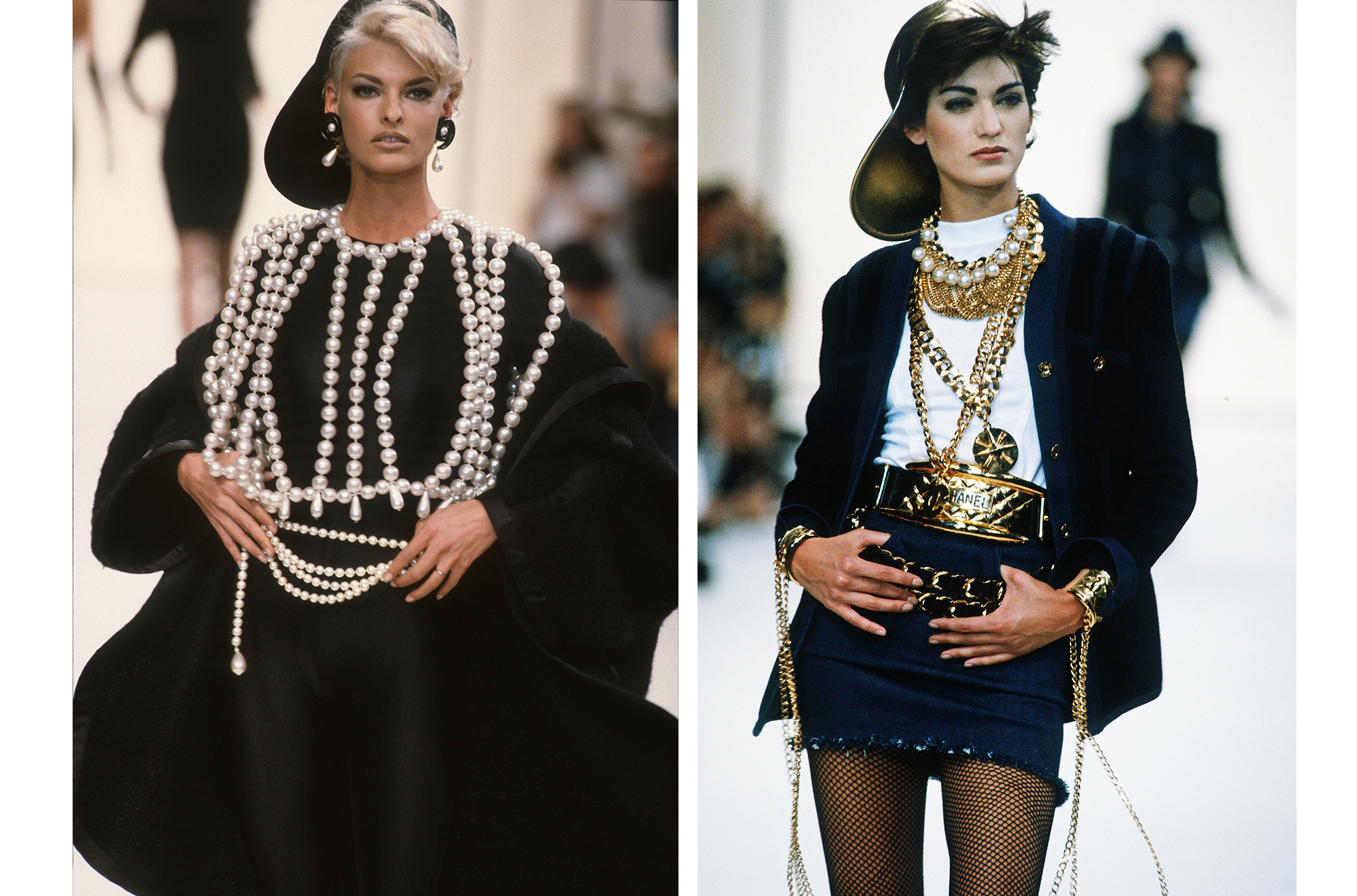 Chanel Fall 1991 Ready-to-Wear
Photos: firstVIEW
The two brands that are best known for, and most praised for, gimmick collections are Chanel and Moschino, both of which have been relying on a tongue-in-cheek approach to fashion since the 1980s.
Gimmicks are the foundation upon which Karl Lagerfeld resurrected the house of Chanel. The luxury label has staple items—like its quilted chain bags, beauty line, and the tweed suit—that have always been, and will always be, popular. However, in fashion, one must always be fresh, new, and relevant. Lagerfeld's method of achieving this when he took the helm was to embrace irreverence. The haute couture house hilariously sent robots down the runway for Spring 2017, produced a hip hop-themed collection for Fall 1991, and has created a spectacle out of every show held at the Grand Palais. It isn't that some collections have a gimmicky theme with a corresponding runway show and ad campaign, it's that every collection does.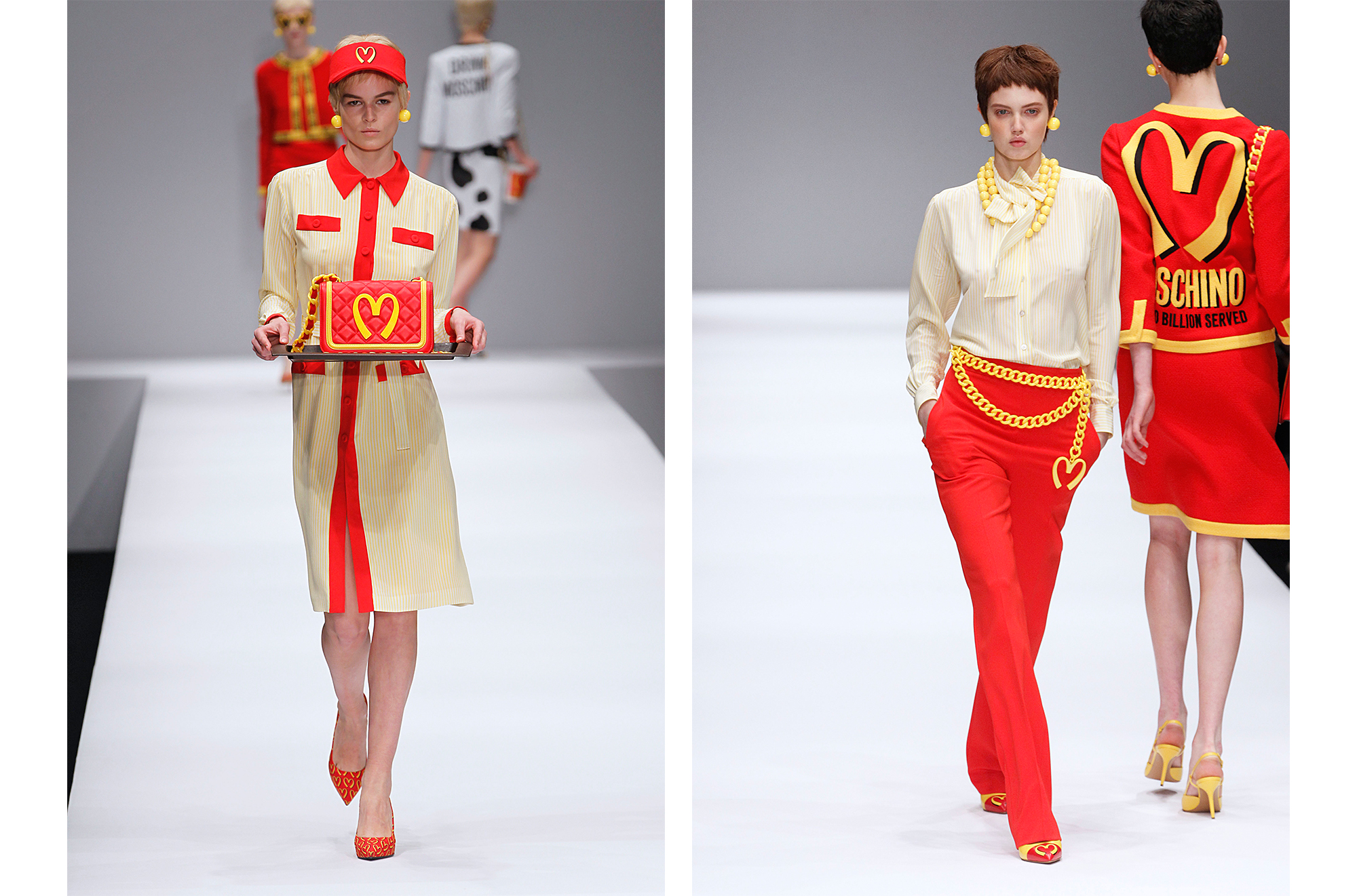 Moschino Fall 2014 Ready-to-Wear
Photos: firstVIEW
Moschino, meanwhile, was built on the idea of snarking on luxury fashion and consumerism. Franco Moschino used wit to criticize the industry, while also being a part of it, famously crafting looks stamped with cheeky phrases like "Waist of Money," and campaigns that featured a huge red X over a stereotypical fashion image, with the words "Stop the fashion system!" beside it. With this history in place, Jeremy Scott was able to bring his brand of kookiness to Moschino and settle in perfectly. His first collection for the house (Pre-Fall 2014) was a tribute to Franco Moschino's humor. But his first runway show (Fall 2014) took things a step further, proposing a collection that reinterpreted fast food logos for high fashion. It was met with rave reviews, with Tim Blanks calling it "bright, brash, and ingenious".
So does one have to take the piss in order for a highly thematic collection to work? Not always. This Sunday, Nicolas Ghesquière's collection for Vuitton paid homage to Japanese culture, but in a way that did not lampoon its heritage. The Frenchman was respectful enough to collaborate with storied Japanese designer Kansai Yamamoto on illustrations and iconography for the line, rather than simply copying things he liked. The end result felt authentic both to Japan, and to Ghesquière.
Designers are free to explore different avenues for their collections, and can even have a lot of fun with their projects, but they have to put in some effort. Ultimately, there is nothing wrong with gimmicks in fashion, so long as the brand behind them is not solely relying on the gimmick to stand in for a good idea.
0 Comment