Full disclosure: We're not the biggest fans of "trend reporting" when it comes to award shows. Firstly, a trend cannot be determined from a solitary four-hour event. Secondly, anything that allows Us Weekly and Giuliana Rancic to try to analyze fashion is annoying. And, let's be honest, the red carpet tends to be congested with derivative fashion; generic columns that are perfectly fine but don't push the needle forward. We were happily surprised, though, that at Sunday night's Golden Globes, actresses were bolder, choosing more interesting looks than expected and, in some cases, wore actual fashion.
Also, there were "trends" (in a highly microcosmic way). It was actually strange how much silver and shoulders were going on. It was like Elizabeth Stewart, Leslie Fremar, and Petra Flannery got together and agreed to make it a thing. Below, we discuss the most noteworthy sartorial moments of the night.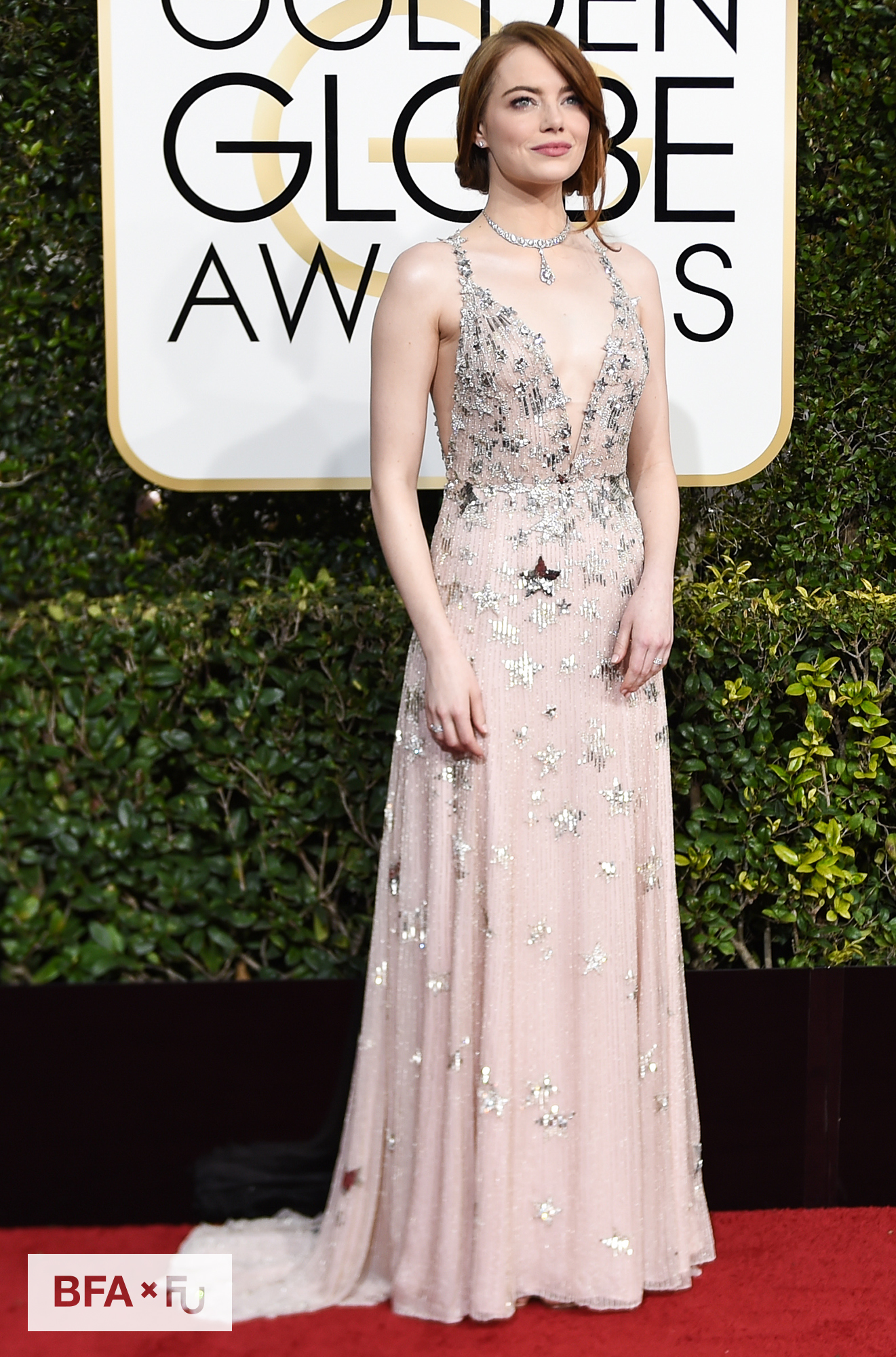 Emma Stone
Photo: BFA.com. View more at BFA.com.
Best Retro: Emma Stone in Valentino Haute Couture
Stone has all the makings of a Gatsby-era screen siren, and this blush-colored Valentino haute couture number played with that notion. It was very close to being a bit too literal. We get it, Emma, La La Land (for which Stone won Best Actress in a Musical or Comedy) is nostalgic and about old Hollywood. Noted. But this dress felt contemporary. It was sparkly, sinuous, and very "movie star."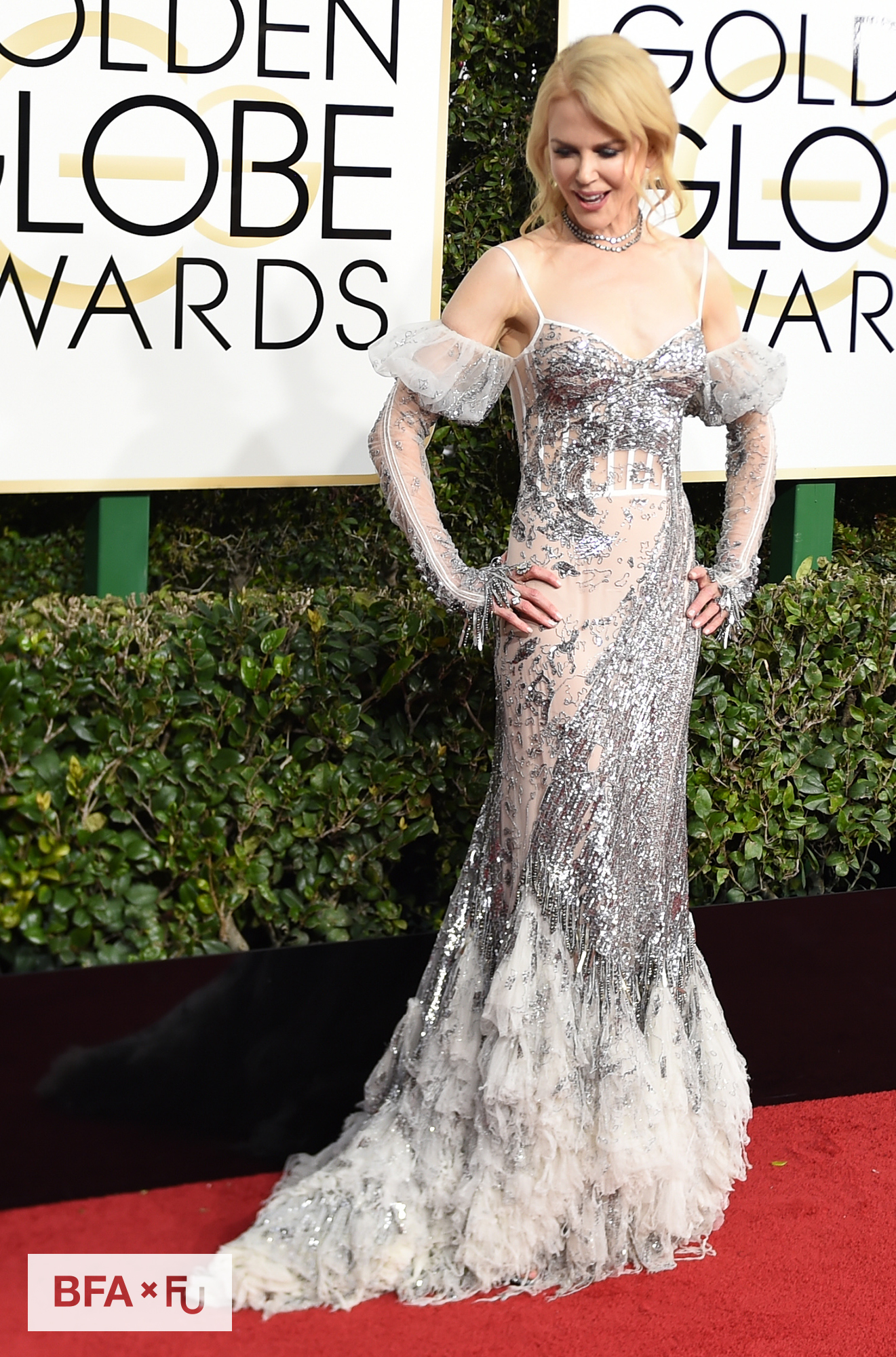 Nicole Kidman
Photo: BFA.com. View more at BFA.com.
Most YAS-worthy Look: Nicole Kidman in Alexander McQueen
We couldn't help it. When Kidman emerged on the carpet, a quiet "YAS" came puttering out. We mean, look at her. This is chic. And yet, it's accessible. It's an intersection of runway and real—something most celebrity stylists have yet to master. While it checks off both the abovementioned "shoulders" and "silver" boxes, it totally stands on its own. The detail of the embroidery is exquisite and we love the sense of stormy whimsy. It's celestial, fantastical, and ethereal. YAS, (Mc)kween.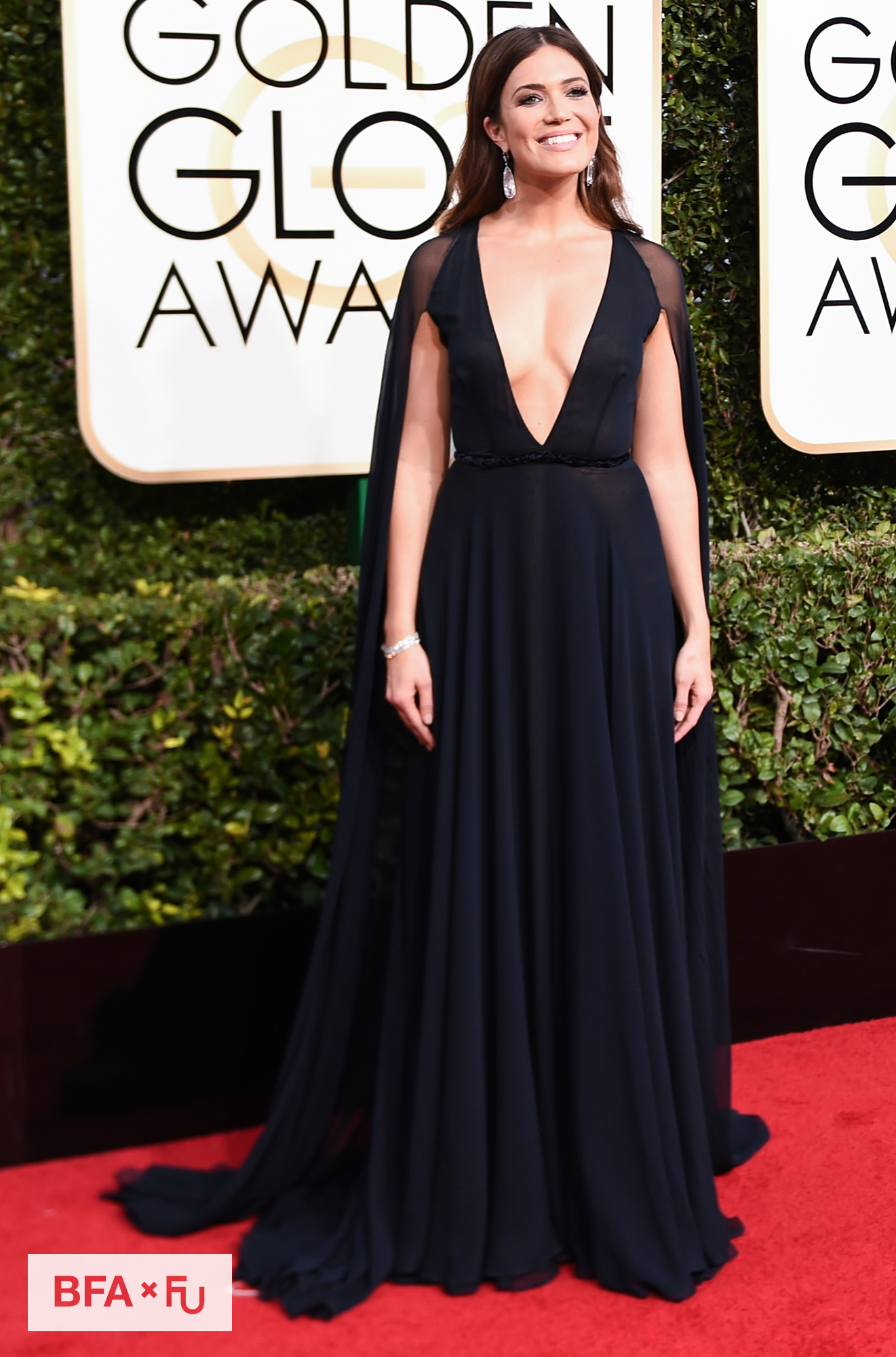 Mandy Moore
Photo: BFA.com. View more at BFA.com.
Best Boobage: Mandy Moore in Naeem Khan
There was no shortage of cleavage on Sunday night, between Jessica Biel, Drew Barrymore, Kristen Bell, etc. But Mandy Moore's caped Naeem Khan put the girls on display tastefully but plentifully. And let's not underestimate this achievement—Emily Ratajkowski was there, for god's sake. Moore hasn't really had the most sartorially successful past, but if this midnight number is any indication, we like where she's heading.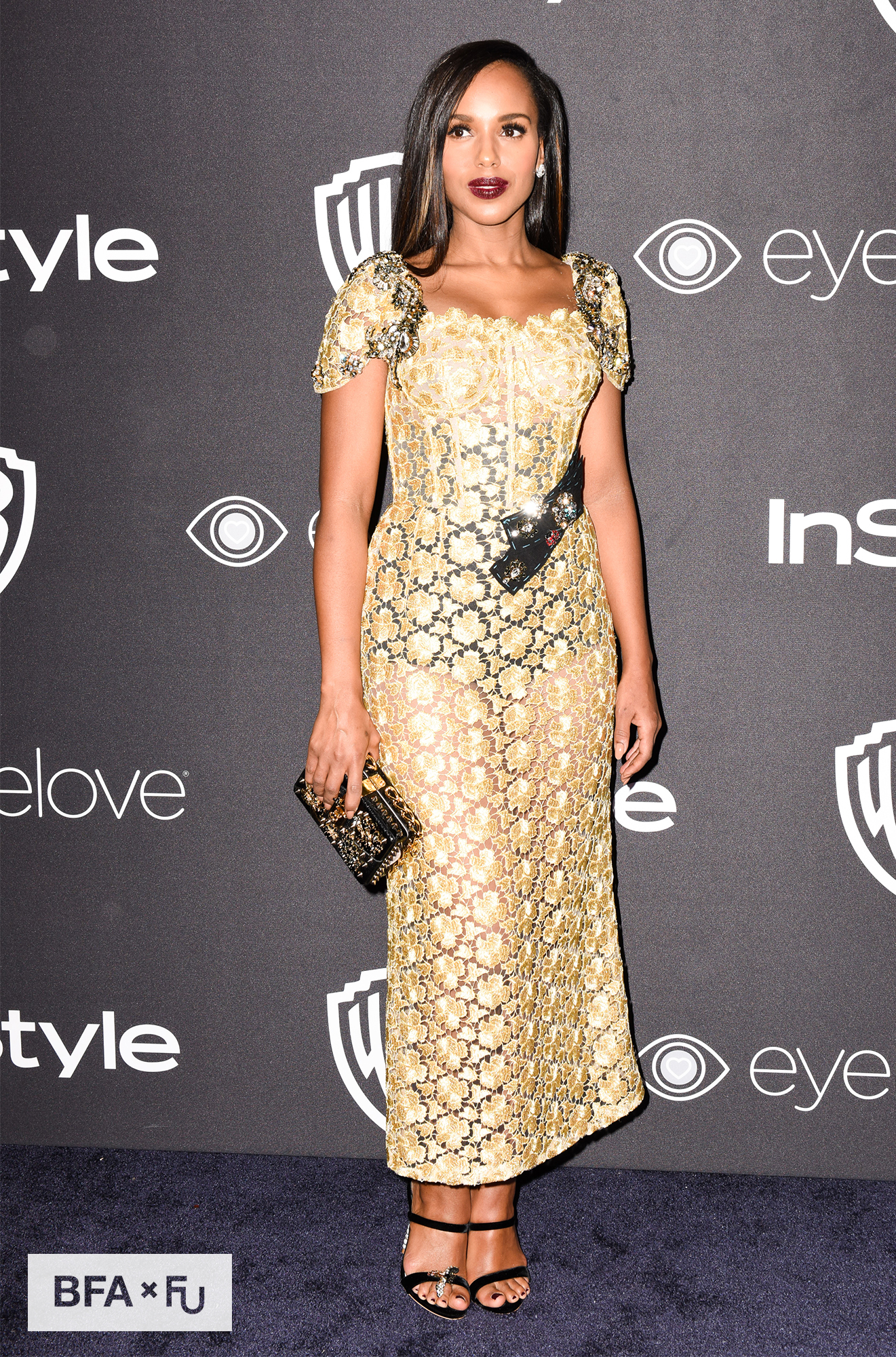 Kerry Washington
Photo: BFA.com. View more at BFA.com.
Best Boxer Briefs: Kerry Washington in Dolce & Gabbana Alta Moda
We love a deliberately-visible lingerie moment, especially when it involves a high-waisted brief. It takes a confident woman to rock it, and Washington did. It's also worth nothing that her lacy yellow number marked the first time a celebrity had worn a look from Dolce & Gabbana's Alta Moda collection on the Globes' carpet. Get it, girl.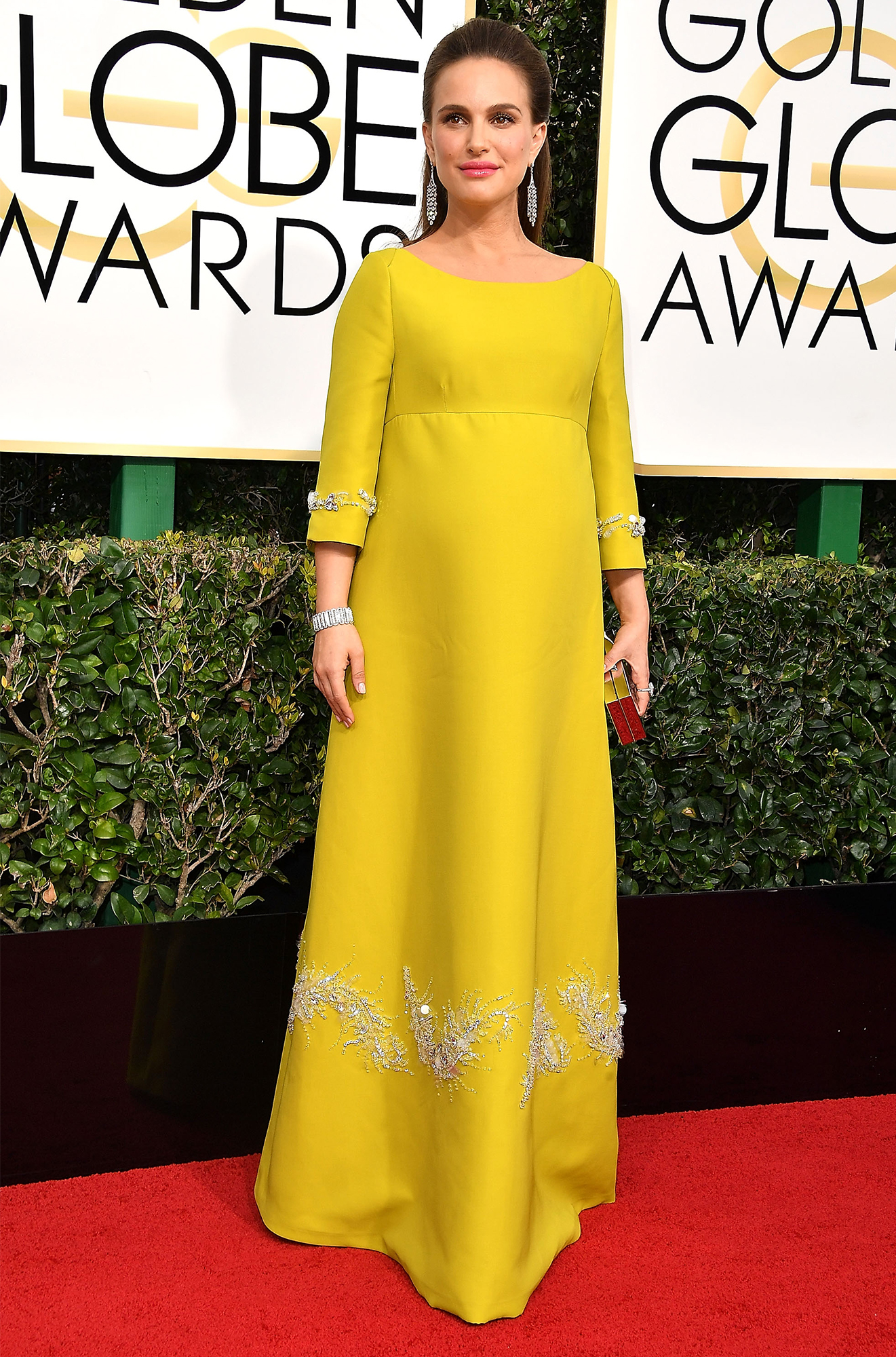 Natalie Portman
Photo: Getty Images
Best Homage: Natalie Portman in Prada
Attempting to sartorially channel Jacqueline Kennedy is bold. Never mind while pregnant. We applaud Portman's efforts and love this subdued Prada. It's just different enough. The thick chartreuse, the widened neckline, and the delicate embroidery all amount to a quietly elegant moment. We will say, though, the Bumpit hair is a bit much.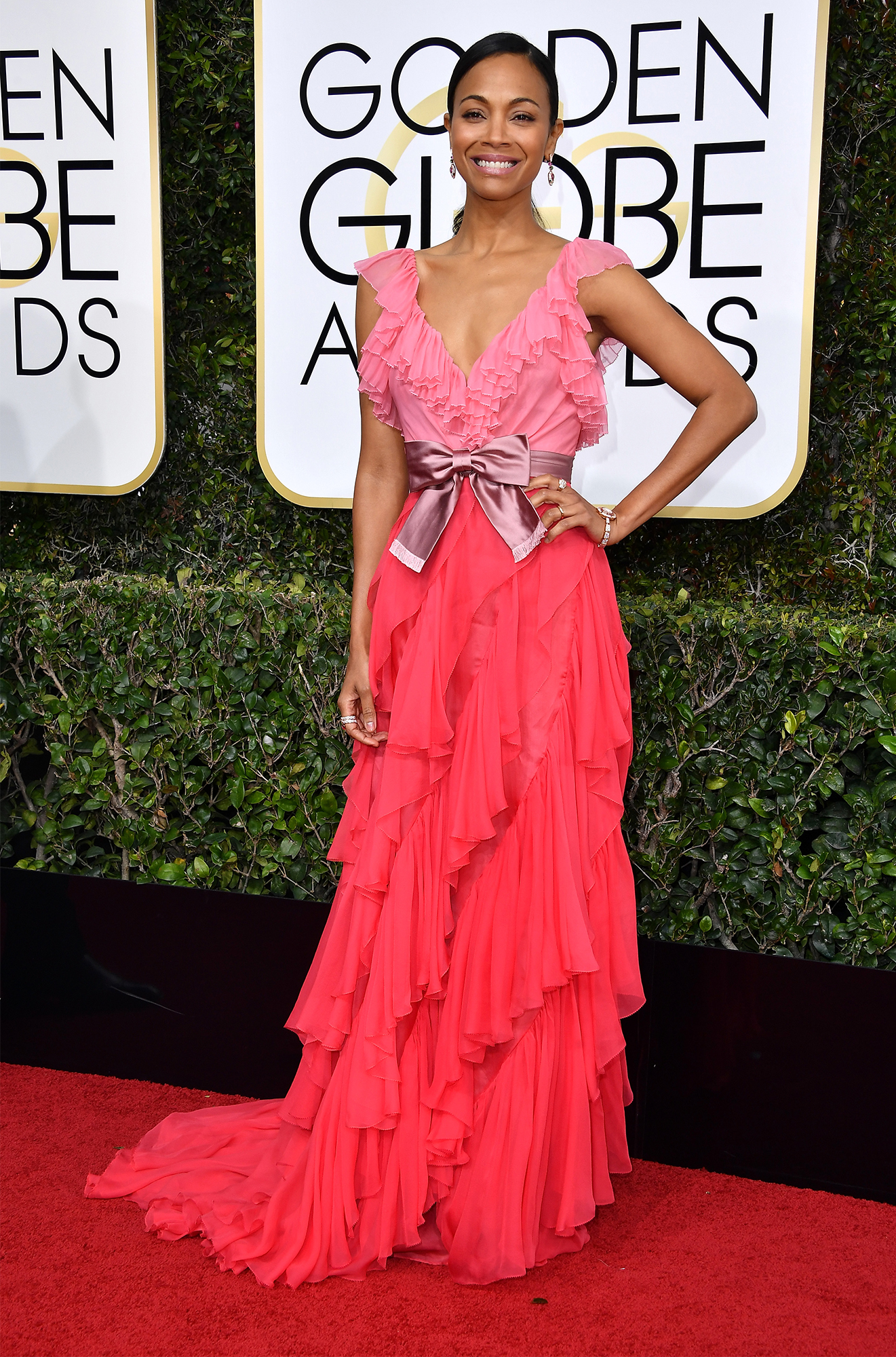 Zoe Saldana
Photo: Getty Images
Best Damsel in Distress: Zoe Saldana in Gucci
We're super into this 2017 Rapunzel moment from Alessandro Michele. It's fluid and exuberant and unapologetically girly. Saldana is a walking Valentine's Day card and we all need a little reminder of the fundamental power of love these days, am I right?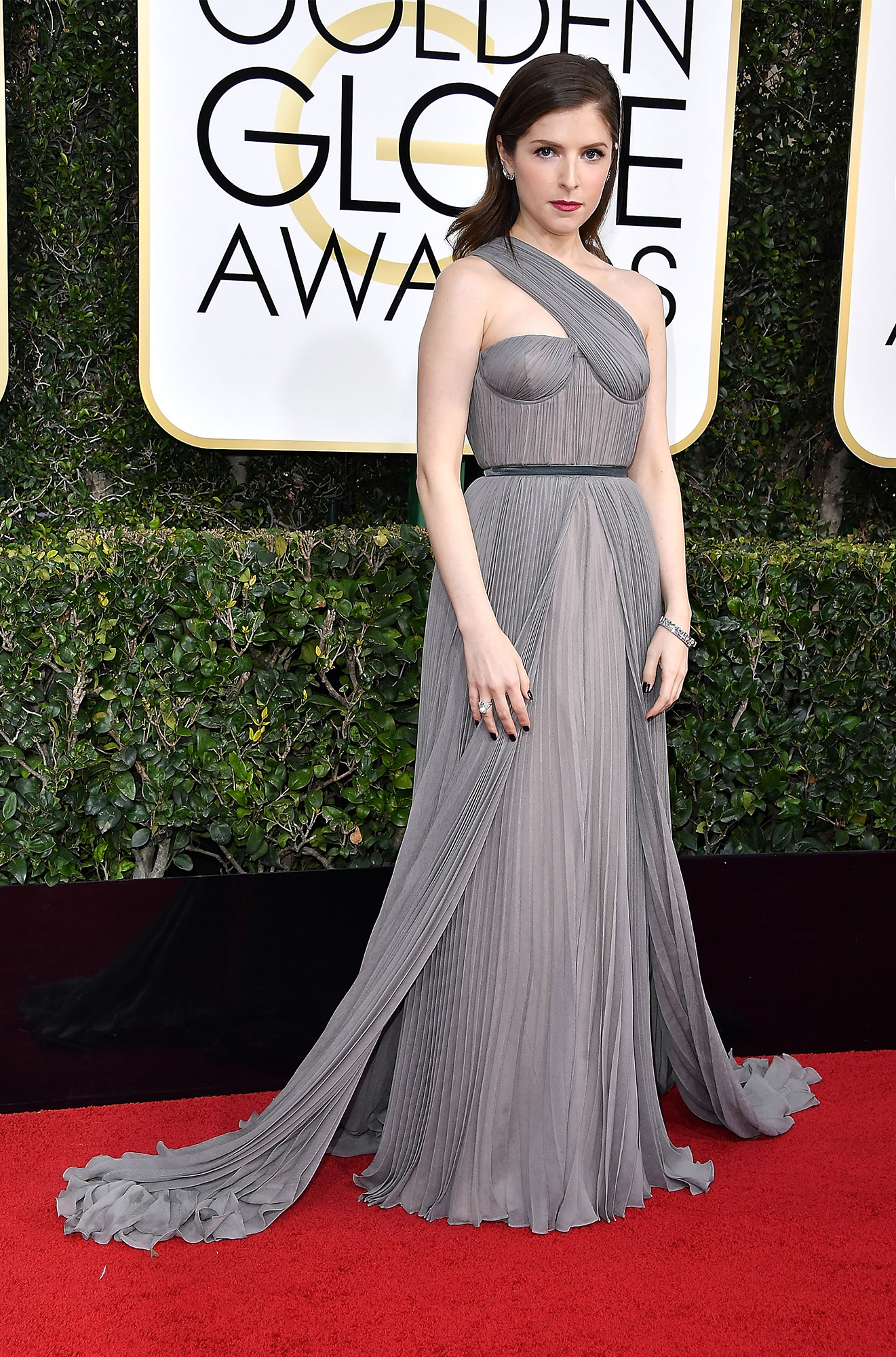 Anna Kendrick
Photo: Getty Images
Best Bridesmaid: Anna Kendrick in Vionnet
The inveterately sweet Kendrick chose something equally darling: A foggy grey Vionnet. But we couldn't help but think she should be transported to a Facebook album, one titled something like "Bill & Tara: January 8, 2017!" We want to give her a bundle of cream peonies and send her on her way.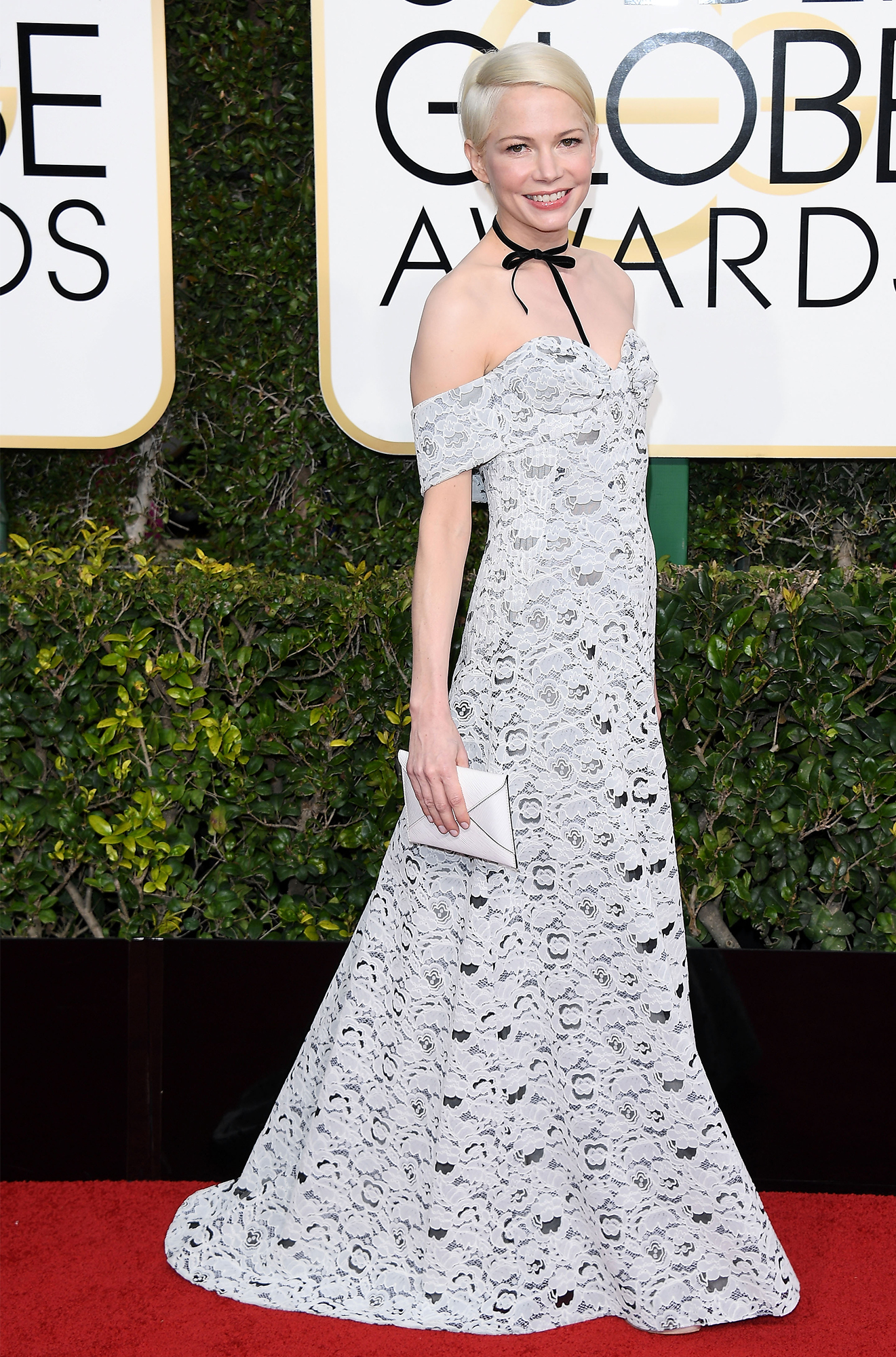 Michelle Williams
Photo: Getty Images
Best Shoulder Situation: Michelle Williams in Louis Vuitton
There were a lot of contenders in this category—Sarah Jessica Parker in Vera Wang, Thandie Newton in Monse, etc.—but Williams' quiet lace Vuitton column showed off the actress's gorgeously pale, sculpted décolletage exquisitely. We'll even forgive her for the choker—we have a love-hate relationship with them, but this is Michelle Williams, not some flower-crowned It girl at Coachella. She can do no wrong.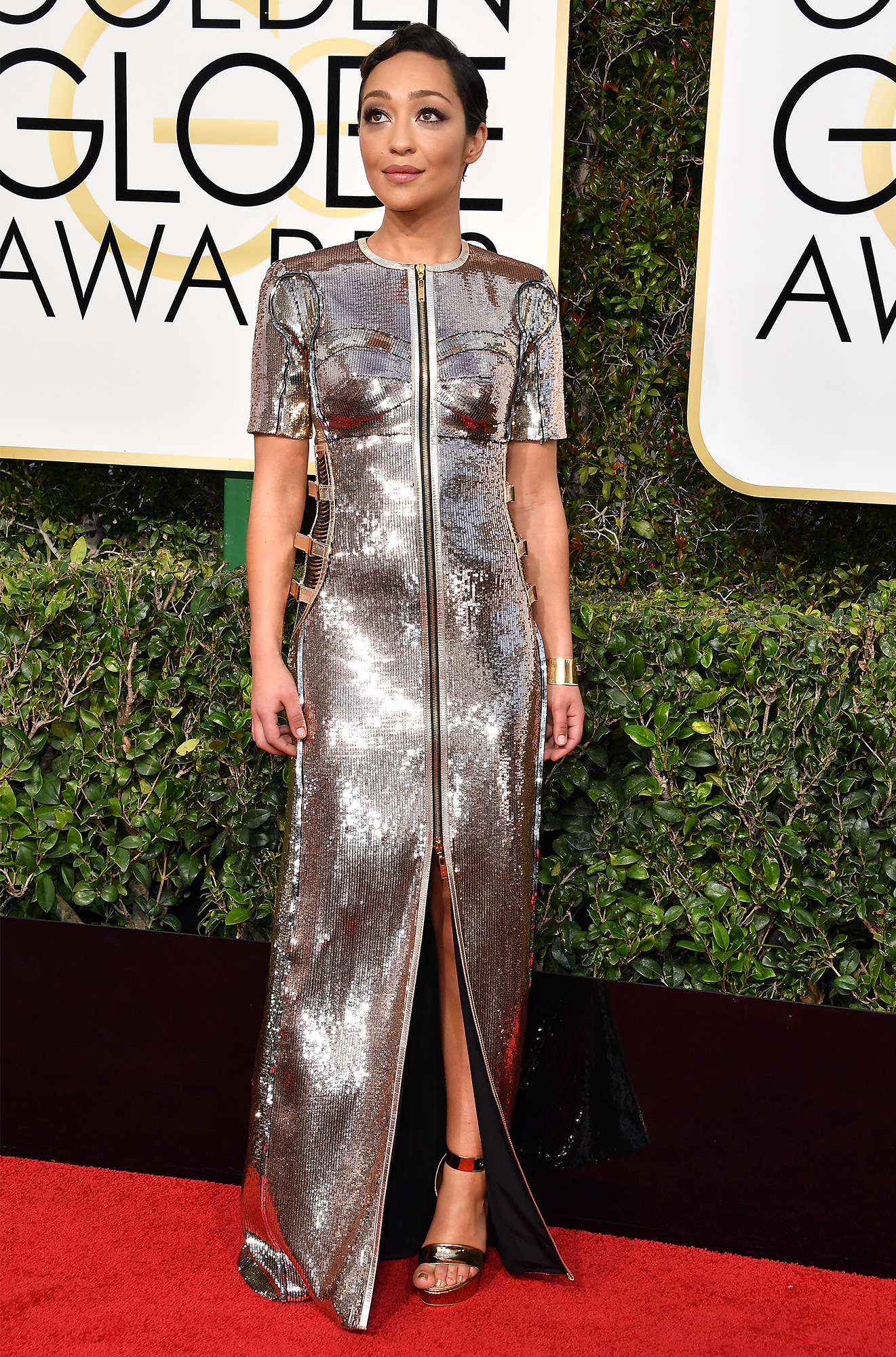 Ruth Negga
Photo: Getty Images
Best Duh...: Ruth Negga in Louis Vuitton
Of course Ruth Negga was going to look consummately chic. At every turn—from innumerable press events to her Vogue moment—the 34-year-old has proved herself quite the fashion plate and, duh, Sunday was no exception. We love the power behind this ensemble. She looks like a badass couture warrior, ready-for-battle. We appreciate the fluidity of it, too—she's dripping in sequins. The zipper and harness hardware on the hips adds a nice streetwear element as well.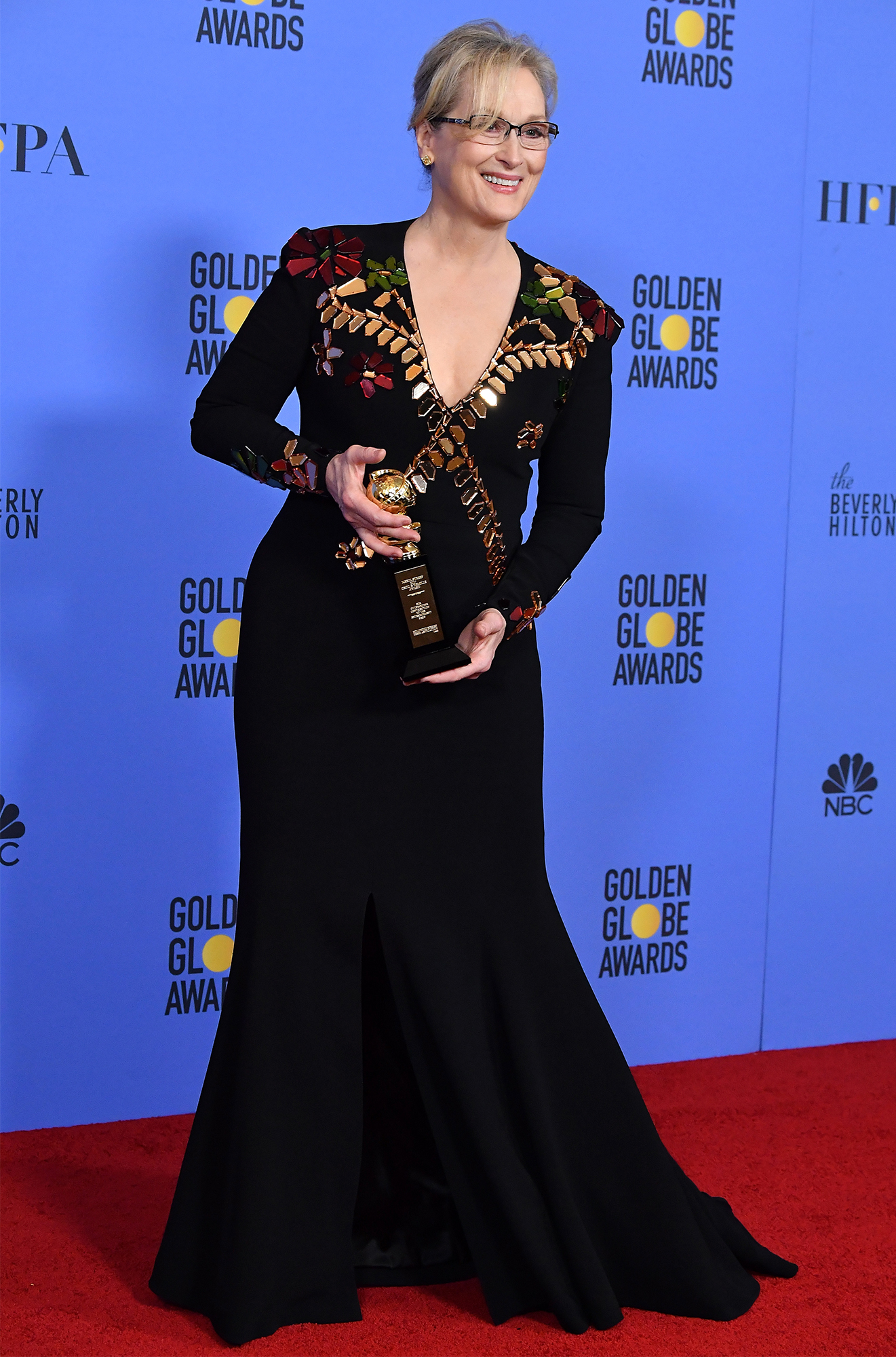 Meryl Streep
Photo: Getty Images
Best Candidate to Run for President After Trump is Impeached and Subsequently Mike Pence is Impeached And/Or Gives Up: Meryl Streep in Givenchy
Oh, Meryl. Just when we thought we couldn't love you more. We could watch her acceptance speech all day (and sort of have). Riccardo Tisci's creation was simple yet interesting, with shards of what looks like shattered mirror splayed across her torso. It was quiet enough to allow her to shine (pun intended). But, quite frankly, after that speech, she could wear a paper bag and we'd love her.
0 Comment