It all begins with a silk moth—a single tiny creature lays 300 eggs, creating enough cocoons to make a single 90cm by 90cm Hermès scarf, known as the "carré." Second only to the house's leather goods, the carré has become emblematic of the brand's craftsmanship—and it's also become quite the collectable.
Tomorrow night in New York, Hermès will open its traveling pop-up concept store, Hermèsmatic, where fans can get their scarves dip-dyed one of three new colors (fuchsia, violet, and denim blue). The shop, which debuted in Paris, allows customers to bring their own scarf for a complimentary dye. Visitors can also purchase a scarf on-site to have dyed, or purchase a one-of-a-kind vintage scarf from the dip dye collection.
But what exactly are you tossing into that dip-dye experience?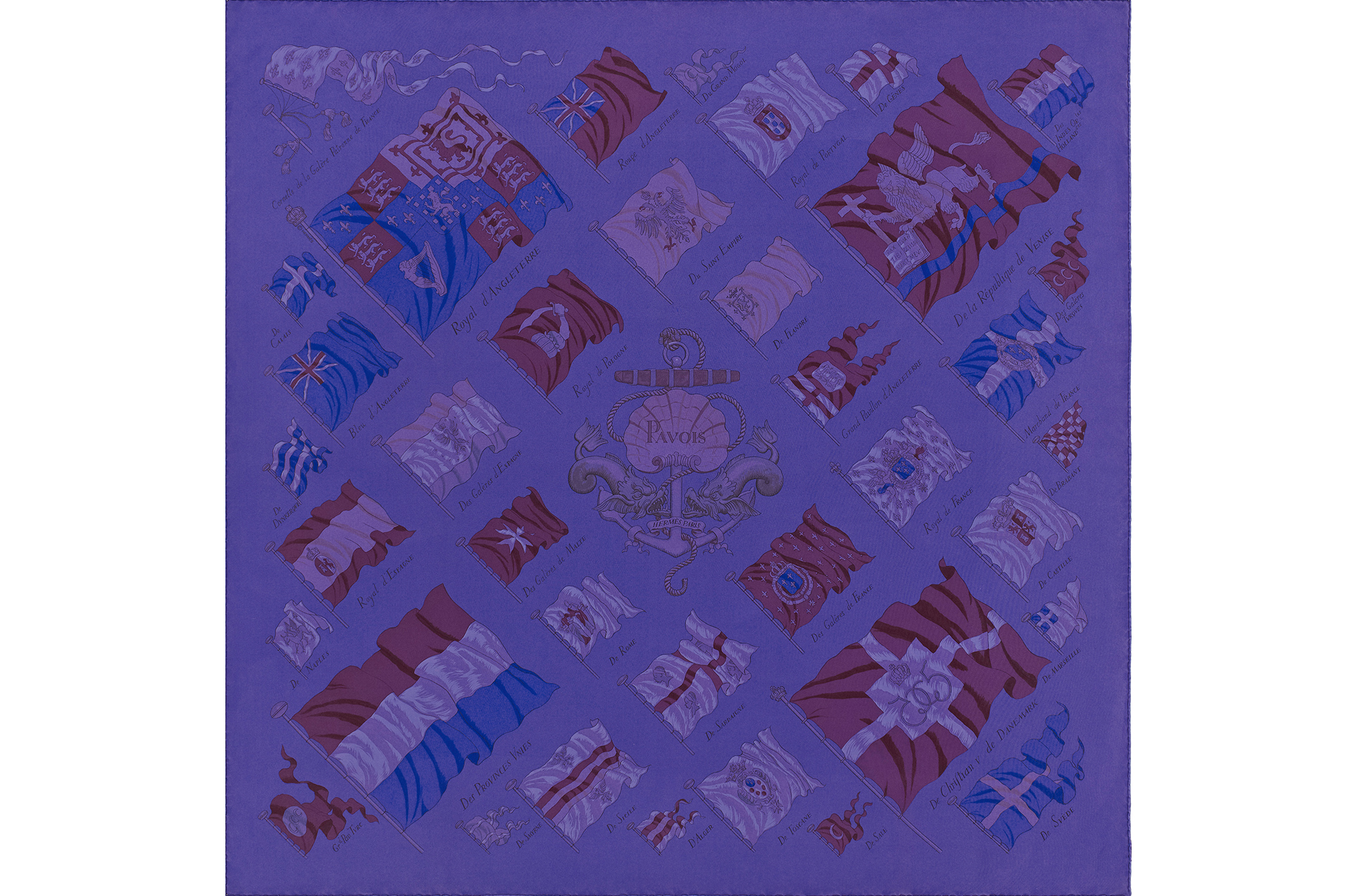 Photo: Courtesy of Hermès
The carré has been part of Hermès' offering for 80 years. The first one, titled "Jeu des Omnibus et des Dames Blanches," featured an illustration of the Parisian public bus line from Madeleine to Bastille, with women in the center, and was commissioned in 1937 by the house's then-director, Robert Dumas.
"From the beginning, the Hermès carré was imagined as an object, and not as an accessory," Pierre-Alexis Dumas, the house's current artistic director, has said. "My grandfather was fascinated by the rigor imposed by printing on silk, and he immediately addressed the creation of his motifs through composition."
Every season, over 10 new designs are introduced at the carré workshop in Lyon. After the silk is woven, life-sized, hand-painted mock-ups of the designs are created on card. From this, engravers trace out a layer of film for every color used in the scarf, which later helps create the frames through which the layers of dye are applied. But before that, colorists come up with multiple scheme options for the scarves, for which custom pigments must be hand-mixed before they are applied to the silk.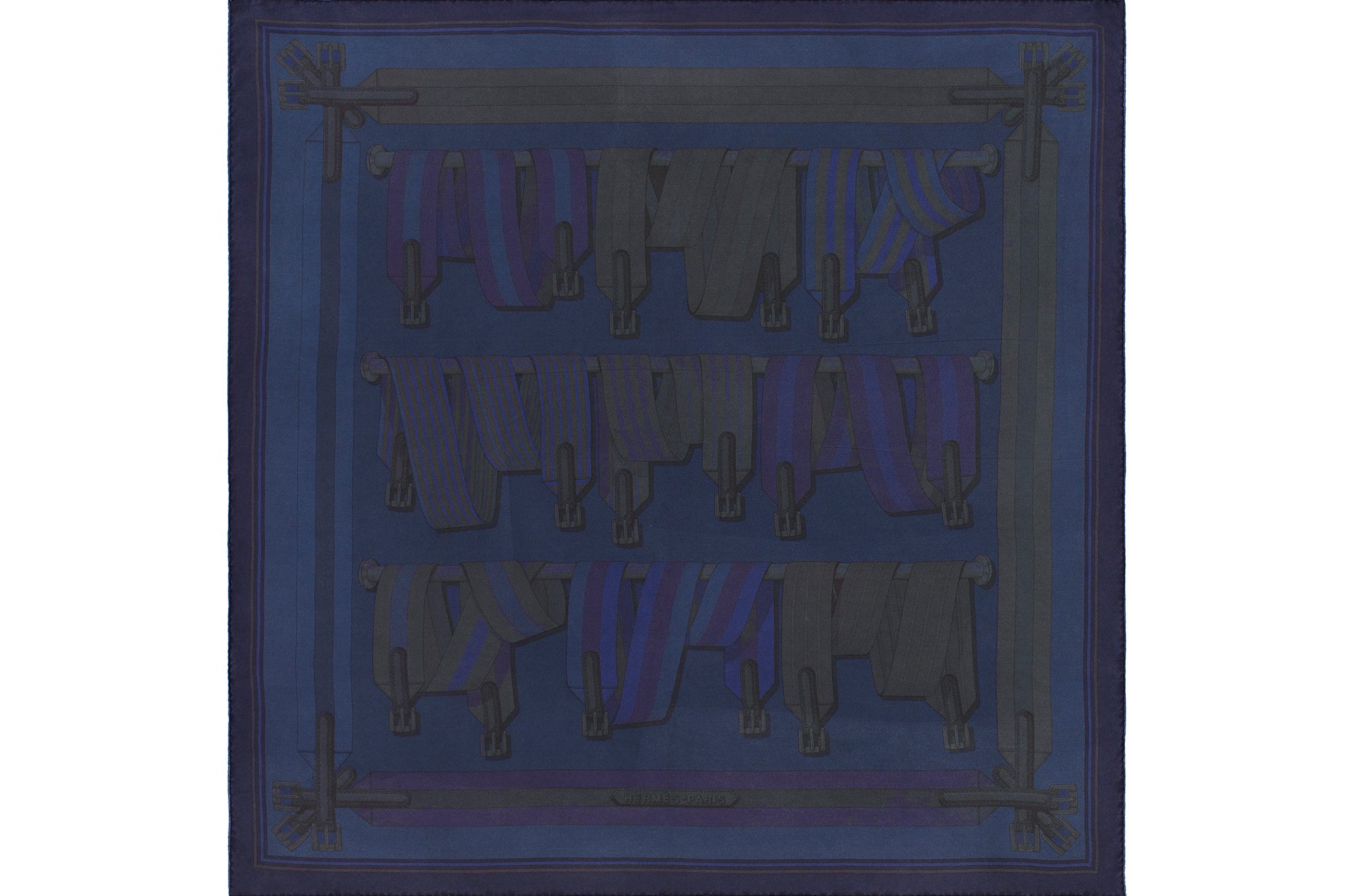 Photo: Courtesy of Hermès
"Coloring in the Lyon workshops starts after the engraving of the design, an essential step in the creation of a carré that can take up to four months of concentration to register all the nuances of a motif on frames that are each different," René Frezza, head of the color studio, once explained. "From 40 basic colors, we can achieve millions of tones by playing with the proportions."
Since the days of Robert Dumas, the house has reached out to artists to help design the patterns of the carrés. The illustrations, which have been produced over the years by the likes of Hugo Grygkar, Philippe Ledoux, Henri de Linarès, Jean-Louis Clerc, Ding Yi, and Bali Barret, have relied on quirky designs with a sense of humor. Famous patterns have included "Les Clés" (which features a circular key motif), and "Ex-Libris" (a Grygkar design originally from 1946 that features a horse and carriage—as one might expect, horses are a reoccurring motif for carré designs, given Hermès' equestrian heritage). Occasionally, the brand has looked back, such as when "Jeu des Omnibus" was reissued in 2007, or when Barret's illustrations were inspired by Hermès ads from the 1930s.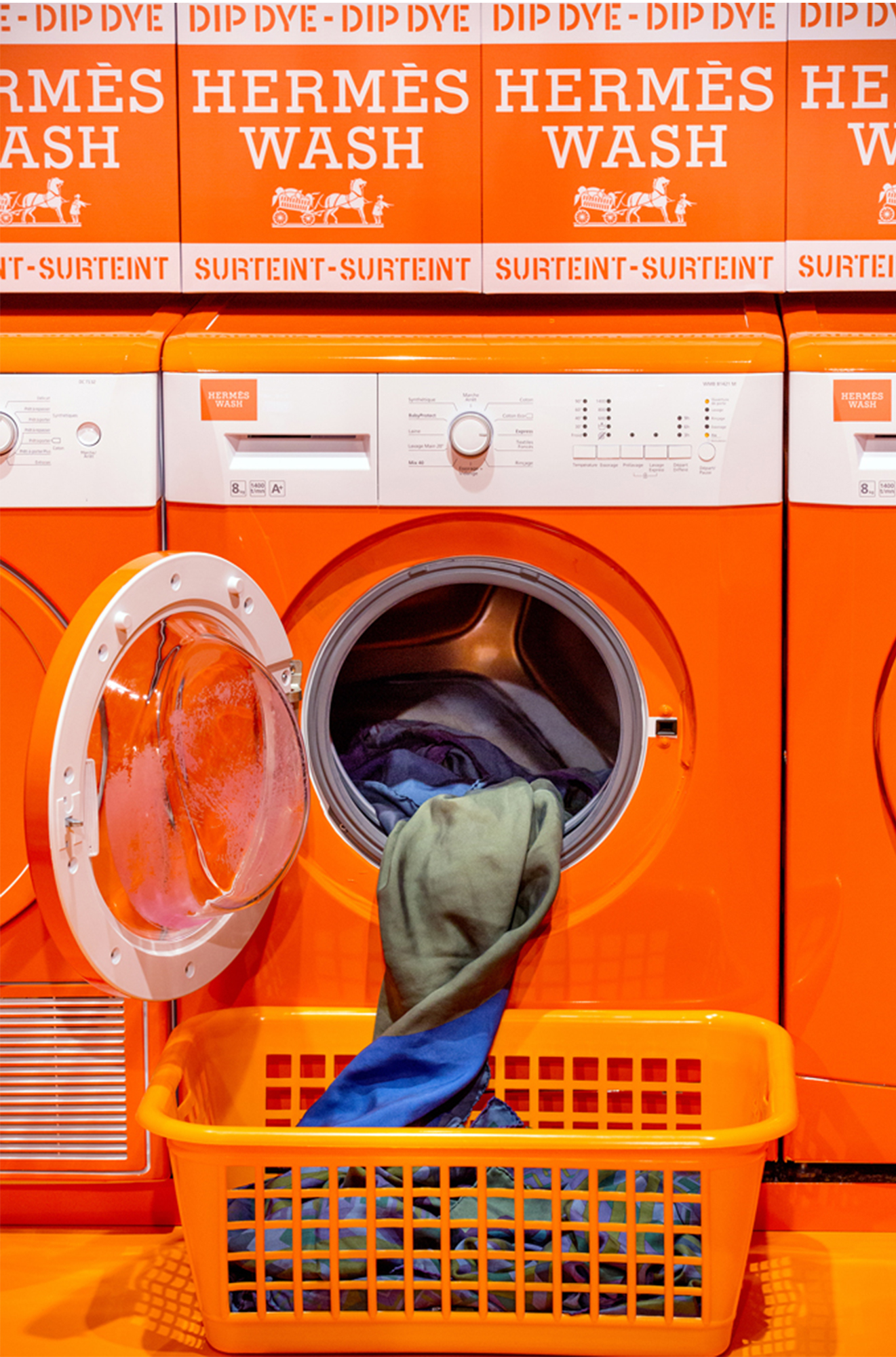 Photo: Courtesy of Hermès
The carré has had its fair share of pop-culture moments as well, usually in the from of seemingly benign images that cement its status as an everyday item for the upper class. Fans include royalty like Queen Elizabeth II, and Princess Grace of Monaco (who famously used one as a sling for her broken arm).
Over the years the house has produced over 2,000 designs, and that's kind of what makes the carré so special—it does not have the same pattern produced over and over again. Each season has a new set of original artworks that are exclusive to the brand. Add the fact that, as scarves are items of apparel, they are subject to the wear and tear of the owner, meaning that certain vintage designs are extremely rare. Because of this, the carré has inspired collectors around the world. That's what makes the Hermèsmatic pop-up so quintessentially Hermès: It's helping fans to make their carrés even more special, under the guidance of the house's colorists, in an amusing way.
Hermèsmatic opens tomorrow night at 90 Gansevoort Street, and will be open until June 18. It then moves on to Washington D.C. next month, followed by Nashville in October, and Los Angeles in November.
0 Comment