Korean fashion has now landed at Nordstrom. The final installment of a three-part series of pop-ups celebrating all things Korean (it kicked off with Korean eyewear brand Gentle Monster, followed by the cultish world of Korean beauty), KFashion spotlights eight different Korean brands: Kye, Hyein Seo, J Koo, SJYP, Yune Ho, Kuho, Suecomma Bonnie, and Neul, all of which are available online and in select Nordstrom stores until May 7.

Olivia Kim, Nordstrom's vice president of creative projects (and the mastermind behind the retailer's wildly popular Pop-Ins) cited "the energy, the youthfulness, and how quickly [Korean fashion] moves" as her inspiration behind the concept. "I've been really into everything that's happening around Korean fashion, culture, and style, and it's hard to ignore the buzz and energy happening there," she said.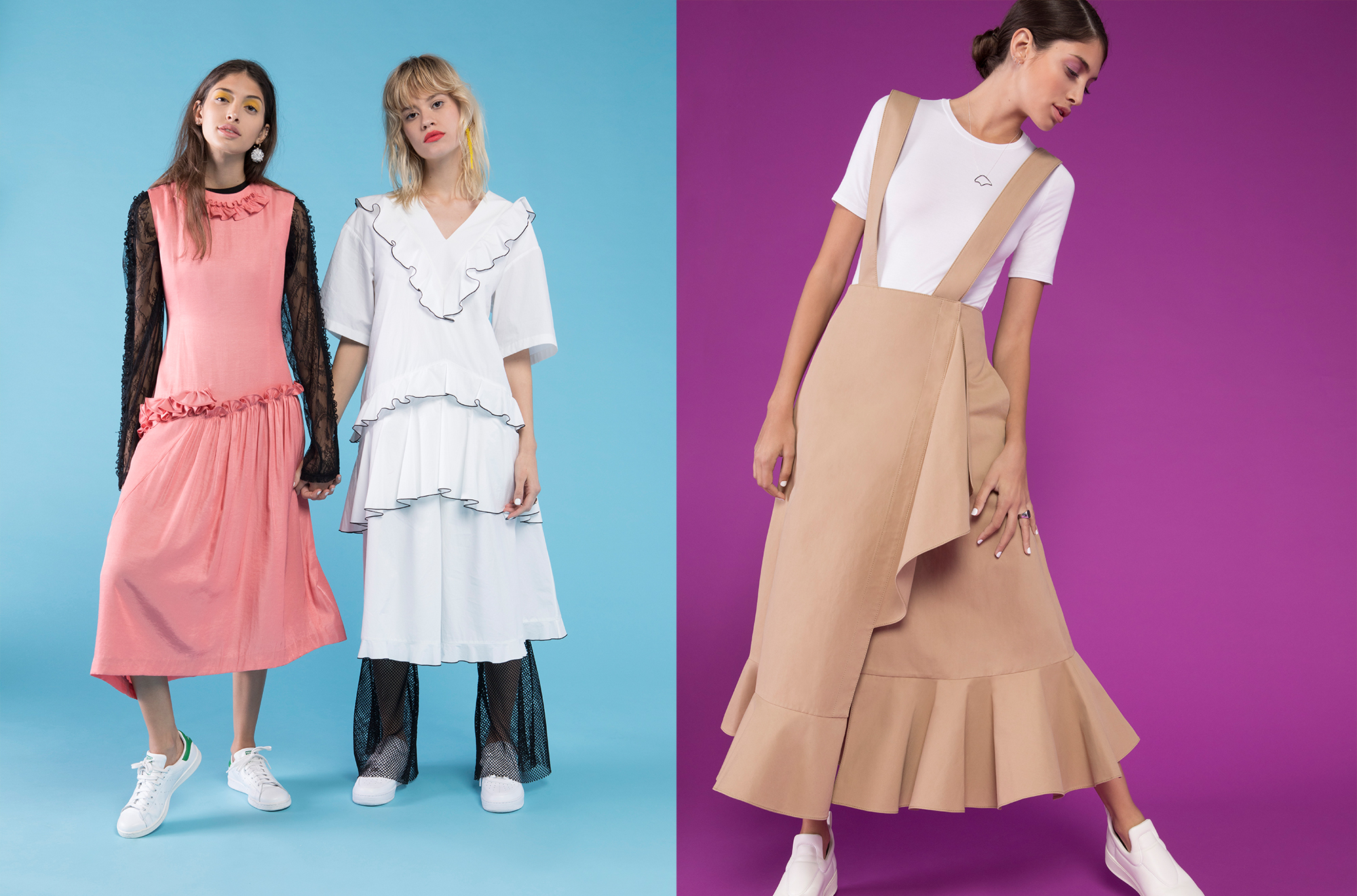 Photos: Courtesy of Nordstrom
Products in the range include androgynous, streetwear-inspired duds and embellished sandals to silk slip dresses and fun little plush toys. In other words, there's something for everyone—even a (now sold-out) homemade kimchi kit. Prices range from $45 to $640. Bonus: For those who missed the KBeauty craze, there's still some loot up for grabs, like egg yolk body butter and mung bean foil sheet masks.
"The concept really came to life as we started looking at collections and curating some of the best pieces we wanted to bring to our customers," Kim said. "We wanted to have a range of collections—some edgier, some super feminine, some really pushing trend boundaries. Each had their own voice and spread the spectrum of what our customers are looking for."
Street style in Seoul was also an inspiration, she said, as well as Korean pop culture. "I love watching the Korean dramas to see what the celebrities are wearing and the shopping craze that follows suit," she said. "We talk about celebrity style and pop culture here, but is next level in Korea. You could see a jacket on a Korean soap star and that jacket will sell out in five minutes."
Photos: Courtesy of Nordstrom
Kim added that Nordstrom's Pop-Ins typically change every four to six weeks, but this is the first time they're doing a series of three shops united by a single theme.

"Our customers are super curious and educated about fashion, so we're excited to have these brands that are typically harder to find, or that you can only find in a boutique in Seoul," she said.
In addition to educating the Nordstrom consumer about Korean fashion (K-beauty has seemingly already caught on), Kim said they're also debuting two lines, Kuho and Neul, in the U.S.
"There's so much happening with Korean fashion, and its ability to adopt new ideas or new trends is amazing," she added. "The pace and turnover of these trends is incredible, too—they adopt it, embrace it, consume it, and move on. We love our customer's curiosity, so we hope they're as excited about K-Fashion as we are."
K-Fashion is available online and in select stores nationwide until May 7.
0 Comment