Sitting on the wraparound porch of Tbilisi's trendy boutique hotel, Rooms, during last week's Mercedes Benz Fashion Week Tbilisi, 27-year-old local designer George Keburia is quick to note how things have changed. "Ten years ago, there was nothing here," he said. "We didn't have lights."
Today, things are different. "I was thinking about the everyday woman," said Keburia of his Fall 2017 collection of '80s-styled lilac and tangerine school- girl power suits and sheer, outsized empire frocks. "She could also be dramatic."
His woman is young—"a teenager, or in her 20s," he said—and this characterization is fitting. He sells at Tbilisi's Chaos Concept Store—an expansive, ultra-cool boutique for the skate set dealing in J.W.Anderson, Shrimps, and a league of local designers—and his clothes—fresh, close-to-home, slightly surrealist—speak to the ambitious youth. He says he's hoping a more mature client will take notice with time.
Keburia is among a small but growing group of young, talented Georgian designers on the cusp of breaking out. They are, quite frankly, of their own. They're arguably more exciting as a whole than their emerging fashion counterparts in New York and London. They lived through the Soviet era, two years of civil war (1991-93), and the period of rebuilding. One 26-year-old filmmaker who attended fashion week, martini in hand, reflected on years without heat in the winter. Many Georgians commented that their culture, while deeply influenced by the Soviet period, is arguably the most distinct of the former USSR territories. With that in mind, their fashion designs are not dictated by rules of beauty in the traditional Western sense (Georgian-born Demna Gvasalia, in his work at both Balenciaga and Vetements, is an excellent representation of this), and they're certainly nothing like the largely Oligarch-aimed wares coming out of Moscow.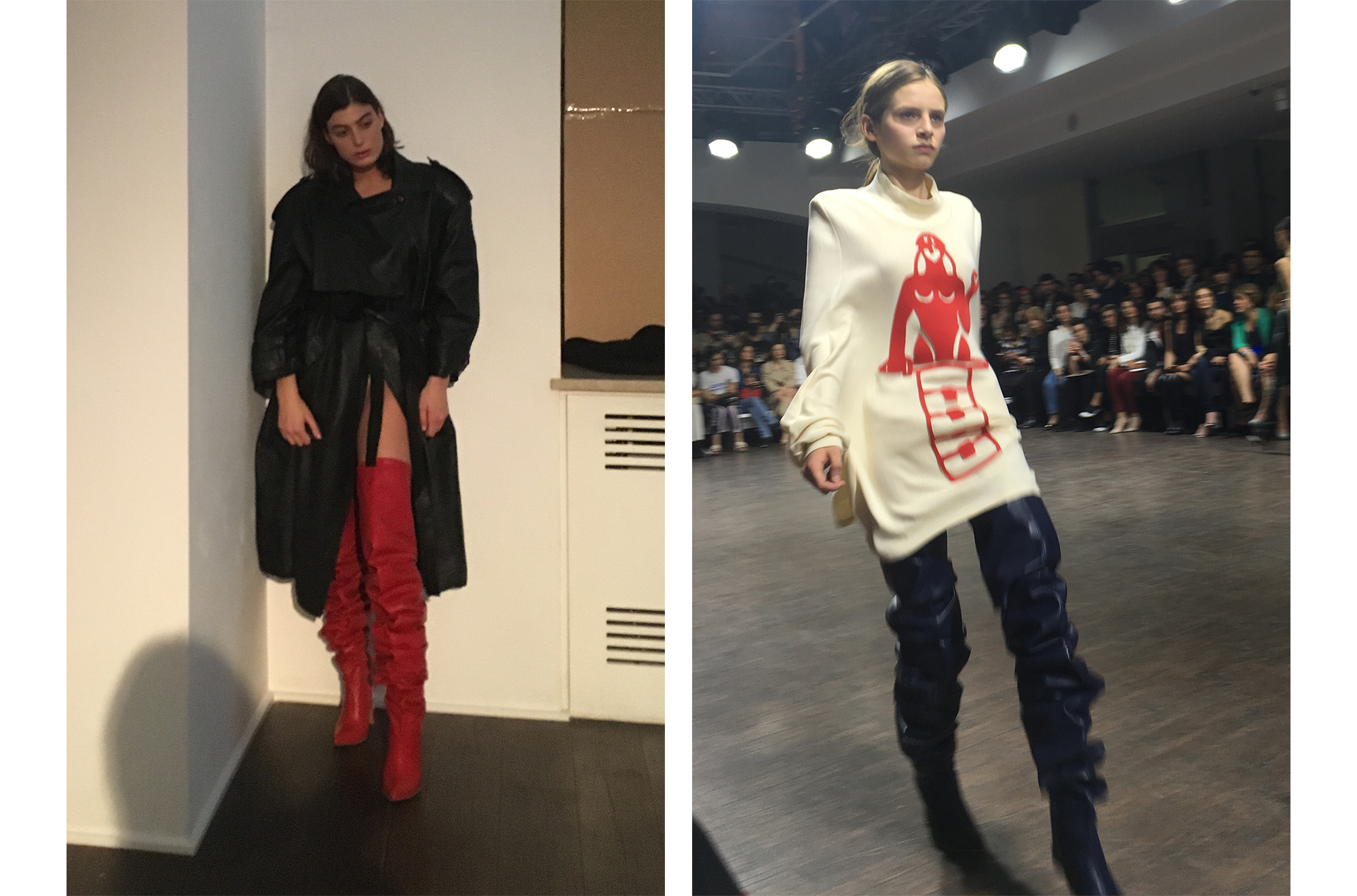 Situationist
Photos: Ashley W. Simpson
Speaking to Business of Fashion in February of 2016, Gvasalia noted, "I grew up in Soviet times in Georgia, which meant that me and my friends, we all had the same clothes. It was such a unified society that was deprived of information and of many things, which probably pushed me from early on to discover certain excitement in things that I didn't know. Living through the Georgian civil war, he later told Vogue, "taught me to dare."
"Daring" is an apt way to describe the new crop of emerging Georgian talents. The names shaping Tbilisi's fashion scene include Irakli Rusadze, whose leather-loaded line Situationist has graced the limbs of Bella Hadid; Alexander Arutyunov, known for his deep irreverence (see: Fall 2017's Adidas-striped leather thigh-highs made for men and women alike and an "ugly" brown color-blocked puffer); and Tamuna Ingorokva, whose latest womenswear offering is made up of head-turning fire-red and jet-black leather jumpsuits.
Many of these designers credit Gvasalia for turning the international eye toward Georgia.
"I know [Demna] quite well," said Rusadze. "He's a friend—I'm proud. In his collections, there are some things that would be quite hard to understand for the Western audience that are quite close and common to the Eastern European heart. I also have a lot of old photos that could be used for future collections—images of things that the average person used to feel [were] beautiful [during the Soviet era]. Demna's opening a barrier [for all of us]."
Like Keburia, Rusadze spoke about his clothes as items for the everyday. "People who are [driven] to do something to realize themselves. People who are working," is how he described his client. "I want to create useful clothing."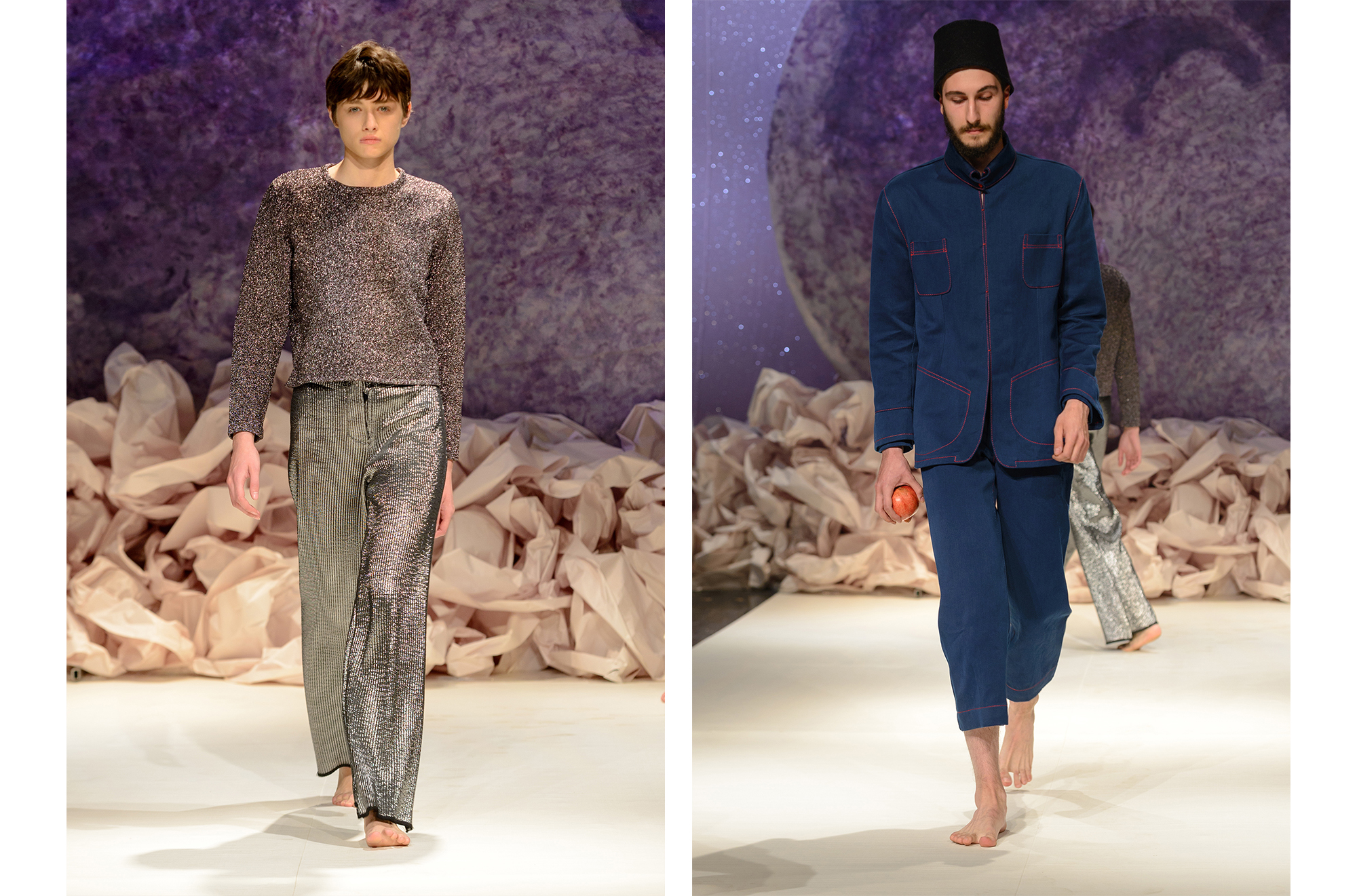 TL-180
Photos: Courtesy of Mercedes Benz Fashion Week Tbilisi
Fittingly, his collection is full of suits and Georgian, sourced-from-your-grandma details (think oversized pockets reminiscent of traditional dresses remade as hoodies). But there is also something simultaneously mannish and sexy about Rusadze's wares; they feel soaked in Georgian-Soviet history, and with their disregard of "pretty," they are modern in a very specific way. Many have compared him to Gvasalia.
"The energy [in Georgia] is really special," explained Antonine Peduzzi and Luisa Orsini Prep, the two Rome-based designers of TL-180 (Orsini Prep is part Georgian) who debuted their cinema-inspired ready-to-wear line of elegant separates against a beautiful set designed by a Gucci collaborator during Mercedes Benz Fashion Week Tbilisi. "There is a real openness."
"Georgian fashion has a lot of potential. In [recent] years, because of Demna, there is an [international] interest," said Rusadze. "Currently, it's making huge steps in reinventing itself. When I encountered people in the past and said, 'I'm from Georgia,' most of the people thought I was from the state of the U.S. Now, the first idea that comes to mind is the birthplace of Demna. It is seen on the map."
"The country is so poor," said Keburia, before adding with a laugh, "Maybe we have more inspiration? I don't know. [I do know] everything is changing."
0 Comment