Tonight's Met Gala—the theme of which was "Rei Kawakubo/Comme des Garçons: Art of the In-Between"—has left much to be desired, as is usually the case with red carpet extravaganzas. Sure, there was a slew of noteworthy moments, like Kendall Jenner showing up in a nearly naked and very Rihanna-at-the-CFDAs-circa-2014 dress (courtesy of La Perla); mother-daughter rock duo Frances Bean Cobain and Courtney Love sharing a smooch on the museum's famous steps; and a very enthused Celine Dion showing up, endearingly so, for what will be her first-ever Met Gala. But sadly, not many sartorial risks were taken, save for a few, which is a shame given the avant-garde nature of the theme (Kawakubo is, after all, something of a revolutionary) and the experimental, otherworldly possibilities that go with it. Fortunately, what didn't disappoint were the accessories, which came in all forms—from a canteen of rosé to a Planned Parenthood pin to an actual blunt. (Hey, whatever gets you through the star-studded evening.) Here, the seven most unusual appurtenances of this year's Met Gala.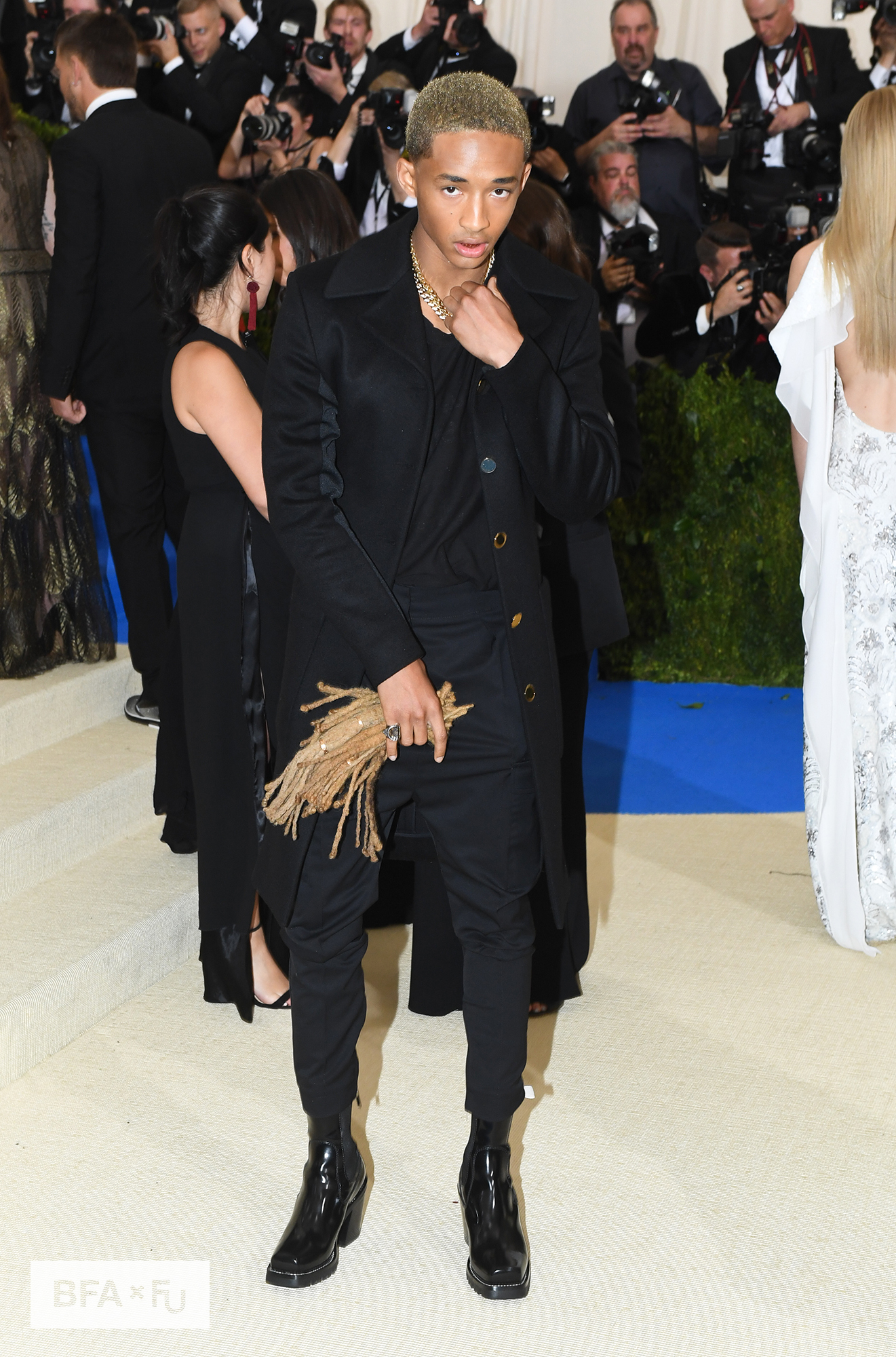 Jaden Smith
Photo: BFA.com. View more at BFA.com.
1. A Bouquet of Hair
After chopping off his blonde dreadlocks last month for his new role in Life in a Year (a film Cara Delevingne also stars in), certified cool kid Jaden Smith showed up at tonight's gala clutching a fistful of said locs. Smith's peculiar accessory looked totally rad with his custom, all-black Louis Vuitton ensemble (replete with high-heeled boots), which he topped off with a metal grill and, per a tweet from Vogue, a speaker blasting his own music. Who needs a clutch when you can carry your own hair?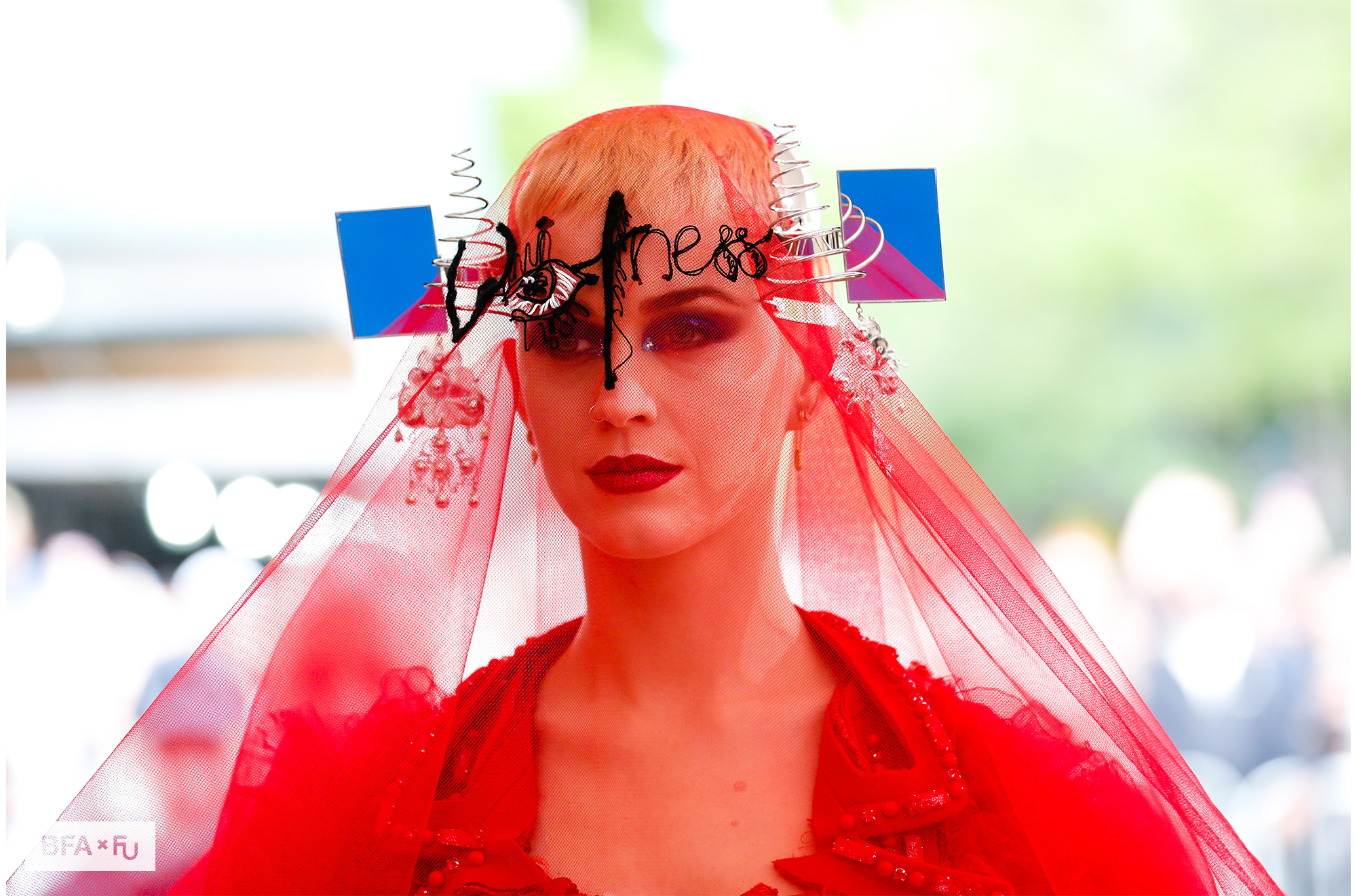 Katy Perry
Photo: BFA.com. View more at BFA.com.
2. A Red Veil

Katy Perry, a co-host of the evening, showed up tonight swathed in seemingly endless layers of red tulle and chiffon. The Chained To The Rhythm singer and current Vogue cover star's look recalled Kawakubo's memorable—and haunting—"Blood and Roses" collection for Spring 2015, though it's worth noting her ensemble came care of John Galliano for Maison Margiela Artisanal and not Comme des Garçons. Still, Perry gets kudos for shrouding herself behind a mesh veil that had the word "witness" scribbled along the top, upping the eerie factor in the best way possible.

3. A Canteen Full of Rosé
In line with her camo theme, a Moschino-clad Madonna showed up not only with Jeremy Scott by her side (and a net stole around her arms), but with a canteen full of rosé, she revealed to Entertainment Weekly. Lesson learned: Why wait in line at the open bar when you can carry your own steady supply?
4. Fresh Ink
Tattoos are cool, but getting one hours before the Met Gala is even cooler…if you're Sofia Richie. In addition to sporting a custom metallic Topshop number (and Chrome Hearts jewelry), the IMG model and daughter of Lionel Richie showed off a new black cross on her finger, which she told reporters she got with her stylist moments before hitting the red carpet.
5. A Political Pin
Political motifs were all over the runways this past season, and apparently they're also on the red carpet, too, as evidenced by Lena Dunham. The Girls star opted for an off-the-shoulder custom gingham gown by Elizabeth Kennedy (the crimson color matched Jenni Konner's, which recalled last year's twinning moment), and a Planned Parenthood pin. While it was small in size (Dunham posted a close-up of it on her Instagram), the message was big.
6. A Boyfriend in a Cape
What better accessory is there than man candy, particularly when said man is decked out in a crystal-embellished Rick Owens suit and a matching cape that looks kind of like he stole it from an Ice Capades dressing room? Yes, we are referring to Diddy, who decided to recline on the iconic stair steps while his date, Cassie Ventura, posed for photos. Get you a man who can do both: sport a cape and watch you shine.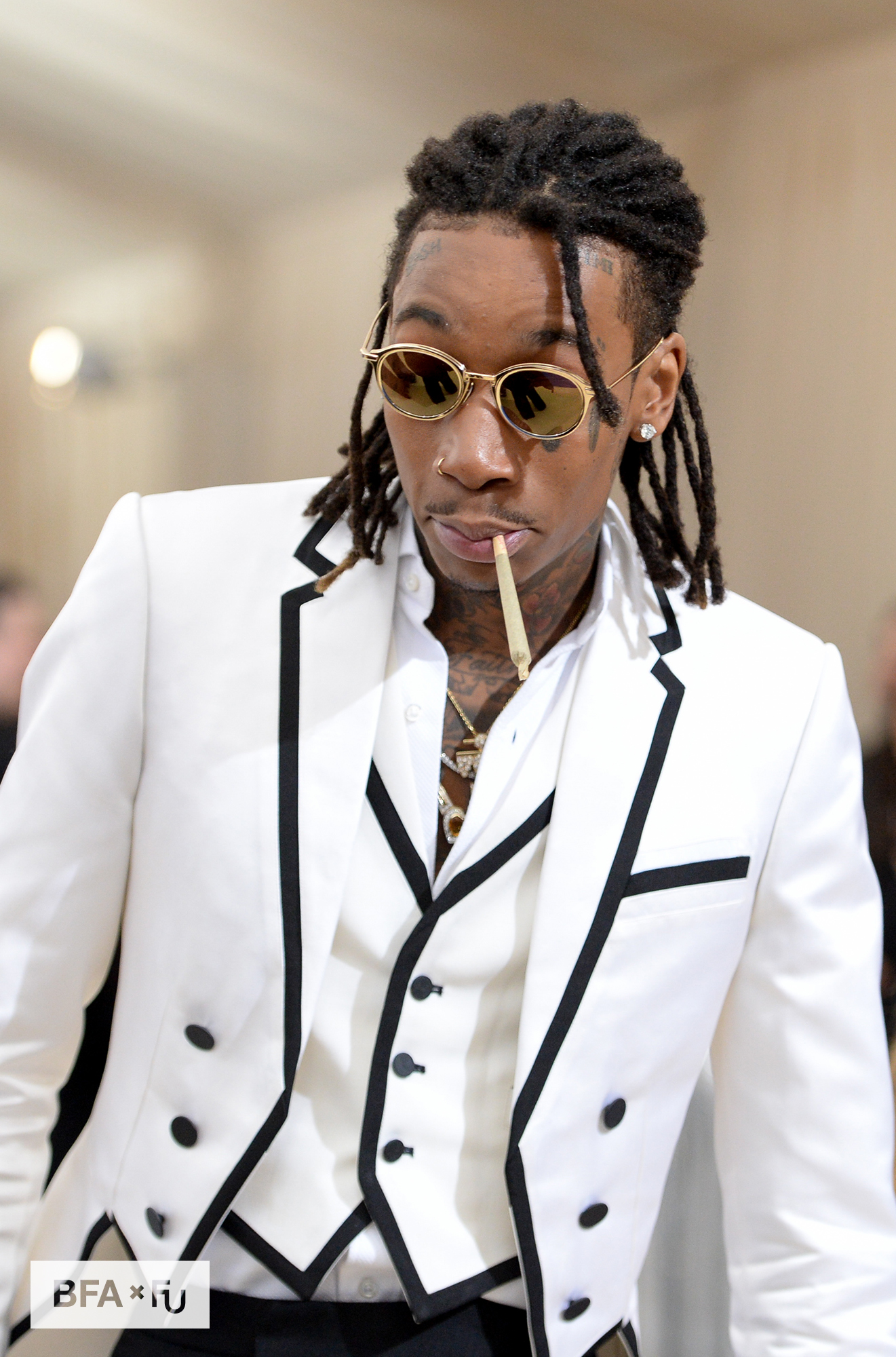 Wiz Khalifa
Photo: BFA.com. View more at BFA.com.
7. A Blunt

When you're Wiz Khalifa, every day is 4/20. Why take a day off on what is arguably one of the most stressful events of the entire year? Clad in a black-and-white Thom Browne suit (similar to the shrunken offering he sported at the Grammys last year, which was also designed by Browne), Khalifa hit the red carpet with a blunt in tow, making him not only one of the best-dressed celebrities of the night, but the most lit...literally. Which after-party is he going to? Asking for a friend.

0 Comment