A single white feather grasped by a slender hand is the first image that confronts shoppers when walking into designer Nili Lotan's new 87 Mercer Street pop-up. The photograph, shot by frequent collaborators Inez Van Lamsweerde and Vinoodh Matadin, symbolizes the ethos behind Lotan's latest project, one that aims to project strength, hope, courage, and beauty. But the image is also somewhat of a metaphor for Lotan herself, a designer who, since launching her eponymous line in 2003, has not once followed the crowd. "For me, it symbolizes Nili, her spirit, the way she stands in life with a lot of power and a lot of strength, but in a very delicate way," said Van Lamsweerde, a diehard Lotan fan. (Also, fun fact, the hand in the photograph is hers.)

The Israeli-born, Tribeca-based Lotan flies largely under the radar, forgoing flash, trends, and spectacle for sincerity, quality, and intimacy. Her clothes aren't manufactured for Instagram likes (though, thanks to the Hadids' recent embrace of her iconic slip dresses, wide-legged trousers, and relaxed sweaters, she's amassed quite the organic social following), rather, they're quality garments that cater to all facets of women's lives. Her clothes, like covetable kimono coats, shaggy faux fur chubbies, and signature military pants, have long been favorites of fashion-savvy women, and wearing them is akin to walking around in an embrace from your best friend—or even your lover. I can personally attest that her silk slip dresses—perfect for both black tie affairs and cozy evenings at home—have the power to make one feel more sensual and confident than the most complex va-va-voom ensembles. Her work is the definition "by women, for women." "She just makes the best clothes," Van Lamsweerde offered. "It's like the best-kept secret. It's very functional and when you look good, you function better. And it's about feeling good, too. I can't find anything else that's like that. I go to her store to buy everything. I want more and more and more and more."
Of late, Lotan, who has permanent brick-and-mortar locations in Tribeca and East Hampton, has seen a boom in Web sales, thanks largely to the aforementioned millennial influencers' embrace of her wares. That increase in traffic lead her to conceptualize the new pop-up, which is essentially a physical destination for her virtual retail space. "I realized a couple of things," Lotan told me at the pop-up's opening fete last week. "One, my Web business is growing 300 percent a year, and the energy is shifting from retail to the Web. The second thing is that, every time I walk through Soho, every second store is closed. So I thought, there's got to be an affordable space that I can take for a couple of months and transform my Website into a store. Also," Lotan continued, "after analyzing my social media, I realized that the average age of women who follow me is 24 to 34, which was a surprise. These women end up buying at my sample sales—they're not really coming in and buying my collections [at full price], so I had the idea to create special-edition garments that I can communicate via social media and offer at a special price."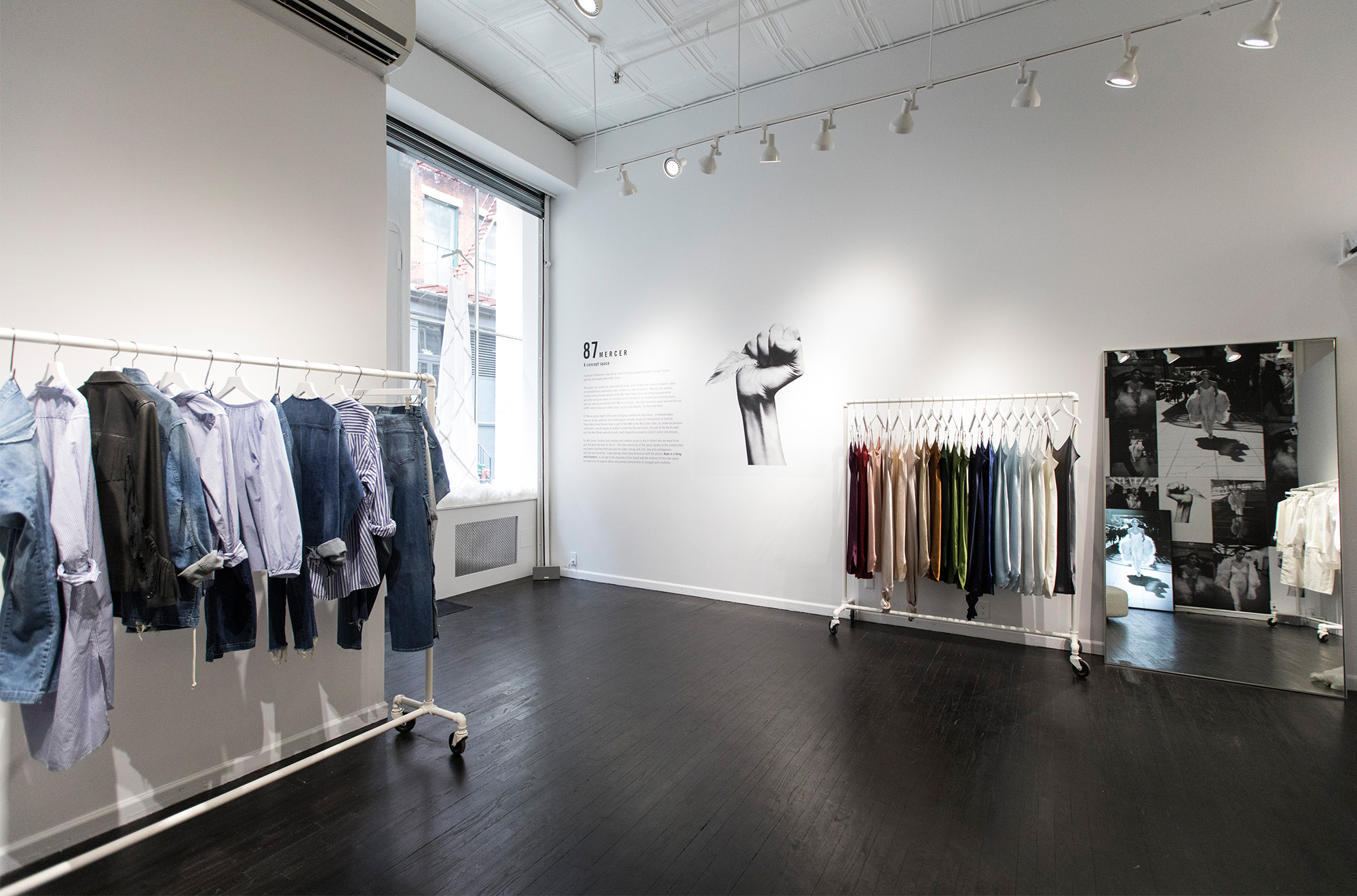 Photo: Courtesy of Nili Lotan
Open through August, Lotan's IRL Web shop is frankly ingenious on a number of levels. For starters, there's been a great deal of chatter in the industry lately about the decline of retail, and how physical stores would do well to evolve into experiential showrooms, where clients can touch, feel, and try before placing an order online. (For the record, every item in Lotan's Mercer shop is available online, and guests of the store must checkout on provided iPads or their mobile devices.) Furthermore, Lotan's pop-up will cycle through a handful of themes, the corresponding garments for which are limited-edition, thus creating an increased desire for the product—honestly, in a world where everyone has the same H&M t-shirt or, dare I say it, Gucci loafers, who doesn't want something unique?

The first "story," as Lotan calls it, available now, revolves around that stoic feather and a poignant Emily Dickinson quote: "Hope is a thing with feathers." "We worked on this idea of someone like a white angel walking through New York and going against the grain—against the crowd. It's about hope," explained Van Lamsweerde of the initial theme, for which she and Matadin created a moving image of a model marching against the NYC crowd in a feathered jacket and a white silk cami dress. Lotan has designed an exclusive series of 100 such dresses in a rainbow of hues to tie into this tale, as well as a simple white t-shirt with that feather-in-hand photograph printed on the front.
Additional themes, which will be launched alongside physical and Web installations, include a range featuring the designer's popular camo print, a collection inspired by the designer's two homes, Tel-Aviv and Tribeca, and a reissue of her famed, politically-charged protest photo-print.
Looking to the future, Lotan plans to bow more interactive spaces around the world in such cities as Tel-Aviv and Paris. "This is going to be a tour," Lotan said. "My husband is a musician, and he tours all the time. So I said, now it's my turn to go on tour." Keep your eyes peeled—a Nili Lotan experience could soon be coming to a store near you.
Nili Lotan's concept shop is located at 87 Mercer Street in New York City. Shop the full collection at nililotan.com
0 Comment