The following names read like an all-star fashion week schedule: Tom Ford, Anna Sui, Marc Jacobs, Alexander Wang, Jack McCollough, and Lazaro Hernandez. Of course, there was a time when these designers didn't induce the kind of gatecrashing or frenzies that they do now. These were all students at Parsons School of Design, spending their wonder years studying, racking up accolades (Jacobs), or quitting altogether (Alexander Wang).
All the more reason why the Parsons' MFA showcase is like a proverbial crystal ball, offering a glimpse into the future. The MFA Fashion Design and Society program is newish, but unlike any other in that it acts as a hotbed for conscious fashion designers. Given that the fashion industry is the second highest polluter (second to oil) and retail models of yore are near extinction, the future stands to benefit from those with fresh ideas—both on a creative and systematic level.
"What we're producing on the MFA is important for the industry because otherwise it's the same old," said course director Shelley Fox before Sunday's graduate show. "What the industry gets here is the unexpected."
On the runway, there was no shortage of the unexpected. The graduate collections spanned from wildly whimsical lace to pretty polyurethane to trompe l'œil knitwear to gender-defying menswear. Caroline Hu's spectacular, ornamental gowns were an exclamation of beauty and emotion. There was Neil Grotzinger, whose heavily beaded leotards cast their male wearers in a feminine light. Two other collections featured mundane objects like plastic bags and unwanted clothes—allegorical references to physical and emotional baggage, or maybe, in another sense, an indication of this generation's anti-chic tendencies.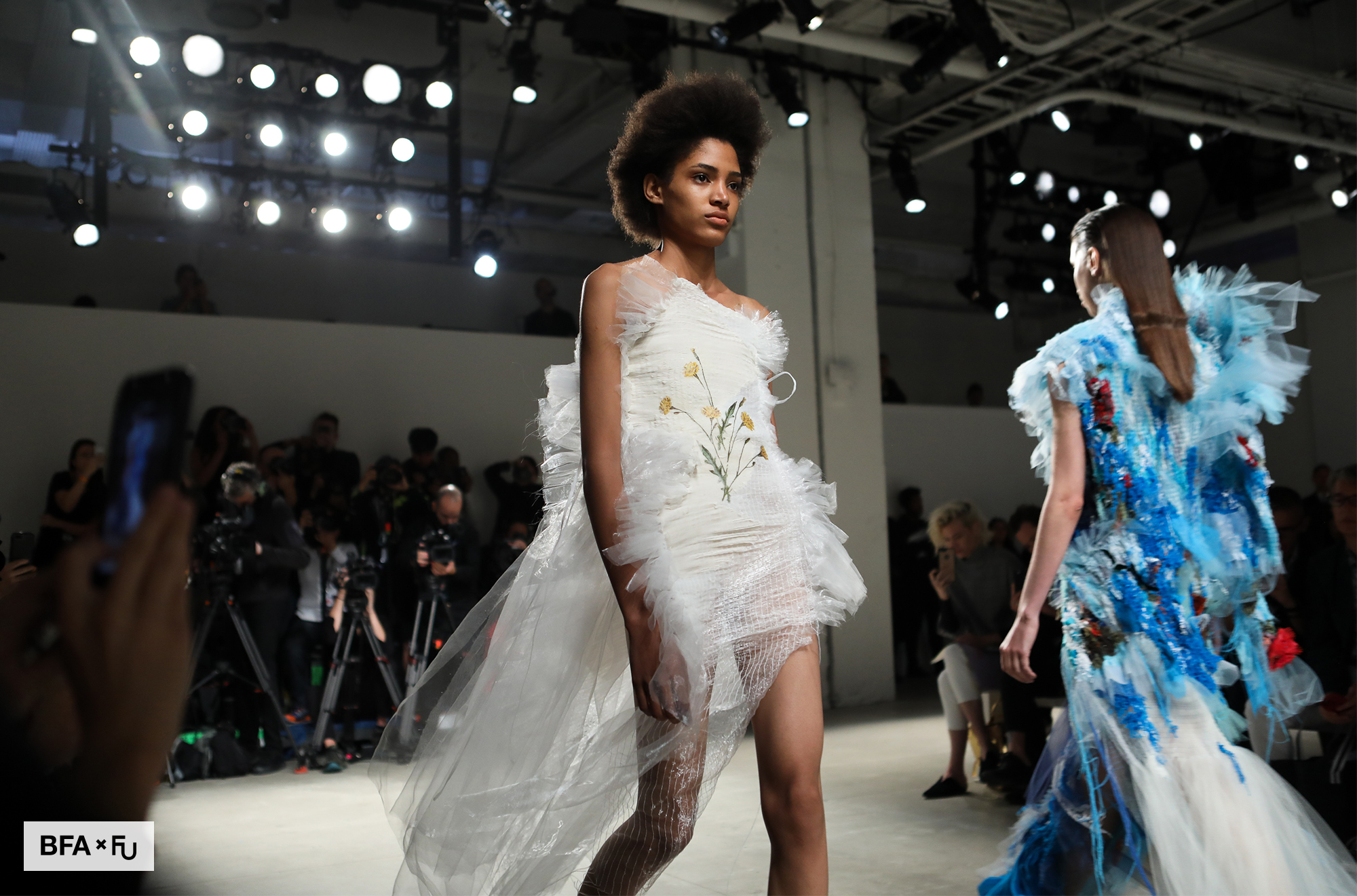 Photo: BFA.com. View more at BFA.com.
If the collective output from the show is a predictor of what's to come, then fashion will be one crafty place. "None of us could just hand off our designs to a factory and get it done," said Zoey Champion, whose vibrantly knit dresses and topcoats were a manual labor of love.

Masterful technique is all well and good, but not without a strong message. All nine graduates had clear points of view, some more compelling than others. Tingyue Jiang spoke of the Chinese factory worker, in particular the simple sewing stitch a worker might employ in a garment factory, to explain his dimensional confections. Was his collection a condemnation of mass production? "No," he said, "What I want people to know is the workers' experience."
Not all collections need be a rallying cry. Take Shanel Campbell's interplay between men's suiting elements and the female form. Her aesthetic is rooted in questioning what society deems fit for women to wear, do, or think. But it's not just Campbell who's open to the challenge. "I think this generation is more open-minded to what people can wear," she said. "We think something is wearable when 10 years ago, people didn't think it was." With kind of open-mindedness among Parsons' graduates, rest assured, the future is in good hands.
To see every look from the Parsons MFA show, click here
0 Comment