The story is almost too perfect to be true: Two New York City roommates were introduced through a mutual friend. One was business-minded and numbers-savvy, and her family just happened to run a knitwear factory in her native China. The other, a Parsons student at the time, cut her teeth in design interning for brands like Christopher Kane, Calvin Klein, and Nike, winning Kering's Empowering Imagination Award along the way. In 2014, two years after they met, the stars aligned and PH5 was born.

The faces behind the label, which bills itself as an "innovative knitwear brand," are Mijia Zhang and Wei Lin. Zhang, 26, is the designer, while Lin, 29, is the founder and runs the business side of things. Lin started the brand as way to help her family's business, but she also sensed a gap in the affordable-yet-high-quality knitwear market. "I didn't want to create just another sweater brand," Lin said. "If I was going to do something, I wanted it to be meaningful."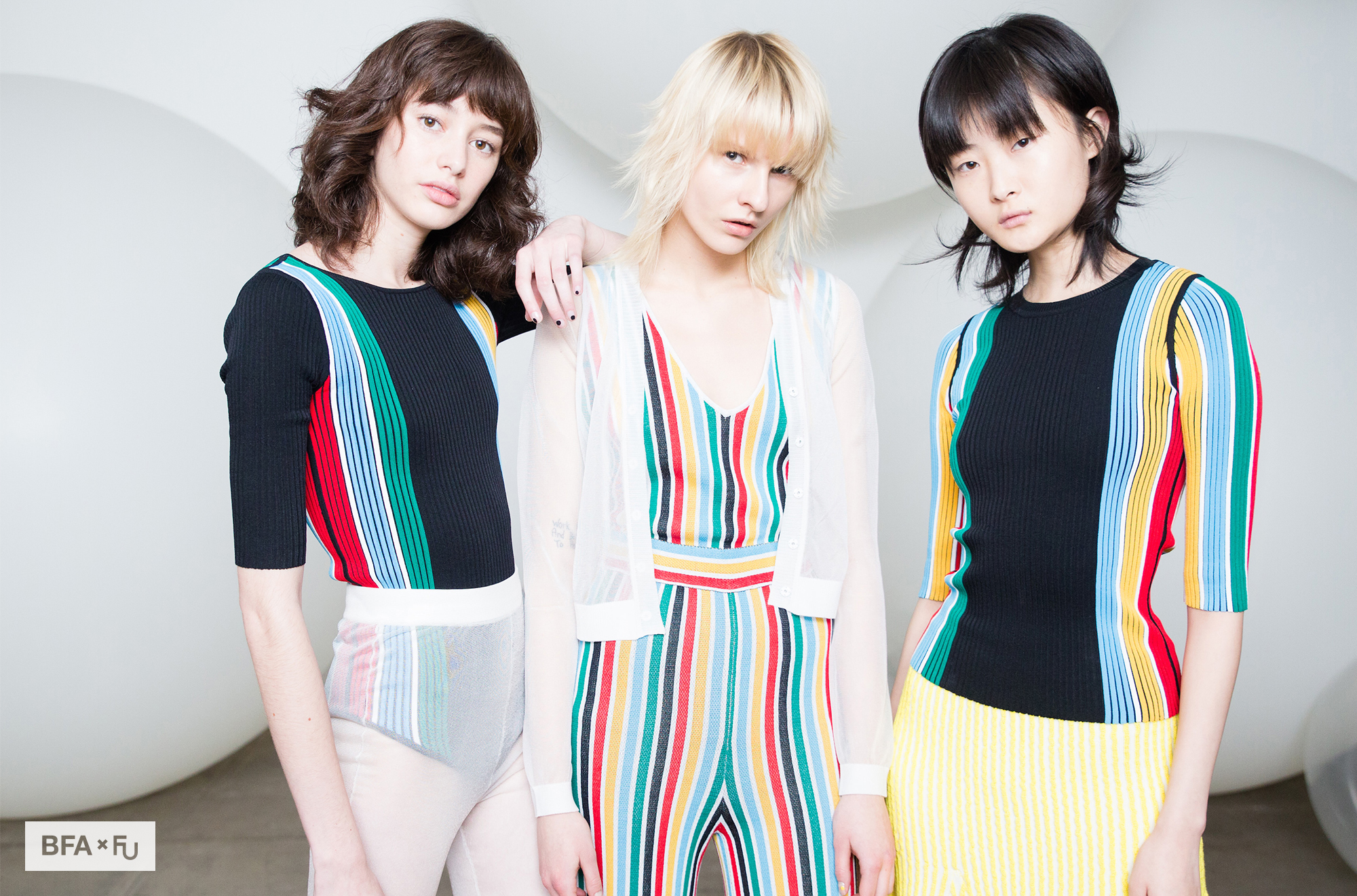 PH5 Fall 2017 Ready-to-Wear
Photo: BFA.com. View more at BFA.com.
While they cite Azzedine Alaïa as inspiration ("I love his technical, cutting-edge, hard-to-copy knitwear," Lin said) their aim in PH5 is to cater to a different market, one that's younger, more contemporary, and a bit more playful. PH5's price point is about $200 to $500—a steal for colorful, ribbed knits that feel and look far more expensive. (Both women were sporting designs from their Fall 2017 and Spring 2017 collections during our interview.)

"When people think of sweaters, they think of the white, the black, the plain, the cashmere, the chunky knits," Lin said. "But they don't think of knitwear as something that can be interesting or fun. Nobody's pushing the envelope on knitwear."

To say that the current fashion climate is less-than-ideal for budding designers—even ones who one might consider "niche"—is putting it mildly. In addition to far-fetched expectations and insurmountable pressure (designers are expected to pump out upwards of six collections per year, for instance), consumer shopping habits are changing drastically, and with so many new brands popping up here and there, it's often hard to gain attention.

"There's not a bible you can rely on," said Zhang. "There's always going to uncertainty."
"The game has changed and the rules have changed," added Lin.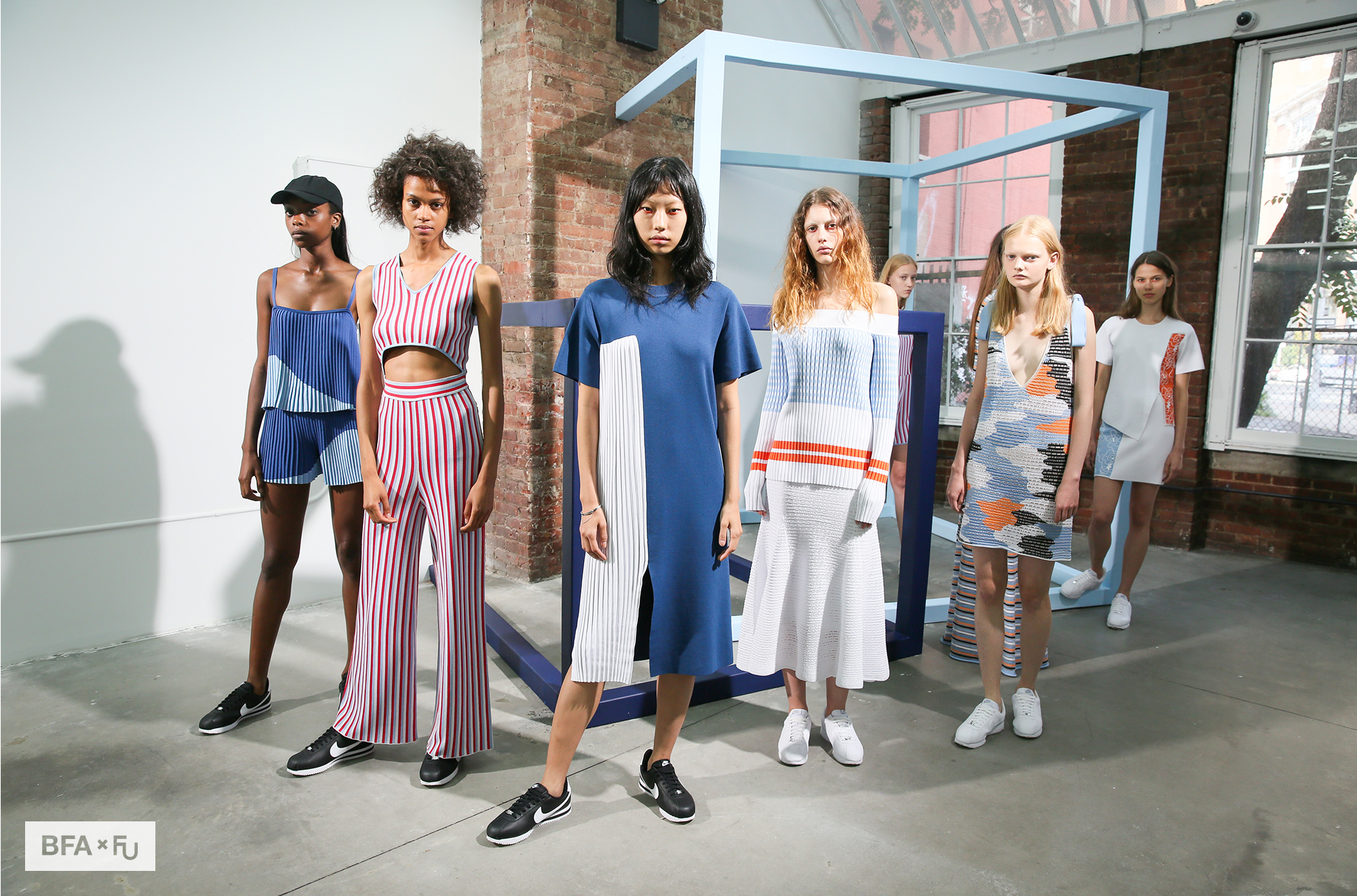 PH5 Spring 2017 Ready-to-Wear
Photo: BFA.com. View more at BFA.com.
That said, the women are aware of their advantage—that being Lin's family's knitwear factory in China. "We have leverage because we don't have to worry about production," Lin said. "A lot of young brands can't survive two seasons, and 90 percent of the reason is because of production. We're lucky to be able to keep going in the midst of such a diverse and interesting and weird mess."

Balance rests at the core of the brand—it's even cemented into the name "PH5," a reference, of course, to the PH scale in chemistry. "PH5 is that neutral, slightly feminine area," Lin said. "We're not necessarily the sexy, pretty, very, very feminine woman, but we're also not very avant-garde. It's that balance—it's the girl who's a career woman and travels a lot and is very practical and functional, someone who wants pockets in everything and wants to be able to put things in the washing machine."
The brand is heavy on art references, and the collections are often byproducts of Whang's visits to art galleries and exhibits around the world. For Fall, for example, Zhang looked to Martin Creed's balloon installation in Seattle. "I remember how I felt with balloons—really chunky, but so light," she said. Their forthcoming collection for Spring 2018 will draw on artificial flowers and commercial desire, a direct association to the hyperrealistic flower paintings by Marc Quinn.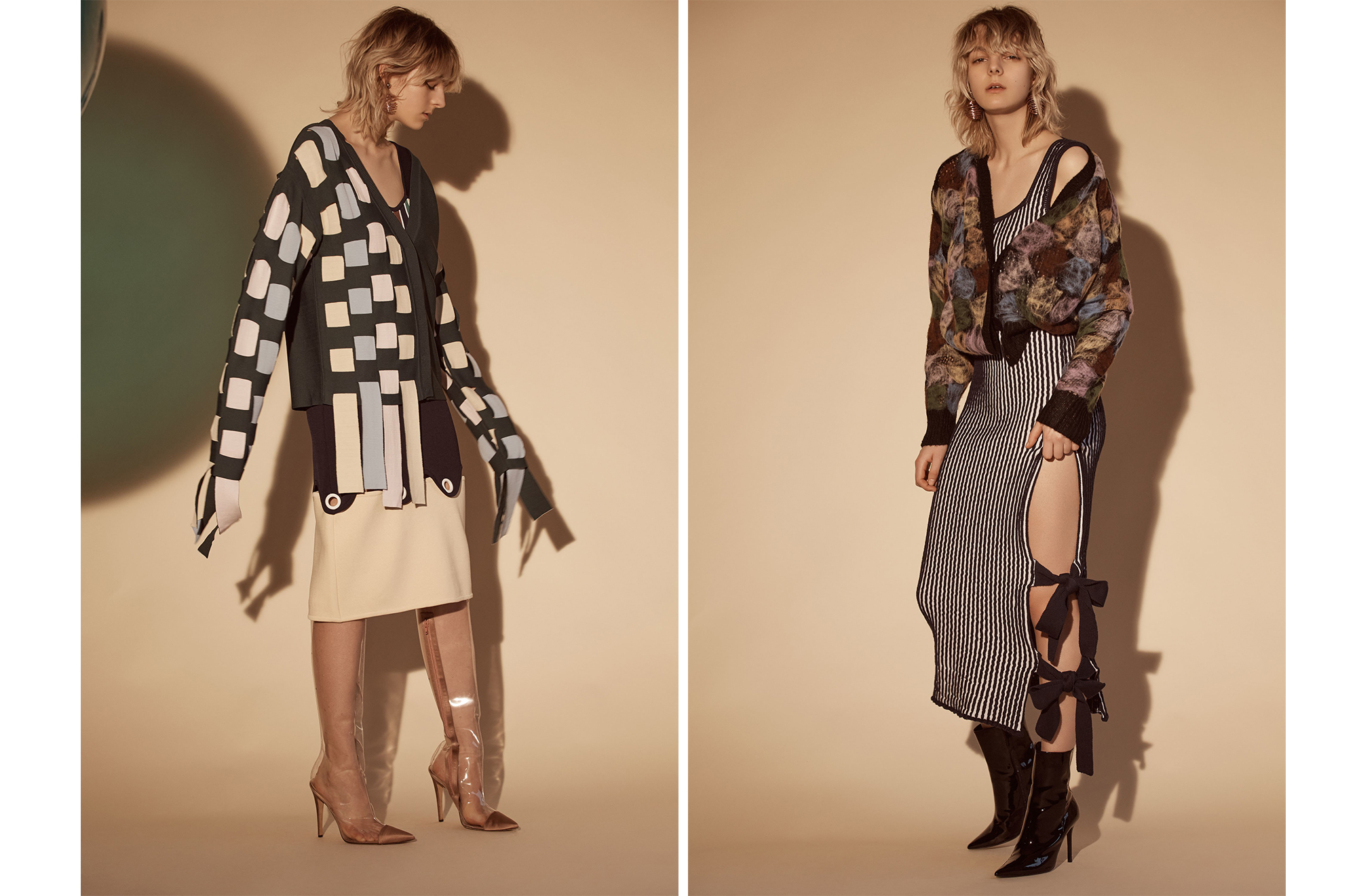 PH5 Fall 2017 Ready-to-Wear
Photos: Courtesy of PH5
Tonight, they'll find out if they've won the regional portion of Woolmark's International Prize, which they're in the running for alongside fellow newcomers like N-p-Elliott, Claudia Li, and Death to Tennis. But whether they win or not, the brand's slow-and-steady-wins-the-race mentality will take them far—heck, it already has. Right now, they're sold on sites like Moda Operandi, Neiman Marcus, and Shopbop, as well in small brick-and-mortar boutiques around the world. Singapore is a huge market for them, the designers said. A steady celebrity following—Taylor Swift and Emma Roberts are fans—and a focus on craft, with just two collections per year (no shoes or accessories just yet), are key.

"I think as a young brand, less is more," Lin said. "Every season we keep narrowing and narrowing, whether it's our focus, our category, or our offering. I feel like we need a very concise, focused message. People don't need more stuff. They just need to know who you are."

For now, they've hit that sweet spot—not too acidic, not too basic, but just right.
0 Comment