Power suits have been all the rage since Demna Gvasalia sent oversized shoulders down the runway at Balenciaga for Spring 2017—but could a sub-trend be emerging this Resort season? This past week has seen Mugler, Off-White, Altuzarra, and Moschino all utilize the same shade of shocking pink for their suit ensembles. The exact same shade.
Naturally, the designs themselves are unique—these are, after all, four very different brands. Virgil Abloh of Off-White helped Bella Hadid turn heads at the CFDA awards in a suit-inspired dress pulled in with a matching belt. David Koma also made a suit-inspired dress for Mugler, albeit one that cropped off the top of the blazer. Joseph Altuzarra was the most modern of the bunch, pairing flood-length trousers with an extra long blazer, while Jeremy Scott Moschino-fied his design by covering it with cartoon flames.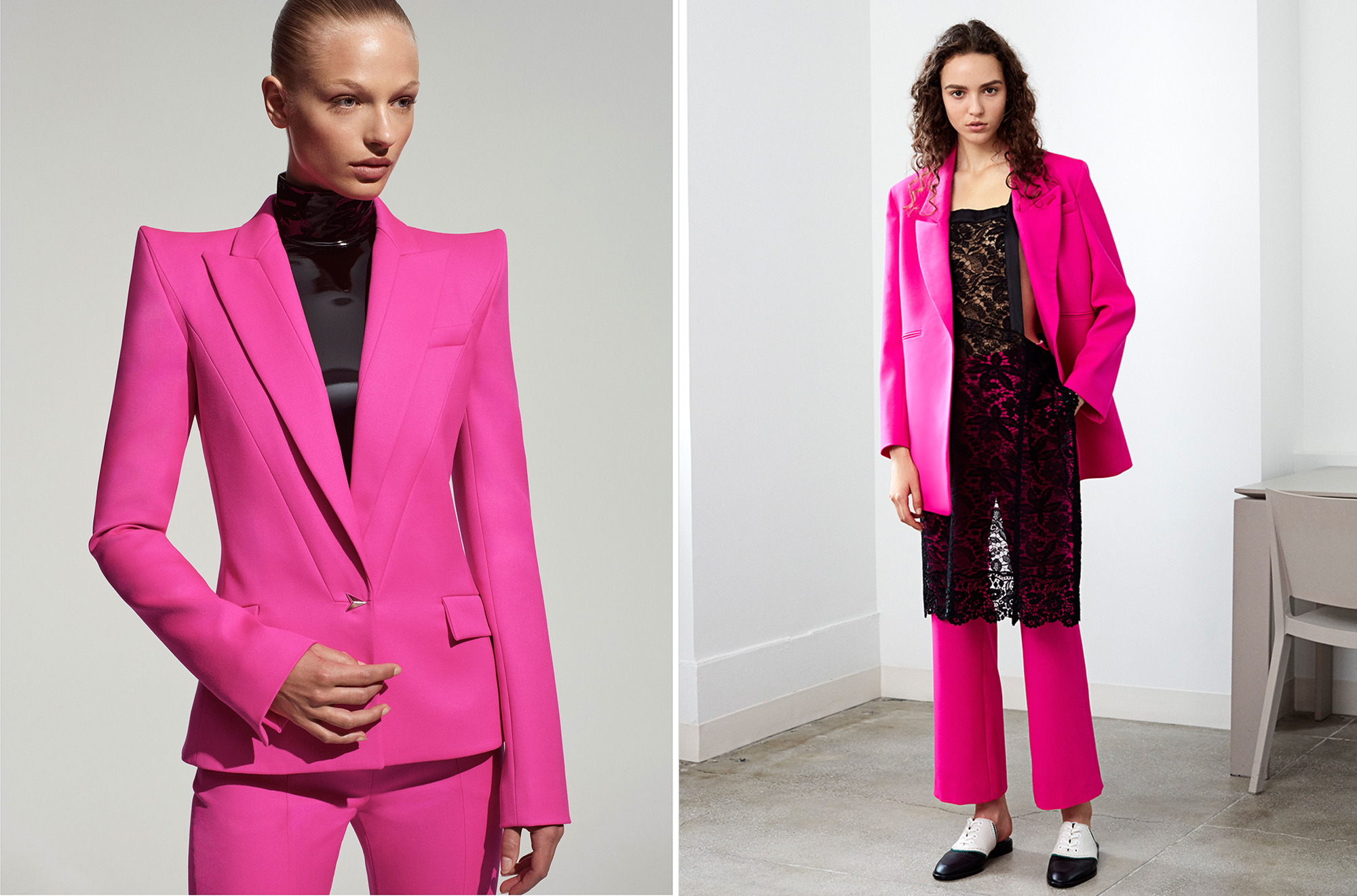 Left: Mugler Resort 2018; Right: Altuzarra Resort 2018
Photos: Courtesy of Mugler and Altuzarra
But why are designers being drawn to this color for suits now? Because once fashion got political, there was no going back. Yes, both the suit and the color can be considered politically motivated ideas (this particular pink is very close to the one used by Planned Parenthood). Is it an overt feminist statement? Maybe—but probably not. However, subconsciously, there's a lot at play here.
Suits have long been a symbol of women's ambition to be equal to men. During her campaign, it was assumed that Hillary Clinton's wearing of white or purple suits was a nod to the women's liberation movement, as those were the colors of the suffragettes. Democratic women expressly donned white in silent protest of Trump's speech to congress. Shocking pink, however, is anything but silent.
When seeing this particular shade, the first thing that comes to mind for any diehard fashion fan is Elsa Schiaparelli. The color, known as Schiaparelli Shocking Pink, set her apart from her contemporaries and defined her as a bold female designer at a time when women were still taught to be quiet. It should be no surprise that now, when women's rights are under threat, designers want something to shout over the noise. Suffragette white says: "I am equal to a man." Shocking pink says: "But man, I feel like a woman."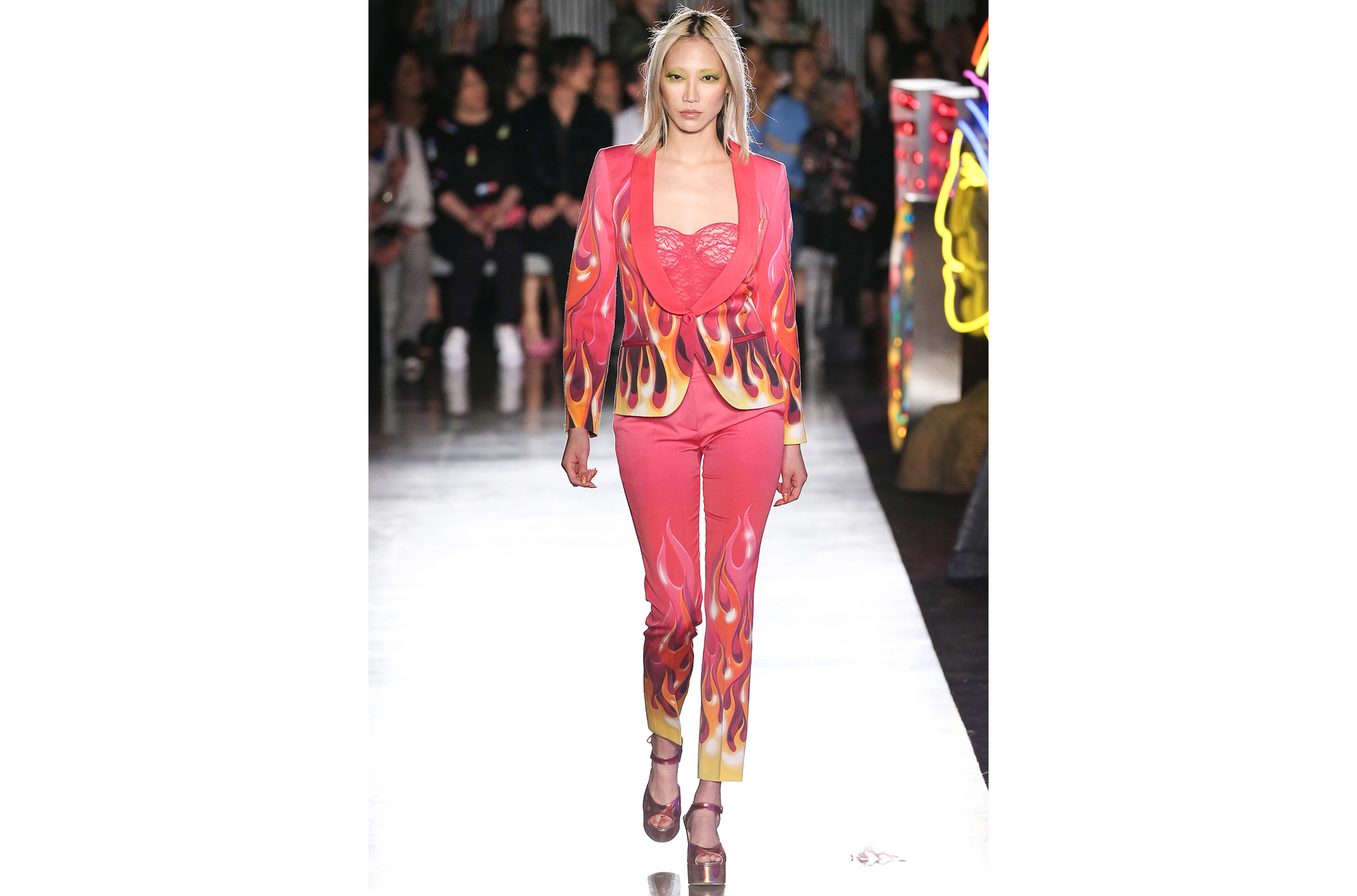 Moschino Resort 2018
Photo: firstVIEW
"I don't know, there's something about that color, that just really makes me happy," Altuzarra said of his choice. "It's so unabashedly feminine, and strong, and so intense."
For Koma, the shade was another element in a collection that was determinedly pro-woman. "I always embrace feminine power and strength, and I always admire extremely strong women, mentally and physically," he said. "Call it feminist if you want, but it's just about being a woman…in whatever ways each girl wants to do.
Regardless of the motive, the message this week seems clear: Whether you want to wear pants, a dress with strong shoulders, or no shoulders at all, suit up and think pink.
0 Comment